A Primer on Disaster Capitalism, Our New Normal
When a crisis occurs, the private sector often uses it as a distraction to push through its own agenda.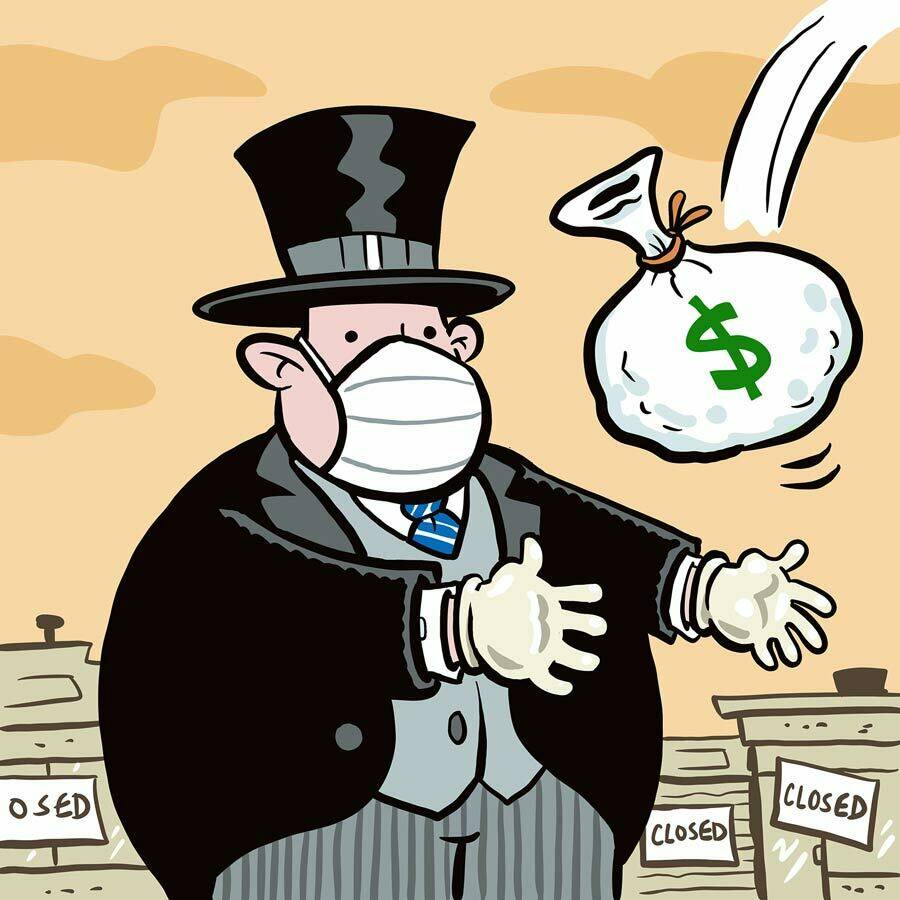 di•sas•ter cap•i•tal•ism
noun
the exploita­tion of a sud­den cri­sis for pri­vate profit
"This cri­sis — like ear­li­er ones — could well be the cat­a­lyst to show­er aid on the wealth­i­est inter­ests in soci­ety, includ­ing those most respon­si­ble for our cur­rent vul­ner­a­bil­i­ties." —Nao­mi Klein, jour­nal­ist, activist, and author of The Shock Doctrine
How is this dif­fer­ent from reg­u­lar capitalism?
Arguably, they're not that far off. Even before we had a glob­al pan­dem­ic to deal with, cap­i­tal­ism had pre­cip­i­tat­ed a num­ber of crises — the hous­ing crash, cli­mate change, mil­lions of peo­ple with­out health­care, just to name a few — and the pri­vate sec­tor has prof­it­ed hand­some­ly by sell­ing their pur­port­ed solutions.
But writer and activist Nao­mi Klein coined the term ​"dis­as­ter cap­i­tal­ism" specif­i­cal­ly to refer to the way free-mar­ket fun­da­men­tal­ists lever­age big crises to pri­va­tize pub­lic goods and ser­vices, which often increas­es inequal­i­ty expo­nen­tial­ly. Con­sid­er the mas­sive school char­ter­i­za­tion after Hur­ri­cane Kat­ri­na in New Orleans, which has result­ed in a two-tier sys­tem of edu­ca­tion, or the pri­va­ti­za­tion of the elec­tric sys­tem in Puer­to Rico after Hur­ri­cane Maria, which may result in high­er util­i­ty rates.
In the midst of a nat­ur­al dis­as­ter, war or eco­nom­ic cri­sis, peo­ple tend to be focused on dai­ly sur­vival — which makes it eas­i­er to deploy these so-called solu­tions that would nev­er fly in nor­mal times. Klein calls this method ​"the shock doctrine."
Can things actu­al­ly get more disastrous?
Unfor­tu­nate­ly, yes. The entire glob­al econ­o­my is enter­ing a reces­sion. Thanks to a hol­lowed-out pub­lic health sys­tem and cat­a­stroph­ic mis­han­dling by the Trump admin­is­tra­tion, the U.S. is like­ly fac­ing a pro­longed out­break and atten­dant eco­nom­ic free fall. But things could always get worse!
The Trump admin­is­tra­tion has already seized this oppor­tu­ni­ty to roll back reg­u­la­tions, and the GOP used it to sus­pend the pay­roll tax. The lat­ter, in par­tic­u­lar, could bank­rupt Social Secu­ri­ty and pro­vide the pre­tense need­ed to slash or pri­va­tize it — some­thing long on the wish list of Repub­li­cans and some Democ­rats (cough, Joe Biden).
Is ​
"

dis­as­ter social­ism" a thing?

It could be! We're in a moment where notable not-social­ists like Arkansas Repub­li­can Sen. Tom Cot­ton cham­pi­oned a cash pay­ment for every Amer­i­can, and pret­ty much every­one agrees that Ama­zon work­ers deserve to be paid way, way more. But tem­po­rary com­pa­ny sick-leave poli­cies and free coro­n­avirus test­ing are not enough: We need uni­ver­sal and per­ma­nent changes. We need fed­er­al paid sick leave and Medicare for All.

Free-mar­ket econ­o­mist Mil­ton Fried­man once said that, when a cri­sis occurs, ​"the actions that are tak­en depend on the ideas that are lying around."

If there's some good news, it's that the Left's ideas aren't just ​"lying around" — they're ascen­dant and enor­mous­ly popular.