The Surprising List of Democrats Who Just—Gratuitously—Bowed to Big Finance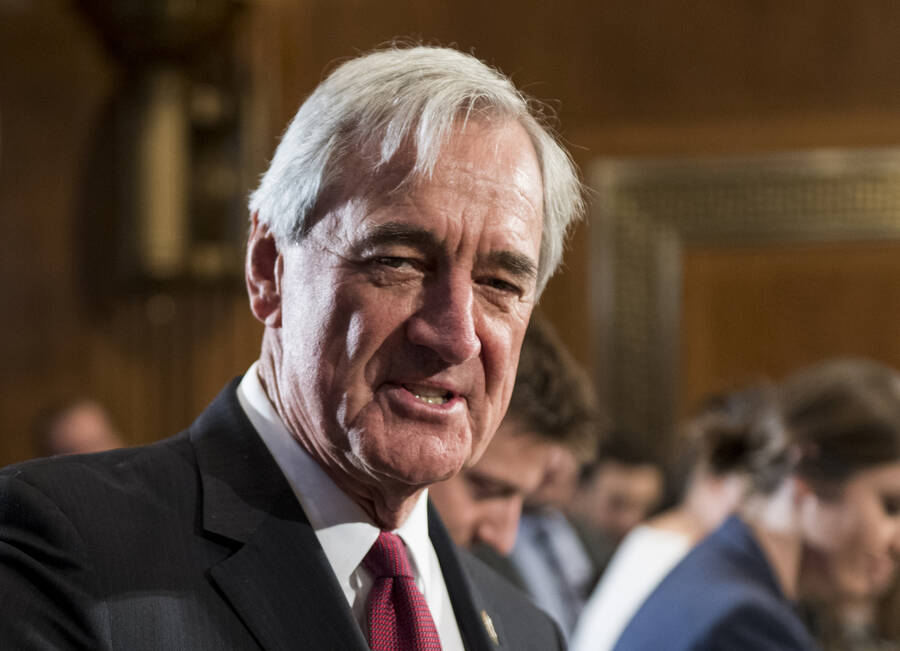 In a win for amne­sia, Con­gress advanced a bipar­ti­san bill on Tues­day dereg­u­lat­ing the bank­ing indus­try, just a decade after Wall Street trig­gered a finan­cial cri­sis that caused mil­lions to lose their jobs and their homes. S.2155, known as the Crapo bill both for its co-author, Sen­ate Bank­ing Com­mit­tee chair Mike Crapo (R‑Idaho), and its gen­er­al qual­i­ty, was pitched as a nar­row mea­sure to pro­vide relief for salt-of-the-earth com­mu­ni­ty banks and cred­it unions. But any­one mak­ing that claim is either mis­in­formed or try­ing to spin the truth.
In real­i­ty, the Crapo bill will dereg­u­late 25 of the 38 largest banks in Amer­i­ca, weak­en cap­i­tal require­ments that force banks to pay for their own mis­takes, free some lenders from dis­clos­ing data used to detect lend­ing dis­crim­i­na­tion and large­ly hand­cuff the Fed­er­al Reserve's abil­i­ty to apply spe­cial reg­u­la­tions to the biggest banks, to name just a few pro­vi­sions. Plus, the changes have already begun to con­sol­i­date the bank­ing sec­tor, with the very com­mu­ni­ty banks the bill was intend­ed to help being scooped up by larg­er rivals. Com­bined with efforts inside the agen­cies that reg­u­late banks to weak­en rules, it rep­re­sents a pen­du­lum shift away from safe­ty and toward anoth­er finan­cial cri­sis.
Who would agree to such bleak leg­is­la­tion, and why? Well, it fits with the Repub­li­can project of crip­pling government's abil­i­ty to pro­tect the pub­lic; out of 276 GOP mem­bers of Con­gress vot­ing on the Crapo bill, 275 vot­ed in favor (Wal­ter Jones, an apos­tate House mem­ber from North Car­oli­na, was the only one to oppose it). A big­ger sur­prise came in how many Democ­rats were will­ing to sign on: 16 Sen­a­tors and 33 House mem­bers.
Sen­ate Democ­rats like Jon Tester (Mont.), Hei­di Heitkamp (N.D.) and Joe Don­nel­ly (Ind.) co-authored, co-spon­sored and stepped for­ward as the pub­lic faces of the Crapo bill. Because of Sen­ate fil­i­buster rules, the Crapo bill would have died with­out Sen­ate Demo­c­ra­t­ic sup­port. Why they con­sid­ered this vital to the nation's func­tion­ing is anybody's guess, although Tester, Heitkamp and Don­nel­ly did shift from receiv­ing few cam­paign dona­tions from the finan­cial indus­try to grab­bing $469,841 since 2017. Also tak­ing crit­i­cism is Chuck Schumer (D‑N.Y.), a Sen­ate Minor­i­ty Leader who rep­re­sents Wall Street and who gave his bless­ing to cau­cus mem­bers to free­lance on deregulation.
The sit­u­a­tion in the House was dif­fer­ent. Because of its major­i­ty-vote rules, no Democ­rats were required for pas­sage; and with Repub­li­cans uni­fied, the out­come was pre-deter­mined. On Capi­tol Hill, this is called a free vote. If Democ­rats want­ed to show their feal­ty to bank lob­by­ists, earn­ing some cam­paign scratch and per­haps a future job, they could vote yes. If they want­ed to align with con­stituents for whom dereg­u­lat­ing banks is an exceed­ing­ly low pri­or­i­ty, they could vote no.
In the end, sup­port­ers includ­ed recip­i­ents of mil­lions of dol­lars from the Demo­c­ra­t­ic Con­gres­sion­al Cam­paign Com­mit­tee, dona­tions from well-inten­tioned lib­er­als who may not have expect­ed their sup­port to flow to bank syco­phants: Ami Bera ($2.5 mil­lion in 2016), Stephanie Mur­phy ($3.6 mil­lion), Tom O'Halleran ($2.1 mil­lion), Josh Got­theimer ($1.5 mil­lion), Brad Schnei­der ($1 mil­lion) and Rick Nolan ($4.2 mil­lion, but gen­er­al­ly a lib­er­al vote who is retir­ing this year, and a sur­pris­ing entry here).
Twen­ty-sev­en mem­bers of the con­ser­v­a­tive New Demo­c­rat Coali­tion sup­plied near­ly all of the Demo­c­ra­t­ic votes. There were three Blue Dogs who were not includ­ed on the New Demo­c­rat Coali­tion list. Per­haps more sur­pris­ing is the pres­ence of nine mem­bers of the Con­gres­sion­al Black Cau­cus (CBC). Sad­ly, pro-Wall Street votes have been a nag­ging trend for cer­tain CBC mem­bers. Final­ly, you have Democ­rats rep­re­sent­ing parts of down­state New York (Kath­leen Rice,Tom Suozzi), New Jer­sey (Got­theimer) and Con­necti­cut (Jim Himes), where finance con­gre­gates and thrives.
Per­haps more inter­est­ing than those who did suc­cumb to the wish­es of Big Finance are the Democ­rats who didn't — who head into the midterm elec­tions on a path based on prin­ci­ple instead of expediency.
For exam­ple, Conor Lamb (Penn.), the most recent mem­ber of the Demo­c­ra­t­ic cau­cus, who won a deep-red seat in west­ern Penn­syl­va­nia and was seen as a text­book mod­er­ate, vot­ed against the Crapo bill. Indeed, it is mod­er­ate to rec­og­nize that banks didn't real­ly need relief at a time when they earned $56 bil­lion in prof­its in the first quar­ter of the year, a new record.
Beto O'Rourke (D‑Tex.) and Jacky Rosen (D‑Nev.), both run­ning for U.S. Sen­ate in pur­ple to red seats, vot­ed no as well, show­ing that ambi­tions for high­er office didn't have to mean accom­mo­dat­ing finan­cial insti­tu­tions. Ari­zona Sen­ate can­di­date Kyrsten Sine­ma didn't agree, con­tin­u­ing her appalling record on core eco­nom­ic issues.
The entire Demo­c­ra­t­ic del­e­ga­tions in Michi­gan and Vir­ginia decid­ed not to go along with their col­leagues in the Sen­ate, all of whom vot­ed for the bill. The del­e­ga­tion of Ohio, anoth­er pur­ple-to-red state, fol­lowed the lead­er­ship of Sen­a­tor Sher­rod Brown, also vot­ing no.
The idea that it was just impos­si­ble for mod­er­ate or red-state Democ­rats to oppose the fear­some pow­er of the bank­ing lob­by on this bill doesn't hold up to these results. Nor should it. There was no con­stituen­cy for this bill out­side K‑Street high-ris­es and exec­u­tive board­rooms. The alleged com­mu­ni­ty bank relief pales in com­par­i­son to the more impor­tant mea­sures giv­en to the big boys. Pass­ing the Crapo bill doesn't help you win a close elec­tion; in fact, you prob­a­bly won't see it in anyone's cam­paign ads this year. And if it was just about mon­ey, the indus­try has shown time and again that they'll shov­el far more to the Repub­li­can side of the aisle no mat­ter what a Demo­c­rat does.
Every sin­gle bank dereg­u­la­tion bill of the last 40 years has been thor­ough­ly bipar­ti­san. In a sad moment for the coun­try, one can at least take solace in the fact that far more Democ­rats than usu­al rec­og­nized the pol­i­tics of the issue and made the obvi­ous choice to stand with home­own­ers, bor­row­ers, and hard-work­ing cit­i­zens over Wall Street.