Does the Left Bear Any Blame for Donald Trump?
The role of progressives in the 2016 election.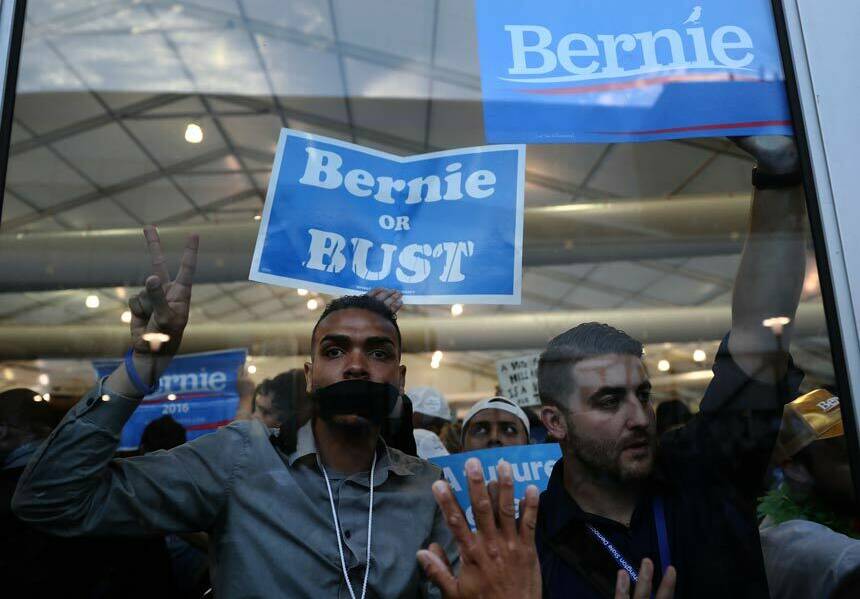 There are dozens of plau­si­ble expla­na­tions for Hillary Clinton's defeat: her poor­ly run cam­paign, her close asso­ci­a­tion with a sta­tus quo that vot­ers seemed eager to reject, the nativism and right-wing pop­ulism stoked by her oppo­nent. Nor can we rule out plain old misog­y­ny. But there's anoth­er fac­tor worth con­sid­er­ing: Despite the threat of Trump, many on the Left nev­er ful­ly embraced Clinton's can­di­da­cy, crit­i­ciz­ing her pro­gres­sive cre­den­tials through­out the elec­tion. Giv­en that the con­test came down to a hand­ful of votes in a hand­ful of states, does the Left bear some respon­si­bil­i­ty for Trump's win?
It's true that leftists were more critical of Clinton than we had been of similar center-left candidates like Kerry and Obama. But that's because we'd learned from experience.
In These Times asked James Thind­wa, a mem­ber of our board of direc­tors and a labor and com­mu­ni­ty activist, and Kath­leen Geier, a writer whose work has appeared in The Nation, The Baf­fler and oth­er pub­li­ca­tions, to dis­cuss the Left's role in Trump's election.
JAMES: To be sure, there was plen­ty of hard-hit­ting inves­ti­ga­tion and analy­sis of Don­ald Trump's prob­lem­at­ic poli­cies from the Left. And a hands-off approach to Clinton's well-known weak­ness­es would have been an affront to democ­ra­cy. In the end, though, it became a mat­ter of emphasis.
The Left's cri­tique of Clin­ton — jus­ti­fied as it often was — may have come at the expense of an urgent­ly need­ed focus on the threat Trump posed to peo­ple of color.
Much of the blame lies on the Clin­ton cam­paign: Clinton's ill-advised strat­e­gy of appeal­ing to peren­ni­al­ly elu­sive ​"inde­pen­dents" and mid­dle-class Repub­li­can women proved inef­fec­tu­al and neu­tral­ized any pro­gres­sive mes­sage. But an alarmed Left could and should have stepped in to fill the vac­u­um — that is, redi­rect­ed at least some of the ener­gy it put into crit­i­ciz­ing Clin­ton into aggres­sive­ly com­mu­ni­cat­ing to vot­ers of col­or that, between the two can­di­dates, one (Trump) would put us on the defen­sive and the oth­er (Clin­ton) on the offensive.
As Clin­ton de-empha­sized race and oth­er con­cerns per­ceived to turn off white vot­ers, the Left should have stepped in to warn of Trump's ret­ro­grade and dan­ger­ous pro­pos­als on issues like polic­ing, racial­ized incar­cer­a­tion and deportations.
Since Clin­ton wasn't doing it, the full spec­trum of left forces should have more vig­or­ous­ly — and per­haps exclu­sive­ly, giv­en the high stakes — pushed a dogged agen­da around a nation­al liv­ing wage, edu­ca­tion pol­i­cy root­ed in com­bat­ing pover­ty and social insta­bil­i­ty (core imped­i­ments to stu­dent learn­ing), reduc­ing the defense bud­get and redi­rect­ing the sav­ings toward human needs, all aimed at African Amer­i­cans and Latinos.
Our pub­li­ca­tions, for exam­ple, should have pri­or­i­tized expos­ing and high­light­ing Trump's racism and xeno­pho­bia rather than cov­er­age of Wik­iLeaks. Orga­niz­ers for var­i­ous grass­roots advo­ca­cy groups should have pro­vid­ed clar­i­ty and direc­tion about Trump's reac­tionary agen­da and urged their con­stituents to vote. One did not need to be ​"pro-Hillary" to sound the alarm.
We should have offered a stronger cri­tique of Trump's new­found (and hyp­o­crit­i­cal) inter­est in the plight of work­ers. Even as he pro­fessed to ​"love the work­ers," Trump was try­ing to bust the union at Trump Inter­na­tion­al Las Vegas. A line of his and daugh­ter Ivanka's cloth­ing is made in Chi­na, Viet­nam and oth­er over­seas loca­tions. We should have high­light­ed his his­to­ry of racial dis­crim­i­na­tion in his apart­ment hold­ings, and that when five black teenage boys were charged with rap­ing and beat­ing the ​"Cen­tral Park jog­ger" in 1989 Trump called for their exe­cu­tion, even after they were exonerated.
The Democ­rats need a long-term strat­e­gy to win state elec­tions and counter the post-truth phe­nom­e­non that enabled Trump's rise. But in a moment as con­se­quen­tial as the 2016 pres­i­den­tial cam­paign, a strate­gic call should have been made to resist the anti-Clin­ton band­wag­on or at least to coun­ter­bal­ance it by mobi­liz­ing Democ­rats' most reli­able — and indis­pens­able — con­stituents: peo­ple of col­or. In major Penn­syl­va­nia and Wis­con­sin cities, a stronger effort — reg­is­ter­ing vot­ers, vol­un­teer­ing to dri­ve peo­ple to the polls, ​"walk­ing-and-talk­ing" — might have tipped the scales.
KATH­LEEN: I agree with much, but I think James under­es­ti­mates the degree to which the Left ulti­mate­ly did ral­ly around Clin­ton, and neglects sol­id strate­gic rea­sons for remain­ing critical.
I was cer­tain­ly a Clin­ton crit­ic. I con­tributed to an anti-Clin­ton col­lec­tion pub­lished dur­ing the cam­paign, and I also wrote an essay demand­ing more account­abil­i­ty and a sharp­er eco­nom­ic mes­sage from Clin­ton. At the same time, how­ev­er, I was clear about the threat posed by Trump and the GOP and the impor­tance of vot­ing for Hillary. Many oth­ers on the Left — includ­ing Noam Chom­sky and John Halle, Adolph Reed, Nan­cy Fras­er and Jesse Mey­er­son—also advo­cat­ed for a strat­e­gy of ​"crit­i­cal sup­port" for Clin­ton. And despite the vocal pres­ence of the anti-Clin­ton Left on social media and a few pub­li­ca­tions like Coun­ter­Punch, most left­ist vot­ers went for Hillary. By July, accord­ing to Pew, Clin­ton had won the sup­port of more than 90 per­cent of Sanders vot­ers. Jill Stein bare­ly man­aged 1 per­cent of the vote — she did not spoil the election.
It's true that left­ists tend­ed to be far more open­ly crit­i­cal of Hillary Clin­ton than we had been of sim­i­lar cen­ter-left can­di­dates like John Ker­ry and Barack Oba­ma. But that's because we'd learned from expe­ri­ence. We failed to exert pres­sure on Oba­ma from his left, and the result was a pres­i­dent who, too often, caved in to Repub­li­cans and the 1%. The Oba­ma admin­is­tra­tion bailed out the banks but did lit­tle to aid home­own­ers with under­wa­ter mort­gages, refused to pros­e­cute Wall Street fraud, offered the GOP a ​"grand bar­gain" that would have cut Medicare and Social Secu­ri­ty, sup­port­ed the TPP and oth­er neolib­er­al trade poli­cies, esca­lat­ed depor­ta­tions, used drones for tar­get­ed assas­si­na­tions and more.
We demand­ed more of Clin­ton, push­ing her left and get­ting her to com­mit to a plat­form that was prob­a­bly the most pro­gres­sive in the his­to­ry of the Demo­c­ra­t­ic Par­ty. That would nev­er have hap­pened absent Sanders' pri­ma­ry chal­lenge and a crit­i­cal Left.
It's also impor­tant to rec­og­nize that the Left's Clin­ton cri­tiques occurred in the con­text of an elec­tion that almost no one expect­ed her to lose. We made more polit­i­cal demands on Clin­ton because we want­ed her vic­to­ry to be a man­date for strong pro­gres­sive policies.
Both the Left and the Clin­ton cam­paign under­es­ti­mat­ed Trump's reach. He didn't need a ground game. As The­da Skocpol and oth­ers have point­ed out, the con­ser­v­a­tive move­ment com­mands an impres­sive array of groups, includ­ing the Chris­t­ian Right, the NRA and Koch-affil­i­at­ed orga­ni­za­tions, that are pow­er­ful, par­tic­u­lar­ly in rur­al areas, in ampli­fy­ing GOP mes­sages and get­ting out the vote. This net­work is one of the main rea­sons the Right con­tin­ues to dom­i­nate U.S. pol­i­tics, par­tic­u­lar­ly at the state and local level.
The Left's most glar­ing mis­take, then, is not our lack of enthu­si­asm for Clin­ton in 2016, but a more gen­er­al fail­ure to orga­nize vot­ers on a sim­i­lar scale. That's why the most urgent task for the Amer­i­can Left is to cre­ate sus­tained orga­ni­za­tion­al out­reach — groups that are active in all 50 states, and not just at elec­tion time, in rur­al and urban com­mu­ni­ties alike. If we fail, we can look for­ward to more Don­ald Trumps, and more decades of right-wing dominance.
JAMES: Like Kath­leen, I think that many folks on the Left did not believe Trump would win. Their con­fi­dence in a Clin­ton win was not unrea­son­able — I, too, was in the Trump-can't‑win camp — but the com­bi­na­tion of Clinton's heavy bag­gage and clos­er-than-expect­ed polls should have awak­ened peo­ple to the alter­nate possibility.
For many Left pub­li­ca­tions, main­tain­ing a crit­i­cal pos­ture was also about jour­nal­is­tic integri­ty and trea­sured ide­o­log­i­cal cre­den­tials. The Nation gave one of the most pow­er­ful Clin­ton endorse­ments of any Left pub­li­ca­tion, but it devot­ed two full para­graphs to remind­ing read­ers of the litany of Clinton's offen­sive actions and posi­tions: ​"endur­ing ties to Wall Street and cor­po­rate CEOs"; ​"back[ing] régime change from Hon­duras to Libya to Syr­ia; see­ing Amer­i­ca as the " ​'indis­pens­able nation' enti­tled to police the world"; a ​"blink­ered view of Israel and Pales­tine"; and so on. All true, but strate­gi­cal­ly ill-placed.
Since right-wing and main­stream media were already fren­zied­ly cov­er­ing Wik­iLeaks rev­e­la­tions and oth­er Clin­ton foibles, our side should have focused more on build­ing con­fi­dence in the Demo­c­ra­t­ic nom­i­nee, not rein­forc­ing the beat­en path. A brief acknowl­edge­ment in The Nation​'s edi­to­r­i­al that Clinton's weak­ness­es ​"were well known and a mat­ter of record" would have sufficed.
Some In These Times read­ers took umbrage at the end-of-year edi­to­r­i­al I wrote endors­ing Clin­ton. A New York City pub­lic sec­tor work­er respond­ed that Democ­rats were his ene­my because they were his adver­saries at the bar­gain­ing table, and he would not vote for Clin­ton. Yet being adver­saries should not obscure that we are talk­ing about cli­mate change, the threat of nation­al right-to-work laws and oth­er crit­i­cal­ly impor­tant issues.
On Face­book, a Chica­go com­mu­ni­ty orga­niz­er vowed not to vote for Clin­ton because, among oth­er rea­sons, she sup­port­ed the 2009 Hon­duras coup, despite Clinton's strong record on men­tal health­care, one of the issues his orga­ni­za­tion cham­pi­ons. It is hard to extrap­o­late from such anec­dotes, but some on the Left wrote and spoke in ways that fos­tered the idea that elec­tions don't mat­ter, that all the can­di­dates were the same. That may have con­vinced those Face­book friends already unsure that it wasn't worth their time to vote this year.
While Green vot­ers may not have spoiled the elec­tion, those who stayed home cer­tain­ly did. In fact, reduc­ing vot­er turnout among Clinton's most reli­able con­stituents was a key Trump strat­e­gy. In at least one of the debates — crazy as it sound­ed, giv­en Trump's racist past — he attacked Clin­ton for call­ing black youth ​"super preda­tors," and he's accused Democ­rats of caus­ing black immis­er­a­tion in the ​"inner cities." The repeat­ed rein­force­ment of Clinton's neg­a­tives by some on the Left might have helped.
Vot­ers of col­or went over­whelm­ing­ly for Clin­ton, but turnout was low. In Mil­wau­kee Coun­ty alone, she received 43,000 few­er votes than Oba­ma — twice Trump's mar­gin of vic­to­ry in the entire state.
Again, no seri­ous left­ist would argue for not crit­i­ciz­ing Clin­ton, espe­cial­ly if the goal was to push her left. But when ana­lysts like Nate Sil­ver put a Trump vic­to­ry with­in plau­si­bil­i­ty, one won­ders whether such cri­tiques might have weak­ened the enthu­si­asm of poten­tial sup­port­ers. It seems at least pos­si­ble that this is what hap­pened, and that the Left was mis­tak­en in con­tin­u­ing its loud and per­sis­tent cri­tiques into the final weeks — they could have been saved for Novem­ber 9.
KATH­LEEN: More times than I can count, I met ​"that guy" on Face­book and Twit­ter — you know, the type of lefty who would insist that both par­ties are exact­ly the same, or that Trump might even be supe­ri­or to Clin­ton on for­eign pol­i­cy and the econ­o­my. I engaged with these folks, argu­ing that a Trump vic­to­ry would empow­er the white nation­al­ist Right and that Clin­ton, as a Demo­c­rat, would be far bet­ter on the eco­nom­ic issues that the Left cares about. I also made the argu­ment that, in Tom Geoghegan's words, ​"if you want the Left to come back, you have to put the cen­ter-left in power."
Deal­ing with the ​"pox on both hous­es" crowd was mad­den­ing at times. Did these knuck­le­heads learn noth­ing from the 2000 elec­tion about the dis­as­trous con­se­quences of Repub­li­can rule? At the same time, though, I have to won­der how large this left anti-Demo­c­rat con­tin­gent real­ly is, beyond social media.
It also can't be empha­sized strong­ly enough that when it came to mobi­liz­ing the Demo­c­ra­t­ic party's lefty base, Clin­ton did her­self no favors. Time after time, she made tone-deaf remarks that alien­at­ed the Left: claim­ing that sin­gle-pay­er would ​"nev­er, ever" hap­pen, for exam­ple, or refer­ring to Sanders sup­port­ers as peo­ple ​"liv­ing in their par­ents' base­ment" who want Scan­di­na­vian-style social­ism but ​"don't know what that means."
Even more con­se­quen­tial was Clinton's fail­ure to pro­vide a pos­i­tive, com­pelling case for her can­di­da­cy. Some of her plat­form pro­pos­als were con­sid­er­ably more pro­gres­sive than what Oba­ma had offered. But few vot­ers real­ized that, because she focused almost entire­ly on anti-Trump char­ac­ter attacks. Trump's ads were near­ly four times more like­ly to men­tion jobs and the econ­o­my than hers were.
Not only did Clin­ton lose the white work­ing class by an over­whelm­ing mar­gin, but she also under­per­formed among less edu­cat­ed vot­ers of col­or. The tragedy is that, accord­ing to a post-elec­tion analy­sis by poll­sters Stan Green­berg and Nan­cy Zdunkewicz, vot­ers from key con­stituen­cies like work­ing-class white women would have respond­ed bet­ter to a tough eco­nom­ic mes­sage from Clin­ton than they did to her attacks on Trump's character.
Yes, the Left failed to stop Trump, and the con­se­quences will be cat­a­stroph­ic. But Clin­ton-style neolib­er­al­ism cre­at­ed the eco­nom­ic despair that gave rise to Trump in the first place; after all, it is the Rust Belt com­mu­ni­ties destroyed by NAF­TA that hand­ed the elec­tion to Trump. The most impor­tant task before the Left right now is to orga­nize on behalf of an econ­o­my that ben­e­fits work­ing peo­ple. That, and that alone, will put a stake through the black heart of Trumpism.
KATH­LEEN GEIER has writ­ten for The Nation, The Baf­fler, The New Repub­lic and oth­er pub­li­ca­tions. She lives in Chica­go.JAMES THIND­WA is a mem­ber of In These Times' board of direc­tors and a labor and com­mu­ni­ty activist.