For Big Corporations Like Walmart, Wage Theft Penalties Are Just the Price of Doing Business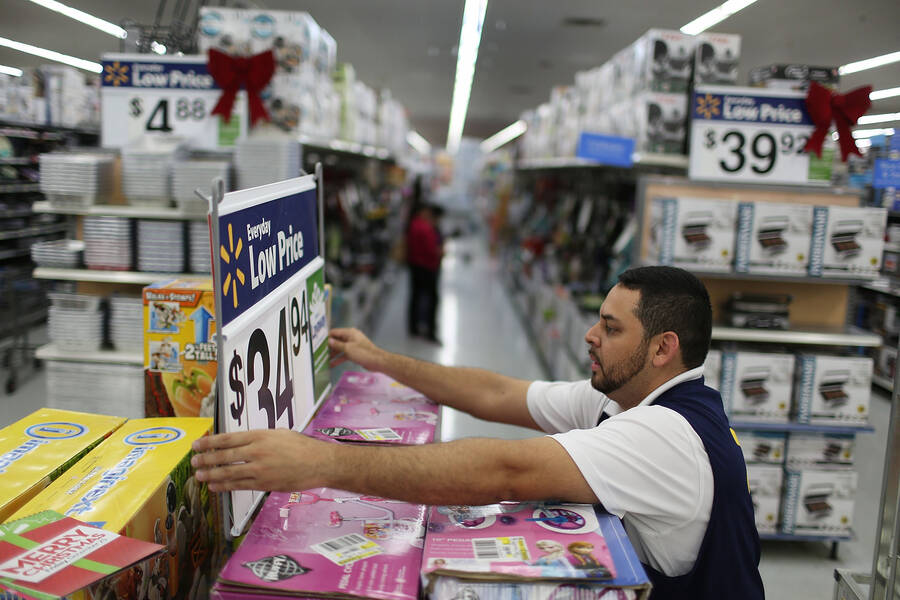 A scathing new report finds that hun­dreds of major cor­po­ra­tions in the Unit­ed States are repeat wage-theft offend­ers — com­mit­ting the vio­la­tions and then pay­ing the sub­se­quent fines as part of the cost of doing busi­ness. Joint­ly pub­lished on June 5 by Good Jobs First and Jobs with Jus­tice Edu­ca­tion Fund, the report finds that, since 2000, 450 firms have each paid at least $1 mil­lion each in set­tle­ments or judg­ments relat­ed to wage theft. And 600 com­pa­nies paid a penal­ty in mul­ti­ple cas­es of wage theft, indi­cat­ing that puni­tive mea­sures are not deter­ring these com­pa­nies' vio­la­tions. In some cas­es, the num­ber of set­tle­ments and fines was stun­ning, with Hertz see­ing 167 cas­es since 2000 and Wal­mart see­ing 98 cas­es and shelling out $1.4 billion.
The report is authored by Philip Mat­tera and includes a chap­ter on pol­i­cy rec­om­men­da­tions, writ­ten by Adam Shah. Through a com­pi­la­tion of avail­able law­suits, rang­ing from Jan­u­ary 2000 to the present, Mat­tera finds 4,220 cas­es filed against large com­pa­nies where employ­ers were penal­ized for wage theft to the tune of $9.2 bil­lion total.
Mat­tera tells In These Times he was shocked by the num­ber of large com­pa­nies that were involved in wage theft. ​"I had thought that wage theft would turn out to be main­ly an issue for a lim­it­ed num­ber of large cor­po­ra­tions," he said. ​"The fact that it is so per­va­sive in big busi­ness high­lights the pow­er imbal­ance between cap­i­tal and labor."
Wage theft is a prac­tice in which com­pa­nies with­hold their employ­ees' over­time pay, force off-the-clock work, vio­late min­i­mum wage laws or steal tips. Vic­tims of wage theft range from low-wage work­ers like cashiers, cooks and secu­ri­ty guards to high­er-paid posi­tions such as nurs­es, phar­ma­ceu­ti­cal sales reps and finan­cial advi­sors. In the 10 most pop­u­lous states in the coun­try, 2.4 mil­lion work­ers lose $8 bil­lion annu­al­ly (an aver­age of $3,300 per year for year-round work­ers) to min­i­mum wage vio­la­tions, accord­ing to a 2017 report by the Eco­nom­ic Pol­i­cy Insti­tute (EPI). In 2015 and 2016, a total of $2 bil­lion in stolen wages were recov­ered for work­ers by the U.S. Depart­ment of Labor, that EPI study found.
The biggest play­ers in wage theft are For­tune 500 com­pa­nies, like Wal­mart, FedEx and AT&T, accord­ing to the Mat­tera and Shah report. Five of the top dozen com­pa­nies heav­i­ly penal­ized were banks and insur­ance firms, includ­ing Bank of Amer­i­ca, Wells Far­go, JP Mor­gan and State Farm Insur­ance. Mega-cor­po­ra­tions account for half of the total cases.
Oth­er top indus­tries where wage theft is ubiq­ui­tous are with­in the busi­ness ser­vices, insur­ance and health­care ser­vices — indus­tries that are employed by a pre­dom­i­nant­ly woman work­force. Wage theft also dis­pro­por­tion­ate­ly affects Black and Lati­no work­ers who make up a greater per­cent­age of the work­force with­in the top ten indus­tries that the report finds are heav­i­ly penalized.
The fast food indus­try should be on the top vio­la­tors list, accord­ing to the Mat­tera and Shah report. How­ev­er, high-pro­file com­pa­nies like McDon­alds run on a fran­chise mod­el, exempt­ing the cor­po­ra­tions from sign­ing checks, which allows them to more eas­i­ly get away with ille­gal labor prac­tices, like wage theft. In fact, Shah notes in the report that nine out of ten peo­ple work­ing in fast food have expe­ri­enced wage theft.
The report is a com­pi­la­tion of the cas­es in which com­pa­nies were tak­en to court to be penal­ized — where records were made pub­lic. Most of the cas­es hail from Cal­i­for­nia, which is attrib­ut­able to the state's rel­a­tive­ly strong labor code that gives work­ing peo­ple greater access to the courts. In most states, wage theft cas­es pro­ceed through pri­vate arbi­tra­tion, a process usu­al­ly con­trolled by the employ­er that is often lengthy, expen­sive and time-con­sum­ing, which many wage theft vic­tims sim­ply don't have the means to pur­sue, accord­ing to Shah's pol­i­cy analy­sis of the report. Due to the fact that the data from pri­vate lit­i­ga­tion prac­tices are not made pub­lic, the results of the report are min­i­mized, cement­ing the fact that the Amer­i­can work­place is even more rife with wage theft than the report illuminates.
Fight­ing wage theft just became even more dif­fi­cult thanks to the U.S. Supreme Court's recent rul­ing, Epic Sys­tems v. Lewis, that allows cor­po­ra­tions to force employ­ees to sign away their rights to engage in col­lec­tive action. Shah argues in the report that oth­er states should fol­low Cal­i­for­nia in imple­ment­ing anti-wage theft laws to com­bat the aus­ter­i­ty of the Supreme Court's decision.
Anoth­er strat­e­gy to com­bat wage theft is for work­ers to union­ize. Mat­tera tells In These Times that only a few of the wage theft cas­es found involved union­ized work­places, empha­siz­ing that ​"the pres­ence of unions seems to keep labor stan­dards abus­es in check."
"Work­ing peo­ple who are vic­tims of wage theft must alert gov­ern­ment agen­cies to the theft, but they must also real­ize that gov­ern­ment is nev­er per­ma­nent­ly on their side," Shah tells In These Times. ​"The best way to ensure jus­tice in the work­place is to orga­nize and assert their own power."
Sasha Kramer
has a degree in envi­ron­men­tal stud­ies and has been pub­lished by Oak­land Insti­tute. She is a win­ter
2018
In These Times edi­to­r­i­al intern.