The NATO Summit Wasn't a Victory for Trump—It Was a Victory for Militarism
Major media outlets are so focused on Russiagate they are missing the dangerous international military buildup taking place.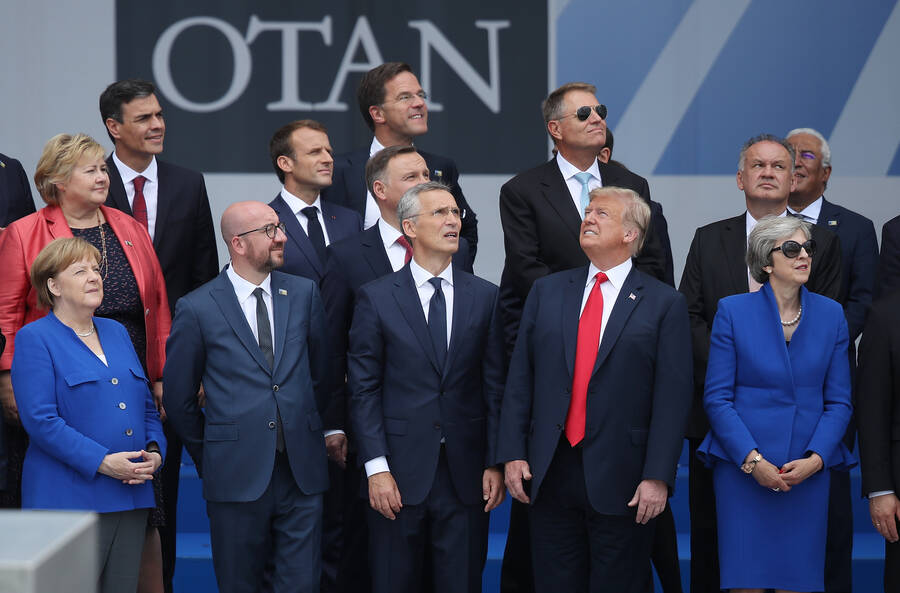 For most major media out­lets, the events of the past week have yield­ed a straight­for­ward nar­ra­tive: Don­ald Trump, at the behest of his pup­pet-mas­ter in the Krem­lin, tried and failed to destroy the NATO alliance and bring down the post-war lib­er­al world order, the lat­est in a series of trea­so­nous actions that will cul­mi­nate in his meet­ing with Vladimir Putin in Helsin­ki on Monday.
Lost in this coverage are any voices of skepticism over what the further expansion of NATO and a large military build-up might mean for already tense relations with Russia.
But there is anoth­er inter­pre­ta­tion. Instead of view­ing events through the prism of the murky ​"Rus­si­a­gate" scan­dal, or accord­ing to whether or not Trump man­aged to score some kind of ​"win," the press must grap­ple with the real result of the NATO sum­mit: The West­ern world con­tin­ues to hur­tle toward an ever scari­er mil­i­tary con­fronta­tion with the coun­try that holds the world's largest nuclear arse­nal.
As the dust set­tles from the tumul­tuous NATO sum­mit, its actu­al out­come is unclear. Trump first announced that he had secured promis­es of major mil­i­tary spend­ing increas­es from the oth­er 28 NATO mem­ber states, only for the lead­ers of the same mem­ber states to then pub­licly deny they had agreed to any such thing. "[The com­mu­niqué] reaf­firms a com­mit­ment to 2 per­cent [of GDP] in 2024. That is all," said French Pres­i­dent Emmanuel Macron, refer­ring to the con­tents of an agree­ment first made by NATO coun­tries in 2014.
Most pun­dits alter­nat­ed between mock­ing Trump for tak­ing cred­it for some­thing that would have hap­pened regard­less, or declar­ing the whole episode proof that Trump is in the pock­et of the Krem­lin. ​"Can we just admit that Trump is cap­tured by the Rus­sians?" asked the Wash­ing­ton Month­ly, cit­ing Trump's skep­ti­cal rhetoric toward NATO.
It is true that NATO mem­bers had already com­mit­ted dur­ing the Oba­ma admin­is­tra­tion to raise their defense spend­ing to 2 per­cent of GDP, an already over-the-top fig­ure that explains why only five coun­tries have man­aged to meet this goal thus far. But there is evi­dence that Trump's intem­per­ate demands have placed renewed pres­sure to ratch­et up mil­i­tary spend­ing. Accord­ing to For­eign Pol­i­cy — hard­ly a bas­tion of anti-estab­lish­ment think­ing — cur­rent and for­mer Euro­pean offi­cials have said that Trump's threats to ​"go it alone" at a closed-door meet­ing dur­ing the sum­mit pushed NATO mem­bers to pledge more mil­i­tary spend­ing. NATO Sec­re­tary-Gen­er­al Jens Stoltenberg said at the post-sum­mit press con­fer­ence that Trump's ​"mes­sage is hav­ing an impact," and that because of him, Cana­da and the Euro­pean states will spend an added $266 bil­lion between now and 2024.
Could Stoltenberg sim­ply be but­ter­ing up Trump? Absolute­ly. But Euro­pean offi­cials like Macron also have rea­son to save face by pub­licly play­ing down the idea they were bul­lied by Trump.
There's also the case of Ger­many, which has faced sus­tained pres­sure from Trump to raise its mil­i­tary spend­ing. Last year, Trump report­ed­ly hand­ed Ger­man Chan­cel­lor Angela Merkel a mocked-up invoice for $374 bil­lion for NATO, and Ger­many was one of eight coun­tries Trump sent per­son­al let­ters to in June demand­ing high­er pay­ments. Days before the sum­mit, Merkel's gov­ern­ment deliv­ered a bud­get that put $4.6 bil­lion extra toward the mil­i­tary, revis­ing an ear­li­er bud­get that focused more on domes­tic spend­ing. Cana­da like­wise announced a 70 per­cent increase in its defense bud­get over the next ten years a month before the sum­mit.
Then there are the actu­al results of the sum­mit, which, for all the com­plaints of sab­o­tage by Trump, result­ed in the announce­ment of sev­er­al new mil­i­tary com­mit­ments. The com­mu­niqué pledged, among oth­er things, a NATO Readi­ness Ini­tia­tive, made up of ​"an addi­tion­al 30 major naval com­bat­ants, 30 heavy or medi­um manœu­vre bat­tal­ions, and 30 kinet­ic air squadrons, with enabling forces, at 30 days' readi­ness or less," as well as an ​"enhanced exer­cise pro­gram" for ​"mar­itime warfight­ing skills." The com­mu­niqué also affirmed that NATO will ​"ful­ly imple­ment" the ter­ror­ist-fight­ing action plan it agreed to last year, and embraced a new mem­ber in Mace­do­nia— the lat­est East­ern Euro­pean state to join the alliance, an act fur­ther iso­lat­ing Russia.
Mean­while, Cana­da is set to head a new train­ing mis­sion in Iraq, while the Unit­ed King­dom announced it will send 440 more troops to Afghanistan. It is no won­der that for­mer mil­i­tary offi­cials told For­eign Pol­i­cy that, from their per­spec­tive, there were ​"some impor­tant wins that were over­shad­owed by the noise."
Nonethe­less, U.S. out­lets have claimed in the after­math that the pro­ceed­ings ​"could help Putin," who was ​"the big win­ner of the NATO sum­mit." Such cov­er­age focus­es on Trump's alleged­ly con­temp­tu­ous rhetoric towards NATO, empha­siz­ing Trump's per­son­al behav­ior rather than tan­gi­ble out­comes — a trend in report­ing on Trump since his inauguration.
In what could be the surest sign that these con­cerns are overblown, nom­i­nal­ly anti-Trump neo­con­ser­v­a­tives are tak­ing Trump's side. ​"Trump isn't wrong to expect more from Ger­many," wrote Eli Lake, warn­ing that ​"if you care about NATO," you have to be wor­ried about Germany's mil­i­tary decline. David French of the Nation­al Review, after dis­pens­ing with the oblig­a­tory crit­i­cisms of Trump's rhetoric, wrote that Trump was ​"absolute­ly, pos­i­tive­ly right to be upset at the state of the Ger­man mil­i­tary." The Week­ly Stan­dard like­wise crit­i­cized Trump's ​"fool­ish and unhelp­ful" rhetoric before affirm­ing that ​"despite the deep para­noia, Trump's crit­i­cisms are not entire­ly mis­tak­en," and that Euro­pean states need­ed to build up their mil­i­taries to con­front ​"Russ­ian expansionism."
If help­ing ensure a more mil­i­tar­i­ly aggres­sive NATO is a ​"win" for Trump, it is cer­tain­ly not a win for glob­al sta­bil­i­ty and peace. Lost in this cov­er­age are any voic­es of skep­ti­cism over what the fur­ther expan­sion of NATO and a large mil­i­tary build-up might mean for already tense rela­tions with Russia.
A Poi­son in the Antidote
This increas­ing­ly mil­i­taris­tic atmos­phere is epit­o­mized by the bipar­ti­san ral­ly­ing around NATO in reac­tion to Trump's crit­i­cisms of the alliance. This trend dates to least Jan­u­ary 2017 when Trump, in keep­ing with his habit of co-opt­ing left-wing talk­ings points, labelled NATO ​"obso­lete."
The state­ment swift­ly elicit­ed wide­spread shock and hor­ror, much of it from lib­er­al sources warn­ing the remarks could end the U.S. posi­tion as the ​"world's sole super­pow­er," lead to the col­lapse of the Euro­pean Union, ​"increase the risk of mil­i­tary esca­la­tion and war in Europe," and con­sti­tute a ​"direct assault on the lib­er­al order" that's been in place since 1945. More than a few com­men­ta­tors sug­gest­ed that the remarks were a reflec­tion of Trump's unseem­ly mind meld with the pow­ers-that-be in Russia.
These same talk­ing points were res­ur­rect­ed over the past weeks, when Trump's hos­til­i­ty to NATO elicit­ed apoc­a­lyp­tic pre­dic­tions, often from lib­er­al cir­cles. Dan Shapiro, Obama's ambas­sador to Israel, warned that ​"most dam­ag­ing is that [Trump's] rhetoric is build­ing up hos­til­i­ty to NATO among his sup­port­ers." The Wash­ing­ton Post edi­to­r­i­al board charged that Trump is ​"poi­son­ing NATO." Vox, arguably the flag­ship news out­let for mod­ern Amer­i­can lib­er­al­ism, pub­lished a piece explain­ing ​"why you should give a shit about NATO," and why Trump is wrong to call it ​"obso­lete." The New York Times even ran sev­er­al non-edi­to­r­i­al, report­ed pieces defend­ing the impor­tance of NATO and advanc­ing the idea of Rus­sia as an expan­sion­ist aggres­sor that needs to be rebuffed with mil­i­tary might.
This rush to defend NATO and affirm its impor­tance pushed any crit­i­cisms of the alliance out of the sphere of legit­i­ma­cy. As much as Trump's ver­bal attacks on intel­li­gence agen­cies have served to reha­bil­i­tate their stand­ing among a pre­vi­ous­ly more skep­ti­cal pub­lic, his attacks on NATO have insu­lat­ed the alliance from critique.
This is too bad, because there are legit­i­mate crit­i­cisms to be made of NATO, includ­ing that it's a rel­ic of a bygone time. In 1998, William J. Per­ry and Ash Carter — sec­re­taries of defense for Bill Clin­ton and Oba­ma, respec­tive­ly — argued that ​"its found­ing pur­pose of deter­ring attack from the War­saw Pact has been ful­filled." As late as 2001, with the Cold War long over, there was seri­ous dis­cus­sion about NATO's seem­ing­ly pur­pose­less exis­tence. It was only after the Sep­tem­ber 11 attacks that NATO, in its own words, ​"turned tragedy into oppor­tu­ni­ty" by tran­si­tion­ing to a focus on terrorism.
NATO stopped being a bul­wark against Russ­ian expan­sion­ism and turned into an instru­ment of the flawed, mil­i­tary-based ​"war on ter­ror" of the Bush and Oba­ma years, a role that's remained key to cen­trist-lib­er­al defens­es of the alliance's rel­e­vance today. NATO forces have been heav­i­ly involved in Afghanistan near­ly from the start of that nev­er-end­ing war. The alliance's oth­er high-pro­file 21st cen­tu­ry ​"suc­cess" was the 2011 bomb­ing of Libya and sub­se­quent ouster of dic­ta­tor Muam­mar Gaddafi, a for­eign pol­i­cy blun­der sec­ond only to the Iraq War, and one whose rever­ber­a­tions can still be felt.
The trou­ble is, the idea of end­ing NATO is now being ren­dered unthink­able by estab­lish­ment opin­ion-mak­ers who view Trump as some kind of anti-lodestar. As Nation edi­tor Kat­ri­na van­den Heuv­el recent­ly put it, ​"Trump is so cru­el, is so odi­ous, that what he says taints the pos­si­bil­i­ty often of real debate," mak­ing it impos­si­ble to cri­tique NATO at the same time that Trump does.
All Roads Lead to War
Lurk­ing behind all of this is the stead­fast and wide­ly held belief that Trump has been com­pro­mised by the Krem­lin — that he is quite lit­er­al­ly an ​"agent" or an ​"asset" being direct­ly manip­u­lat­ed by Putin.
This sen­sa­tion­al and evi­dence-less claim has long been thrown around, as when for­mer Direc­tor of Nation­al Intel­li­gence James Clap­per (who once com­mit­ted per­jury to pro­tect the NSA from pub­lic scruti­ny) charged that Putin was han­dling Trump like an ​"asset" because he had thanked him over the phone for a CIA tip-off about a poten­tial ter­ror­ist attack in Russia.
But the alle­ga­tion has increas­ing­ly made the rounds in respectable, main­stream opin­ion over the past week or so, from Stephen Colbert's show to Chris Hayes' pro­gram on MSNBC. Jonathan Chait has, in his col­umn for New York mag­a­zine, recent­ly advanced the idea that Trump has been an intel­li­gence asset for the Krem­lin since 1987, and that Putin ​"installed" him in the White House after he rose to polit­i­cal pop­u­lar­i­ty in 2015.
Yet, these claims rarely deal with the actu­al actions tak­en by the Trump admin­is­tra­tion, which have been marked­ly aggres­sive towards Rus­sia. The admin­is­tra­tion forced RT, the state-fund­ed Russ­ian news chan­nel, to reg­is­ter as a for­eign agent, which met retal­i­a­tion from the Krem­lin. It expelled more Russ­ian diplo­mats over the Skipral poi­son­ing than Oba­ma did in response to the alleged Krem­lin inter­fer­ence in the election.
Trump not only bombed Syr­ia, a Russ­ian ally, but shot down a Syr­i­an war­plane, lead­ing Rus­sia to issue a strict and wor­ry­ing threat to the US in response. Trump's tar­iffs are huge­ly dam­ag­ing to Russ­ian trade — and inspired Rus­sia to respond tit for tat with its own tar­iffs. The admin­is­tra­tion has repeat­ed­ly widened anti-Russ­ian sanc­tions. Most alarm­ing­ly, Trump approved the send­ing of weapons to Ukraine, an esca­la­tion of the U.S. role in that con­flict that Oba­ma resist­ed for years, and which was cheered on by the Wash­ing­ton Post edi­to­r­i­al board.
It's true that such sto­ries are also some­times paired with con­tra­dic­to­ry rhetoric from Trump, or even reports of reluc­tance from the pres­i­dent. But even if one grants the extra­or­di­nary idea that Trump is indeed com­pro­mised by Putin, this track record seems to sug­gest such com­pro­mise hasn't had much of an impact.
Mean­while, the upcom­ing Trump-Putin sum­mit has been the sub­ject of much con­spir­a­ciz­ing. Yet the meet­ing is entire­ly rou­tine, giv­en that Rus­sia is a UN Secu­ri­ty Coun­cil mem­ber and well-stocked nuclear pow­er, and that the two will dis­cuss reduc­ing their nuclear stock­piles. Trump, fur­ther­more, has tak­en much longer to have such a meet­ing than pre­vi­ous pres­i­dents: Bush and Oba­ma both met Putin with­in the first six months of their presidencies.
For all these rea­sons, diplo­mats on both sides say that rela­tions between the two coun­tries are low­er than they've ever been in recent mem­o­ry. Mean­while, Russ­ian jour­nal­ists are at best skep­ti­cal and at worst embar­rassed at the major­i­ty of cur­rent U.S. media cov­er­age involv­ing Rus­sia and Putin.
The reflex­ive need to cheer on the oppo­site of what­ev­er Trump is doing in any giv­en sit­u­a­tion, cou­pled with the all-encom­pass­ing nature of the obses­sion over ​"Rus­si­a­gate," has cre­at­ed a sti­fling media land­scape that leaves lit­tle-to-no room for voic­es crit­i­ciz­ing the increas­ing­ly aggres­sive pos­tur­ing toward Rus­sia by the Trump admin­is­tra­tion and its Euro­pean allies. For much of the main­stream press, the spec­trum of per­mit­ted opin­ion seems to include only cheer­ing on mil­i­tary con­fronta­tion with Rus­sia, or crit­i­ciz­ing Trump for not being suf­fi­cient­ly sup­port­ive of such a con­fronta­tion. To stop the world from hurtling towards a wor­ry­ing mil­i­tary stand­off, U.S. soci­ety must engage in rig­or­ous debate about pol­i­cy towards Rus­sia. But the media first must per­mit it to take place.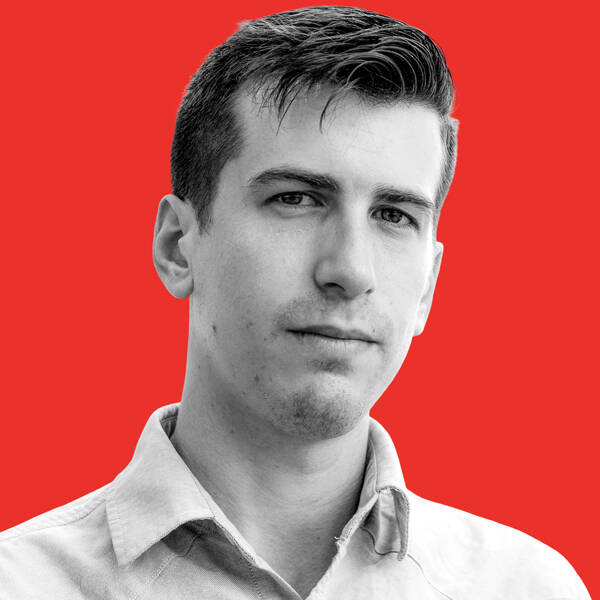 Branko Marcetic
is a staff writer at Jacobin mag­a­zine and a
2019
 – 
2020
Leonard C. Good­man Insti­tute for Inves­tiga­tive Report­ing fel­low. He is work­ing on a forth­com­ing book about Joe Biden.