America Is About to Become a Global Pariah
No matter how the rest of the world looked at us on Nov. 7, Donald Trump's win means they will now look at us differently.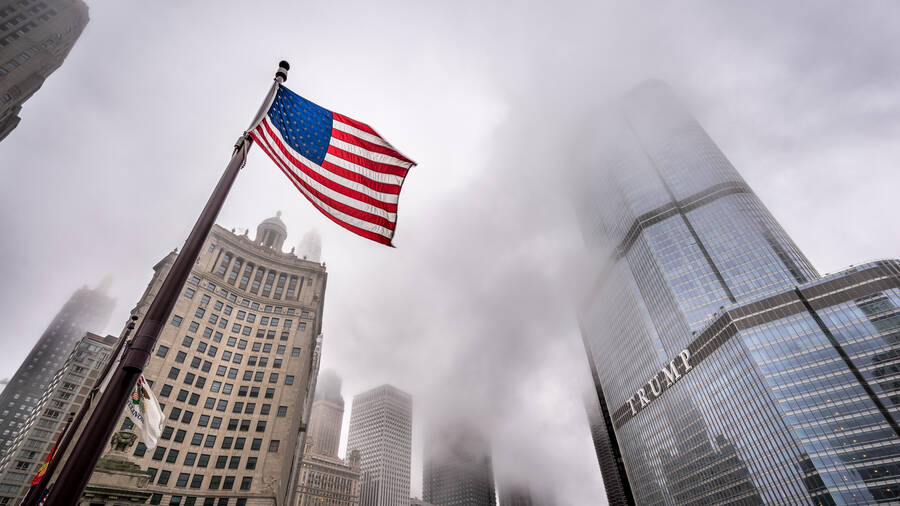 This piece first appeared at Bill​Moy​ers​.com
No more can we pretend that we are exceptional or good or progressive or united. We are none of those things.
Amer­i­ca died on Nov. 8, 2016, not with a bang or a whim­per, but at its own hand via elec­toral sui­cide. We the peo­ple chose a man who has shred­ded our val­ues, our morals, our com­pas­sion, our tol­er­ance, our decen­cy, our sense of com­mon pur­pose, our very iden­ti­ty — all the things that, how­ev­er ten­u­ous­ly, made a nation out of a country.
What­ev­er place we now live in is not the same place it was on Nov. 7. No mat­ter how the rest of the world looked at us on Nov. 7, they will now look at us dif­fer­ent­ly. We are like­ly to be a pari­ah coun­try. And we are lost for it. As I sur­veyed the ruin of that coun­try this gray Wednes­day morn­ing, I found weary con­so­la­tion in W.H. Auden's poem, Sep­tem­ber 1, 1939, which concludes:
"Defense­less under the night
Our world in stu­por lies;
Yet, dot­ted everywhere,
Iron­ic points of light
Flash out wher­ev­er the Just
Exchange their messages:
May I, com­posed like them
Of Eros and of dust,
Belea­guered by the same
Nega­tion and despair,
Show an affirm­ing flame."
I hunt for that affirm­ing flame.
This gen­er­al­ly has been called the ​"hate elec­tion" because every­one pro­fessed to hate both can­di­dates. It turned out to be the hate elec­tion because, and let's not mince words, of the hate­ful­ness of the elec­torate. In the years to come, we will brace for the vio­lence, the anger, the racism, the misog­y­ny, the xeno­pho­bia, the nativism, the white sense of griev­ance that will undoubt­ed­ly be unleashed now that we have destroyed the val­ues that have bound us.
We all knew these hatreds lurked under the thinnest veneer of civil­i­ty. That civil­i­ty final­ly is gone. In its absence, we may real­ize just how imper­a­tive that politesse was. It is the way we man­aged to coexist.
If there is a sin­gle sen­tence that char­ac­ter­izes the elec­tion, it is this: ​"He says the things I'm think­ing." That may be what is so ter­ri­fy­ing. Who knew that so many tens of mil­lions of white Amer­i­cans were think­ing uncon­scionable things about their fel­low Amer­i­cans? Who knew that tens of mil­lions of white men felt so emas­cu­lat­ed by women and chal­lenged by minori­ties? Who knew that after years of seem­ing progress on race and gen­der, tens of mil­lions of white Amer­i­cans lived in seething resent­ment, wait­ing for a dem­a­gogue to arrive who would legit­imize their worst selves and chan­nel them into polit­i­cal pow­er? Per­haps we had been liv­ing in a fool's par­adise. Now we aren't.
This coun­try has sur­vived a civ­il war, two world wars, and a great depres­sion. There are many who say we will sur­vive this, too. Maybe we will, but we won't sur­vive unscathed. We know too much about each oth­er to heal. No more can we pre­tend that we are excep­tion­al or good or pro­gres­sive or unit­ed. We are none of those things. Nor can we pre­tend that democ­ra­cy works and that elec­tions have more or less hap­py end­ings. Democ­ra­cy only func­tions when its par­tic­i­pants abide by cer­tain con­ven­tions, cer­tain codes of con­duct and a respect for the process.
The virus that kills democ­ra­cy is extrem­ism because extrem­ism dis­ables those codes. Repub­li­cans have dis­re­spect­ed the process for decades. They have regard­ed any Demo­c­ra­t­ic pres­i­dent as ille­git­i­mate. They have proud­ly boast­ed of pre­vent­ing pop­u­lar­ly elect­ed Democ­rats from effect­ing pol­i­cy and have assert­ed that only Repub­li­cans have the right to deter­mine the nation's course. They have worked tire­less­ly to make sure that the gov­ern­ment can­not gov­ern and to rede­fine the pur­pose of gov­ern­ment as pre­ven­tion rather than effec­tu­a­tion. In short, they haven't believed in democ­ra­cy for a long time, and the media nev­er called them out on it.
Democ­ra­cy can't cope with extrem­ism. Only vio­lence and time can defeat it. The first is unac­cept­able, the sec­ond takes too long. Though Trump is an extrem­ist, I have a feel­ing that he will be a very pop­u­lar pres­i­dent and one like­ly to be re-elect­ed by a sub­stan­tial mar­gin, no mat­ter what he does or fails to do. That's because ever since the days of Ronald Rea­gan, rhetoric has obvi­at­ed action, speechi­fy­ing has super­seded governing.
Trump was absolute­ly cor­rect when he bragged that he could shoot some­one in the mid­dle of Fifth Avenue and his sup­port­ers wouldn't care. It was a dictator's ugly vaunt, but one that rec­og­nized this elec­tion nev­er was about pol­i­cy or eco­nom­ics or the ​"right path/​wrong path," or even val­ues. It was about vent­ing. So long as Trump vent­ed their griev­ances, his all-white sup­port­ers didn't care about any­thing else. He is smart enough to know that won't change in the pres­i­den­cy. In fact, it is only like­ly to inten­si­fy. White Amer­i­ca, Trump's Amer­i­ca, just wants to hear its anger bel­lowed. This is one time when the Bul­ly Pul­pit will be literal.
The media can't be let off the hook for enabling an author­i­tar­i­an to get to the White House. Long before he con­sid­ered a pres­i­den­tial run, he was a media cre­ation — a reg­u­lar in the gos­sip pages, a pho­to on mag­a­zine cov­ers, the bank­rupt (moral­ly and oth­er­wise) mogul who hired and fired on The Appren­tice. When he ran, the media treat­ed him not as a can­di­date, but as a celebri­ty, and so treat­ed him dif­fer­ent­ly from ordi­nary pols. The media gave him free pub­lic­i­ty, trum­pet­ed his shenani­gans, blast­ed out his tweets, allowed him to phone in his inter­views, fell into his traps and gen­er­al­ly kow­towed until they sud­den­ly dis­cov­ered that this joke could actu­al­ly become president.
Just as Trump has shred­ded our val­ues, our nation and our democ­ra­cy, he has shred­ded the media. In this, as in his pol­i­tics, he is only the lat­est avatar of a process that began long before his can­di­da­cy. Just as the saint­ed Ronald Rea­gan cre­at­ed an unbridge­able chasm between rich and poor that the Repub­li­cans would lat­er exploit against Democ­rats, con­ser­v­a­tives dele­git­imized main­stream jour­nal­ism so that they could fill the vacuum.
Retir­ing con­ser­v­a­tive talk show host Char­lie Sykes com­plained that after years of bash­ing from the right wing, the main­stream media no longer could per­form their func­tion as reporters, observers, fact dis­pensers, and even truth tellers, and he said we need­ed them. Like Goebbels before them, con­ser­v­a­tives under­stood that they had to cre­ate their own facts, their own truths, their own real­i­ty. They have done so, and in so doing effec­tive­ly destroyed the very idea of objec­tiv­i­ty. Trump can lie con­stant­ly only because white Amer­i­ca has accept­ed an Orwellian sense of truth — the truth pulled inside out.
With Trump's elec­tion, I think that the ide­al of an objec­tive, truth­ful jour­nal­ism is dead, nev­er to be revived. Like Nixon and Sarah Palin before him, Trump ran against the media, boomerang­ing off the public's con­tempt for the press. He ran against what he regard­ed as media elit­ism and bias, and he ran on the idea that the press dis­dained work­ing-class white Amer­i­ca. Among the many now-widen­ing divides in the coun­try, this is a big one, the divide between the media and work­ing-class whites, because it cre­ates a Wild West of infor­ma­tion – a media ecol­o­gy in which noth­ing can be believed except what you already believe.
With the main­stream media so dele­git­imized — a dele­git­imiza­tion for which they bear a good deal of blame, not hav­ing had the courage to take on lies and expose false equiv­a­len­cies — they have very lit­tle role to play going for­ward in our pol­i­tics. I sus­pect most of them will sur­ren­der to Trump­ism — if they were able to nor­mal­ize Trump as a can­di­date, they will no doubt nor­mal­ize him as pres­i­dent. Cable news may even wel­come him as a con­tin­u­ous enter­tain­ment and rat­ings boost­er. And in any case, like Rea­gan, he is bul­let­proof. The media can­not touch him, even if they want­ed to. Pre­sum­ably, there will be some coura­geous gueril­las in the main­stream press, a kind of Resis­tance, who will try to fact-check him. But there will be few of them, and they will be whistling in the wind. Trump, like all dic­ta­tors, is his own truth.
What's more, Trump already has promised to take his war on the press into court­rooms and the halls of Con­gress. He wants to loosen libel pro­tec­tions, and he has threat­ened Wash­ing­ton Post own­er Jeff Bezos of Ama­zon with an antitrust suit. Indi­vid­ual jour­nal­ists have rea­son to fear him as well. He has already sin­gled out NBC's Katy Tur, per­haps the best of the tele­vi­sion reporters, so that she need­ed the Secret Ser­vice to escort her from one of his ral­lies. Jew­ish jour­nal­ists who have crit­i­cized Trump have been sub­ject­ed to vicious anti-Semi­tism and intim­i­da­tion from the alt-right. For the press, this is like­ly to be the new nor­mal in an Amer­i­ca in which white suprema­cists, neo-Nazi mili­tias, racists, sex­ists, homo­phobes and anti-Semi­tes have been legit­imized by a new pres­i­dent who ​"says what I'm think­ing." It will be open season.
This con­verts the media from reporters to tar­gets, and they have lit­tle recourse. Still, if any­one points the way for­ward, it may be New York Times colum­nist David Brooks. Brooks is no paragon. He always had seemed to will­ful­ly neglect mod­ern Republicanism's incip­i­ent fas­cism (now no longer incip­i­ent), and he was an apol­o­gist for con­ser­v­a­tive self-enrich­ment and big­otry. But this cam­paign sea­son, Brooks pret­ty much dis­pensed with pol­i­tics. He seemed to have arrived at the con­clu­sion that no good could pos­si­bly come of any of this and retreat­ed into spir­i­tu­al­i­ty. What Brooks pro­mot­ed were val­ues of mutu­al respect, a bold­er sense of civic engage­ment, an empha­sis on com­mu­ni­ty and neigh­bor­hood, and over­all a belief in trick­le-up decen­cy rather than trick­le-down eco­nom­ics. He is not hope­ful, but he hasn't lost all hope.
For those of us now lan­guish­ing in despair, this may be a pre­scrip­tion for reju­ve­na­tion. We have lost the coun­try, but by refo­cus­ing, we may have gained our own lit­tle patch of the world and, more gran­u­lar­ly, our own fam­i­ly. For jour­nal­ists, Brooks may show how polit­i­cal report­ing, which, as I said, is like­ly to be irrel­e­vant in the Trump age, might yield to a broad­er moral con­text in which one con­sid­ers the effect that pol­i­cy, strat­e­gy and gov­er­nance have not only on our phys­i­cal and eco­nom­ic well-being but also on our spir­i­tu­al well-being. In a soci­ety that is like­ly to be frac­tious and odi­ous, we need a nation­al con­ver­sa­tion on val­ues. The media could help start it.
But the dis­em­pow­ered media may have one more role to fill: They must bear wit­ness. Many years from now, future gen­er­a­tions will need to know what hap­pened to us and how it hap­pened. They will need to know how dis­grun­tled white Amer­i­cans, full of self-right­eous indig­na­tion, found a way to take back a coun­try they felt they were enti­tled to and which they believed had been lost. They will need to know about the ugli­ness and evil that destroyed us as a nation after great men like Lin­coln and Roo­sevelt guid­ed us through pre­vi­ous crises and kept our val­ues intact. They will need to know, and they will need a vig­or­ous, engaged, moral media to tell them. They will also need us.
We are not liv­ing for our­selves any­more in this coun­try. Now we are liv­ing for history.
Neal Gabler
is an author of five books and the recip­i­ent of two LA Times Book Prizes, Time mag­a­zine's non-fic­tion book of the year, USA Today's biog­ra­phy of the year and oth­er awards. He is also a senior fel­low at The Nor­man Lear Cen­ter at the Uni­ver­si­ty of South­ern Cal­i­for­nia, and is cur­rent­ly writ­ing a biog­ra­phy of Sen. Edward Kennedy.