Did the Mainstream Media Take Down Bernie Sanders?
The rebellious nature of the Vermont senator's presidential bid didn't fit the mainstream press's predetermined scenario.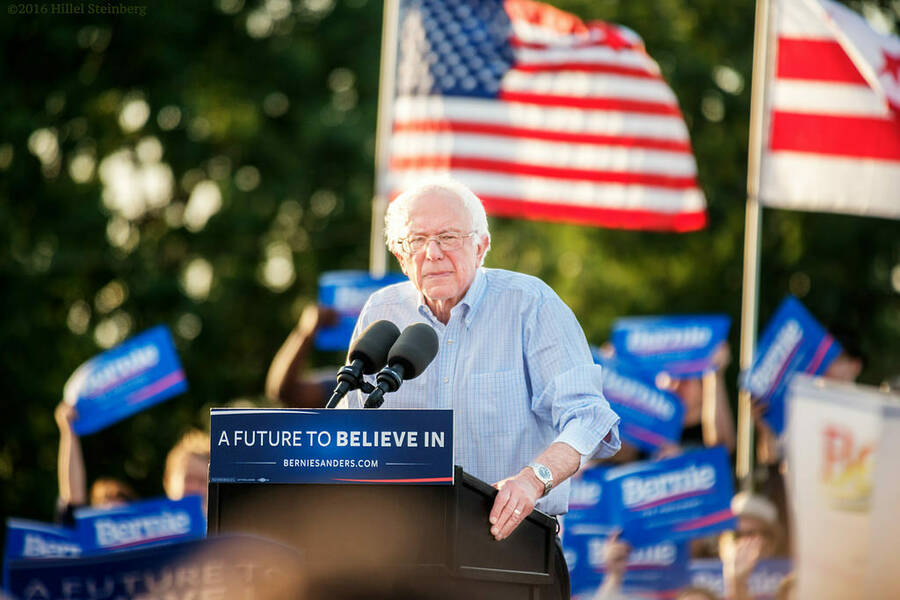 This piece first appeared at Bill​Moy​ers​.com.
The media have a script for elections, and in that script the presumed losers are always marginalized and even dismissed.
Ear­li­er this week, even before Hillary Clinton's pri­ma­ry vic­to­ry in Cal­i­for­nia assured her the Demo­c­ra­t­ic pres­i­den­tial nom­i­na­tion, the Asso­ci­at­ed Press had already declared her the pre­sump­tive nom­i­nee. Bernie Sanders and his sup­port­ers were sore, and they had a right to be.
Although the AP defend­ed its deci­sion, say­ing that Clinton's cross­ing the del­e­gate thresh­old was news and they had an oblig­a­tion to report it when they did (the day before the clinch­ing pri­maries) the tim­ing and the cir­cum­stances were sus­pi­cious. It appears that AP had been hound­ing superdel­e­gates to reveal their pref­er­ences, and blast­ing that head­line just before those pri­maries threat­ened either to depress Sanders' vote or Hillary's or both because the con­test was now for all intents and pur­pos­es over.
Sanders has nev­er been much of a media fan. Last Octo­ber, Moth­er Jones report­ed that way back in 1979, he wrote in Vermont's Van­guard Press, an alter­na­tive news­pa­per, that ​"with con­sid­er­able fore­thought [TV cap­i­tal­ists] are attempt­ing to cre­ate a nation of morons who will faith­ful­ly go out and buy this or that prod­uct, vote for this or that can­di­date and faith­ful­ly work for their employ­ers for as low a wage as pos­si­ble." He said TV was America's ​"drug." On anoth­er occa­sion, he took a 60 Min­utes crew to the AP office in Burling­ton and, in a bit of turn­about, began inter­ro­gat­ing their reporters. So per­haps the AP's announce­ment this week was a bit of long-sim­mer­ing retribution.
Pay­back or not, Sanders and his sup­port­ers are jus­ti­fied in say­ing the main­stream media have not been entire­ly fair to him. But that isn't because Sanders was anti-estab­lish­ment or because he has attacked the media's monop­o­lis­tic prac­tices or because he claimed to be lead­ing a rev­o­lu­tion or even because he was impa­tient with reporters who asked idi­ot­ic ques­tions — though he had done all of those things.
Sanders and his sup­port­ers are jus­ti­fied in say­ing the main­stream media have not been entire­ly fair to him.
Sanders was the vic­tim of some­thing else: the script. The media have a script for elec­tions, and in that script the pre­sumed losers are always mar­gin­al­ized and even dis­missed. The script, then, dic­tat­ed that Sanders wasn't going to get favor­able cov­er­age. Or, put more stark­ly, the MSM pick the losers and then vin­di­cate that judgment.
From the moment he announced his can­di­da­cy in April 2015, the media treat­ed Sanders as if he were unlike­ly to win. In The New York Times, that announce­ment was print­ed on page A‑21, call­ing him a ​"long shot" but say­ing that his can­di­da­cy could force Hillary Clin­ton to address his issues ​"more deeply." The arti­cle end­ed with a quote from Sanders: ​"I think peo­ple should be a lit­tle bit care­ful under­es­ti­mat­ing me," which is exact­ly what The Times seemed to be doing.
By con­trast, Hillary Clinton's announce­ment two-and-a-half weeks ear­li­er got prime real estate in The Times and the judg­ment that the ​"announce­ment effec­tive­ly began what could be one of the least con­test­ed races, with­out an incum­bent, for the Demo­c­ra­t­ic pres­i­den­tial nom­i­na­tion in recent his­to­ry." So already the roles had been cast — though, of course, the per­cep­tion that Sanders wasn't like­ly to beat Clin­ton was all but a self-ful­fill­ing prophecy.
The media have a script for elec­tions, and in that script the pre­sumed losers are always mar­gin­al­ized and even dismissed.
In his essen­tial book, Out of Order—still, 23 years after pub­li­ca­tion, the best analy­sis of elec­tion cov­er­age — Har­vard polit­i­cal sci­en­tist Thomas Pat­ter­son said there are only four press nar­ra­tives in an elec­tion cam­paign: ​"a can­di­date is lead­ing, or trail­ing, or gain­ing ground or los­ing ground." And: ​"The press dumps on losers and those who are los­ing sup­port, crit­i­cizes front-run­ners and prais­es those who catch fire — at least as long as the band­wag­on lasts."
As the pre­sumed los­er from the out­set, Sanders didn't get neg­a­tive cov­er­age so much as he got neg­li­gi­ble cov­er­age. An analy­sis by the TV News Archive of cable tele­vi­sion cov­er­age since Jan­u­ary 2015 pro­vides graphs of Clinton's and Sanders' men­tions that look alike, save for one thing: Clin­ton was get­ting vast­ly more cov­er­age than Sanders. How much more? On CNN, Clin­ton got more than 70,000 of the Demo­c­ra­t­ic-can­di­date men­tions, while Sanders got just under 42,000. On MSNBC, Clin­ton got more than 93,000 men­tions to Sanders' rough­ly 51,000. On Fox News, she got more than 71,000 men­tions to his more than 28,000. The num­bers are sim­i­lar on the Lex­is-Nex­is data­base of news­pa­pers. In the past 30 days, Clin­ton received 2,591 men­tions, Sanders only 922. By com­par­i­son, Trump got 5,568.
The num­bers, of course, are con­stant­ly being updat­ed. But the ratios remain more or less constant.
I sup­pose jour­nal­ists would argue that time and space are inelas­tic; choic­es have to be made as to who receives cov­er­age. If we give it to Bernie Sanders, they might say, why not Mar­tin O'Malley, Jim Webb or even Lin­coln Chafee? Putting aside whether there real­ly is too lit­tle time (on cable where the same sto­ries are repeat­ed end­less­ly?), the deci­sion over whom to cov­er and whom not to cov­er is deter­mi­na­tive. By plac­ing bets on one can­di­date over anoth­er, the media vir­tu­al­ly pre­vent that dis­fa­vored can­di­date from gain­ing ground.
But in spite of the dearth of MSM cov­er­age, Sanders did gain ground. That may have been due to his very active social media pres­ence, which assured that the Sanders name and mes­sage were being pro­mul­gat­ed via the ether if not on the page or on the air. Though Trump clear­ly mas­tered how to turn social media into MSM cov­er­age by tweet­ing absur­di­ties the press couldn't resist, Sanders used social media to mobi­lize sup­port, so that he was able to rus­tle up a crowd for a ral­ly at a moment's notice, and a whole lot of money.
This may be the first time that social media com­pelled the MSM to change its nar­ra­tive—from los­ing can­di­date to gain­ing can­di­date, or what Pat­ter­son calls the ​"band­wag­on effect." In turn, Sanders' crowds were huge. His fundrais­ing was large and notable for the num­ber of small dona­tions. And most of all, his poll num­bers began rising.
It is now a tru­ism of elec­tion cov­er­age that since the cov­er­age often con­torts itself to jus­ti­fy them, you fol­low the polls. Poll num­bers are every­thing. As Sanders' num­bers climbed, and espe­cial­ly after he trounced Clin­ton in New Hamp­shire, the sto­ry was sud­den­ly that Sanders was lead­ing a move­ment of young peo­ple dis­sat­is­fied with the old pol­i­tics rep­re­sent­ed by Clin­ton, and angry with the system.
Of course, even as the MSM called Sanders ​"aspi­ra­tional" and ​"inspi­ra­tional" and ​"ide­al­is­tic" com­pared to Clin­ton, the praise was then under­cut when pun­dits com­pared him to anoth­er tri­bune of the dis­af­fect­ed, Don­ald Trump. "[Sanders] and Trump are peas in a pod," wrote The Wash­ing­ton Post's Dana Mil­bank, as late as last April.
None of this reluc­tant praise was because the press par­tic­u­lar­ly liked Sanders. I think they still thought of them­selves as real­ists while Sanders was some­thing of a polit­i­cal Don Quixote — an old crank. But the media are in the dra­ma busi­ness, and the sto­ry of Sanders' ener­gized youth army tak­ing on Clinton's tired appa­ratchiks was a com­pelling one, and a whole lot bet­ter than Clin­ton march­ing over Sanders like Sher­man through Geor­gia. Indeed, noth­ing stirs the media like a good fight. The amount of Sanders' cov­er­age appre­cia­bly rose.
The prob­lem was, to use the buzz­word of this elec­tion, the math. No mat­ter how much mon­ey Sanders raised, how many cau­cus­es and pri­maries he won or how much enthu­si­asm he stirred, he couldn't beat the del­e­gate math — which is to say, he was a los­er. To the media, his rise was a plot twist before the nar­ra­tive wound its way to the inevitable con­clu­sion. And, as Pat­ter­son wrote of the media, ​"What is said of the can­di­date must fit the plot." Here the plot was that Sanders was not going to win because he was not good enough to win.
Sanders' cov­er­age in The New York Times is a case in point, and an impor­tant one because The Times dri­ves so much of the MSM's cov­er­age. It is hard­ly a secret that The Times has had a jones for Hillary Clin­ton, but that doesn't excuse its cov­er­age of Sanders, which even includ­ed an arti­cle crit­i­ciz­ing him for not doing more of the baby-kiss­ing and hand-shak­ing that can­di­dates usu­al­ly do.
Matt Taib­bi of Rolling Stone wrote a scathing take­down of The Times' most egre­gious offense: a March arti­cle by Jen­nifer Stein­hauer on how Sanders func­tioned as a leg­is­la­tor. Head­lined ​"Bernie Sanders Scored Vic­to­ries for Years Via Leg­isla­tive Side Doors," as orig­i­nal­ly pub­lished, the arti­cle recount­ed how effec­tive Sanders was at attach­ing amend­ments to pieces of leg­is­la­tion, both Repub­li­can and Demo­c­ra­t­ic, and forg­ing coali­tions to achieve his ends. The piece was band­wag­on stuff.
But then some­thing hap­pened. The orig­i­nal arti­cle, already pub­lished, under­went a trans­for­ma­tion in which Sanders sud­den­ly wasn't so effec­tive a leg­is­la­tor. Even the head­line was changed to ​"Via Leg­isla­tive Side Doors, Bernie Sanders Won Mod­est Vic­to­ries." And this para­graph was added: ​"But in his pres­i­den­tial cam­paign Mr. Sanders is try­ing to scale up those kinds of pro­pos­als as a nation­al agen­da, and there is lit­tle to draw from his small-ball leg­isla­tive approach to sug­gest that he could succeed."
Respond­ing to angry Sanders sup­port­ers, The Times' own pub­lic edi­tor, Mar­garet Sul­li­van, asked why the changes were made and wrote, ​"Matt Pur­dy, a deputy exec­u­tive edi­tor, said that when senior edi­tors read the piece after it was pub­lished online, they thought it need­ed more per­spec­tive about whether Mr. Sanders would be able to car­ry out his cam­paign agen­da if he was elect­ed pres­i­dent." Yeah, right.
You might note how short a step it is from los­ing to deserv­ing to lose. The media always seem will­ing to take that step, not only when it comes to Sanders but to any pre­sumed los­er. It may also explain why the media were so hard on Sanders' poli­cies, ridi­cul­ing them as pie-in-the-sky. On the oth­er hand, Times colum­nist Paul Krug­man, once a lib­er­al hero, took a lot of flak from Sanders sup­port­ers for crit­i­ciz­ing sev­er­al of the senator's pro­pos­als and favor­ing Clinton's. Sandernistas couldn't accept the pos­si­bil­i­ty that Krug­man, whose lib­er­al bona fides are pret­ty sound, was back­ing Clin­ton because he thought Sanders' pro­pos­als didn't add up — and not that he thought they didn't add up because he was back­ing Clin­ton. Even if Sanders was treat­ed unfair­ly, he didn't deserve to escape scruti­ny just because he was a maverick.
By the same token, the press's pre­sump­tion that Sanders was a los­er wasn't wrong either. Sanders' claim that the sys­tem was some­how rigged against him because of superdel­e­gates proved not to be true. Sanders received far few­er votes than Clin­ton, 3.7 mil­lion less, and he would have lost the nom­i­na­tion even if there had been no superdel­e­gates, not to men­tion that he lost the basic Demo­c­ra­t­ic con­stituen­cies to her. What we will nev­er know is if the race might have been dif­fer­ent had the cov­er­age been dif­fer­ent — that is, if Sanders hadn't been con­sid­ered some out­lier and pre­or­dained los­er from the very beginning.
Anoth­er thing we will nev­er know is how the cov­er­age would have dif­fered if it hadn't been so poll- or del­e­gate-dri­ven. Can­di­dates won't arrive at the fin­ish line at the same time, but the media should at least let them begin at the start­ing line togeth­er. And the vot­ers should be the ones to win­now the field, not the press.
Now that Sanders has played his part juic­ing up the nom­i­nat­ing dra­ma, the media seem as eager to dis­pose of him as the Demo­c­ra­t­ic estab­lish­ment does. They're ready to rel­e­gate him to his next role: con­firmed sore los­er. A front-page sto­ry in Thursday's edi­tion of The New York Times griped, ​"Hillary Clin­ton Made His­to­ry, but Bernie Sanders Stub­born­ly Ignored it," open­ing with the line, ​"Rev­o­lu­tions rarely give way to gra­cious expres­sions of defeat."
No, they don't, and I don't think it is the busi­ness of the press to tell can­di­dates when to or how to con­cede, much less com­plain about it. The arti­cle went on to call Sanders' address after Tues­day night's pri­maries ​"a speech of strik­ing stub­born­ness," as if The Times and its bare­ly pent-up exas­per­a­tion with Sanders final­ly broke the dam.
But again, this isn't just what the MSM think of Bernie Sanders. It is what the media think of losers. They don't like them very much, and they seem deter­mined to make sure that you don't like them either — unless they beat the press's own odds and become winners.
Neal Gabler
is an author of five books and the recip­i­ent of two LA Times Book Prizes, Time mag­a­zine's non-fic­tion book of the year, USA Today's biog­ra­phy of the year and oth­er awards. He is also a senior fel­low at The Nor­man Lear Cen­ter at the Uni­ver­si­ty of South­ern Cal­i­for­nia, and is cur­rent­ly writ­ing a biog­ra­phy of Sen. Edward Kennedy.