The Media Could Still Help Elect Trump
Trump can't reboot his campaign unless the press reboots it for him.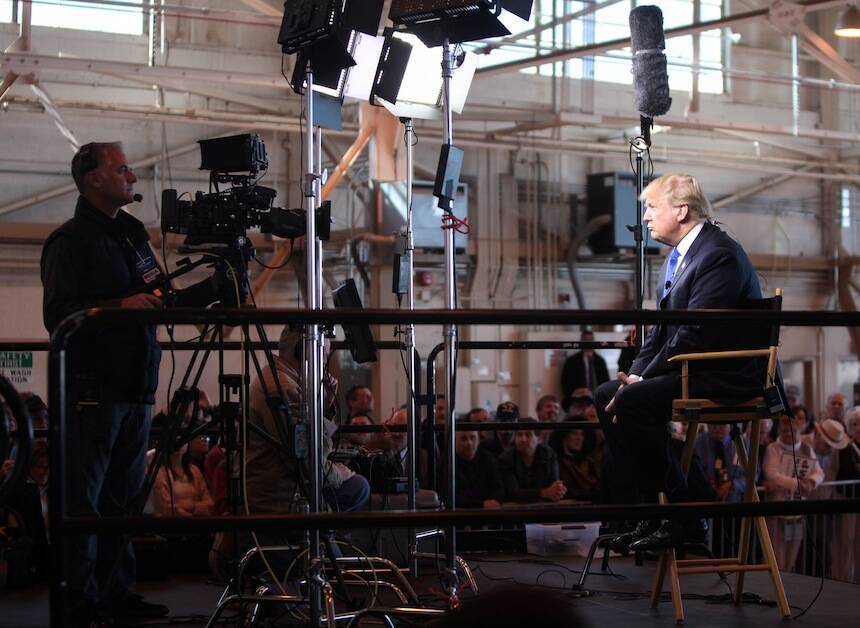 This post orig­i­nal­ly appeared at Bill​Moy​ers​.com.
The mainstream media thrives on equivocation and equalization. It is, I suppose, what they think distinguishes them from right- and left-leaning websites and Fox News, and it is, I suspect, less the result of any sense of public obligation than it is a form of self-congratulatory piety.
"Can Don­ald Trump Rebound?" asks the New York­er's John Cas­sidy in his Mon­day blog post, pos­ing what seems to be the press­ing ques­tion now. Cas­sidy assumes, like near­ly all ana­lysts, that it is a polit­i­cal ques­tion — basi­cal­ly, ​"Can Trump get the funds, the TV buys, the infra­struc­ture, the par­ty uni­ty, and last but by no means least the piv­ot from abnor­mal­i­ty to nor­mal­i­ty that would allow the Repub­li­can nom­i­nee to close the ever-widen­ing polling gap with Hillary Clin­ton and compete?"
But the media are being more than a bit disin­gen­u­ous in their dis­sec­tions. This isn't so much a polit­i­cal ques­tion as it is a media ques­tion, which is to say that the media may hold the answer, not Trump. Even the ques­tion itself has a media pred­i­cate — name­ly, that Trump can make every­thing he has hereto­fore done and said dis­ap­pear and then begin anew. You can't do that unless the press lets you. You can't reboot your cam­paign unless the press reboots it for you.
So whether Trump can win this elec­tion may be less in his hands than in the media's. And that is not par­tic­u­lar­ly a good thing if you think that Trump is a dan­ger to the coun­try. This is why: The media have a stake in resus­ci­tat­ing Trump's cam­paign or dam­ag­ing Clinton's. Don't be sur­prised if they try.
Call it the ​"media bounce" if it boosts Trump, or the ​"media dip" if it hurts Clinton.
Even while lav­ish­ing atten­tion on Trump and giv­ing him large­ly pos­i­tive or neu­tral cov­er­age in the run-up to the pri­maries, the main­stream media — a good many pun­dits and even a hand­ful of reporters — have been less than flat­ter­ing since then. The media seem to adore Trump as a sub­ject, a polit­i­cal train wreck that keeps roar­ing down the track and flat­ten­ing more things, because train wrecks are good copy and good TV. At the same time, the main­stream media seem to fear the prospect of Trump as president.
Jim Rutenberg's media col­umn in Monday's New York Times is an exam­ple of the kind of soul-search­ing some jour­nal­ists are under­tak­ing, and the kind I don't recall ever see­ing before in main­stream pub­li­ca­tions. Ruten­berg asks whether the media have an oblig­a­tion to toss aside their so-called neu­tral­i­ty and reveal Trump for the char­la­tan, dem­a­gogue and truth-twister he is, or whether they should con­tin­ue to treat him as if he were an ordi­nary can­di­date. Bri­an Stel­ter on this past weekend's Reli­able Sources on CNN asked a sim­i­lar ques­tion about Trump's charges of a rigged elec­tion, even though CNN is one of the worst offend­ers in aid­ing and abet­ting Trump, and even though they put Trump apol­o­gist Jef­frey Lord and for­mer Trump cam­paign man­ag­er Corey Lewandows­ki on their pay­roll. Ear­li­er the Colum­bia Jour­nal­ism Review called for a ​"Mur­row moment" in the cov­er­age of Trump, refer­ring to the way Edward R. Mur­row called out Sen. Joseph McCarthy on CBS.
Trump has always been san­guine about these attacks. His oper­at­ing prin­ci­ple is that all pub­lic­i­ty is good pub­lic­i­ty, and he crows that he is gam­ing the media into giv­ing him free atten­tion and thus boost­ing his can­di­da­cy. As Greg Sar­gent observed in The Wash­ing­ton Post last week, it hasn't exact­ly turned out that way. Some pub­lic­i­ty is so bad that it can dam­age a can­di­da­cy, espe­cial­ly if it dom­i­nates the air­waves and print — to wit, Trump's squab­ble with the Khans.
But as a recent report on elec­tion cov­er­age from Harvard's Shoren­stein Cen­ter shows, after receiv­ing that pos­i­tive cov­er­age dur­ing the ​"invis­i­ble pri­ma­ry" before the actu­al vot­ing, Trump's cov­er­age went neg­a­tive dur­ing the pri­maries. So he has been get­ting neg­a­tive cov­er­age for quite some time now — 61 per­cent to 39 per­cent neg­a­tive in the last five weeks of the pri­ma­ry sea­son — with­out it seem­ing to do him any real harm. In fact, his poll num­bers kept climb­ing throughout.
Still, even as Trump has hit a series of post-con­ven­tion pot­holes that clear­ly have depressed his num­bers, there is some rea­son to think that the pot­holes could actu­al­ly turn out to be just speed bumps as far as the media are con­cerned. In the first place, while the main­stream media may have a greater sense of respon­si­bil­i­ty in the gen­er­al elec­tion than the pri­maries, as Sar­gent posits, they nev­er­the­less thrive on equiv­o­ca­tion and equal­iza­tion. It is, I sup­pose, what they think dis­tin­guish­es them from right- and left-lean­ing web­sites and Fox News, and it is, I sus­pect, less the result of any sense of pub­lic oblig­a­tion than it is a form of self-con­grat­u­la­to­ry piety: We don't take sides. So what hap­pened last week — for the press to crit­i­cize Trump with­out an equal blast at Clin­ton — is actu­al­ly a devi­a­tion from the norm, which also means that they are like­ly to return to the norm and be either less crit­i­cal of Trump or more crit­i­cal of Clin­ton. Think of it as a course cor­rec­tion. Either way, it could help Trump.
But there is anoth­er media predilec­tion that could work to Trump's advan­tage: the horse race. No one needs to be told that near­ly all elec­tion cov­er­age now is about who is win­ning or los­ing. Accord­ing to that Shoren­stein study of this year's pri­maries, 56 per­cent of the cov­er­age was horse race, only 11 per­cent sub­stan­tive, with the rest about process. We may think this is just a mat­ter of empha­sis. But it con­tributes to shap­ing the entire con­tour of the elec­tion. Because here is the thing about horse race cov­er­age: the media want to keep the race tight, even when, as in the cur­rent sit­u­a­tion, it isn't.
If you're a sports fan, you know that noth­ing is more yawn-induc­ing than a blowout — and that is true not just for view­ers, but for broad­cast­ers as well. It sends them rum­mag­ing to the trunk of anec­dotes. That's because jour­nal­ists want to be engaged just as much as fans do by the action on the field. It's good for busi­ness. It's good for one's own men­tal state too.
That may be why near­ly every los­ing major par­ty can­di­date in the gen­er­al elec­tion over the last three decades has either got­ten a bounce or has seen the leader suf­fer a dip. It's not nec­es­sar­i­ly because losers sud­den­ly gain steam or lead­ers sud­den­ly lose it. It is because the media, either through a desire to show their fair­ness or a desire to keep the cam­paign enter­tain­ing (or both), will begin to manip­u­late the cov­er­age. In 1980, despite doubts about his grav­i­ty, Rea­gan even­tu­al­ly was depict­ed as pres­i­den­tial, com­ing from behind to win con­vinc­ing­ly. As the elec­tion wore on in 1988, leader Michael Dukakis became a fool atop a tank. In 1992, Clinton's huge post-con­ven­tion lead dis­si­pat­ed from near­ly 25 points at one time to 6 in the final vote under with­er­ing media scruti­ny of his char­ac­ter. In 2012, Rom­ney got a bounce when the media declared him the win­ner of the first debate and start­ed talk­ing about a close election.
It isn't hard to imag­ine the media dri­ving a nar­ra­tive of a ​"new," more dis­ci­plined Trump, or of a more pres­i­den­tial Trump if he stays on script or doesn't go on the attack dur­ing the debates, or of a Trump catch­ing the pop­ulist tide. It is already start­ing. See CNN's favor­able cov­er­age of Trump's eco­nom­ic speech.
The idea is to close the gap and give us a good game – a game we will con­tin­ue to want to watch, and that the media will want to report. The rea­sons for the bounce are near­ly irrel­e­vant. As Trump cam­paign man­ag­er Paul Man­afort put it, ​"We're com­fort­able we'll get the agen­da and the nar­ra­tive of the cam­paign back on where it belongs." Exact­ly. The narrative.
But there is one way in which Trump, who relies on the media even as he evis­cer­ates them, could injure him­self, and it is unique to him. If the media have his­tor­i­cal­ly tight­ened the race pri­mar­i­ly to height­en its enter­tain­ment val­ue, what hap­pens when a race is already loaded with a dif­fer­ent sort of enter­tain­ment val­ue? With his non­stop flubs, squab­bles, explo­sions, exag­ger­a­tions, lies and out­rages, Trump has been pro­vid­ing a huge media show, his posi­tion in the race notwith­stand­ing. For tra­di­tion­al politi­cians, the media had no alter­na­tive but to whip up game ten­sion. Trump whips up luna­cy all on his own. Essen­tial­ly, his shenani­gans eclipse the horse race.
Show busi­ness can beat tra­di­tion­al pol­i­tics. It did in the Repub­li­can pri­ma­ry. But only if the media play along. In con­tin­u­ing to make a spec­ta­cle of him­self, Trump has begun to fright­en the very reporters who gave him a free pass, and giv­en them anoth­er option from hav­ing to pro­vide that bounce or dip. He might just cement his loss in the bargain.
Neal Gabler
is an author of five books and the recip­i­ent of two LA Times Book Prizes, Time mag­a­zine's non-fic­tion book of the year, USA Today's biog­ra­phy of the year and oth­er awards. He is also a senior fel­low at The Nor­man Lear Cen­ter at the Uni­ver­si­ty of South­ern Cal­i­for­nia, and is cur­rent­ly writ­ing a biog­ra­phy of Sen. Edward Kennedy.