Don't Believe the Israeli Government: Palestinian Hunger Strikers Won Important Victories
Palestinian prisoners forced Israel to the negotiating table and inspired a global outpouring of support.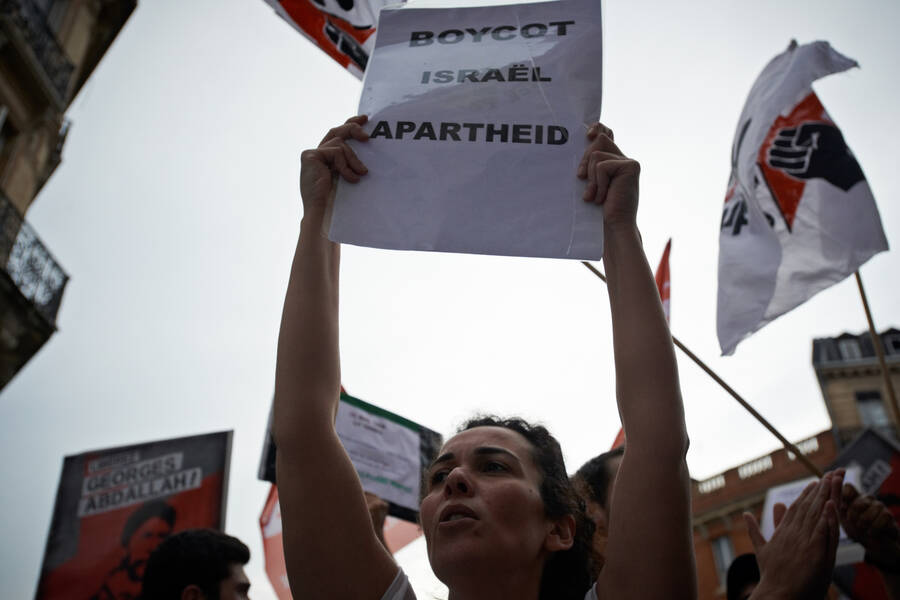 After 40 days of sub­sist­ing on only salt and water, hun­dreds of Pales­tin­ian pris­on­ers declared an end to their ​"Free­dom and Dig­ni­ty" hunger strike on May 27, fol­low­ing the capit­u­la­tion of the Israel Prison Ser­vice (IPS) to some key demands for improve­ments to their con­di­tions of con­fine­ment. Yet, the major­i­ty of the 834 hunger strik­ers remain in dire need of med­ical atten­tion, and the pro­test­ers — along with their glob­al sup­port­ers — say that the effort to address human rights abus­es is far from over.
The Pris­on­ers' Sol­i­dar­i­ty Com­mit­tee announced Sat­ur­day that the deal with the IPS was struck after 20 hours of nego­ti­a­tions. The fact that there were nego­ti­a­tions at all is notable, giv­en that the ini­tial response of Israeli offi­cials was to vehe­ment­ly reject that possibility.
Issa Qaraqe, direc­tor of the Pales­tin­ian Com­mit­tee of Pris­on­ers' Affairs, said 80 per­cent of the hunger strik­ers' demands had been met, and described the out­come as ​"a fun­da­men­tal trans­for­ma­tion in the terms of the pris­on­ers' liv­ing con­di­tions," accord­ing to Ma'an News Agency. Con­vey­ing the words of Pales­tin­ian pris­on­er Nass­er Abu Hmeid, lawyer Karim Ajweh told Ma'an out­lined some of the hunger strik­ers' successes:
Pris­on­ers won a wide range of improve­ments on vis­i­ta­tion rights, such as allow­ing vis­its from sec­ond-degree fam­i­ly members.
Pris­on­ers will be grant­ed two month­ly vis­its instead of one, in what is mere­ly a restora­tion of old reg­u­la­tions, can­celled by the Inter­na­tion­al Com­mit­tee of the Red Cross in August of last year.
Pris­on­ers will be allowed pho­tographs with par­ents or spous­es under cer­tain cir­cum­stances and will be grant­ed per­mis­sion for the exchange of cloth­ing, bags, and sweets with their visitors.
Com­pe­tent recre­ation­al equip­ment will be intro­duced into the yards.
The agree­ments ensure ade­quate con­di­tions for trans­fer­ring peo­ple between pris­ons, includ­ing keep­ing the pris­on­ers close to their fam­i­lies' places of res­i­dence. Israel often trans­fers pris­on­ers from jails and courts with­in the Occu­pied ter­ri­to­ries to pris­ons and courts in Israel prop­er, which Pales­tin­ian fam­i­ly mem­bers need per­mits to access. Those per­mits can be denied, effec­tive­ly cut­ting off fam­i­ly mem­bers from their loved ones.
The IPS denied hunger strik­ers' claims that some demands had been met, stat­ing that ​"no ben­e­fits were giv­en to nation­al secu­ri­ty pris­on­ers in return to quit­ting the hunger strike and there were no nego­ti­a­tions on this mat­ter." These remarks are con­sis­tent with the Min­istry of For­eign Affairs' pub­lic attempts, from the out­set, to den­i­grate the efforts of the strik­ers and down­play the effec­tive­ness of their col­lec­tive action.
Giv­en this pub­lic denial, pris­on­ers and their sup­port­ers say it will be vital to hold Israel account­able for imple­ment­ing its commitments.
Out­pour­ing of glob­al solidarity
While Israeli set­tlers held bar­be­ques out­side the pris­ons to taunt those on strike, the inter­na­tion­al com­mu­ni­ty flood­ed the hunger strik­ers with support.
Aarab Bargh­outhi is the 26-year-old son of impris­oned Fateh fig­ure and strike leader, Mar­wan Bargh­outhi. He launched the ​"Salt Water Chal­lenge" cam­paign in April in sol­i­dar­i­ty with the hunger strike. Sim­i­lar to the ​"Ice Buck­et Chal­lenge," the cam­paign urges par­tic­i­pants to drink salt and water to demon­strate their sup­port for the strik­ers and chal­lenges oth­ers to do the same. The action went viral in a mat­ter of days, with par­tic­i­pants from all over the world tak­ing part to demon­strate their sup­port and voice the plight of the prisoners.
Bargh­outhi expressed his moti­va­tions to In These Times, explain­ing: ​"One week before [the strike], my sis­ter saw [our father], and she told him that she didn't want him to do it. And he told her that he's doing it for us, he's doing it to be able to hug us, he is doing it to be able to take a pho­to with us."
Protests were held glob­al­ly in sup­port of the Pales­tin­ian pris­on­ers, led by groups includ­ing Jew­ish Voice for Peace, Black4Palestine, Inter­na­tion­al Jew­ish Anti-Zion­ist Net­work and the Inter­na­tion­al Trade Union Con­fed­er­a­tion. Lead­ers, gov­ern­ment offi­cials, and polit­i­cal par­ties also expressed their sup­port, includ­ing the Uruguay's nation­al labor con­fed­er­a­tion, the Irish social­ist repub­li­can par­ty ​'Éirígí', and the Por­tuguese par­lia­ment. Pris­on­ers from all over the world sent mes­sages of sol­i­dar­i­ty, from the Repub­li­can Irish Pris­on­ers to the Fil­ipino Polit­i­cal Pris­on­ers.
Many even launched sym­bol­ic hunger strikes of their own, includ­ing sev­er­al South African cab­i­net min­is­ters and Deputy Pres­i­dent Cyril Ramaphosa. Since May third, mem­bers of the group Colum­bia Uni­ver­si­ty Apartheid Divest (CUAD) each staged suc­ces­sive, 24-hour fasts in sol­i­dar­i­ty with the pris­on­ers' strike.
Sep­a­rate and Unequal ​"Jus­tice"
While Pales­tin­ian hunger strik­ers won lim­it­ed improve­ments to their con­di­tions, they were also object­ing to how Israel uses its judi­cial sys­tem as a tool of occu­pa­tion. On April 16, the day before the strike's incep­tion, Mar­wan Bargh­outhi announced in a New York Times op-ed that the strik­ers demand­ed an end to soli­tary con­fine­ment and admin­is­tra­tive deten­tion, which sub­jects ordi­nary Pales­tini­ans to mar­tial law.
Despite the pris­on­ers' gains, these sys­tems remains in place.
Pales­tini­ans in the West Bank are tried in mil­i­tary court, while their Jew­ish coun­ter­parts are tried in civil­ian court. Accord­ing to to the human rights group Addameer, since the Six Day War in 1967, more than 800,000 Pales­tini­ans have been detained — amount­ing to approx­i­mate­ly 40 per­cent of the Pales­tin­ian male pop­u­la­tion. The joke goes that if you are born a Pales­tin­ian male in the West Bank, you are bound to see the inside of an Israeli prison cell.
In Gaza, fam­i­lies have devel­oped a strat­e­gy to smug­gle sperm from detainees to their wives to resist this form of eth­nic cleansing.
Many Pales­tini­ans held in Israeli pris­ons do not get a charge or a tri­al, but instead face admin­is­tra­tive deten­tion on the basis of ​"secret evi­dence." Israel has the pow­er to bar Pales­tini­ans on admin­is­tra­tive deten­tion from access to a lawyer for up to six­ty days. Though each deten­tion is lim­it­ed to six months, Israel reserves the author­i­ty to indef­i­nite­ly renew admin­is­tra­tive deten­tion with­out legal proceedings.
U.S. cul­pa­bil­i­ty
Since the Sec­ond World War, Israel has been the sin­gle largest cumu­la­tive recip­i­ent of U.S. for­eign aid. In Sep­tem­ber of last year, the Unit­ed States signed an agree­ment that pledges a 38-bil­lion-dol­lar pack­age to Israel over the next decade.
U.S. sup­port to Israel does not end there, as con­gres­sion­al forces con­tin­ue to push for the crim­i­nal­iza­tion of the Boy­cott, Divest­ment and Sanc­tions move­ment, which emerged from Pales­tin­ian civ­il soci­ety in 2005. BDS calls on the inter­na­tion­al com­mu­ni­ty to eco­nom­i­cal­ly sanc­tion Israel as a non-vio­lent effort to pres­sure it into abid­ing by inter­na­tion­al law.
In con­trast to their gov­ern­ment, many in the Unit­ed States are demon­strat­ing sol­i­dar­i­ty. ​"I believe that the Pales­tin­ian com­mu­ni­ty in the U.S., in gen­er­al, is a trea­sure that we are not using effi­cient­ly, in my opin­ion," said Bargh­outhi. ​"Since I've been here, I saw how peo­ple are real­ly still in love with Pales­tine. They put it on their priorities."
"But I think it needs the new blood to take the lead," he con­tin­ued. ​"I think the, with all due respect to the old gen­er­a­tion, they don't under­stand this era is about social media, this era is about reach­ing as many peo­ple as we can, and the beau­ti­ful thing about our cause is that it's the right cause."
Tama­ra Nas­sar
is an assis­tant edi­tor at The Elec­tron­ic Intifa­da. She can be found on twit­ter @TamaraINassar.