With More Gaza Protests Planned, Don't Believe the Mainstream Media's Lies
Here are the mainstream media myths to look out for.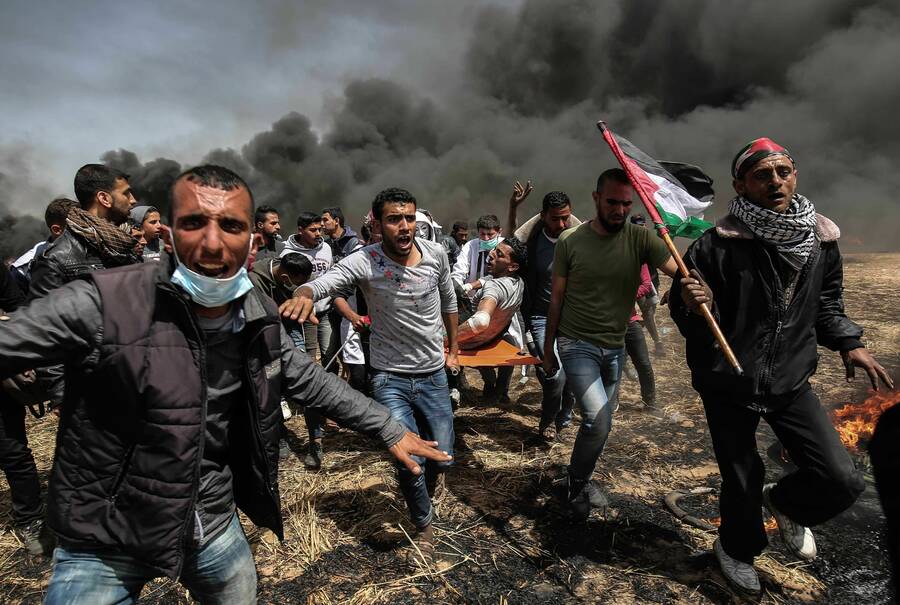 Since the begin­ning of the Great March of Return on March 30, Israel has killed over 100 Pales­tini­ans and injured over 12,000. Only one Israeli, a sol­dier, has been injured in the con­text of the march.
It is inhumane to expect a massacred population not to resist.
Most main­stream west­ern media cov­er­age of Gaza's march has sys­tem­at­i­cal­ly decon­tex­tu­al­ized the mass civil­ian protest, brushed off Israel's week­ly mas­sacres as ​"clash­es," rei­fied the bound­ary fence between Gaza and Israel a ​"bor­der," pre­sent­ed Pales­tin­ian pro­test­ers as ​"Hamas pawns" pas­sive­ly ​"dying for pho­to ops" and deployed oth­er strate­gic false­hoods to dehu­man­ize Pales­tini­ans fight­ing for their free­dom. The net effect is the demo­niza­tion of the march and the abso­lu­tion of Israel of its mur­der­ous assault.
Some out­lets have even por­trayed the protests as a reac­tion to the U.S. embassy move to Jerusalem, which was planned on the annu­al date com­mem­o­rat­ing the Nak­ba: Israel's 1948 eth­nic cleans­ing of over 700,000 Pales­tini­ans. Accord­ing to Amnesty Inter­na­tion­al, the embassy move ​"inten­tion­al­ly under­mines Pales­tin­ian rights and in effect con­dones decades of vio­la­tions by Israel." And yet is just a man­i­fes­ta­tion of the larg­er Israeli poli­cies of expan­sion­ism and eth­nic cleans­ing, which have dis­tort­ed the ter­ri­to­r­i­al integri­ty of the West Bank and dev­as­tat­ed Gaza.
What are Pales­tini­ans in Gaza protesting?
Since Israel imposed a block­ade on Gaza in 2007, it has waged rou­tine inva­sions that lev­el infra­struc­ture and kill thou­sands — a pol­i­cy described by some Israeli analy­sists and politi­cians as ​"mow­ing the lawn." Accord­ing to the UN, Israel's attacks, cou­pled with the siege, have ren­dered Gaza ​"unliv­able." Over 96 per­cent of Gaza's water is unsafe for drink­ing and 57 per­cent of house­holds are food insecure.
The Gaza Strip is often called the world's largest open-air prison. Israel con­trols the mar­itime, aero­space and land bor­ders of the coastal enclave.
The Israel mil­i­tary defies inter­na­tion­al mar­itime law by restrict­ing Gaza's fish­ers to six nau­ti­cal miles from their shore, rather than the 20 stip­u­lat­ed in the Oslo Accords (signed between Israel and the Pales­tine Lib­er­a­tion Orga­ni­za­tion in the ear­ly 1990s). More­over, it often guns down fish­ers and their boats even when they abide by its limitations.
Israel deter­mines who and what can enter or exit Gaza. They con­trol ship­ments of fuel, med­i­cine, build­ing sup­plies, and food — at one point allow­ing only the min­i­mum calo­ries each per­son in the strip could con­sume with­out starving.
The only two ​"open­ings" to the out­side world are the Erez check­point and the Egypt­ian-con­trolled Rafah cross­ing. The for­mer is the only point of pas­sage for trav­el­ers between Gaza and Israel and almost impos­si­ble to obtain a per­mit to. The lat­ter opened for only 35 days in all of 2017.
Almost 70 per­cent of Gaza's pop­u­la­tion con­sists of refugees from oth­er Pales­tin­ian cities who were forcibly dis­placed to the strip by Israel. Pales­tini­ans are stuck in Gaza, and they are demand­ing their right to return to their homes as enshrined in inter­na­tion­al law.
"Clash­es"
In their cov­er­age of the March, most main­stream media deployed pas­sive lan­guage that hid Israel's agency in its mur­der of Pales­tin­ian pro­test­ers, jour­nal­ists and para­medics. One such term which obfus­cates the extent of this one-sided mas­sacre is ​"clash­es."
The Guardian, the BBC, ABC News and oth­ers report­ed on ​"clash­es" in their head­lines. This puts no clear empha­sis on the vic­tims, the per­pe­tra­tors and the mag­ni­tude of the assault. One is led to believe that Israelis and Pales­tini­ans inflict­ed com­pa­ra­ble dam­age and suf­fered com­pa­ra­ble casualties.
The Econ­o­mist even called on ​"Pales­tini­ans to take up gen­uine non-vio­lence" — echo­ing Israeli army pro­pa­gan­da that the march was ​"vio­lent" and brush­ing over the fact that Israel has sub­ject­ed Gaza to its dead­liest days since its 2014 assault on the strip.
It is inhu­mane to expect a mas­sa­cred pop­u­la­tion not to resist.
One can­not equate the use of stones and molo­tov cock­tails with the use of sniper-rifles and drones. These do not amount to two equal ​"clash­ing sides." The for­mer has proved inca­pable of inflict­ing vio­lence, while the lat­ter has enabled the sum­ma­ry exe­cu­tions and maim­ing of vast num­bers of the Gazan population.
The fact is that Pales­tini­ans were the only vic­tims of week­ly mas­sacres that only Israel com­mit­ted. The death toll speaks to this: over 100 Pales­tin­ian dead to 0 Israelis.
Giv­en the gross pow­er dis­par­i­ty, the safe­ty of the Israeli sol­diers, and Israel's ​"shoot-to-kill pol­i­cy," sure­ly the term ​"mas­sacre" is far more appropriate.
Pas­sive language
In the same vein, out­lets have also used mis­lead­ing, pas­sive lan­guage that absolves Israel of its agency and blames Pales­tini­ans for the violence.
In a tweet emblem­at­ic of this trend, The New York Times wrote, ​"Spo­radic rifle fire from the Israeli side of the Gaza bor­der made clear that the Pales­tin­ian protests could elic­it the sort of response that killed 20 peo­ple a week ago."
This tweet is deceiv­ing on many levels.
First­ly, the term ​"spo­radic rifle fire" masks both the per­pe­tra­tor, Israel, and the sys­tem­at­ic nature of the shoot­ings. The arti­cle sug­gests that ​"rifle fire" sim­ply exists on its own, with no agent cre­at­ing it. This is espe­cial­ly far­ci­cal con­sid­er­ing a now-delet­ed tweet from the offi­cial Israeli Defense Forces that ​"noth­ing was car­ried out uncon­trolled; every­thing was accu­rate and mea­sured, and we know where every bul­let landed."
More­over, describ­ing the rifle fire as ​"from the Israeli side of the Gaza bor­der" pawns off respon­si­bil­i­ty from Israel by evok­ing the imagery of Israel's ​"bad neigh­bor­hood" and of bor­der dis­putes. Giv­en the pre­pon­der­ance of drone war­fare and snipers which have dis­tanced Israeli sol­diers from the bor­der, this may sim­ply have read, ​"from Israel".
Third­ly, rather than kill and maim hun­dreds, the rifle fire sim­ply ​"made clear" that the Pales­tini­ans were respon­si­ble for their deaths. It showed that they ​"could," and in fact did, ​"elic­it" the Israeli ​"response." This evokes motifs of the fatal­is­tic, unciv­i­lized Pales­tini­ans ​"dying for a pho­to opp". In this way, one doesn't ques­tion the bru­tal­i­ty of the response, but only the Pales­tini­ans who ​"elicit­ed" it.
Fourth, and per­haps most egre­gious, the ​"peo­ple" killed were all Palestinians.
"Bor­der"
Media out­lets fre­quent­ly refer to the site of the ​"clash­es" or ​"con­fronta­tions" as the ​"Gaza bor­der." The New York Times often uses that term, ​"Israeli Mil­i­tary Kills 15 Pales­tini­ans in Con­fronta­tions on Gaza Bor­der," they report­ed on the first week of protest. Doing so, how­ev­er, implies zones of sov­er­eign­ty for the respec­tive states that do not exist across the Gaza-Israel fence.
As men­tioned above, the siege has result­ed in Israeli con­trol over Gaza's land, aero­space and mar­itime bor­ders. In addi­tion, Israel has imposed a buffer zone of uncer­tain size on Gazan ter­ri­to­ry, fur­ther illus­trat­ing the myth of demar­ca­tion of sovereignty.
More­over, Israel has nev­er defined its bor­ders nor accept­ed the 1949 Green Line which the inter­na­tion­al com­mu­ni­ty rec­og­nizes: a fact evi­dent in its creep­ing annex­a­tions of East Jerusalem, seg­ments of the West Bank and the Syr­i­an Golan Heights.
The protests are slat­ed to con­tin­ue on June 5 to com­mem­o­rate Israel's 1967 annex­a­tion of the West Bank, Gaza and the Golan Heights. The inter­na­tion­al com­mu­ni­ty must bear wit­ness and hold Israel account­able for its atroc­i­ties against the civil­ian pop­u­la­tion of Gaza. This requires see­ing through media tropes that dehu­man­ize Pales­tini­ans and white­wash Israel's abuses.
Tama­ra Nas­sar
is an assis­tant edi­tor at The Elec­tron­ic Intifa­da. She can be found on twit­ter @TamaraINassar.