The Uncolonized Mind: An Iraqi-American Artist Explores Memory, Star Wars and Bad Translations
Michael Rakowitz on his latest exhibition.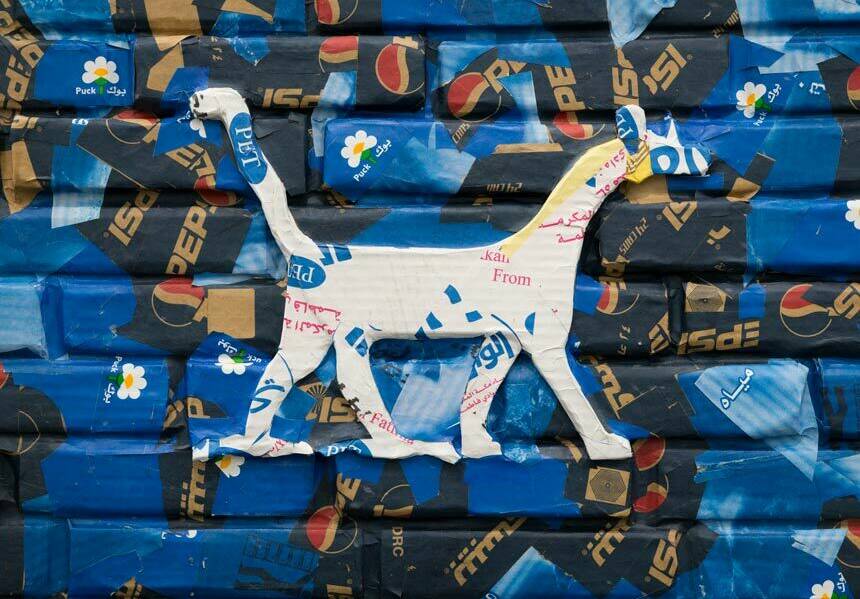 Iraqi-Amer­i­can artist Michael Rakowitz's exhi­bi­tion at the Muse­um of Con­tem­po­rary Art Chica­go, Back­stroke of the West, explores hos­til­i­ty and hos­pi­tal­i­ty through instal­la­tions like ​"Ene­my Kitchen," a pop-up food truck that serves Iraqi dish­es, and ​"The invis­i­ble ene­my should not exist," an ongo­ing project to cre­ate repli­cas of every item loot­ed from the Iraqi Nation­al Muse­um (some stolen dur­ing the U.S. occu­pa­tion). In These Times spoke with Rakowitz about his work.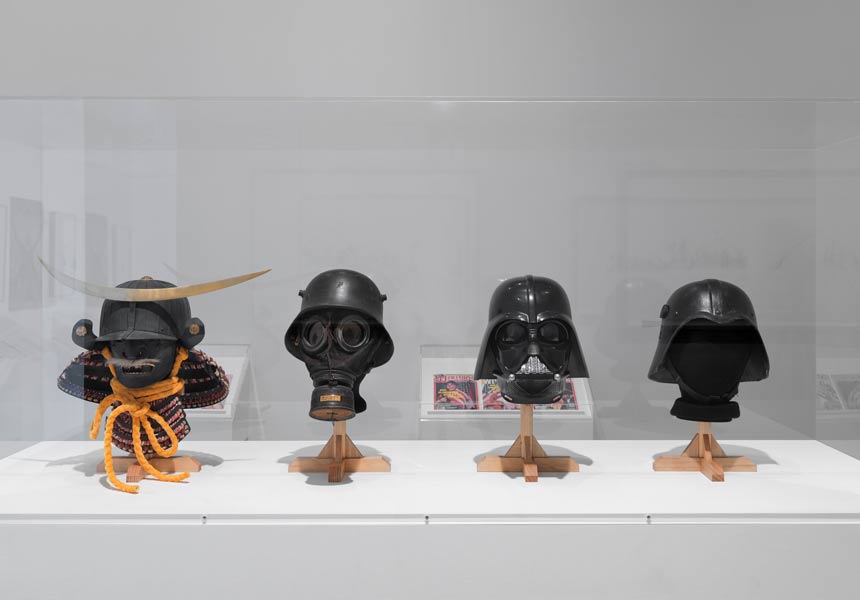 Back­stroke of the West comes from a Chi­nese boot­leg mis­trans­la­tion of Revenge of the Sith. How do you use trans­la­tion in your work?
When I read this absurd title, Back­stroke of the West, I mean, it's hilar­i­ous. But it also makes ref­er­ence to the back­ward­ness of the West and the way that it's always look­ing to set up this bina­ry where the East is seen as backwards.
"The invis­i­ble ene­my should not exist" is a trans­la­tion of Aj-ibur-sha­pu, the main avenue that ran through the Ishtar Gate in Baby­lon. It's such a weird phrase, but it's so beau­ti­ful. And I thought that it said so much about the Bush doc­trine. The invis­i­ble ene­my could be any­thing: the trucks Col­in Pow­ell said were roam­ing the Iraqi desert, the chem­i­cal weapons that nev­er mate­ri­al­ized.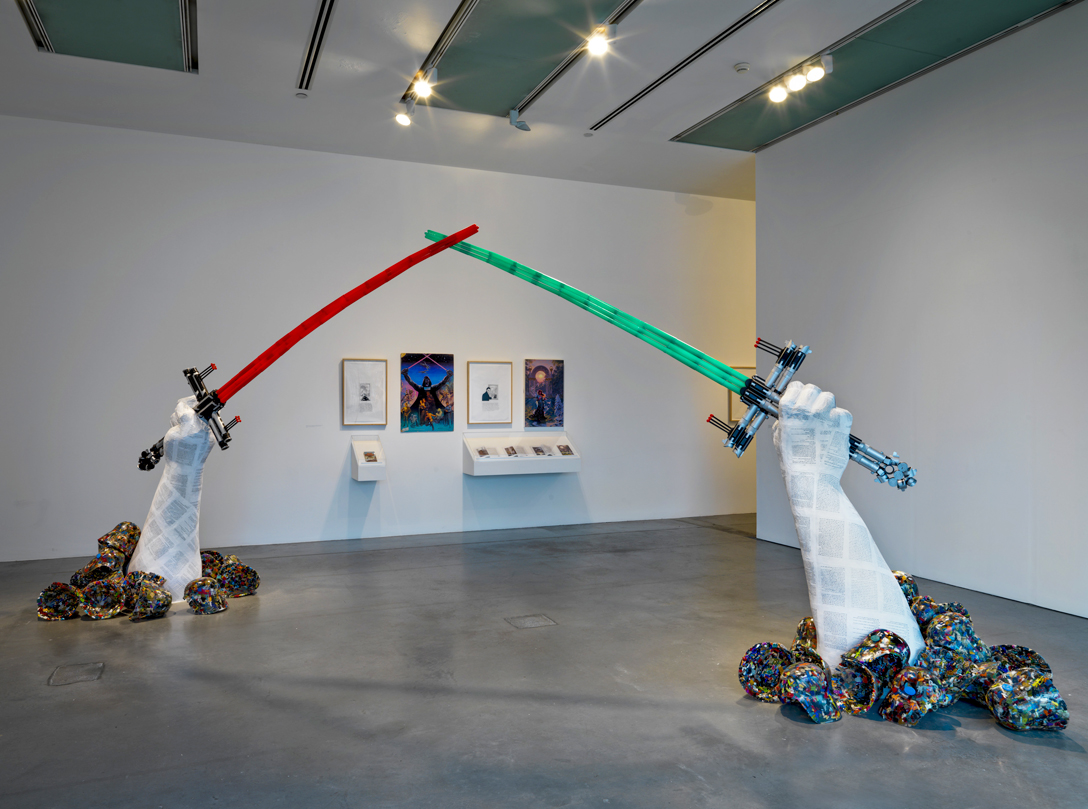 What do you want it to feel like when view­ers encounter your replicas?
I want them to be these uncom­fort­able ghosts. When you walk into that room, you're walk­ing through the back­side of the Ishtar Gate — a plas­ter, ply­wood and two-by-four recon­struc­tion that the Iraqis end­ed up com­mis­sion­ing to replace the orig­i­nal, which was tak­en by the Ger­mans in the ear­ly 20th cen­tu­ry. I acknowl­edge the fact that it's a beau­ti­ful object, but [my recon­struc­tion] is a beau­ti­ful object made out of the Ara­bic ver­sion of these West­ern brands like Pep­si and Lip­ton and all these oth­er neolib­er­al ten­ta­cles squeez­ing the life out of the Mid­dle East.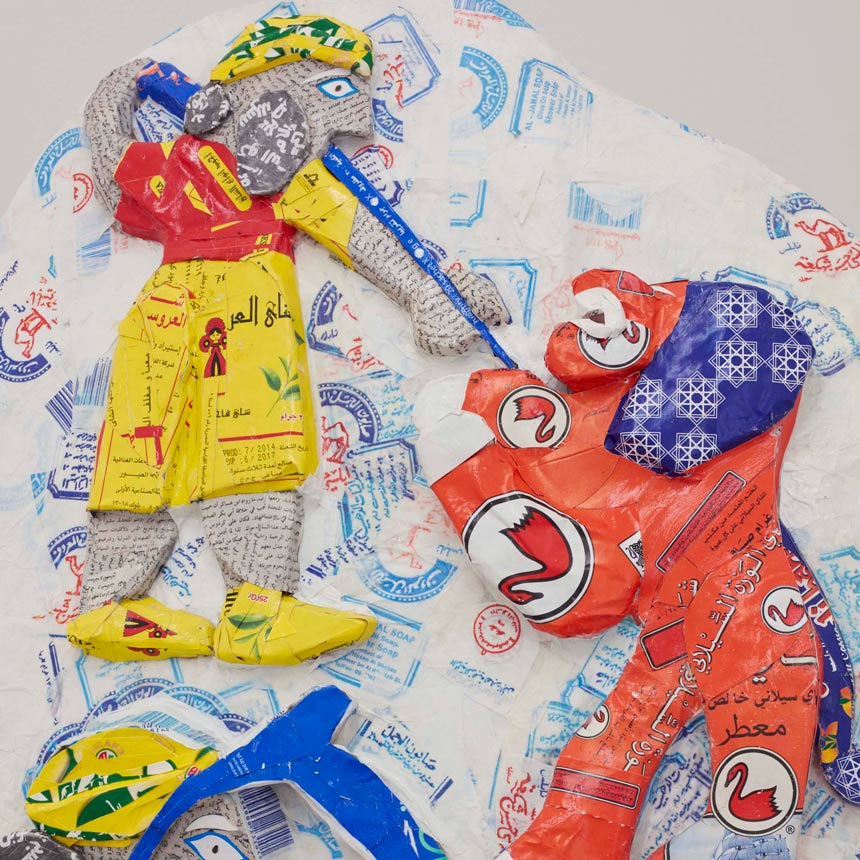 How does your work envi­sion Iraq's future?
Magritte would say that they can't col­o­nize my brain, that this is the last rad­i­cal space. It's a form of Sumud [Ara­bic for resilience] to keep recipes alive, to keep mem­o­ries alive, to not allow Zion­ism to loot every­thing from the imag­i­na­tion, to keep alive the real­i­ty of what the Mid­dle East was like before.
Back­stroke of the West, Muse­um of Con­tem­po­rary Art Chica­go, through March 4.
Tama­ra Nas­sar
is an assis­tant edi­tor at The Elec­tron­ic Intifa­da. She can be found on twit­ter @TamaraINassar.