Don't Cry for Chicago, Progressives
Mayor 1% wasn't the only winner in April.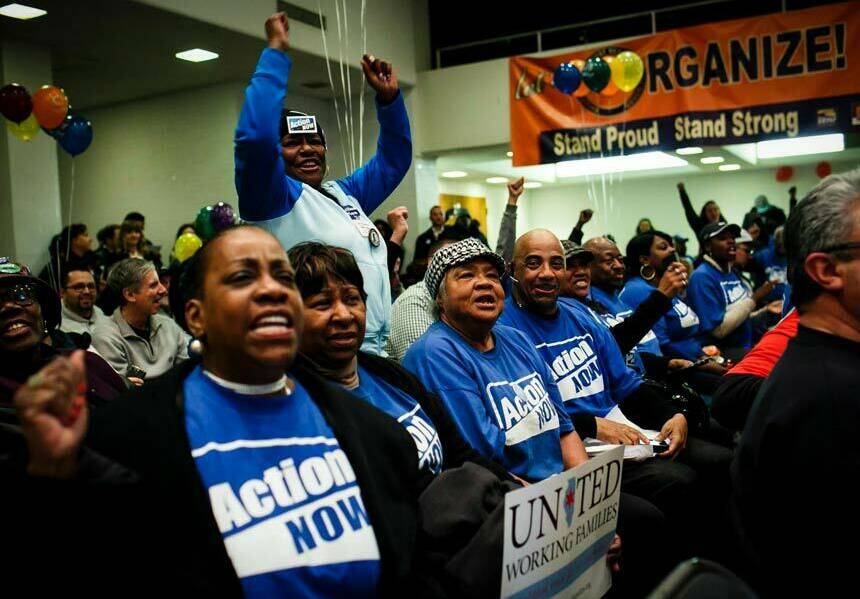 Chica­go May­or Rahm Emanuel, nick­named ​"May­or 1%" for his unabashed embrace of cor­po­rate-friend­ly gov­er­nance, was reelect­ed by a com­fort­able mar­gin on April 7. Pro­gres­sives nation­wide who had been fol­low­ing the race eager­ly after chal­lenger Jesus ​"Chuy" Gar­cia defied expec­ta­tions, forc­ing a runoff, were crushed. But is all lost in Chica­go? Or could oth­er elec­tion-sea­son cam­paigns and polit­i­cal exper­i­ments, car­ried out by the city's grass­roots move­ments, inspire pro­gres­sives tired of ​"less­er evil­ism"? In These Times host­ed a pan­el to parse the gains, loss­es and lessons of the Chica­go elec­tion, with Amisha Patel, exec­u­tive direc­tor of Grass­roots Illi­nois Action; his­to­ri­an and jour­nal­ist Rick Perl­stein; and Car­los Ramirez-Rosa, a 26-year-old who will be the first open­ly gay Lati­no mem­ber of Chicago's city council.
If Chuy hadn't run, we wouldn't have the Progressive Caucus we're about to have.
Obvi­ous­ly, Chuy's loss was a major blow to pro­gres­sives. Were there any sil­ver linings?
AMISHA: If Chuy hadn't run, we wouldn't have the Pro­gres­sive Cau­cus we're about to have. Rahm was busy sav­ing him­self; he was not try­ing to think about sav­ing any­one else in city coun­cil. Every sin­gle Pro­gres­sive Cau­cus mem­ber won reelec­tion, and we've grown the caucus.
Was Rahm chas­tened by the runoff? Will he be back­ing off at all?
RICK: No way. Rahm is not about to become a nice guy. He's going to say, ​"Okay, $30 mil­lion wasn't enough this time; next time, I'll try $70 mil­lion." And he'll try to crush pro­gres­sive alder­men like Carlos.
How much pro­gres­sive pol­i­cy do you expect from the new council?
CAR­LOS: To my count, there will be 12 of us on the Pro­gres­sive Cau­cus — almost dou­ble the size before the elec­tion. But the vast major­i­ty of coun­cil mem­bers will still be with Rahm Emanuel. He still has his rub­ber stamp. But one sto­ry that was miss­ing from the cam­paign was that Rahm did not step in and save his allies. My oppo­nent, Rey Colón, for exam­ple, vot­ed with the may­or 96 per­cent of the time, yet received a rel­a­tive­ly small amount of mon­ey from his super PAC. If May­or Richard M. Daley want­ed to go after some­one like Scott Wagues­pack, an incum­bent pro­gres­sive coun­cil mem­ber, he would have recruit­ed a can­di­date years ago and flood­ed the ward with precinct work­ers. That's not how Rahm gov­erns. There's a very strong argu­ment to be made when going to col­leagues in the city coun­cil, to say, ​"It's in your self-inter­est to join us." We can hon­est­ly say to peo­ple who stood with the may­or, ​"When you're in trou­ble, he's not going to be there for you — he's going to cut you loose."
AMISHA: The way we engaged in these elec­tions was based on our his­to­ry of engag­ing with pro­gres­sives in the city coun­cil. Lead­ing up to the 2007 elec­tions, the big fight was over Wal­mart and whether or not they would be forced to pay work­ers a liv­ing wage. Labor got nine pro-liv­ing wage alder­men elect­ed and kicked anti-liv­ing wage folks out. But then labor went to focus on this guy named Barack Oba­ma who was plan­ning to run for pres­i­dent, and we didn't have any infra­struc­ture left to hold those new­ly elect­ed alder­men account­able. Now, many of them are nowhere near pro­gres­sive. So the big chal­lenge became fig­ur­ing out how to hold those coun­cil mem­bers we do elect account­able to our ideals. After this elec­tion, there's an incred­i­ble base of orga­niz­ing that can be built upon. Grass­roots Action Illi­nois was one of the found­ing orga­ni­za­tions of Unit­ed Work­ing Fam­i­lies, an inde­pen­dent polit­i­cal orga­ni­za­tion, along with Action Now, Chica­go Teach­ers Union and SEIU Health­care Illi­nois-Indi­ana. Dur­ing the elec­tion, UWF knocked on about 400,000 doors, made 250,000 phone calls and mobi­lized 5,500 peo­ple to sup­port Chuy's cam­paign. We're going to con­tin­ue to build on all those con­ver­sa­tions. We don't have a clear roadmap on how to do this. But if we don't fig­ure some­thing out in this win­dow, right now, we're going to lose the momen­tum, and things will be that much hard­er in four years.
CAR­LOS: I can't tell you how many peo­ple on elec­tion night told me, ​"It's all up to you now, Car­los." But it's all up to us, right? Because I am noth­ing with­out peo­ple out there in the street. So let's not give an inch. There's $8.9 bil­lion in city hall. Mon­ey is there; they're just not invest­ing it in our neighborhoods.
One idea is to make UWF a vehi­cle for a third par­ty in Chica­go, right?
AMISHA: Yes. Right now, this city has a one-par­ty sys­tem, and that par­ty, the Demo­c­ra­t­ic Par­ty, has become too aligned with the cor­po­rate agen­da. So we're think­ing about how we can build an alter­na­tive that is much more aligned with the val­ues of the folks in our neigh­bor­hoods and com­mu­ni­ties. We know we want to have a clear ide­ol­o­gy — that it's not just about elect­ing the less­er of two evils, but fig­ur­ing out who will real­ly stand for the issues that we care about.
RICK: Orga­niz­ing pro­gres­sive infra­struc­ture for the long haul is very excit­ing and is some­thing that the nation­al Demo­c­ra­t­ic Par­ty doesn't under­stand. In Wash­ing­ton, peo­ple described this elec­tion as a proxy fight between Hilary Clin­ton and Eliz­a­beth War­ren. That makes no sense at all. In real­i­ty, this is some­thing that could pro­vide a mod­el for oth­er cities and oth­er states: an actu­al, ground-up trans­for­ma­tion of the Demo­c­ra­t­ic Par­ty that could pay div­i­dends in 10, 20, 30 years — in the same way that the orga­niz­ing on the Right, after Gold­wa­ter lost in 1964, paid div­i­dends from the 1980s to now. The polit­i­cal press in Wash­ing­ton is going to keep miss­ing that story.
Did the city's patron­age machine play much of a role in this election?
CAR­LOS: The Demo­c­ra­t­ic patron­age armies of the past do not exist. That means you and 30 of your neigh­bors can take over your ward. I'm total­ly seri­ous. If you have a vest­ed inter­est in see­ing the type of pol­i­tics you want played out on a nation­al lev­el, go knock on your neigh­bors' doors. The field is wide open.
Car­los, talk a bit more about your cam­paign. Are there any lessons that you think oth­er anti-aus­ter­i­ty can­di­dates should take from it?
CAR­LOS: I ran on a plat­form of ​"putting our neigh­bor­hoods first," which was about mak­ing sure that gov­ern­ment resources are used to the ben­e­fit of the peo­ple, as instruct­ed by the peo­ple. We would go to doors and say, ​"There's $8.9 bil­lion in city hall and our alder­man and may­or are giv­ing that mon­ey to big cam­paign con­trib­u­tors while we don't have mon­ey to fix pot­holes on the street or for our schools. And as your alder­man, I will make sure that our neigh­bor­hoods come first. It's our mon­ey — it belongs to us." We start­ed cam­paign­ing on this mes­sage with no polling, just a sense that this was where Chica­go is at and this is the plat­form that I want to run on. There were a lot of cam­paign con­sul­tants that said, ​"That's a hor­ri­ble mes­sage. You need to talk about con­sti­t­u­lent ser­vices," things like fix­ing pot­holes. And I would say, ​"I am talk­ing about con­stituent ser­vices — the lack of them because of this aus­ter­i­ty bud­get." If I had just said to vot­ers, ​"Hey guys, I'm going to fix the pot­holes," they would have said, ​"There's no mon­ey. We have to tight­en our belt." And the mes­sage worked, with­out com­pro­mis­ing our strong pro­gres­sive values.
May­or Rahm Emanuel has earned a rep­u­ta­tion as anti-union, but the major­i­ty of unions in Chica­go either backed him or stayed neu­tral. Why?
AMISHA: That divide is unfor­tu­nate­ly not new. It's com­pli­cat­ed. The role of the Chica­go Teach­ers Union in the larg­er polit­i­cal land­scape can­not be under­es­ti­mat­ed. There's a rea­son why Karen Lewis got so much sup­port: because she was very clear about issues of income inequal­i­ty and tak­ing on the may­or when no oth­er labor leader would. For a black woman, in par­tic­u­lar, to take on that fight was huge. So often, we see ​"con­ces­sion bar­gain­ing," where the assumed start­ing point is, ​"How much are we going to lose?" rather than redefin­ing the moment to be about how we win gains in bar­gain­ing that are total­ly out­side of our con­tract — which is what CTU and SEIU Health­care are start­ing to do. Their demands are much big­ger than breadand-but­ter issues. Oth­er unions need to step for­ward and take on more mil­i­tant fights. Peo­ple seem to be hap­py to let CTU do that work, but that's a prob­lem. Also, we're real­ly inter­est­ed in engag­ing with rank-and-file work­ers, includ­ing unions whose lead­er­ship endorsed Rahm. We know many union mem­bers aren't where the union lead­er­ship is when it comes to issues like sup­port­ing Rahm. We can't step back and say, ​"Well, I guess we're not going to talk to all those thou­sands of workers."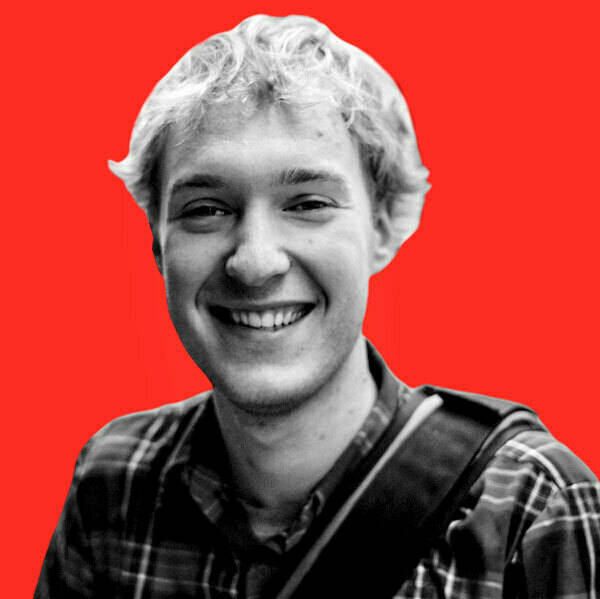 Mic­ah Uet­richt is the deputy edi­tor of Jacobin mag­a­zine and host of its pod­cast The Vast Major­i­ty. He is a con­tribut­ing edi­tor and for­mer asso­ciate edi­tor at In These Times. He is the author of Strike for Amer­i­ca: Chica­go Teach­ers Against Aus­ter­i­ty (Ver­so 2014), coau­thor of Big­ger Than Bernie: How We Go From the Sanders Cam­paign to Demo­c­ra­t­ic Social­ism (Ver­so 2020), and is cur­rent­ly at work on a book on New Left­ists who ​"indus­tri­al­ized." He pre­vi­ous­ly worked as a labor orga­niz­er. Fol­low him on Twit­ter at @micahuetricht.