Don't Wait for Nuremberg: Congress Must Investigate the American Eichmanns
Troubling reports suggest border agents are going above and beyond to enforce Trump's will.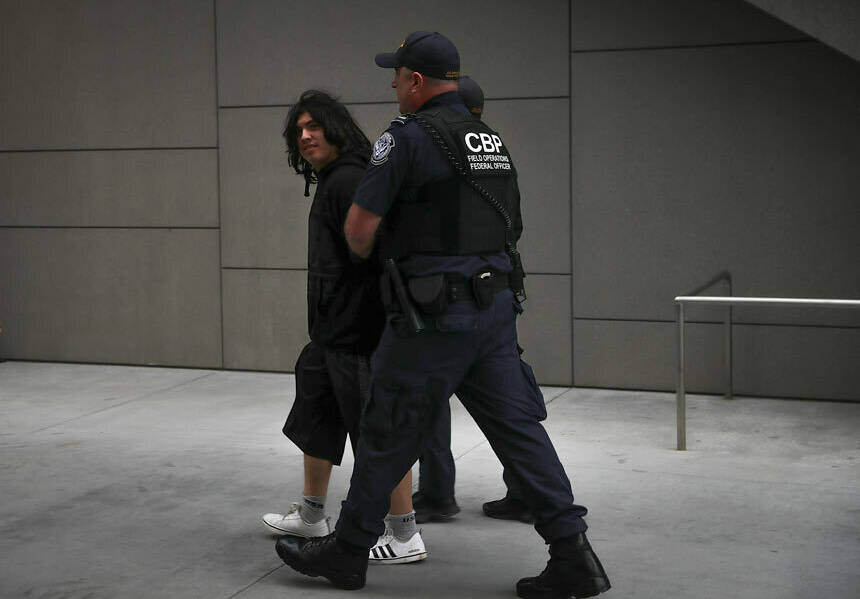 For Uni­ver­si­ty of Mis­souri-Kansas City Law pro­fes­sor Dou­glas Lin­der, one of the strik­ing things about the Nazi war crim­i­nals tried at Nurem­berg was ​"the ordi­nar­i­ness of the defen­dants: men who may be good fathers, kind to ani­mals, even unas­sum­ing — yet com­mit­ted unspeak­able crimes." The Nurem­berg tri­als came far too late to stop the Nazis.
One way to stop Trump: Empower individuals to refuse to carry out unlawful or inhumane orders.
Robert H. Jack­son, chief pros­e­cu­tor at Nurem­berg, hoped they would stand as a warn­ing for future gen­er­a­tions to ​"pre­vent the rep­e­ti­tion of these bar­bar­ic events." Don­ald Trump is not Hitler or Mus­soli­ni — yet. But schol­ars of author­i­tar­i­an­ism warn we are walk­ing a dan­ger­ous path. Colum­bia Uni­ver­si­ty his­to­ri­an Robert Pax­ton, an expert on Vichy France, observes, ​"There's not much doubt of the desire of Trump to gov­ern as dic­ta­tor." Would-be dic­ta­tors depend on oth­ers to car­ry out their orders — ​"ordi­nary" peo­ple like the defen­dants at Nuremberg.
This sug­gests one way to stop Trump: Empow­er indi­vid­u­als to refuse to car­ry out unlaw­ful or inhu­mane orders. The recent cri­sis over the imple­men­ta­tion of Trump's exec­u­tive order on trav­el from cer­tain coun­tries and refugee entry pro­vides one oppor­tu­ni­ty. In Jan­u­ary, many Amer­i­cans were hor­ri­fied to read reports about trav­el­ers, includ­ing elder­ly peo­ple and chil­dren, who were detained at U.S. air­ports. Some were report­ed­ly held for 20 hours or more, some with­out food, hand­cuffed or denied access to wheel­chairs. The cri­sis illus­trates how ordi­nary peo­ple can obey orders to inflict cruelty.
It is essen­tial to deter­mine pre­cise­ly what hap­pened (or didn't hap­pen), and take what­ev­er actions may be nec­es­sary to address wrong­do­ing. Trump's revised trav­el ban has been blocked by a Hawaii fed­er­al judge, but Trump has said he intends to chal­lenge that deci­sion in court. Many observers describe this as a face-off between the exec­u­tive branch and the courts. But that leaves one essen­tial play­er out of the equa­tion: Congress.
The Trump admin­is­tra­tion has claimed statu­to­ry author­i­ty to sup­port the order. Con­gress could lim­it that pow­er sim­ply by pass­ing a law. Con­gress also ought to invoke its over­sight pow­er, its author­i­ty to con­duct inves­ti­ga­tions, by hold­ing hear­ings on the exec­u­tive order and its imple­men­ta­tion. Hear­ings should deter­mine pre­cise­ly what hap­pened. Are reports of what hap­pened at air­ports accu­rate? If so, why did fed­er­al employ­ees treat trav­el­ers so cru­el­ly? Who instruct­ed them? Did any actions vio­late the law? Did employ­ees have any recourse to not car­ry out inhu­mane orders? If not, the law must be changed to make clear that such recourse exists.
There are also reports that some trav­el­ers with valid U.S. green cards were hand­cuffed and forced to sign papers for­feit­ing legal rights before being deport­ed. One law­suit alleges that as many as 60 peo­ple with per­ma­nent res­i­den­cy sta­tus in the U.S. ​"may have been unlaw­ful­ly coerced into [waiv­ing their rights]." More recent­ly, there are trou­bling reports that, in response to anoth­er exec­u­tive order by Trump, Immi­gra­tion and Cus­toms Enforce­ment agents are arrest­ing and deport­ing undoc­u­ment­ed immi­grants who have no vio­lent crim­i­nal records.
A girl brought to the U.S. at age 14, now a moth­er with two kids, was arrest­ed and deport­ed. There are reports that a 23-year-old man brought to the U.S. when he was 7 was arrest­ed and detained as a ​"self-admit­ted gang mem­ber." The man's attor­neys say their client was ​"repeat­ed­ly pres­sured by [immi­gra­tion] offi­cials to false­ly admit [gang] affil­i­a­tion." Final­ly, there are alarm­ing accounts that some bor­der agents ignored court rul­ings. Trav­el­ers may have been unlaw­ful­ly denied access to lawyers, unlaw­ful­ly detained or even deport­ed in defi­ance of court orders. If they did so, that would amount to a con­sti­tu­tion­al cri­sis — espe­cial­ly if the pres­i­dent or high-rank­ing White House offi­cials were involved.
These reports are so far uncon­firmed, which is why a con­gres­sion­al inves­ti­ga­tion is nec­es­sary. But Con­gress will only act if cit­i­zens demand it. As Pax­ton puts it, ​"Hitler or Mus­soli­ni could have been blocked, even legal­ly … peo­ple have to use the tools avail­able to them to … block [Trump]." It's not too late — yet— but it is essen­tial to act now.
Chris Edel­son
is an assis­tant pro­fes­sor of gov­ern­ment in Amer­i­can University's School of Pub­lic Affairs. He has writ­ten two books on pres­i­den­tial pow­er, and recent­ly wrote a book chap­ter describ­ing the prob­lem of con­sti­tu­tion­al fail­ure in the Unit­ed States.