The Takeaway From the Impeachment Hearings: Our Constitution Has Failed
To guard against another authoritarian president we can't impeach, we need to reform our constitution.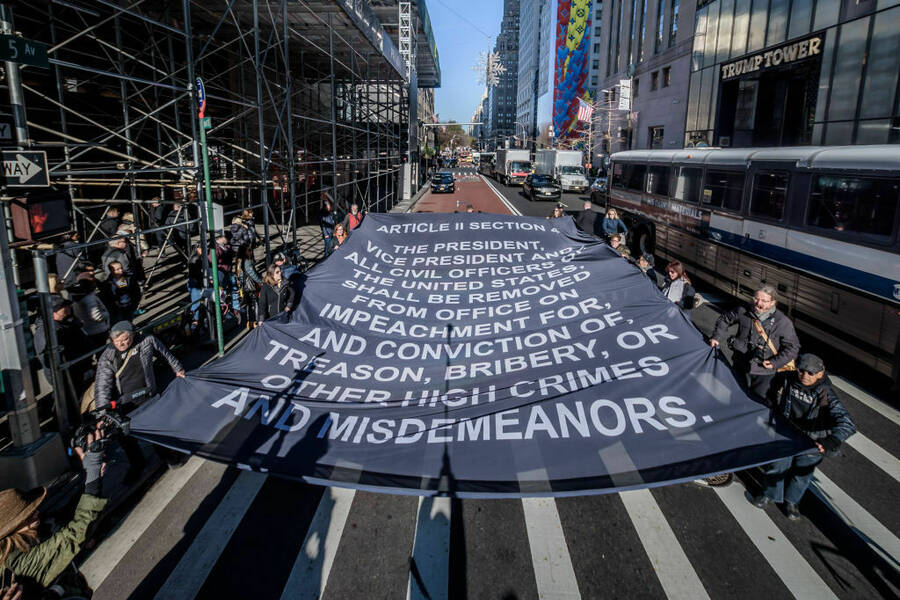 When the House Intel­li­gence Com­mit­tee began hold­ing hear­ings as part of the impeach­ment inquiry into Pres­i­dent Trump, some media cov­er­age sug­gest­ed the pro­ceed­ings lacked enough ​"piz­zazz … to cap­ture pub­lic atten­tion." It turned out that hear­ings pro­duced more than their share of bomb­shells — from EU ambas­sador and Trump megadonor Gor­don Sondland's admis­sion that there was a ​"quid pro quo," to State Depart­ment offi­cial David Holmes's tes­ti­mo­ny about over­hear­ing a phone call in which Sond­land assured Trump that Ukraine would move ahead with the inves­ti­ga­tions Trump had request­ed, to for­mer Nation­al Secu­ri­ty Coun­cil offi­cial Fiona Hill's con­clu­sion that Sond­land was car­ry­ing out a ​"domes­tic polit­i­cal errand" for the pres­i­dent that diverged from the U.S. nation­al inter­est. When the Com­mit­tee con­clud­ed its hear­ings, the evi­dence was damn­ing and large­ly uncon­test­ed: Trump appeared to have been part of a scheme to extort a for­eign coun­try into sab­o­tag­ing the US pres­i­den­tial elec­tion to his benefit.
A new constitution could be aimed at shoring up the rule of law, including by protecting the independence of the Department of Justice and replacing the current impeachment process with something capable of actually holding a lawless president to account.
Yet, even with the evi­dence on pub­lic dis­play, it remains next to impos­si­ble to imag­ine Repub­li­cans tak­ing mean­ing­ful action. Even Repub­li­cans seen as most like­ly to break from their par­ty are sig­nal­ing sup­port for Trump. Rep. Will Hurd (R‑Texas), a mem­ber of the Intel­li­gence Com­mit­tee who is retir­ing from Con­gress and has at times crit­i­cized the pres­i­dent, said that, while the president's actions had been ​"inap­pro­pri­ate, mis­guid­ed for­eign pol­i­cy," he did not see evi­dence of an impeach­able offense. Hurd's state­ment can rea­son­ably be seen as an indi­ca­tion that few (if any) Repub­li­cans in Con­gress will vote to impeach or remove the pres­i­dent from office.
Some observers describe what we are see­ing as a cri­sis. In fact, what we are liv­ing through is con­sti­tu­tion­al fail­ure. The sys­tem cre­at­ed by the framers is not doing the job it was designed to do, par­tic­u­lar­ly in the cur­rent cir­cum­stances: We are faced with a cor­rupt pres­i­dent who rejects the very idea of legal lim­its on his power.
Our con­sti­tu­tion­al democ­ra­cy is based on free and fair elec­tions, indi­vid­ual rights, inde­pen­dent courts, and the rule of law—the idea that no one is above the law. Trump rejects all of these bedrock prin­ci­ples. He has tried to under­mine free and fair elec­tions (most recent­ly demon­strat­ed in the Ukraine scan­dal.) He threat­ens his crit­ics with pros­e­cu­tion and law­suits, dis­dain­ing the notion of First Amend­ment speech and press pro­tec­tions. He seeks to dele­git­imize judges who rule against his poli­cies. He rejects the idea that ordi­nary rules and laws apply to him and his allies, declar­ing (erro­neous­ly) that under Arti­cle II of the Con­sti­tu­tion, ​"I have the right to do what­ev­er I want as pres­i­dent."
Trump pos­es an exis­ten­tial threat to our sys­tem of gov­ern­ment — and yet he remains in office. In a func­tion­ing sys­tem, Repub­li­cans would have already joined Democ­rats in tak­ing action to remove Trump from office — just as Repub­li­cans stood against Nixon in 1974. In our failed sys­tem we are reduced to wait­ing to see how far Trump will go before con­gres­sion­al Repub­li­cans will act — if they ever do.
Every sys­tem needs a way to pro­tect itself, and our con­sti­tu­tion­al sys­tem pro­vides (in the­o­ry) all the tools need­ed to deal with the direct threat Trump pos­es. Con­gress is ful­ly empow­ered to remove a cor­rupt pres­i­dent from office. But con­gres­sion­al Repub­li­cans, by refus­ing to act, ren­der those tools useless.
James Madi­son believed that the con­sti­tu­tion­al sys­tem would pre­vent the accu­mu­la­tion of too much pow­er in any one branch of gov­ern­ment. If one branch exceed­ed the lim­its of its pow­er, it would be reined in by the oth­ers. In order for this to work, Madi­son famous­ly wrote, ​"Ambi­tion must be made to coun­ter­act ambi­tion." In oth­er words, if the pres­i­dent engaged in a pow­er grab, mem­bers of Con­gress would use con­sti­tu­tion­al­ly avail­able tools to check him or her —not out of moral rec­ti­tude but because leg­is­la­tors would be wor­ried about ced­ing their own pow­er to an ambi­tious president.
The sys­tem is fail­ing because Repub­li­cans are plac­ing par­ti­san con­cerns—their own loy­al­ty to Trump or fear of the polit­i­cal costs of defy­ing him — ahead of their con­sti­tu­tion­al respon­si­bil­i­ties. The sys­tem Madi­son helped design can­not func­tion prop­er­ly under these circumstances.
It is impor­tant to forth­right­ly describe the real­i­ty of con­sti­tu­tion­al fail­ure for two reasons.
First, it empha­sizes the emer­gency we face. If he does not face con­se­quences, Trump will feel embold­ened to do pre­cise­ly as he choos­es, with­out regard to eth­i­cal or legal lim­its. We're see­ing this, for instance, with Trump's moves to under­mine the rule of law with­in the U.S. mil­i­tary by par­don­ing the Navy SEAL con­vict­ed of tak­ing a ​"self­ie" with the corpse of a teenage boy who fought for ISIS.
We can't count on his removal from office by elec­tion as a fool­proof safe­guard, espe­cial­ly when Trump's mis­con­duct in the Ukraine scan­dal was focused square­ly on an illic­it attempt to tilt the elec­toral scales in his favor.
Sec­ond, describ­ing what has occurred as fail­ure points out that we need a new con­sti­tu­tion, one that will be designed to strength­en our democ­ra­cy against future exis­ten­tial threats. No sys­tem is guar­an­teed to suc­ceed, but a failed one demands replacement.
Today's Repub­li­can Par­ty is an anti-demo­c­ra­t­ic, author­i­tar­i­an par­ty that seeks to gain — and has gained — pow­er with­out win­ning a major­i­ty of votes. To this end, it push­es vot­er sup­pres­sion mea­sures and takes advan­tage of struc­tur­al defects in our sys­tem. Ger­ry­man­dered dis­tricts can allow the GOP to win a minor­i­ty of the votes and still con­trol the House. The Elec­toral Col­lege gave Trump the pres­i­den­cy 2016, even though he lost the pop­u­lar vote — a feat he stands a real­is­tic chance of repeat­ing in 2020. And though deeply unpop­u­lar, he enjoys major­i­ty sup­port in a Sen­ate that does not reflect polit­i­cal pref­er­ences of the major­i­ty of Amer­i­cans, but instead allows a minor­i­ty in sparse­ly pop­u­lat­ed states to wield power.
Mak­ing the elec­toral sys­tem more majori­tar­i­an could force the Repub­li­can Par­ty to aban­don its anti-demo­c­ra­t­ic approach if it wish­es to win. There is no guar­an­teed way to pre­vent would-be author­i­tar­i­ans from gain­ing pow­er. After all, a very pop­u­lar author­i­tar­i­an could eas­i­ly win the pop­u­lar vote. But clear­ly, the author­i­tar­i­an­ism of our cur­rent pres­i­dent is not pop­u­lar with Amer­i­cans: Trump's approval rat­ings are con­sis­tent­ly in the low 40s. Con­sti­tu­tion­al change would strength­en lib­er­al democ­ra­cy against an author­i­tar­i­an par­ty. It is worth trying.
With this goal in mind, a new con­sti­tu­tion could address some of the anti-demo­c­ra­t­ic fea­tures of our cur­rent sys­tem, including:
end­ing the Elec­toral College.

reform­ing or replac­ing a Sen­ate that gives the 435,000 vot­ing-age peo­ple in Wyoming as many votes as the 17,524,000 in Texas.

elim­i­nat­ing par­ti­san gerrymandering.

pro­tect­ing the right to vote against vot­er sup­pres­sion efforts.

deal­ing with the cor­rupt­ing influ­ence of our cur­rent cam­paign finance system.
A new con­sti­tu­tion could also be aimed at shoring up the rule of law, includ­ing by pro­tect­ing the inde­pen­dence of the Depart­ment of Jus­tice and replac­ing the cur­rent impeach­ment process with some­thing capa­ble of actu­al­ly hold­ing a law­less pres­i­dent to account. One idea to explore would be express­ly giv­ing the DOJ inde­pen­dent pros­e­cu­to­r­i­al author­i­ty over the pres­i­dent. Anoth­er would be pro­vid­ing a process for trig­ger­ing new pres­i­den­tial elec­tions — say, based on a three-fifths vote in the House and Senate.
Obvi­ous­ly, these kinds of changes are not polit­i­cal­ly plau­si­ble at the moment, but they need to be on our agen­da — unless we are will­ing to risk anoth­er attack on the sys­tem from a future pres­i­dent. We need to begin talk­ing about how to cre­ate the con­di­tions need­ed for a new con­sti­tu­tion, one giv­ing us bet­ter odds of ward­ing off the next author­i­tar­i­an threat — assum­ing we sur­vive the one posed by Trump.
Chris Edel­son
is an assis­tant pro­fes­sor of gov­ern­ment in Amer­i­can University's School of Pub­lic Affairs. He has writ­ten two books on pres­i­den­tial pow­er, and recent­ly wrote a book chap­ter describ­ing the prob­lem of con­sti­tu­tion­al fail­ure in the Unit­ed States.