Sen. Lindsey Graham Attempts to Exploit Fear After Charlie Hebdo Terrorist Attacks
The South Carolina senator's charge that President Obama is to blame for terrorism is based on no evidence—and only serves to stoke fear among Americans.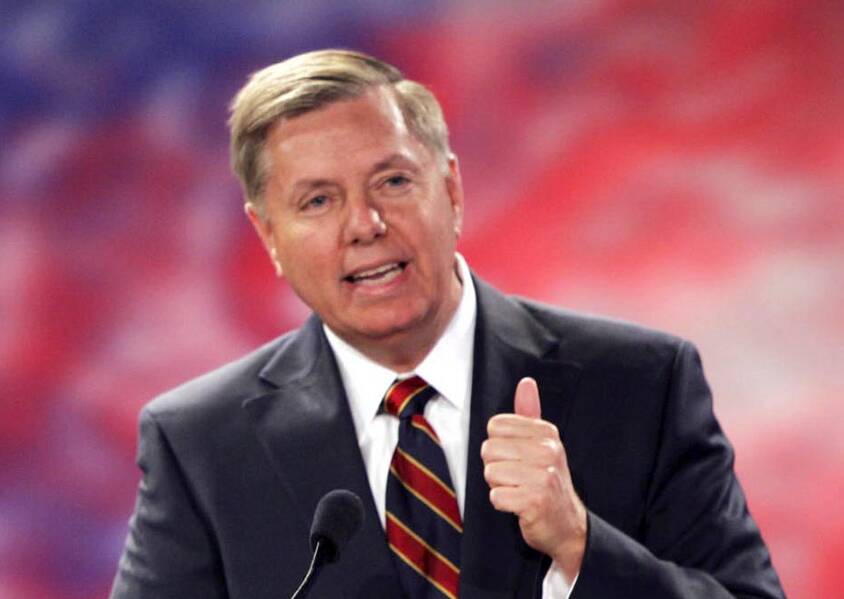 Ter­ror­ism can be defined as the use of vio­lence, or the threat of vio­lence, to achieve polit­i­cal goals. Ter­ror­ists use fear to achieve their goals. When we take action based on our fears — or ask our elect­ed offi­cials to do what­ev­er is nec­es­sary to make us safe — we ​"play right into the [ter­ror­ists'] hands," as Bruce Schneier puts it.
By suggesting that President Obama does not share that desire to keep us all safe, Sen. Graham is—quite unintentionally—playing into the terrorists' hands by speaking the language of fear.
It is easy to make these obser­va­tions dur­ing a peri­od of (from our per­spec­tive, at least) rel­a­tive calm. But when an attack occurs — like the Boston Marathon bomb­ing in spring 2013 or the hor­rif­ic and undoubt­ed­ly ter­ri­fy­ing attacks on the satir­i­cal mag­a­zine Char­lie Heb­do and else­where in France recent­ly — it is hard­er to con­trol our fear, and easy to be guid­ed by it. And it is tempt­ing for elect­ed offi­cials seek­ing to gain polit­i­cal advan­tage to exploit these fears.
That's what Sen. Lind­sey Gra­ham (R‑SC) seems to be doing by speak­ing the lan­guage of fear as he responds to the ter­ror in France. On Fox News last week, Sen. Gra­ham blamed Pres­i­dent Oba­ma's approach to ter­ror­ism for ​"get­ting a lot of peo­ple killed," warn­ing that ​"it's just a mat­ter of time" before the U.S. is attacked again at home, as long as Pres­i­dent Oba­ma con­tin­ues the same approach. Sen. Gra­ham empha­sized that this is a ​"reli­gious war" with ter­ror­ists and fault­ed Pres­i­dent Oba­ma for fail­ing to describe it in these terms.
While I believe Sen. Gra­ham (like the rest of us) is sin­cere in his desire to keep Amer­i­cans safe, this is out­ra­geous, irre­spon­si­ble stuff. By sug­gest­ing that Pres­i­dent Oba­ma does not share that desire to keep us all safe, Sen. Gra­ham is — quite unin­ten­tion­al­ly — play­ing into the ter­ror­ists' hands by speak­ing the lan­guage of fear.
Juan Cole, a his­to­ry pro­fes­sor and Mid­dle East schol­ar at the Uni­ver­si­ty of Michi­gan, has observed that the ter­ror­ists respon­si­ble for mur­ders in France last week were like­ly launch­ing a ​"strate­gic strike, aim­ing at polar­iz­ing the French and Euro­pean pub­lic " — and, I'd add, at the Amer­i­can pub­lic. As Cole explains, most of the 5 mil­lion Mus­lims liv­ing in France are sec­u­lar and utter­ly unin­ter­est­ed in sup­port­ing ter­ror­ism or polit­i­cal vio­lence of any kind (a fact which Sen. Gra­ham some­what con­fus­ing­ly acknowl­edged, stat­ing that ter­ror­ists are ​"a minor­i­ty with­in the Mus­lim world").
How­ev­er, if the ter­ror­ist attacks can suc­ceed in dri­ving a wedge between 1) French Mus­lims who are loy­al to the coun­try and reject vio­lence and 2) the major­i­ty, non-Mus­lim pop­u­la­tion in France, in Cole's words, ter­ror­ists ​"can start cre­at­ing a com­mon polit­i­cal iden­ti­ty [for Mus­lims] around griev­ance against discrimination."
Sure­ly this is the last thing Sen. Gra­ham wants. But he is unwit­ting­ly lend­ing sup­port to this task by speak­ing of the ter­ror­ist attacks in reli­gious terms and fool­ish­ly describ­ing anti-ter­ror­ist efforts as ​"a reli­gious war."
Pres­i­dent George W. Bush under­stood why using ter­mi­nol­o­gy like Sen. Graham's is a mis­take. As Pres­i­dent Bush wise­ly observed in 2002, " Ours is a war not against a reli­gion, not against the Mus­lim faith." Does Sen. Gra­ham believe that Pres­i­dent Bush also put the U.S. in dan­ger by, like Pres­i­dent Oba­ma, refus­ing to paint ter­ror­ism as a reli­gious war?
It is sim­i­lar­ly irre­spon­si­ble for Sen. Gra­ham to blame Pres­i­dent Oba­ma for ​"get­ting a lot of peo­ple killed." No gov­ern­ment offi­cial, no pres­i­dent, can stop all ter­ror­ist attacks. This was true dur­ing the Bush years, as well as the Oba­ma years — and it was true both on the day of the ter­ri­ble 9⁄11 attacks and afterwards.
Oth­er ter­ror­ist attacks occurred under Bush's pres­i­den­cy after 9⁄11 — the anthrax attacks; the thwart­ed shoe bomber—not stopped by intel­li­gence efforts, but by active pas­sen­gers; a shoot­ing at an El-Al tick­et counter in Los Ange­les in 2002. There is no evi­dence to sup­port Sen. Graham's charge that Pres­i­dent Oba­ma is to blame for ter­ror­ism. His state­ment serves only to stoke fears among Americans.
What's more, it is absurd for Sen. Gra­ham to charge Pres­i­dent Oba­ma with being soft on ter­ror­ism, assert­ing that the pres­i­dent has avoid­ed being tough because, in Graham's words, Oba­ma is wor­ried ​"he may offend some­body." If any­thing, the Pres­i­dent has over­stepped his con­sti­tu­tion­al bounds by uni­lat­er­al­ly autho­riz­ing mil­i­tary oper­a­tions against ISIS with­out con­gres­sion­al approval and order­ing the tar­get­ed killing with­out judi­cial hear­ing of a U.S. cit­i­zen who the exec­u­tive branch uni­lat­er­al­ly con­clud­ed was a ter­ror­ist leader.
Ter­ror­ism is meant to scare peo­ple. It is effec­tive in this regard. What we can do, and what our elect­ed offi­cials can do, is to refuse to be con­trolled by fear—as mil­lions of marchers declared last Sun­day in Paris and else­where. Sen. Gra­ham is sure­ly con­cerned about the safe­ty of inno­cent peo­ple in the U.S. He would do well, how­ev­er, to con­sid­er whether his ground­less charges against Pres­i­dent Oba­ma will make any­one safer.
Chris Edel­son
is an assis­tant pro­fes­sor of gov­ern­ment in Amer­i­can University's School of Pub­lic Affairs. He has writ­ten two books on pres­i­den­tial pow­er, and recent­ly wrote a book chap­ter describ­ing the prob­lem of con­sti­tu­tion­al fail­ure in the Unit­ed States.