Drug War Violence Throws Honduras into Disarray
Honduras is the new front line of the DEA's interdiction efforts—and a growing number of civilian lives are being claimed by the chaos.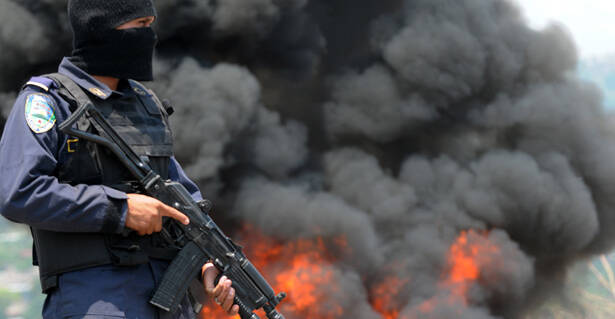 The fire­fight start­ed about two hours before dawn, while it was still full dark in the jun­gle. Ear­ly on May 11, muz­zle flash­es lit up the sky as a small fleet of U.S. heli­copters engaged a boat­load of drug smug­glers on a twist­ing, thick­ly-wood­ed stretch of the Patu­ca Riv­er, in the Mosquitia region of east­ern Hon­duras. It was a short, one-sided fight. The four Super Huey heli­copters — pilot­ed by a com­bi­na­tion of Guatemalan Air Force offi­cers and U.S. civil­ian con­trac­tors, manned by Hon­duran mil­i­tary door gun­ners and car­ry­ing both nation­al police and U.S. Drug Enforce­ment Agency (DEA) offi­cers — had sur­prised the armed smug­glers on the river­bank in the process of load­ing their car­go into a shal­low-draft­ed skiff. The traf­fick­ers opened fire first, but straf­ing runs from the Hueys and fire sup­port from agents on the ground, quick­ly over­whelmed the out­laws. Ini­tial reports claimed that two of the drug run­ners were killed at the scene, the rest fled into the jun­gle and almost a ton of cocaine was recov­ered. U.S. and Hon­duran media spun the inci­dent as a major vic­to­ry against the car­tels, and Amer­i­can offi­cials cor­rob­o­rat­ed those claims.
The United Nations lists Honduras as the most dangerous nation on the planet, with a rate of one violent death every 74 minutes.
But soon a dif­fer­ent a sto­ry began to emerge. The amount of nar­cotics sup­pos­ed­ly seized in the raid, as report­ed by the New York Times and oth­er media that had picked up the sto­ry, lit­er­al­ly changed overnight — reduced by half. Mean­while, locals from a near­by vil­lage began to com­plain that tac­ti­cal units deployed by the heli­copters had bro­ken down doors to search hous­es and rough up res­i­dents after the fire­fight. Even worse, instead of two dead smug­glers, vil­lagers alleged that a total of four inno­cent civil­ians had been killed by fire from Hon­duran offi­cers, who were under direct super­vi­sion of DEA field agents. Two of the dead were said to be preg­nant women. All the vic­tims had been indige­nous pas­sen­gers trav­el­ing aboard a local water taxi on the same stretch of the riv­er in the pre-dawn dark­ness. Anoth­er four pas­sen­gers were also alleged­ly wound­ed, includ­ing a teenage boy who lost his hand, and a woman bad­ly shot through both legs.
"The drug boat was run­ning with­out lights and going down­riv­er, toward the coast. The launch car­ry­ing civil­ian pas­sen­gers had its lights on, and was head­ed inland. But, for what­ev­er rea­son, the heli­copters shot at them any­way," says Norvin Goff, Pres­i­dent of the Unit­ed Mosquitia Orga­ni­za­tion of Hon­duras (MAS­TA), an NGO ded­i­cat­ed to pro­tect­ing the rights of local indigenous.
"We're trapped in the mid­dle," Goff says. ​"We're caught between the drug gangs on one side, and the army and police on the oth­er. If we coop­er­ate with one group, we're tar­get­ed by the oth­er. The sit­u­a­tion in these poor vil­lages is very desperate."
In the wake of the killings, a flur­ry of reports in Hon­duran and U.S. media sug­gest­ed that the esca­la­tion of the war on drugs might be putting inno­cent lives at risk, and fur­ther under­min­ing the nation's already ten­u­ous hold on democ­ra­cy. As the media firestorm gath­ered strength, com­pet­ing ver­sions of events in Mosquitia con­tin­ued to sur­face. Both Hon­duran law enforce­ment and the U.S. State Depart­ment offi­cials have cast doubt on the claims of the local vic­tims. Hon­duran Pres­i­dent Por­firio Lobo, who has a very poor track record on human rights, even went so far as to blame the vil­lagers for hav­ing tried to ​"defend" the smug­glers from the attack­ing heli­copters. But MASTA's Goff disagrees.
"Nobody in the water taxi was even armed. It [the water taxi] is a fam­i­ly busi­ness that has been serv­ing the com­mu­ni­ty for years. Every­body trav­els on the riv­er, since there are no roads. But of course [police offi­cials] must cast blame on the vic­tims, because they've got inno­cent blood on their hands."
The DEA declined mul­ti­ple invi­ta­tions to be inter­viewed for this article.
Adam Isac­son, Senior Asso­ciate at the non-gov­ern­men­tal Wash­ing­ton Office on Latin Amer­i­ca (WOLA), agrees with MAS­TA Pres­i­dent Goff about the dis­con­cert­ing lack of account­abil­i­ty, espe­cial­ly on the part of U.S. officials.
"It's trou­bling that the DEA didn't own up to the killings," says Isac­son, who recent­ly returned from a con­fer­ence in Guatemala City, where he advised region­al gov­ern­ments on the haz­ards of mil­i­ta­riz­ing law enforce­ment. ​"As long as they keep using the same play­book, we're going to see more of that."
Press free­dom and democ­ra­cy under attack
The Unit­ed Nations lists Hon­duras as the most dan­ger­ous nation on the plan­et, with a rate of one vio­lent death every 74 min­utes. And the vio­lence isn't restrict­ed to remote places like Mosquitia.
"Free­dom of the nation­al press is under attack from var­i­ous sec­tors in Hon­duras," says Benoit Hervieu, who heads up the Amer­i­c­as Desk of the Paris-based Reporters With­out Bor­ders (RWB). At least 17 jour­nal­ists have been killed since June of 2009, when a mil­i­tary putsch over­threw the demo­c­ra­t­i­cal­ly-elect­ed government.
"The prob­lems in Hon­duras all go back to the coup," Hervieu says. ​"Since then many jour­nal­ists have been killed to silence the polit­i­cal oppo­si­tion." But Hervieu also says that as democ­ra­cy has retreat­ed, and the drug gangs have stepped into fill the vac­u­um, ​"the crim­i­nals also tar­get out­spo­ken jour­nal­ists, to intim­i­date the press."
Two reporters were killed in the month of May alone. One of them Alfre­do Vil­la­toro, was a promi­nent host on HRN, the country's largest radio sta­tion. Villatoro's body was found on May 15, a week after he'd been kid­napped while on his way to work. His body was dressed in a stolen police uni­form, and he had been shot in the head.
"Alfre­do was killed to send a mes­sage," says Nahum Val­ladares, who heads up the Inter­na­tion­al Desk at HRN. ​"The car­tels think if they kill enough of us, then nobody will both­er them any­more." Val­ladares admits that 47-year-old Vil­la­toro had pub­licly sup­port­ed a recent gov­ern­ment crack­down on orga­nized crime. ​"Now his wife is a wid­ow and his chil­dren have no father. All because he had the courage to speak out against the gangs."
Hon­duras is cur­rent­ly ranked 143 out of 178 coun­tries on the world­wide press free­dom index. RWB's Hervieu says that kind of chill­ing effect on the expres­sion of ideas direct­ly impacts demo­c­ra­t­ic process­es and gov­ern­ment account­abil­i­ty. But Hon­duran author­i­ties' iron-fist­ed and sweep­ing response to the car­tels, he says, has fur­ther desta­bi­lized the coun­try and erod­ed secu­ri­ty for jour­nal­ists, activists and human rights workers.
"Unfor­tu­nate­ly," Hervieu says, ​"the [U.S.-backed] War on Drugs has pro­vid­ed plen­ty of oppor­tu­ni­ties for polit­i­cal revenge."
He cites Colom­bia and Mex­i­co as sim­i­lar cas­es where mil­i­ta­rized crime fight­ing has led to esca­lat­ing vio­lence on both sides and numer­ous rights violations.
Ground zero in the War on Drugs
Accord­ing to the State Depart­ment, 79 per­cent of all the cocaine flown out of South Amer­i­ca has a sched­uled lay­over in Hon­duras, large­ly due to the country's wide­spread pover­ty and polit­i­cal insta­bil­i­ty, which make it a haven for the car­tels. In response, the DEA has ramped up its anti-drug efforts, send­ing down com­man­do-style squads attached to spe­cial heli­copter units, such as the one involved in the Patu­ca raid. About six hun­dred U.S. mil­i­tary per­son­nel are also sta­tioned full-time in Hon­duras, most of them at the Soto Cano air­base near the cap­i­tal of Tegu­ci­gal­pa, as part of Joint Task Force Bra­vo (JTFB). The Pen­ta­gon spent about 53.8 mil­lion on con­tracts in Hon­duras in 2011, a jump of 71 per­cent from the pre­vi­ous fis­cal year. The U.S. mil­i­tary has also begun con­struc­tion on at least eight dif­fer­ent for­ward bases, airstrips and oth­er instal­la­tions, since 2009 — all in a coun­try about the size of Tennessee.
Colonel Ross A. Brown, who com­mands JTFB from the semi-per­ma­nent instal­la­tion at Soto Cano, says that until recent­ly, the pri­ma­ry mis­sion of U.S. forces in Hon­duras was emer­gency aid and relief efforts, includ­ing on-the-spot med­ical and den­tal care, and air­lift­ing emer­gency sup­plies to remote communities.
"But the focus has changed in the last year," says Brown, who also served with dis­tinc­tion in Iraq, and will rotate back to the Pen­ta­gon after this assignment.
Now JTFB's pri­ma­ry line of effort, Colonel Brown told In These Times, is ​"coun­ter­ing transna­tion­al orga­nized crime." JTFB sup­ports the Hon­duran and oth­er Cen­tral Amer­i­can armed forces as well as the U.S. inter­a­gency includ­ing DEA, but Depart­ment of Defense rules of engage­ment lim­it the direct involve­ment of U.S. troops.
Even so, pow­er­ful crit­ics in Wash­ing­ton con­tend that mil­i­ta­rized crime fight­ing in Hon­duras is pro­duc­ing too much col­lat­er­al dam­age. In March, mem­bers of both the U.S. House and Sen­ate signed let­ters request­ing that the State Depart­ment cur­tail fur­ther mil­i­tary train­ing and assis­tance to the coun­try, due to the ongo­ing human rights abus­es being com­mit­ted under the rule of Pres­i­dent Lobo. Lobo came to pow­er after the 2009 coup, and despite com­plaints from elect­ed offi­cials, remains one of the Oba­ma Administration's clos­est allies in the region.
What­ev­er the Administration's for­eign pol­i­cy objec­tives are, WOLA ana­lyst Isac­son says the strate­gies cur­rent­ly being employed in the region­al drug war are not like­ly to succeed.
"Every­body knows what needs to be done [in Hon­duras]," he says. ​"They need police acad­e­mies. They need foren­sics. They need a func­tion­al jus­tice sys­tem. Just pump­ing mon­ey into a cor­rupt mil­i­tary is only going to make a bad sit­u­a­tion worse."
Colonel Brown agrees about the need for bet­ter infra­struc­ture and polic­ing meth­ods. But he defends JTFB's work­ing rela­tion­ship with the Hon­duran mil­i­tary as an oppor­tu­ni­ty to exert a pos­i­tive influence.
"We're set­ting an exam­ple down here," says Brown. ""We're show­ing them what it means to be a mil­i­tary that is sub­or­di­nate to a demo­c­ra­t­ic gov­ern­ment and a free civil­ian society."
When asked about the Patu­ca raid, Brown explains that the heli­copters involved were not under his com­mand, but were under the direct con­trol of the DEA and U.S. State Depart­ment, and there­fore oper­at­ing under dif­fer­ent rules of engage­ment (JTFB gun­ships are not allowed to fire in sup­port of Hon­duran author­i­ties on the ground).
Instead of incom­pe­tence or flawed tac­tics, Brown says a con­fus­ing bat­tle­field may be the cause of the tragedy in Mosquitia. ​"At night, dur­ing a fire­fight in unknown ter­ri­to­ry, where the ene­my is mixed in with the gen­er­al pop­u­la­tion – it can be hard to tell who the bad guys are," he says. "[That's why] ser­vice mem­bers must be well trained and dis­ci­plined and only fire when they can dis­cern friend from foe and foe from inno­cent civilian."
Fight­ing a ​"crim­i­nal insurgency"
Colonel Brown, a West Point grad­u­ate, says that the drug-fueled forces ter­ror­iz­ing Hon­duras don't have an ide­o­log­i­cal moti­va­tion, as was the case in Iraq. Instead, Brown says it may be a ​"crim­i­nal insurgency."
"It's not an attempt to take over the gov­ern­ment," he says. "[The gangs] don't want to be respon­si­ble for med­ical care, or make sure schools open on time. They're look­ing to desta­bi­lize for their own advan­tage, so they can make a profit."
Oth­er observers say that the irre­spon­si­ble tac­tics employed by Hon­duran author­i­ties, and their part­ners in the DEA and State Depart­ment, are dan­ger­ous­ly sim­i­lar to those of the ​"crim­i­nal insur­gents" they're fight­ing against — despite the brave efforts of offi­cers like Colonel Brown:
"We are very poor, and need many things [from the gov­ern­ment]," says MAS­TA Pres­i­dent Goff. ​"Edu­ca­tion. Doc­tors. A future for our chil­dren, so they don't have to grow up to be drug smug­glers. But instead [of help­ing], they come here and shoot at us," Goff says. ​"In that way, they're just as bad as the cartels."
An ear­li­er ver­sion of this arti­cle report­ed that four civil­ians were killed in the raid in Mosquitia, two of whom were preg­nant women. The arti­cle has been updat­ed to reflect dif­fer­ing accounts of the inci­dent deliv­ered by Hon­duran and US authorities.