Solving the 10,000-Year-Old Problem of Agriculture: An Interview with Wes Jackson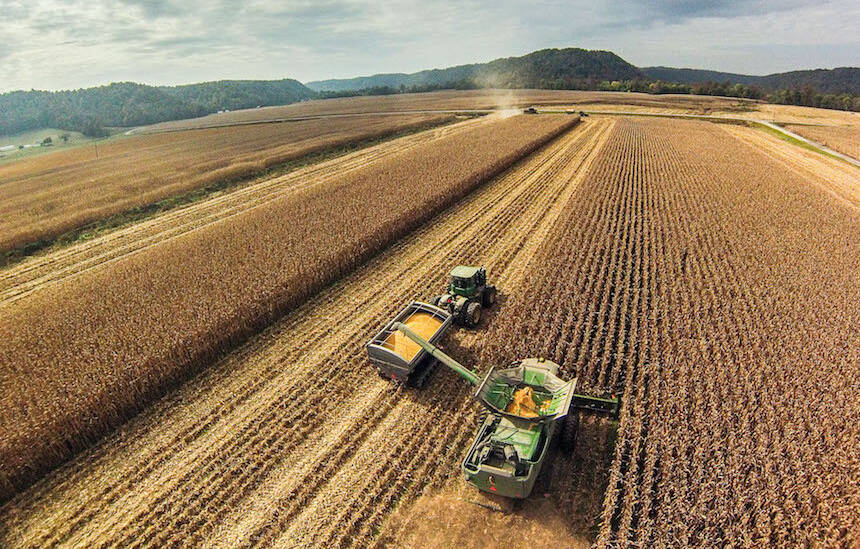 Mod­ern indus­tri­al-scale agri­cul­ture has proven incom­pat­i­ble with the struc­ture and func­tion of nat­ur­al sys­tems. To reverse the abu­sive prac­tices that are under­min­ing the long-term health of the land, humans, and non-human species, a new agri­cul­tur­al par­a­digm that mim­ics rather than con­tra­dicts eco­log­i­cal prin­ci­ples is urgent­ly need­ed. In this inter­view, I explore the nature and prospects of such a par­a­digm shift with Wes Jack­son, founder of The Land Insti­tute and a leader in advanc­ing research in and pub­lic under­stand­ing of eco­log­i­cal agriculture.
Allen White: For almost four decades, you have been a lead­ing pro­po­nent of trans­form­ing the dom­i­nant agri­cul­tur­al sys­tem based on annu­al mono­cul­ture to one based on eco­log­i­cal prin­ci­ples. What inspired your belief in the need for this fun­da­men­tal change?
Wes Jack­son: In 1977, soon after The Land Insti­tute was found­ed, I read a U.S. Gen­er­al Account­ing Office (GAO) report about effec­tive use of fed­er­al funds for soil and water con­ser­va­tion. Look­ing at some of the num­bers, I noticed that soil ero­sion was then as bad as it was when the Soil Con­ser­va­tion Ser­vice (SCS) was formed in the 1930s. How could that be? The SCS had built thou­sands of miles of ter­races and grass water­ways. The orga­ni­za­tion had a great esprit de corps — with a team rang­ing from stenog­ra­phers to PhDs, all ded­i­cat­ed to the com­mon task of soil and water con­ser­va­tion. It was a nation­wide effort. In Kansas alone, each of our 105 coun­ties has a con­ser­va­tion district.
Short­ly after read­ing the report, I took my stu­dents on a field trip to the Kon­za, a nev­er-plowed native prairie in north­east­ern Kansas. There was no appar­ent soil ero­sion beyond nat­ur­al replace­ment lev­els, no fos­sil fuel depen­den­cy or chem­i­cal con­t­a­m­i­na­tion, no depen­den­cy on com­mer­cial fertilizer.
Those two expe­ri­ences in short order — the GAO study and the field trip — set me on a jour­ney to under­stand more com­plete­ly the his­to­ry of Earth abuse through agri­cul­ture. I had read a few sem­i­nal works, but decid­ed to dig in a bit more and came to appre­ci­ate that soil ero­sion is a per­sis­tent, mil­len­nia-old problem.
AW: What account­ed for this dra­mat­ic dif­fer­ence between native and farmed prairie?
WJ: Nature's prairie is about the oppo­site of the vast acreage of such annu­al mono­cul­tures as corn, sorghum, sun­flow­ers and soy­beans, which usu­al­ly fea­ture soil ero­sion along with, in indus­tri­al times, the use of fos­sil fuels for trac­tion and com­mer­cial chem­i­cals. Nature's prairie fea­tures peren­ni­als grown in mix­tures. There is no plow­ing (and, there­fore, lit­tle to no soil ero­sion), no plant­i­ng every year, no fos­sil fuels nec­es­sary for growth, no chem­i­cal fer­til­iz­ers, no insec­ti­cides, no her­bi­cides — all of which are deemed nec­es­sary for grain monocultures.
AW: You have spo­ken of agri­cul­ture as the ​"10,000-year-old prob­lem." What do you mean by this?
WJ: As the ice retreat­ed some 10,000 years ago in the east­ern Mediter­ranean, agri­cul­ture began — first with wheat, an annu­al. Lat­er, rice, anoth­er annu­al, was domes­ti­cat­ed in the Ori­ent, and still lat­er, corn, an annu­al, in Mex­i­co. These three grains are the world's top three crops. Today, some 70 per­cent of our calo­ries come from these and oth­er grains grown on about 70 per­cent of our acreage, both domes­ti­cal­ly and glob­al­ly. Reflect­ing on nature's peren­ni­al poly­cul­ture of the Amer­i­can prairie, I won­dered whether we could, through breed­ing, devel­op an agri­cul­ture based on peren­ni­al grains and, through the appli­ca­tion of eco­log­i­cal knowl­edge, grow them in mix­tures. Could such an arrange­ment grant us the effi­cien­cies inher­ent with­in the nat­ur­al integri­ties of a prairie ecosys­tem? In oth­er words, could those process­es, so preva­lent in nature's ecosys­tems, be brought to the farm? If so, we might be able to solve the 10,000-year-old prob­lem of agri­cul­ture rather than relent­less­ly peck­ing away at prob­lems in agri­cul­ture asso­ci­at­ed with annuals.
In 1978, I wrote an essay for the Friends of the Earth pub­li­ca­tion Not Man Apart on the his­to­ry of Earth abuse due to agri­cul­ture. I sug­gest­ed build­ing an agri­cul­tur­al sys­tem based on the way the prairie works, though acknowl­edg­ing that it might take fifty to a hun­dred years. To achieve this, I advo­cat­ed a twofold effort: (1) cross­ing cur­rent high-yield­ing grain crops with their wild peren­ni­al rel­a­tives and (2) domes­ti­cat­ing promis­ing wild herba­ceous peren­ni­al species.
AW: And this approach lies at core of The Land Institute's mission?
WJ: Yes. In the ear­ly years, many viewed such a pro­pos­al as impos­si­ble. Now, near­ly four decades lat­er, with results in our fields and pub­lished papers, we are begin­ning to see the fruits of our per­sis­tence. We have attract­ed addi­tion­al intel­lec­tu­al and finan­cial sup­port, and there is increased rea­son to be opti­mistic now, with the grow­ing belief that soil ero­sion, fos­sil fuel depen­den­cy and chem­i­cal con­t­a­m­i­na­tion can end in the fore­see­able future. We move with con­fi­dence, know­ing not only that nat­ur­al ecosys­tems gen­er­al­ly have greater net pri­ma­ry pro­duc­tion than the human-man­aged sys­tems that replace them, but also that they sequester car­bon. Ecosys­tems are our elders, our best teach­ers, hav­ing evolved over mil­lions of years. The ancient dual­ism between agri­cul­ture and nature can come to an end.
Our work is get­ting atten­tion, enough so that I think at times it now has a life of its own. Finan­cial sup­port has now made pos­si­ble an annu­al bud­get of about $5.4 mil­lion. Through an addi­tion­al fund­ing source (The Mal­one Fam­i­ly Land Preser­va­tion Foun­da­tion), we sup­port four­teen grad­u­ate stu­dents and post­doc­tor­al fel­lows at col­leges and uni­ver­si­ties around the coun­try. Some are domes­ti­cat­ing wild peren­ni­als, some are cross­ing wild peren­ni­als with annu­al grains, some are doing eco­log­i­cal stud­ies includ­ing soil biol­o­gy, and still oth­ers are involved in a glob­al inven­to­ry of promis­ing wild can­di­dates to domes­ti­cate and pro­duce grain.
Three of our staff sci­en­tists have answered an old ques­tion: Why did our ances­tors not devel­op peren­ni­al grains? The answer lies in what geneti­cists call ​"genet­ic load" or ​"muta­tion load," which is not as much of a prob­lem for annu­als since they self-fer­til­ize and can quick­ly purge their lethal mutants and fix a trait desir­able to humans, such as resis­tance to seed shat­ter. Peren­ni­als, on the oth­er hand, are pri­mar­i­ly out-crossers, and because they tend not to accept their own pollen, their muta­tion load accu­mu­lates. We now know how to purge that genet­ic load thanks to cur­rent knowl­edge of mol­e­c­u­lar genet­ics and our mod­ern com­pu­ta­tion­al power.
I would rather not use com­put­er lan­guage as a metaphor for bio­log­i­cal process­es, but if we allow the word ​"hard­ware" to stand for any annu­al or peren­ni­al grain, then the peren­ni­al rep­re­sents new ​"hard­ware" for agri­cul­ture. With new hard­ware comes new soft­ware poten­tial. Where does it come from? Well, large­ly out of that broad dis­ci­pline of ecol­o­gy and evo­lu­tion­ary biol­o­gy. When ecol­o­gy is stuck with annu­al hard­ware, its util­i­ty is lim­it­ed because of the pres­ence of annu­al dis­tur­bances. But now the gap between ecol­o­gists and agri­cul­tur­al­ists can be more com­plete­ly closed. Agri­cul­tur­al­ists, dri­ven by the need to feed the world's cit­i­zens, have had the bur­den of being pre­scrip­tive for ten mil­len­nia. Ecol­o­gists, by con­trast, over the last 150 years or so, have had the lux­u­ry of being descrip­tive. Their job has been, like basic sci­ence gen­er­al­ly, to under­stand how the world is or works — in this case, to study ecosystems.
This is a great moment in his­to­ry, this merg­ing of these two dis­ci­plines made pos­si­ble with the new hard­ware. In my view, it rep­re­sents the most essen­tial merg­er in record­ed his­to­ry. Of course, this required ​"stand­ing on the shoul­ders" of count­less oth­ers over the millennia.
AW: How do genet­i­cal­ly mod­i­fied organ­isms (GMOs) fit into this new paradigm?
WJ: GMO work is best char­ac­ter­ized not as a recent inno­va­tion, but as an exten­sion of human clev­er­ness, trac­ing back to the reduc­tion­ist peri­od of Bacon and Descartes in the ear­ly sev­en­teenth cen­tu­ry. In recent times, it has become part of the ​"smart resource man­age­ment" approach to the world. It is more or less irrel­e­vant to our work since peren­ni­al­ism, by con­trast, is a way of life, not the result of a sin­gle gene. The GMO era, in that respect, has been a kind of dis­trac­tion. What if we had devot­ed a com­pa­ra­ble amount of time and mon­ey to achiev­ing an ade­quate food sup­ply by look­ing to nature as a stan­dard or mea­sure? Right now, agri­cul­ture is the num­ber one threat to wild bio­di­ver­si­ty, and land use is num­ber two as a source of green­house gases.
GMOs do not rep­re­sent a par­a­digm shift. Nor does our work in the green­house and field where, with every selec­tion cycle, we are sim­ply chang­ing gene fre­quen­cies as has been the case for ten mil­len­nia. In such a man­ner, our pop­u­la­tions are being genet­i­cal­ly modified.
AW: In Chi­na, India and oth­er devel­op­ing coun­tries, farms are gen­er­al­ly small in scale. How applic­a­ble is the polycultural/​perennial approach to small-scale cultivation?
WJ: Peren­ni­al grain poly­cul­tures can bring ben­e­fits at any scale. I imag­ine a time, inde­pen­dent of farm size, where peren­ni­al mix­tures pro­duce peren­ni­al grains. They will be, as now, pri­mar­i­ly grass seeds, legume seeds, maybe sun­flower seeds, and a few oth­ers. But they will be grown togeth­er at what­ev­er scale, pro­vid­ing chem­i­cal diver­si­fi­ca­tion for the land. Diver­si­ty low­ers the risk of a field-wide epi­dem­ic lead­ing to a crash because over­com­ing the resilience that such diver­si­ty affords requires a tremen­dous enzyme sys­tem on the part of either insect or pathogen species. Beyond that, there are the inte­grat­ed effi­cien­cies, such as bio­log­i­cal nitro­gen fix­a­tion, tight nutri­ent cycling, and so forth. Poly­cul­tures are not new. They have been used in annu­al grain sys­tems on scales large and small for millennia.
AW: You have often referred to the entrenched inter­ests that stand in the way of progress toward a more eco­log­i­cal­ly har­mo­nious and less abu­sive form of agri­cul­ture. What are these inter­ests, and how can we reverse the dam­age they are causing?
WJ: I am not very good at devis­ing strate­gies to end the pow­er of destruc­tive inter­ests. I do think we have to start with a basic under­stand­ing of the his­to­ry of life on Earth. All organ­isms are car­bon-based; the best evi­dence holds that life start­ed about 3.4 bil­lion years ago. So, from the begin­ning, organ­isms have gone after ener­gy-rich car­bon. Plants fix atmos­pher­ic car­bon, and ani­mals eat. So far as we know, no species has ever prac­ticed restraint in the pur­suit of ener­gy-rich car­bon. Squir­rels and ants store food for the win­ter, and we store grain and oth­er foods for short peri­ods. We use ener­gy-rich car­bon to pow­er our soci­eties. So pow­er­ful is this ancient imper­a­tive that even small efforts to put a cap on fos­sil car­bon are met with fierce resis­tance by both sell­ers and users.
Now and then, we get exer­cised about the social jus­tice prob­lem — some more so than oth­ers. But as seri­ous as that prob­lem is, there is a larg­er prob­lem: we are all depen­dent on eco­nom­ic growth. A cap on car­bon seems essen­tial if we are to stop the abu­sive prac­tices asso­ci­at­ed with relent­less eco­nom­ic growth. It seems eas­i­er to oppose social jus­tice than to acknowl­edge lim­its, and here, once again, we encounter the 3.4‑billion-year-old imper­a­tive. I sus­pect that ful­ly liv­ing with­in our finite ecos­phere into the fore­see­able future is or will be the most for­mi­da­ble chal­lenge our species ever has or will ever face. Social jus­tice is cer­tain­ly impor­tant, but it is not enough.
AW: Peo­ple today are geo­graph­i­cal­ly and psy­cho­log­i­cal­ly detached from their food sources. How great of an obsta­cle is this to mobi­liz­ing for change?
WJ: The dis­con­nect is seri­ous. I grew up on a farm in the Kansas Riv­er Val­ley, near Tope­ka. We grew most of our own food, some twen­ty-sev­en crops in all in the 1930s. We butchered our own ani­mals — cows, hogs, chick­ens, turkeys. We cleaned up our plates. Near­ly all farm­ers know that soil ero­sion rep­re­sents the destruc­tion of much of the foun­da­tion of food pro­duc­tion. But then comes the high­ly dense car­bon era. Labor was replaced by cap­i­tal com­bined with high­ly dense car­bon. In indus­tri­al soci­eties, that era of shared val­ues and com­mon work is most­ly gone. The lack of a suf­fi­cient­ly large con­stituen­cy of peo­ple who feel the con­nec­tion to the crea­tures and soil that sus­tain us makes change hard. The indus­tri­al mind has its way, which makes it hard to head off the con­fine­ment of ani­mals in warehouses.
Aldo Leopold, the great ecol­o­gist and author of A Sand Coun­ty Almanac, once said that there are two spir­i­tu­al dan­gers from not own­ing (or, he could have said, liv­ing on) a farm. One is the belief that heat comes from the stove, and the oth­er is the belief that food comes from a gro­cery store. Away from these real sources, one can find it easy to dis­miss the idea of lim­its. Aware­ness of eco­log­i­cal fun­da­men­tals is crit­i­cal for every­one, not just farm­ers. Much less than a cen­tu­ry ago, the agrar­i­an world was famil­iar to, and val­ued by, all. Once we devel­oped insti­tu­tions and prac­tices that were almost total­ly depen­dent upon the imper­a­tive of fos­sil car­bon, peo­ple became dis­as­so­ci­at­ed from the land and the crea­ture­ly world that sus­tain us. We need more peo­ple on the land. I am not talk­ing about mere nos­tal­gia now, but a prac­ti­cal necessity.
AW: The Great Tran­si­tion uses sce­nar­ios to struc­ture think­ing about a plau­si­ble, desir­able future. What is the best-case sce­nario for fifty years hence?
WJ: Long before 2070, the agri­cul­tur­al par­a­digm on which we are at work here at The Land Insti­tute and increas­ing­ly else­where — now on five con­ti­nents — will have enough of a life of its own to sus­tain itself. Some might say it does so now. By then, wide­spread peren­ni­al grain poly­cul­ture will have demon­strat­ed that soil ero­sion will one day be a major prob­lem of the past. Fos­sil fuel depen­dence will have shrunk to near zero, as will depen­dence on harm­ful chem­i­cals. The native prairies and forests will have increas­ing­ly become the stan­dard against which we judge our agri­cul­tur­al prac­tices. Agri­cul­ture based on nature's prin­ci­ples is about more than food secu­ri­ty. My late friend Chuck Wash­burn, a met­al­lur­gist, once said to me, ​"If we don't get sus­tain­abil­i­ty in agri­cul­ture first, it's not going to happen."
Agri­cul­ture ulti­mate­ly has the dis­ci­pline of ecol­o­gy and evo­lu­tion­ary biol­o­gy behind it. Mate­ri­als-based sec­tors have no such dis­ci­pline. So I envi­sion a future where­in food being pro­duced by a resilient sys­tem that mim­ics nature's econ­o­my serves as a mod­el for soci­ety in general.
The trans­formed agri­cul­tur­al sys­tem we have in mind in our work would be infor­ma­tion- rather than ener­gy-inten­sive. A study of nat­ur­al eco­log­i­cal sys­tems should enhance our abil­i­ty to imag­ine expand­ed pos­si­bil­i­ties for a future in which peo­ple, land, and com­mu­ni­ties inter­act as one to cre­ate shared pros­per­i­ty, rather than com­pete in ways that under­mine the well-being of the whole.
To ask agri­cul­ture to point the way for­ward for cul­tur­al and eco­nom­ic trans­for­ma­tion seems like such a tall order that it receives lit­tle atten­tion. But as we solve the 10,000-year-old prob­lem of agri­cul­ture, our imag­i­na­tions are sure to soar, for ade­quate solu­tions will be mim­ic­k­ing nature's ancient economies. Agri­cul­ture may be the best place to begin, giv­en that land use is the num­ber two source of green­house gas­es, behind pow­er plants and ahead of all trans­porta­tion. The biggest com­po­nent of agri­cul­ture is grain pro­duc­tion. So if we draw atten­tion to sav­ing our soils and use the advance­ment of knowl­edge out of ecol­o­gy and evo­lu­tion­ary biol­o­gy, per­haps we can begin to get a grip on what we must know and do to shift toward a tru­ly eco­log­i­cal par­a­digm. By 2070, I believe such a shift can be regard­ed as the way to go. Any indus­tri­al agri­cul­ture still with us will sim­ply be on the wrong side of history.
I keep com­ing back to the 3.4‑billion-year-old imper­a­tive. Before the fos­sil car­bon era, we ran direct­ly on sun­light with bio­log­i­cal infor­ma­tion for col­lec­tion and dis­per­sal. I think there is a gen­er­al law: high­ly dense ener­gy destroys infor­ma­tion, both cul­tur­al and bio­log­i­cal. Use of fos­sil car­bon has allowed us to wage a war against the food land­scape, the rain­for­est, and bio­di­ver­si­ty wher­ev­er we can. The con­se­quence of that bio­ta loss has been a dan­ger­ous sim­pli­fi­ca­tion, a loss of infor­ma­tion, both cul­tur­al and bio­log­i­cal. We call for pub­lic pol­i­cy. But, as I see it, pub­lic pol­i­cy is more of a deriv­a­tive than a cause. Whether we can accel­er­ate pos­i­tive change fast enough to respond effec­tive­ly as we head toward a pop­u­la­tion of 9 bil­lion remains an open question.
AW: What are your aspi­ra­tions for The Land Insti­tute in this scenario?
WJ: Gary Snyder's poem ​"For the Chil­dren" at the end of Tur­tle Island talks about how the hills of sta­tis­tics go up, up, up, even as we all go down. He con­cludes, ​"In the next cen­tu­ry or the one beyond that, they say, are val­leys, pas­tures, we can meet there in peace if we make it. To climb these com­ing crests one word to you, to you and your chil­dren: stay togeth­er, learn the flow­ers, go light." So, what are my aspi­ra­tions? The Land Insti­tute is con­tribut­ing to those hills of sta­tis­tics in that we are using trac­tors, farm equip­ment, com­bines, labs, and much more. It seems that we are going in the wrong direc­tion along with every­one else. Our mate­r­i­al- and ener­gy-con­sum­ing research require­ments have forced me to won­der, will the new vari­eties and new species we bring into exis­tence be depen­dent on the tech­no­log­i­cal array that brought them to the farm? My answer is ​"no." Their crea­ture­li­ness will still be there and avail­able for the most prim­i­tive farm­ers of our agri­cul­tur­al his­to­ry. The indus­tri­al world can't so con­fi­dent­ly say that about its renew­able tech­nolo­gies: wind machines, solar col­lec­tors, and the like.
This all under­scores the neces­si­ty to find analogs in nature to help our descen­dants on their jour­ney to a more crea­ture­ly life, as the extrac­tive econ­o­my fades into the past. Should that jour­ney on the mate­r­i­al side to cre­ate more effi­cien­cy and renew­ables be slow, we will at least have a bet­ter chance of keep­ing our­selves fed on the oth­er side of the hills of sta­tis­tics. Is that a ​"large enough aspi­ra­tion"? Well, it is a start. A shift in col­lec­tive con­scious­ness must include the end of pop­u­la­tion growth (even con­trac­tion) if we are to take seri­ous­ly the neces­si­ty of ecos­pher­ic healing.
All of this will require dif­fer­ent ways of think­ing about sci­ence. Artists will come front and cen­ter in the minds of sci­en­tists, not for nice­ty, but for the prac­ti­cal neces­si­ty of help­ing us all expand our imag­i­na­tion as we expand our col­lec­tive consciousness.
If we can grant pri­or­i­ty to the ecos­phere as our cre­ator and our pro­tec­tor, we will also want to look down­ward in the hier­ar­chy of the sci­ences to ecosys­tems, to organ­isms, organs, tis­sues, cells, mol­e­cules, and atoms. We will want a new syn­the­sis, a new under­stand­ing of our place in the world. Doing so, we will want to pon­der the twelve laws of inte­gra­tive lev­els (first artic­u­lat­ed by James Feible­man in 1954). Read­ing and study­ing these laws will serve as ​"fin­ger exer­cis­es" to assist the mind as fin­ger exer­cis­es lim­ber up the fin­gers of the pianist. In my view, the cur­rent field of envi­ron­men­tal stud­ies falls short of tru­ly inte­grat­ed, inclu­sive think­ing. Per­haps ecos­phere think­ing can be more ful­fill­ing. At any rate, we need a fun­da­men­tal recon­struc­tion in our thoughts.
AW: Who do you see as your key allies — present and future — in dri­ving this trans­for­ma­tion, e.g., envi­ron­men­tal orga­ni­za­tions, anti-pover­ty advo­cates, civ­il soci­ety at large, an awak­ened citizenry?
WJ: In one sense, there is no ​"them" or ​"us." We are all in this togeth­er. In anoth­er sense, some have and will join the strug­gle, oth­ers not. Once a per­son has joined the strug­gle, so to speak, then let that per­son fol­low his or her pas­sion. This makes us col­leagues. None of us will know how our paths will con­verge on this jour­ney. I don't expect every agri­cul­tur­al researcher to want to work on herba­ceous peren­ni­al seed-pro­duc­ing poly­cul­tures. We have always tak­en a long time hori­zon in our work. If here-and-now agri­cul­tur­al­ists want to work on improv­ing the soft­ware for the annu­al hard­ware, go ahead. Such research is needed.
The point is, we do need a shared vision built on ecol­o­gy, which is nature's econ­o­my, if we are to replace the indus­tri­al mind whose pri­ma­ry fea­tures are con­sumerism, accu­mu­la­tion, and extrac­tion. The ecos­phere has, to date, been more beau­ti­ful than use­ful. To expand the ratio to increas­ing­ly favor the beau­ty side will require healing.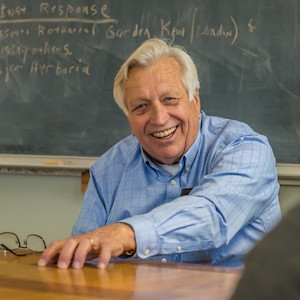 Wes Jack­son, founder and pres­i­dent of The Land Insti­tute, is a lead­ing researcher, edu­ca­tor, and pro­po­nent of eco­log­i­cal­ly-based agri­cul­ture. He is the author of sev­er­al books, includ­ing New Roots for Agri­cul­ture, Becom­ing Native to This Place, Con­sult­ing the Genius of the Place, and most recent­ly Nature as Mea­sure. (Pho­to: landin​sti​tute​.org)
Nature's Way: A Path to Eco­log­i­cal Agri­cul­ture was first pub­lished on great​tran​si​tion​.org and is post­ed on Rur­al Amer­i­ca In These Times with per­mis­sion from the orga­ni­za­tion and author.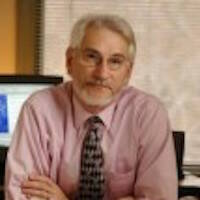 Allen White
is Vice Pres­i­dent and Senior Fel­low at the Tel­lus Insti­tute, where he directs the institute's Pro­gram on Cor­po­rate Redesign. He co-found­ed the Glob­al Report­ing Ini­tia­tive and Cor­po­ra­tion
2020
, and found­ed the Glob­al Ini­tia­tive for Sus­tain­abil­i­ty Rat­ings. He has advised mul­ti­lat­er­al orga­ni­za­tions, foun­da­tions, gov­ern­ment agen­cies, For­tune
500
com­pa­nies, and NGOs on cor­po­rate sus­tain­abil­i­ty, gov­er­nance, and account­abil­i­ty. Dr. White has served on boards, advi­so­ry groups, and com­mit­tees of the Inter­na­tion­al Cor­po­rate Gov­er­nance Net­work, Civic Cap­i­tal, Insti­tu­to Ethos (Brazil), the New Econ­o­my Net­work, Busi­ness for Social Respon­si­bil­i­ty, and the Ini­tia­tive for Respon­si­ble Invest­ment at Har­vard University.