A Path to Democratic Socialism Means a Path To Climate Justice
Through ecosocialism, we can fight climate change and extreme inequality at the same time.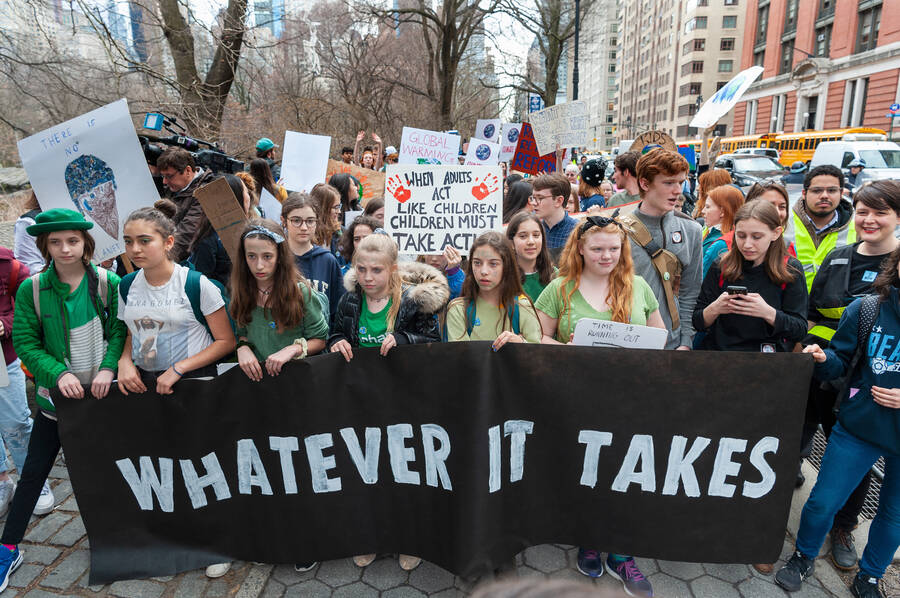 This piece is a response to ​"We Don't Have Time to End Cap­i­tal­ism — But Growth Can Still Be Green.​"
We need to act as quickly as possible, and we need to target the root causes of climate change. But we can, and should, do both simultaneously.
While the ques­tion of whether we should address cap­i­tal­ism first or cli­mate change first is often posed in sequen­tial terms, it is a false choice — though a com­pelling one.
One can cogent­ly argue, as Tobi­ta does, that the time­line to avert the worst of cli­mate chaos is exceed­ing­ly short, much short­er than the time it would take to over­throw and replace cap­i­tal­ism. But one can also argue, as Ash­ley does, that the cli­mate cri­sis is his­tor­i­cal­ly a symp­tom of cap­i­tal­ism, and that this has inten­si­fied since the post-war Great Accel­er­a­tion of glob­al­ized pro­duc­tion and con­sump­tion. Accord­ing­ly, the rea­son­ing goes, we can't deal with the cli­mate cri­sis with­out first dis­man­tling capitalism.
Both of these sequen­tial fram­ings, how­ev­er, miss an impor­tant truth: The path to demo­c­ra­t­ic social­ism and the path to a liv­able plan­et are one and the same.
My argu­ment rec­og­nizes what is cor­rect in each of the sequen­tial fram­ings: We need to act as quick­ly as pos­si­ble, and we need to tar­get the root caus­es of cli­mate change. But we can, and should, do both simultaneously.
Ecoso­cial­ism is a form of cri­tique that roots envi­ron­men­tal destruc­tion in the imper­a­tives of cap­i­tal­ism: prof­it-seek­ing, com­pe­ti­tion, end­less growth, exploita­tion of humans and nature, and impe­r­i­al expan­sion. In line with this tren­chant cri­tique, the strate­gic polit­i­cal insight of ecoso­cial­ism is that the most trans­for­ma­tive approach­es to address­ing cli­mate change would also bring us clos­er to a social­ist society.
There are many exam­ples of such a trans­for­ma­tive approach: mass, pub­lic, zero car­bon hous­ing; mass, free, zero-car­bon tran­sit; bring­ing pri­vate, investor-owned ener­gy util­i­ties under pub­lic, demo­c­ra­t­ic and com­mu­ni­ty con­trol, as well as tran­si­tion­ing them to renew­able ener­gy sources. These poli­cies address envi­ron­men­tal ills and social ills at the same time, while also free­ing our polit­i­cal sys­tem from the clutch­es of plan­et-killing cor­po­ra­tions. And, by vio­lat­ing the sanc­ti­ty of prop­er­ty and prof­it, they would put us on the path towards a soci­ety cen­tered on human need and eco­log­i­cal sustainability.
Per­haps most impor­tant­ly, fight­ing both cli­mate change and extreme inequal­i­ty simul­ta­ne­ous­ly is adept polit­i­cal strat­e­gy. For one, wealthy coun­tries and wealthy indi­vid­u­als con­tribute a dis­pro­por­tion­ate share of emis­sions. And if eco­nom­i­cal­ly pre­car­i­ous peo­ple do not think they have some­thing to gain from tak­ing urgent action on cli­mate change, they will nev­er com­mit to the scale or mil­i­tan­cy of mobi­liza­tion that is required. Just look to France's ide­o­log­i­cal­ly inchoate Yel­low Vests move­ment, sparked in response to a gas tax, to see that neolib­er­al cli­mate pol­i­cy with­out social jus­tice at the cen­ter is a polit­i­cal dead end.
This is not to say that an ecoso­cial­ist strat­e­gy has no polit­i­cal ten­sions or challenges.
There will nec­es­sar­i­ly be changes in habits of con­sump­tion, habits that are by no means con­fined to the afflu­ent. We need to cat­alyze a change in social val­ues, where­in com­mu­nal activ­i­ties such as recre­ation­al sports, danc­ing, art projects and book clubs as well as forms of col­lec­tive con­sump­tion — not only of tran­sit and hous­ing but of food, the­ater, film and much more — become val­orized. We must eat less red meat, and deval­ue the con­sump­tion of plas­tic junk and lat­est-mod­el cell phones and oth­er tech that not only con­tribute to social alien­ation but are tremen­dous­ly destruc­tive to the plan­et: man­u­fac­tured for obso­les­cence, shipped across great dis­tances in car­bon-spew­ing ships and trucks, and rely­ing on neo­colo­nial pat­terns of cheap­ened nature and labor in the Glob­al South. And we need to ensure that redis­tri­b­u­tion and the pub­lic pro­vi­sion­ing of goods and ser­vices like tran­sit and health­care would off­set the increased costs of some con­sumer items.
The great­est chal­lenge will be build­ing a mass move­ment ready to take mil­i­tant action to threat­en and dis­rupt eco­nom­ics and pol­i­tics as usu­al, with all the back­lash from the rul­ing class and neolib­er­al estab­lish­ment such a move­ment will pro­voke. There are inspir­ing exam­ples to draw on, from pipeline resis­tance at Stand­ing Rock to the recent wave of teach­ers' strikes, some of which direct­ly involved cli­mate demands such as tax­ing extrac­tive com­pa­nies or invest­ing in green spaces.
If we fail, there will still be a future — just an awful one, full of social con­flict, dis­lo­ca­tion and vio­lence. The impacts of cli­mate change will be felt unequal­ly, inten­si­fy­ing inequal­i­ty along the lines of class, race, nation­al­i­ty and geog­ra­phy. The nation­al and glob­al 1% will pro­tect them­selves from ris­ing seas, extreme tem­per­a­tures and resource scarci­ty by any means nec­es­sary, erect­ing bor­der walls and fortress­es while the rest of us suf­fer. The ques­tion of cli­mate change, as the edi­tors of n+1 have point­ed out, is who gets to live — and under what circumstances.
The choic­es are ecoso­cial­ism or eco-apartheid.
Thea N. Riofran­cos
is assis­tant pro­fes­sor of polit­i­cal sci­ence at Prov­i­dence Col­lege and serves on the steer­ing com­mit­tee of the Demo­c­ra­t­ic Social­ists of America's ecoso­cial­ist work­ing group. Her forth­com­ing book is Resource Rad­i­cals: From Petro-Nation­al­ism to Post-Extrac­tivism in Ecuador.