The Democratic Debates Showcased the Most Dangerous Form of Climate Denial
By failing to recognize the urgency of the crisis, most candidates are helping bury it.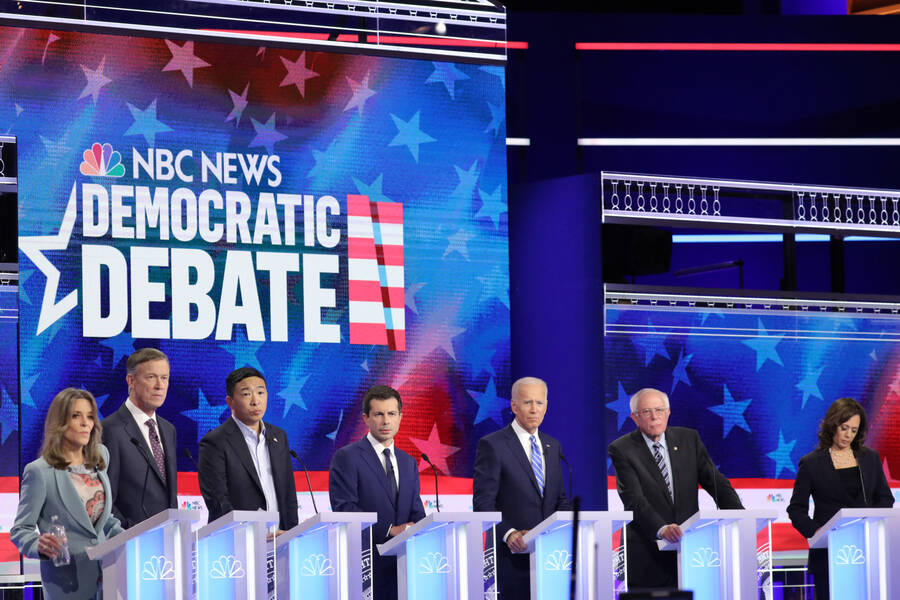 An ongo­ing for­est fire has rav­aged more than 42,000 acres of the Flori­da Ever­glades. For­est fires are a nat­ur­al occur­rence, but they are expect­ed to get worse as cli­mate change length­ens the fire sea­son and reduces rain­fall. About 40 miles south of the blaze is Mia­mi, a coastal city of half a mil­lion rest­ing on a foun­da­tion of porous lime­stone, which floods on sun­ny days and could be part­ly under­wa­ter by 2045.
Democratic presidential candidates take part in the second night of the first Democratic presidential debate on June 27, 2019 in Miami, Florida. (Photo by Drew Angerer/Getty Images)
The first Demo­c­ra­t­ic Pri­ma­ry Debates of the 2020 elec­tion unfold­ed in Mia­mi amid this cli­mate chaos. Cli­mate change will trans­form the future in unfore­see­ably ways. But this trans­for­ma­tion is already hap­pen­ing all around us. The next decade is the time to embark on a just tran­si­tion to cli­mate safe­ty: The Inter­gov­ern­men­tal Pan­el on Cli­mate Change report says that we need to cut glob­al car­bon emis­sions in half in this time­frame to have any hope of staving off a cli­mate cri­sis that would exis­ten­tial­ly threat­en human soci­ety. Alarm­ing­ly, most Demo­c­ra­t­ic can­di­dates have made it clear that they have lit­tle under­stand­ing of the mag­ni­tude of the threat and the response required to meet it. And mod­er­a­tors curat­ed debates devoid of the urgency this moment demands.
On Wednes­day, the first debate devot­ed a total of sev­en min­utes to the exis­ten­tial threat of glob­al warm­ing. The mod­er­a­tors evi­denced pal­try knowled­ge of the sub­ject: Chuck Todd con­fused the key terms ​"mit­i­ga­tion" (reduc­ing emis­sions) and ​"adap­ta­tion" (increas­ing resilien­cy), and echoed right-wing talk­ing points about the ​"cost" of address­ing cli­mate change. None of the 10 can­di­dates men­tioned the Green New Deal. On Thurs­day, it was eight min­utes spent on cli­mate, and three can­di­dates referred briefly to the Green New Deal. One of them was John Hick­en­lop­er, who cit­ed it as an exam­ple of why can­di­dates shouldn't iden­ti­fy as socialists.
Of course, it's far more impor­tant to look at what can­di­dates actu­al­ly do beyond the debate spot­light. Jay Inslee stands out for con­vinc­ing­ly cam­paign­ing on cli­mate change as his num­ber-one pri­or­i­ty. His plans for sec­tor-by-sec­tor decar­boniza­tion and phas­ing out the fos­sil fuel indus­try are impres­sive­ly detailed — and even sug­gest using state pow­er to decom­mis­sion oil, gas and coal assets.
Eliz­a­beth War­ren has mul­ti­ple plans for that, and aspects of them, like the call for a con­cert­ed indus­tri­al pol­i­cy and mass job cre­ation, are good. But a wor­ry­ing thread of ​"eco­nom­ic patri­o­tism" unites those plans: She sees the glob­al mar­ket for green tech­nol­o­gy as a way for the U.S. to reassert its man­u­fac­tur­ing prowess, a quest for dom­i­nance that would under­mine glob­al cooperation.
At last night's debate, Todd did a slight­ly bet­ter job pre­sent­ing his cli­mate ques­tion, fram­ing cli­mate change as a ​"major con­cern for vot­ers" and ask­ing for pol­i­cy details. But can­di­dates' respons­es left much to be desired.
Kamala Har­ris referred to the ​"cli­mate cri­sis" as an ​"exis­ten­tial threat" and voiced sup­port for a Green New Deal, but quick­ly piv­ot­ed to oth­er sup­posed threats — Trump, King Jong Un, and Putin — thus under­cut­ting the punch of her ini­tial­ly bold statement.
Joe Biden waxed nos­tal­gic about the Oba­ma administration's achieve­ments, empha­sized the need for elec­tric-vehi­cle-recharg­ing sta­tions, and dis­cussed jobs and the Paris Accord before point­ing the fin­ger at the ​"85 per­cent of the world makes up the rest" of car­bon emissions.
Hick­en­lop­er, a man who once claimed he drank frack­ing flu­id to prove it was harm­less, said work­ing with the oil and gas indus­try will help address cli­mate change. But those indus­tries are to blame both for cli­mate change and for fos­ter­ing the dan­ger­ous neg­li­gence of our polit­i­cal sys­tem; they must be dis­man­tled and their exec­u­tives prosecuted.
Pete Buttigieg called for ​"aggres­sive and ambi­tious mea­sures." His first exam­ple? A ​"car­bon tax and div­i­dend" — the poster­child for the grad­ual, tech­no­crat­ic, mar­ket-ori­ent­ed pro­pos­als that have failed to gain polit­i­cal trac­tion or avert cli­mate chaos.
Of the 20, only Bernie Sanders seemed to grasp — and rel­ish — the need to con­front the fos­sil fuel indus­try, and to divert the ​"tril­lion and a half dol­lars" we spend ​"on weapons of destruc­tion" to trans­form our ener­gy sys­tems. It's less the dol­lar amount that sets him apart, and more the way he links inter­na­tion­al coop­er­a­tion and U.S. demil­i­ta­riza­tion — and doesn't shy away from nam­ing cli­mate change as our ​"com­mon ene­my." Yet he didn't men­tion the Green New Deal, even though it is an ele­ment of his cam­paign plat­form.
Weeks ear­li­er, Tom Perez, chair of the Demo­c­ra­t­ic Nation­al Com­mit­tee, reject­ed calls for a debate cen­tered on the cli­mate emer­gency. His rea­sons, which framed the cli­mate cri­sis as one nar­row ​"issue" among many oth­ers and con­cern-trolled about break­ing the pre­vi­ous­ly-devised rules gov­ern­ing debate pro­ce­dure, were cringe­wor­thy. He also threat­ened any can­di­date who par­tic­i­pates in a unsanc­tioned debate with exclu­sion from the offi­cial ones.
By doing so, he offered an on-the-nose illus­tra­tion of how the polit­i­cal estab­lish­ment is aid­ing and abet­ting the crimes of fos­sil cap­i­tal. Per­haps Demo­c­ra­t­ic Par­ty elites believe that ignor­ing cli­mate change is some­how nec­es­sary to win­ning over some slice of vot­ers against Trump next Novem­ber. But they're wrong on the pol­i­tics: Peo­ple know that action is nec­es­sary. Accord­ing to recent polls com­mis­sioned by Data for Progress, 64% of reg­is­tered Demo­c­ra­t­ic vot­ers want a cli­mate debate and 71% sup­port a Green New Deal.
On Tues­day, hun­dreds of Sun­rise Move­ment activists descend­ed the DNC head­quar­ters, demand­ing a cli­mate debate. As of Thurs­day, dozens remained, hav­ing camped out overnight. Their per­sis­tence match­es the depth of the cri­sis. As Sun­rise co-founder Varshi­ni Prakash said in a state­ment released Tues­day, ​"Busi­ness as usu­al is a death sentence."
The most dan­ger­ous form of cli­mate denial is no longer Sen­a­tor Jim Inhofe throw­ing a snow­ball on the Sen­ate floor to prove that glob­al warm­ing isn't real, or Trump call­ing cli­mate change a Chi­nese hoax. It's lib­er­al and cen­trist politi­cians who should know bet­ter appeal­ing to ​"bipar­ti­san con­sen­sus," imme­di­ate­ly shift­ing the blame to oth­er coun­tries when the U.S. has among the high­est per-capi­ta emis­sions in the world, or ask­ing, ​"How will we pay for it?"
Mod­er­a­tors should­n't wait rough­ly an hour and 19 min­utes, as they did at last night's debate, to ask the first ques­tion explic­it­ly about cli­mate change — and Demo­c­ra­t­ic can­di­dates should­n't wait for them to do so either. Cli­mate change shapes every oth­er polit­i­cal ques­tion. It does not belong on a laun­dry list of top­ics, because we can't build a bet­ter world with­out a liv­able planet.
Thea N. Riofran­cos
is assis­tant pro­fes­sor of polit­i­cal sci­ence at Prov­i­dence Col­lege and serves on the steer­ing com­mit­tee of the Demo­c­ra­t­ic Social­ists of America's ecoso­cial­ist work­ing group. Her forth­com­ing book is Resource Rad­i­cals: From Petro-Nation­al­ism to Post-Extrac­tivism in Ecuador.