The Illegitimacy of the Ruling Class
Americans are losing faith in governance by the elite.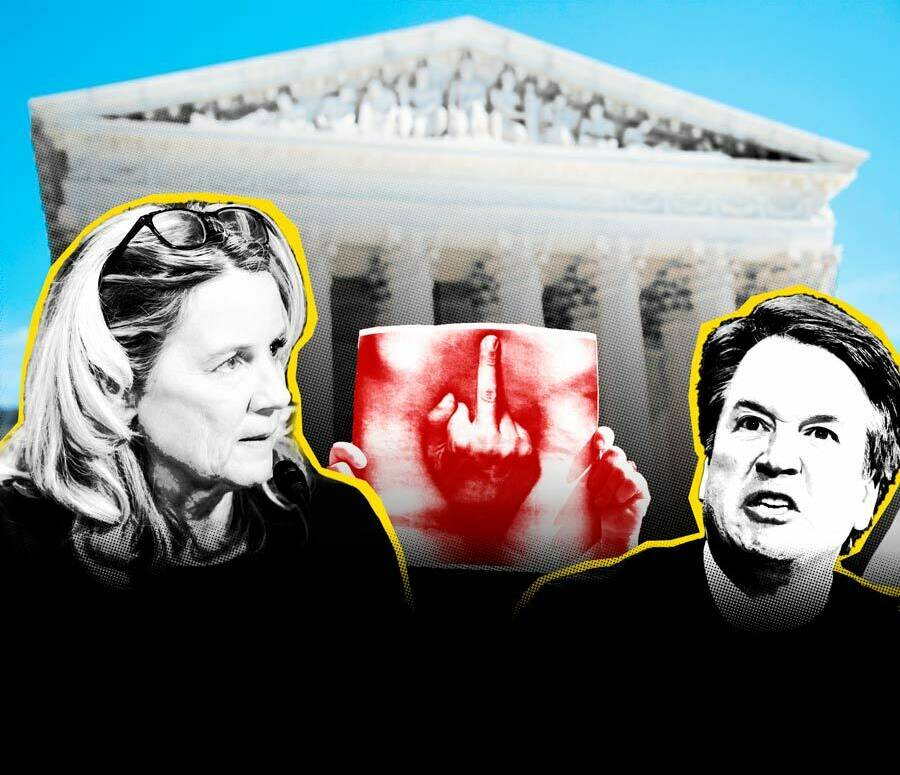 Despite Chris­tine Blasey Ford's stir­ring tes­ti­mo­ny, an FBI inves­ti­ga­tion, thou­sands of pro­test­ers (hun­dreds of whom were arrest­ed), peti­tions and phone calls from con­stituents, an ele­va­tor con­fronta­tion and a record-high dis­ap­proval rat­ing, on Octo­ber 6 the U.S. Sen­ate con­firmed Brett Kavanaugh's nom­i­na­tion to the Supreme Court by a mar­gin of two.
Reverberating through Ford's statement, as in so many recent public acts of protest and testimony, is this tremble of hegemony fracturing.
That evening, Kavanaugh was grant­ed a life­time appoint­ment to a deeply unde­mo­c­ra­t­ic insti­tu­tion. He was con­firmed by a leg­isla­tive body that counts some votes more than oth­ers, giv­ing the loud­est voice (per capi­ta) to the most sparse­ly pop­u­lat­ed states. The Senate's major­i­ty vote rep­re­sent­ed a minor­i­ty of Amer­i­cans (44 per­cent). And Kavanaugh was select­ed by a pres­i­dent who lost the pop­u­lar vote, a pedi­gree he shares with three of his esteemed col­leagues: Neil Gor­such, John Roberts and Samuel Alito.
It was, in oth­er words, an egre­gious case of the sys­tem work­ing pre­cise­ly as designed. The framers of the Con­sti­tu­tion imag­ined the Supreme Court, the Sen­ate and the Elec­toral Col­lege to func­tion as checks on the ​"tyran­ny of the major­i­ty" — in oth­er words, to ensure white male landown­ers had the final say. Two cen­turies lat­er, the women's suf­frage and civ­il rights move­ments expand­ed the fran­chise far beyond what the founders intend­ed. But, thanks to unprece­dent­ed elec­toral spend­ing by cor­po­ra­tions and the wealthy, as well as ram­pant vot­er sup­pres­sion — both of which were grant­ed a con­sti­tu­tion­al green light by recent Supreme Court deci­sions — the Repub­li­can-led gov­ern­ment has become increas­ing­ly unmoored from the peo­ple it osten­si­bly rep­re­sents. For decades, the par­ty has moved right­ward, embrac­ing an explic­it­ly white, male, native-born, wealthy, het­ero­sex­u­al iden­ti­ty pol­i­tics paired with a pro­gram of severe dis­in­vest­ment and dereg­u­la­tion. Don­ald Trump is the apoth­e­o­sis of this class vision — and has revealed it in all its cruelty.
Increas­ing­ly we see pow­er stripped naked, no longer pro­tect­ed by the veneer of legit­i­ma­cy. Legit­i­ma­cy, or what Ital­ian Marx­ist Anto­nio Gram­sci called hege­mo­ny, is always pro­vi­sion­al. Rather than coer­cion, it requires vol­un­tary sub­mis­sion, which lasts only as long as it is con­sent­ed to. This naked pow­er was per­son­i­fied in Kavanaugh's sput­ter­ing rage at being called to account. A sim­i­lar lift­ing of façades is appar­ent in white suprema­cist ral­lies, in the right-wing evan­gel­i­cal alliance with Trump that makes no pre­tense of his piety, in the con­ver­sion of the Envi­ron­men­tal Pro­tec­tion Agency into an arm of the coal and oil indus­tries, and in deep tax cuts for the wealthy along­side a stag­ger­ing out­lay for mil­i­tary expen­di­tures. The emper­or wears no clothes.
Con­verse­ly, we also see the hol­low­ness of elite claims to a lost legit­i­ma­cy that was nev­er tru­ly root­ed in a pop­u­lar man­date. Estab­lish­ment fig­ures, from Hillary Clin­ton to an anony­mous mem­ber of Trump's own cab­i­net, make com­pul­sive appeals to a lost bipar­ti­san comi­ty and the prin­ci­ples of truth, rea­son and fair­ness that sup­pos­ed­ly gov­erned Amer­i­can pol­i­tics before the cur­rent admin­is­tra­tion. Claim­ing to be part of the #resis­tance, these elites nos­tal­gi­cal­ly yearn for the mod­er­at­ing force of norms and insti­tu­tions. But for many Amer­i­cans, pre-Trump Amer­i­ca is noth­ing to be nos­tal­gic about. It seems that these brave mar­tyrs suf­fer from a his­tor­i­cal amne­sia extend­ing from this nation's bloody found­ing to Jan. 19, 2017.
As pow­er and legit­i­ma­cy become unteth­ered, it has become more and more unten­able for estab­lish­ment insti­tu­tions to main­tain the illu­sion of dis­tance from vio­lence and dom­i­na­tion. In the­o­ry, the mil­i­tary and police have the right to mete out vio­lence to pro­tect law-abid­ing cit­i­zens from the threats posed by ​"ene­mies, for­eign and domes­tic," as the U.S. Army's Oath of Enlist­ment puts it. It's not mur­der when the police kill some­one, or ter­ror­ism when the state drops a bomb, the log­ic goes.
But that log­ic is crack­ing. A seem­ing­ly end­less War on Ter­ror, ram­pant police bru­tal­i­ty and sprawl­ing mass incar­cer­a­tion have made the dis­tinc­tion between legit­i­mate and ille­git­i­mate vio­lence increas­ing­ly dif­fi­cult to main­tain. Through those cracks, it's revealed that the state often uses vio­lence for an entire­ly dif­fer­ent rea­son: to shore up the class hier­ar­chy. In the relent­less search for prof­its and pro­duc­tiv­i­ty, cap­i­tal­ism inevitably cre­ates ​"sur­plus pop­u­la­tions" of unem­ployed people.
These are in turn seen as a threat to the social order — and made the tar­get of polic­ing and incar­cer­a­tion. The results are some­times dead­ly. In 2014, Eric Gar­ner was choked to death while being arrest­ed on sus­pi­cion of sell­ing loose cig­a­rettes. The wealth­i­est, mean­while, enjoy the pro­tec­tion of their prop­er­ty and the enforce­ment of their busi­ness con­tracts, while their own crimes go unpun­ished. This pact of elite impuni­ty is evi­dent in the 2008 finan­cial cri­sis, in the rou­tine theft of work­ers' wages, and in the ram­pant sex­u­al assault per­pe­trat­ed by male boss­es that #MeToo has final­ly sub­ject­ed to pub­lic scrutiny.
This was the source of Kavanaugh's out­rage: How­ev­er fleet­ing­ly, the hear­ing sub­ject­ed him to the rule of law. To him, there­fore, it was a ​"grotesque and coor­di­nat­ed char­ac­ter assas­si­na­tion" that ​"destroyed … my good name." In oth­er words, it was an affront to his sta­tus in a hier­ar­chy he expect­ed his peers in the Sen­ate to pro­tect. The Kavanaugh hear­ings lift­ed the veil on how rul­ing-class pow­er is enact­ed, repro­duced and giv­en the aura of legit­i­ma­cy through both state insti­tu­tions and elite orga­ni­za­tions: the Ivy League, the Seri­ous Men com­men­tari­at, the Supreme Court. In his tes­ti­mo­ny to the Sen­ate, Kavanaugh brought up Yale repeat­ed­ly. You might say he has a lot of class character.
Chris­tine Blasey Ford's tes­ti­mo­ny served as a win­dow into what Corey Robin calls ​"the pri­vate life of pow­er." In Com­mon­weal, writer John Gehring described his prep school foot­ball team chant­i­ng, after a loss to a most­ly black school, ​"That's all right, that's okay, you will work for us some­day!" This social­iza­tion, in all its val­oriza­tion of hier­ar­chy and its inti­mate entan­gle­ment with vio­lence, pro­duces the future lead­ers of a state built to pre­serve class, gen­der and racial domination.
The state, how­ev­er, is by no means mono­lith­ic. All states, and par­tic­u­lar­ly lib­er­al democ­ra­cies, are a ter­rain of strug­gle between dif­fer­ent groups, in which social move­ments of the exploit­ed and the oppressed can con­test or even cap­ture pow­er. The events sur­round­ing Kavanaugh's appoint­ment were enmeshed in an unusu­al­ly frank con­ver­sa­tion about sex­u­al assault, and gave new momen­tum to an increas­ing­ly mil­i­tant and rebel­lious fem­i­nism, one that sees patri­archy as part of a régime of social and eco­nom­ic oppres­sion. Rever­ber­at­ing through Ford's state­ment, as in so many recent pub­lic acts of protest and tes­ti­mo­ny, is this trem­ble of hege­mo­ny fracturing.
The ral­lies against Kavanaugh's con­fir­ma­tion were only the most recent mobi­liza­tion to tar­get the Amer­i­can social order. Oth­ers include Occu­py Wall Street, Fight for $15, Black Lives Mat­ter, Stand­ing Rock, protests against the trav­el ban and Trump's attempt­ed repeal of DACA, #Abol­ishICE, #Red­forEd. Woven through these has been the renewed salience of tac­tics and ideas with long his­to­ries but, until recent­ly, scarce appear­ances in the Amer­i­can polit­i­cal imag­i­na­tion: the strike, anti-fas­cist con­fronta­tion, sanc­tu­ary move­ments, socialism.
Some of these mobi­liza­tions result­ed in con­crete vic­to­ries, such as high­er wages, increased school fund­ing and the elec­tion of unabashed­ly left-wing can­di­dates. Oth­ers have not — though they sure­ly con­tributed to indi­vid­ual and col­lec­tive rad­i­cal­iza­tion, and strength­ened the activist net­works that are nec­es­sary to sus­tain move­ments through the inevitable moments of defeat or phas­es of abeyance. As a total­i­ty, they have chipped away at the legit­i­mat­ing ide­olo­gies that give cov­er to inequal­i­ty, racism and patriarchy.
Frac­ture, how­ev­er, is not a suf­fi­cient pre­req­ui­site for social change. In the con­text of lives stretched thin by eco­nom­ic pre­car­i­ty, polit­i­cal insta­bil­i­ty can also be met with apa­thy. When you are work­ing two jobs to make ends meet, it's hard to find ener­gy for polit­i­cal engage­ment or to dis­cern a mean­ing­ful dif­fer­ence between can­di­dates when gov­ern­ment always seems to pro­vide more of the same. One can argue that the pri­or hege­mon­ic order was sus­tained less by wide­spread faith in its virtue than by wide­spread dis­en­gage­ment, a res­ig­na­tion that elites are all too hap­py to abet.
The future is uncer­tain. Will the dis­af­fect­ed find the col­lec­tive agency, capac­i­ty and lever­age to push in an eman­ci­pa­to­ry direc­tion? Or will elite forces recon­sol­i­date around an author­i­tar­i­an-repres­sive social order? The lat­ter is on full dis­play in sev­er­al coun­tries, from Hun­gary to Brazil. In the con­text of the plan­e­tary hav­oc being wreaked by glob­al cap­i­tal­ism, the stakes are not only high but exis­ten­tial. We need to ori­ent to these frac­tures and con­tra­dic­tions. They are open­ings and avenues through which process­es of rad­i­cal­iza­tion poten­tial­ly unfold. The eman­ci­pa­to­ry path requires ded­i­ca­tion and strug­gle, and the ter­rain is uneven. And we on the Left are still find­ing our orga­ni­za­tion­al and strate­gic foot­ing. But the moment is aus­pi­cious for transformation.
Thea N. Riofran­cos
is assis­tant pro­fes­sor of polit­i­cal sci­ence at Prov­i­dence Col­lege and serves on the steer­ing com­mit­tee of the Demo­c­ra­t­ic Social­ists of America's ecoso­cial­ist work­ing group. Her forth­com­ing book is Resource Rad­i­cals: From Petro-Nation­al­ism to Post-Extrac­tivism in Ecuador.