El Salvador's Left Turn?
Mixed results for 'el frente' in the country's congressional elections.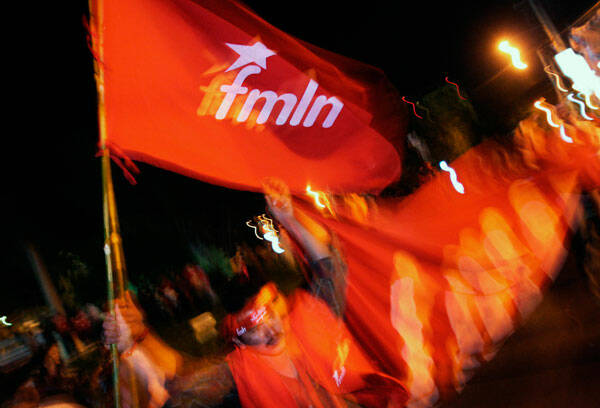 The day after the U.S. pres­i­den­tial elec­tion, Sal­vado­ran pres­i­den­tial can­di­date Mauri­cio Funes con­grat­u­lat­ed Pres­i­dent Obama.
"These winds of change have begun to blow from the Unit­ed States to refresh the glob­al atmos­phere, in need of more democ­ra­cy and greater social jus­tice," Funes said in a state­ment. ​"The Amer­i­cans have not been afraid to choose change, as they have staked out the future and not the immo­bil­i­ty of the past."
Funes, who him­self is on a nation­wide ​"Car­a­van of Hope" tour, is the new face of the Fari­bun­do Mar­ti Nation­al Lib­er­a­tion front (FMLN). The par­ty – born from five bands of left­ist guer­ril­las dur­ing El Salvador's civ­il war from 1980 to 1992 – is on the verge of win­ning its first pres­i­den­tial elec­tion on March 15.
A pop­u­lar for­mer TV jour­nal­ist, Funes enjoys a dou­ble-dig­it lead – as high as 17 per­cent­age points, accord­ing to one Decem­ber poll – over his oppo­nent, Rodri­go Avi­la of the incum­bent right-wing Nation­al Repub­li­can Alliance (ARE­NA) par­ty, which has held the pres­i­den­cy for 20 years.
Despite Funes' poll num­bers, the FLMN received mixed results in the nation­al assem­bly elec­tions on Jan. 18. El frente (or ​"the front") as the par­ty is known in El Sal­vador, gained three seats, giv­ing it 35 out of a total 84. Mean­while, ARE­NA lost two seats to give it 32. But the con­ser­v­a­tive Par­ty of Nation­al Con­cil­i­a­tion (PCN) won 11 seats, con­tin­u­ing the right-wing coalition's leg­isla­tive majority.
FMLN won the may­ors' offices in three oth­er large cities in El Sal­vador – Soy­a­pan­go, San­ta Tecla and San­ta Ana – and increased the num­ber of munic­i­pal­i­ties it will gov­ern by 90 per­cent. But the par­ty lost the mayor's seat in San Sal­vador, the cap­i­tal, which incum­bent Vio­le­ta Menj'var had held since 2005. FMLN had con­trolled the cap­i­tal as a strate­gic strong­hold for the past 12 years.
Evi­dence of pos­si­ble vot­er fraud sur­faced dur­ing the elec­tion. FMLN rep­re­sen­ta­tives, and groups such as the Com­mit­tee in Sol­i­dar­i­ty with the Peo­ple of El Sal­vador (CIS­PES), report­ed that bus­es of Guatemalan, Hon­duran and Nicaraguan nation­als were detained in bor­der provinces, alleged­ly on their way to the cap­i­tal to vote for ARE­NA. Oth­ers, the oppo­si­tion fears, may have got­ten through. CIS­PES Exec­u­tive Direc­tor Burke Stans­bury also believes that ARE­NA brought rur­al Sal­vado­rans into the cap­i­tal to tip the bal­ance there.
As the incum­bent par­ty, ARE­NA con­trols access to the cit­i­zen reg­istry and, before the elec­tion, it pre­vent­ed FMLN and out­side observers from com­par­ing the reg­istry to vot­er rolls.
But Geoff Thale of the Wash­ing­ton Office on Latin Amer­i­ca says he doubts that alleged vot­er fraud made a dif­fer­ence in the capital.
"Vio­le­ta Menj'var lost San Sal­vador because the par­ty was over­con­fi­dent and failed to run a strong cam­paign [and] because the mayor's record in office wasn't that impres­sive in terms of munic­i­pal ser­vices and city man­age­ment," Thale says. ​"Violeta's pre­de­ces­sors were viewed as effec­tive man­agers; she wasn't."
Thale adds that ARE­NA pres­i­dents have made life dif­fi­cult for FMLN may­ors of San Sal­vador, ​"squeez­ing them on bud­get issues and being unco­op­er­a­tive on issues like garbage dis­pos­al and dump sites."
Tim Muth, who runs a pop­u­lar blog called Walk­ing with El Sal­vador, says the mixed results from the Jan. 18 elec­tion may shows signs of a matur­ing democracy.
"What hap­pened in San Sal­vador is that a cer­tain por­tion of the vot­ers appeared to split their votes on Nation­al Assem­bly and may­or," Muth wrote on his blog. ​"They were vot­ing based on who they thought (right­ly or wrong­ly) was the best able to gov­ern, rather than vot­ing strict­ly on par­ty lines."
FMLN's mot­to on Funes' Car­a­van of Hope tour has been ​"Nace la esper­an­za, viene el cam­bio" (Hope is born, change is com­ing). While el frente didn't expect cit­i­zens to actu­al­ly vote for change in San Salvador's may­oral elec­tion, the par­ty expects its biggest vic­to­ry to come on March 15.
If poll num­bers hold in Funes' favor, anoth­er Latin Amer­i­can democ­ra­cy will turn to the left.