Electronic Monitoring Isn't Helping People on Parole, It's Sending Them Back to Prison
A new report shows that electronic monitoring is expensive, faulty and lacks regulation, making it harder for those on parole to re-enter society.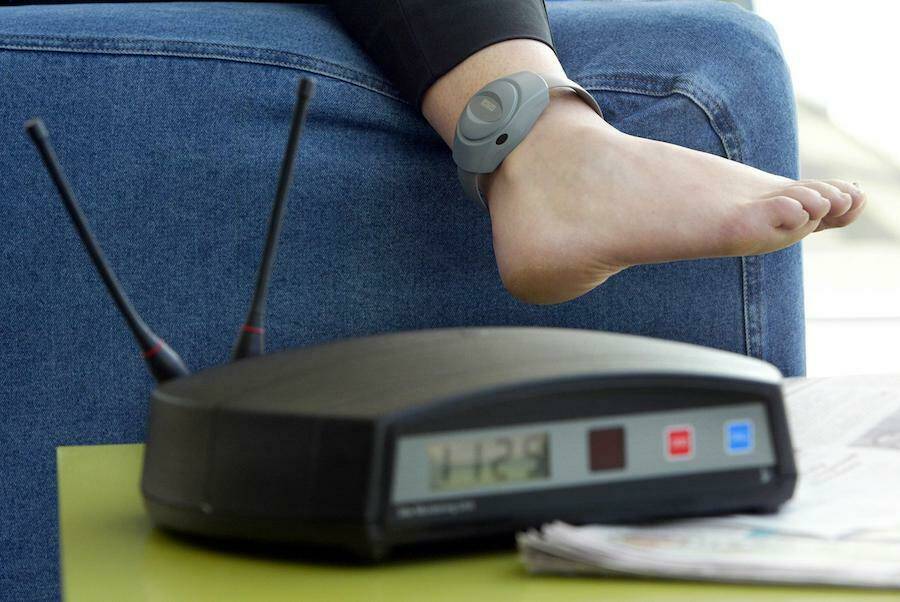 A recent report by the Cen­ter for Media Jus­tice and the Urbana-Cham­paign Inde­pen­dent Media Cen­ter found that elec­tron­ic mon­i­tor­ing is harm­ful to pre­vi­ous­ly-incar­cer­at­ed indi­vid­u­als on parole and increas­es their chances of being re-incar­cer­at­ed. The report reveals that elec­tron­ic mon­i­tor­ing ​"lim­its the free­dom and poten­tial suc­cess of peo­ple on parole," does not save mon­ey and lacks con­sis­tent rules and reg­u­la­tions. Fur­ther­more, the report argues that there is lit­tle evi­dence sup­port­ing the effec­tive­ness of elec­tron­ic mon­i­tors, and that such devices can be used to broad­en the scope of the sur­veil­lance state and act as an exten­sion of mass incarceration.
The report, called ​"No More Shack­les," is part of the Cen­ter for Media Justice's #NoDig­i­tal­Pris­ons cam­paign, and cites a com­pre­hen­sive list of rea­sons why elec­tron­ic mon­i­tor­ing should be banned.
"Num­ber one, it doesn't save the state mon­ey; it costs mon­ey," says James Kil­go­re, lead co-author of the report and co-direc­tor of First­Fol­low­ers Re-Entry Pro­gram, an orga­ni­za­tion that pro­vides ser­vices and guid­ance to peo­ple impact­ed by the crim­i­nal jus­tice sys­tem. ​"Num­ber two, [mon­i­tors are] extend­ing someone's sen­tence who's already done time. The third point that's real­ly cru­cial is there's no research that shows that it does any­thing positive."
Elec­tron­ic mon­i­tors are ankle devices placed on indi­vid­u­als who are recent­ly out of prison and on parole. Some come equipped with Glob­al Posi­tion­ing Sys­tem (GPS) capa­bil­i­ties, while oth­ers oper­ate using radio fre­quen­cy systems.
The mon­i­tors come with a long list of con­di­tions, large­ly set by a parole offi­cer, that the indi­vid­ual must fol­low or risk fur­ther incar­cer­a­tion. Often, peo­ple aren't aware of the full con­straints of their parole and there's no clear frame­work of penal­ties for an offense, the report says. Some peo­ple have report­ed more than 70 con­di­tions on their parole.
The more parole con­di­tions there are, the more like­ly an indi­vid­ual is to be sent back to prison. In 1999, parole vio­la­tions account­ed for more than a third of prison admis­sions (com­pared to just 17 per­cent in 1980, before elec­tron­ic mon­i­tor­ing was wide­ly used). In 2017, the Mar­shall Project found that 42 state prison sys­tems report­ed 61,250 peo­ple in prison for parole vio­la­tions. Many of these re-entries can be blamed on tech­ni­cal vio­la­tions –  – non-crim­i­nal actions, such as miss­ing a sched­uled meet­ing with a parole offi­cer or fail­ing to report a change in address.
"Those of us who have been to prison call it a ​'set-up'" Kil­go­re says. ​"There's cer­tain rules and cer­tain pro­grams that are a set up for you to fail, and elec­tron­ic mon­i­tor­ing is one of those … it's real­ly easy to do some­thing wrong."
Elec­tron­ic mon­i­tor­ing also cre­ates a sig­nif­i­cant bur­den on the individual's finances and per­son­al rela­tion­ships, says Kil­go­re. The indi­vid­ual must pay mon­ey to wear the ankle devices — some­times up to $35 dol­lars a day, Kil­go­re says. In some places, like Rich­land Coun­ty, South Car­oli­na, if you can't pay you may be sent back to jail. The mon­i­tors make it dif­fi­cult for peo­ple to hold down jobs or run errands for their fam­i­lies, as many are not allowed to leave their homes for more than a few hours a week. Fam­i­ly mem­bers are often sub­ject­ed to ran­dom search­es by law enforce­ment, and if anoth­er fam­i­ly mem­ber is also on parole, they may not be allowed to stay in the same home, the report states. Accord­ing to a sur­vey by the Depart­ment of Jus­tice, 89 per­cent of parole offi­cers felt that peo­ple wear­ing the mon­i­tors expe­ri­enced a change in rela­tion­ships with their sig­nif­i­cant oth­ers due to elec­tron­ic mon­i­tor­ing, and 43 per­cent of peo­ple wear­ing the mon­i­tors felt that rela­tion­ships with their part­ners were neg­a­tive­ly affected.
The Depart­ment of Cor­rec­tions believed elec­tron­ic mon­i­tor­ing would save mon­ey by free­ing up jail space. (In Illi­nois, for exam­ple, it costs $105 a day to house some­one in prison.) But elec­tron­ic mon­i­tors are expen­sive to imple­ment and main­tain. Either the state Depart­ment of Cor­rec­tions or Fed­er­al Bureau of Pris­ons must pay for the tech­nol­o­gy and hire addi­tion­al parole offi­cers to over­see those wear­ing elec­tron­ic mon­i­tors, to make sure they are not vio­lat­ing their ​"geofenced exclu­sion zones" (areas where peo­ple on parole are not allowed to go). Not to men­tion, some indi­vid­u­als take off their mon­i­tors and lose them. In La Crosse Coun­ty, Wis­con­sin, 84 mon­i­tors were lost with­in a two-year span. Each device costs $800 to make and there is over $35,000 worth of miss­ing devices. Because elec­tron­ic mon­i­tor­ing varies so much from state to state, it's hard to track how much the gov­ern­ment is spend­ing, but La Crosse Coun­ty is los­ing mon­ey. There, indi­vid­u­als serv­ing a sen­tence are required to pay $12 a day for their mon­i­tors, but in 2016 Jus­tice Sup­port Ser­vices only col­lect­ed 44 per­cent of what was due –  – that's $77,299 of $175,475, Gov­ern­ment Tech­nol­o­gy reports.
The mon­i­tors often have faulty equip­ment, too. The Wis­con­sin Cen­ter for Inves­tiga­tive Jour­nal­ism report­ed that one individual's elec­tron­ic mon­i­tor trig­gered 206 ​"No GPS" sig­nals with­in one year. On anoth­er occa­sion, one person's elec­tron­ic mon­i­tor start­ed flash­ing incor­rect­ly, indi­cat­ing that he was out of range, when he was actu­al­ly in his own home.
The GPS capa­bil­i­ties in some elec­tron­ic mon­i­tors make the devices tools for sur­veil­lance as well. The report lists three pri­vate com­pa­nies that pro­vide data and track­ing ser­vices to the gov­ern­ment — Satel­lite Track­ing of Peo­ple, Sen­tinel Offend­er Ser­vices and Atten­ti — but it's not clear how that data is being used after it's sent to parole offi­cers. Kil­go­re fears that data can be used to fur­ther over­see and pun­ish peo­ple on parole. For exam­ple, The Nation­al Review reports that law enforce­ment can ​"geomap" crimes in the area and deter­mine if an indi­vid­ual was near or at the crime scene at the time of the crime. Those on parole fear they will be penal­ized just for being near crimes they did not commit.
The report also dis­cuss­es the pos­si­bil­i­ty of ​"E‑Gentrification": geofenced exclu­sion zones pro­grammed into elec­tron­ic mon­i­tors that restrict move­ment based on demo­graph­ics like income, cit­i­zen­ship sta­tus and crim­i­nal back­ground. ​"Loca­tion mon­i­tor­ing offers the pos­si­bil­i­ty of link­ing GPS to mas­sive data­bas­es of unde­sir­ables, a vir­tu­al no-fly list for gen­tri­fied spaces," Kil­go­re writes. Zones like these could severe­ly lim­it an individual's acces­si­bil­i­ty to jobs, health­care and edu­ca­tion, mak­ing it hard­er for them to re-enter society.
The Cen­ter for Media Justice's #NoDig­i­tal­Pris­ons cam­paign aims to abol­ish elec­tron­ic mon­i­tor­ing. In the first quar­ter of 2019, they plan on lead­ing a series of pub­lic forums in Illi­nois. Orga­niz­ers hope this report will encour­age law­mak­ers to cre­ate and pass an Illi­nois bill ban­ning the use of elec­tron­ic mon­i­tors for parole.
Talia Wright
is a Fall
2018
edi­to­r­i­al intern for In These Times.