The Elephants in the Resistance: Don't Trust the Anti-Trump Republicans
Sen. Jeff Flake and his ilk aren't the heroes we're looking for.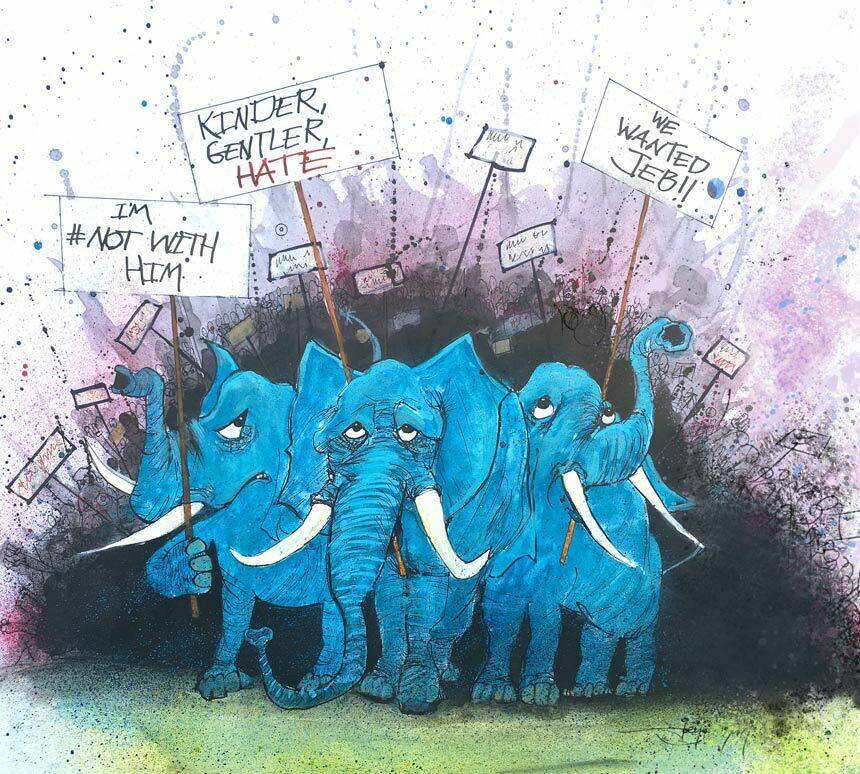 In a par­ty that shame­ful­ly pros­trat­ed itself before Don­ald Trump, the junior sen­a­tor from Ari­zona has stood out as a con­sis­tent voice against him. Jeff Flake was even an occa­sion­al voice of Repub­li­can san­i­ty before Trump's emer­gence — for exam­ple, cru­sad­ing against the Cuban trav­el ban. On Octo­ber 24, he won fans even among lib­er­als by announc­ing he was quit­ting the Sen­ate, giv­ing a speech that accused his col­leagues of nor­mal­iz­ing ​"the dai­ly sun­der­ing of our coun­try" in ways that have ​"noth­ing what­so­ev­er to do with the for­tunes of the peo­ple that we have all been elect­ed to serve."
"Conscientious conservatism" has always existed uncomfortably alongside its embarrassing, ill-bred populist cousin.
That same day, Flake went on to vote for a Trump-sup­port­ed mea­sure pre­vent­ing the peo­ple he had been elect­ed to serve from being able to sue finan­cial insti­tu­tions that defraud them.
How do you solve a prob­lem like Jeff Flake? Some would accept anti-Trump con­ser­v­a­tives as a valu­able part of the resis­tance. As Bloomberg colum­nist Jonathan Bern­stein puts it, they show ​"how broad the coali­tion against the pres­i­dent is."
Oth­ers main­tain that these Repub­li­can crit­ics of Trump rep­re­sent a para­dox­i­cal dan­ger: A Repub­li­can Par­ty that fol­lows their lead and gets rid of Don­ald Trump would sure­ly be cel­e­brat­ed in the main­stream media as washed in the blood of the lamb — even though it would remain just as evil as before. It would still include, for exam­ple, Jeff Flake, who has vot­ed in line with Trump 90 per­cent of the time.
Flake isn't the only Repub­li­can win­ning cen­trist and lib­er­al hearts. This sum­mer, word in Wash­ing­ton was that peo­ple around the pop­u­lar Demo­c­ra­t­ic gov­er­nor of Col­orado, John Hick­en­loop­er, were float­ing tri­al bal­loons for a 2020 bipar­ti­san pres­i­den­tial run with Gov. John Kasich of Ohio — a lust­ful­ly pri­va­tiz­ing and union-bust­ing Repub­li­can who has jammed through some of the most inva­sive abor­tion restric­tions in the coun­try and a law allow­ing guns in bars.
Then, this fall, Sen. Bob Cork­er (R‑Tenn.) was fet­ed by the likes of his­to­ri­an Dou­glas Brink­ley as a ​"real leader" after he called the White House an ​"adult day care cen­ter" bring­ing us to the verge of ​"World War III." This Ten­nessee hero, how­ev­er, also wants to gut Medicare and Social Secu­ri­ty, dis­be­lieves human-made cli­mate change and stub­born­ly defend­ed the war in Iraq.
Then came, of all peo­ple, George W. Bush, who once upon a time added tor­ture to America's mil­i­tary arse­nal — but in an Octo­ber speech com­plained some name­less you-know-who in Wash­ing­ton has intro­duced ​"bul­ly­ing and prej­u­dice in our nation­al life."
But then again, it's a bald fact that Trump is bring­ing us to the brink of World War III, so maybe we need all the help we can get to be rid of him. So when two new anti-Trump jere­mi­ads from promi­nent con­ser­v­a­tives — one of them by Flake — recent­ly appeared on shelves, one might have approached them with a des­per­ate sort of hope. Maybe, just maybe, they might demon­strate a path to a broad­er enlight­en­ment— a recog­ni­tion that the defor­mi­ties some Repub­li­cans now observe in their pres­i­dent were not born yes­ter­day, but have long been baked into the con­ser­v­a­tive cake.
Flake, or what­ev­er robot it is that writes books ​"by" sen­a­tors, put his objec­tions to his party's sur­ren­der to Trump between cov­ers ear­li­er this year. He bor­rows his title from Bar­ry Goldwater's 1960 man­i­festo, The Con­science of a Con­ser­v­a­tive. ​"As con­ser­v­a­tive prin­ci­ple retreat­ed," he argues, ​"some­thing new and trou­bling took its place."
Its lin­ea­ments, he says, are ​"nation­al­ism, pop­ulism, xeno­pho­bia, extreme par­ti­san­ship, even celebri­ty." Read­ing that, lib­er­als might find their heads swivel­ing like Lin­da Blair's in The Exor­cist. When, pre­cise­ly, has Amer­i­can con­ser­vatism been bereft of nation­al­ism, pop­ulism, xeno­pho­bia and extreme par­ti­san­ship, let alone (in its deifi­ca­tion of a cer­tain for­mer movie star) celebri­ty? Oth­er sup­posed here­sies include reject­ing con­ser­v­a­tives' ​"ardent belief in free trade" (but for most of the first half of the 20th cen­tu­ry, non-Dix­ie con­ser­v­a­tives were pro­tec­tion­ist), and ​"realpoli­tik fed­er­al bud­get­ing" (he must have missed the day Dick Cheney explained, ​"Rea­gan proved deficits don't mat­ter"). Flake's bad his­to­ry goes on from there.
Con­ser­vatism is an ide­ol­o­gy that, at its essence, is about reassert­ing hier­ar­chy and author­i­ty against the lib­er­a­to­ry ener­gies of the sub­al­tern class­es. The meth­ods and means, how­ev­er, vary great­ly across time and space. In late 19th-cen­tu­ry Ger­many, for instance, Otto von Bis­mar­ck estab­lished a sys­tem of social insur­ance to cement work­ers' loy­al­ty to Ger­man empire; that was con­ser­vatism. In the 1920s, in the Unit­ed States, many Ku Klux Klan lead­ers sup­port­ed uni­ver­sal gov­ern­ment-pro­vid­ed health­care as a way to pro­tect Nordics from dis­eased immi­grant hordes; that was con­ser­vatism. The more Gold­wa­terite ver­sion Jeff Flake rei­fies as con­ser­vatism tout court is, like all con­ser­vatisms, a con­tin­gency born of a par­tic­u­lar time and place. Because in both style and sub­stance the orig­i­nal Con­science of a Con­ser­v­a­tive remains the best short intro­duc­tion, we might label it ​"con­sci­en­tious conservatism."
Con­sci­en­tious con­ser­vatism is pol­i­cy-cen­tered, aimed at end runs around the lib­er­al state that the New Deal cre­at­ed. (Goldwater's book, for exam­ple, pro­posed replac­ing the grad­u­at­ed income tax with a flat tax for all earn­ers, and ​"a 10 per­cent spend­ing reduc­tion each year in all of the fields in which fed­er­al par­tic­i­pa­tion is unde­sir­able.") It fetishizes some­thing it calls ​"free­dom" (which is only ever tra­duced by the state, nev­er pri­vate employ­ers), and also ​"prin­ci­ple," which for Gold­wa­ter meant propos­ing things that dur­ing his own time bore lit­tle chance of enact­ment (like end­ing all farm sub­si­dies). For Flake, it involves stag­ing the occa­sion­al act of spec­tac­u­lar, if lim­it­ed, polit­i­cal self-immo­la­tion. For instance, lov­ing­ly recount­ed here, the time he went after an ear­mark (for a local high­way inter­change) beloved of one of the most pow­er­ful mem­bers of his par­ty, then-House Speak­er Den­ny Hastert (R‑Ill.).
The nat­ur­al home of con­sci­en­tious con­ser­vatism — which has always exist­ed uncom­fort­ably along­side its embar­rass­ing, ill-bred pop­ulist cousin — is the think tank. One role of the con­ser­v­a­tive think tank with­in the right-wing fir­ma­ment — like the one Flake once ran, Phoenix's Gold­wa­ter Insti­tute — is to present conservatism's ​"respectable," ​"prin­ci­pled" and ​"intel­lec­tu­al" face. As a cher­ished instance of the Empyre­an heights from which he believes con­ser­vatism has fall­en, Flake describes a beloved keep­sake: ​"a T‑shirt from the ear­ly 1990s, com­mem­o­rat­ing the barn­storm­ing bat­tle royale nation­al tour tak­en by two Texas Repub­li­can con­gress­men — Dick Armey and Bill Archer — sell­ing out lec­ture halls to debate the ben­e­fits of a nation­al flat tax ver­sus a nation­al con­sump­tion tax." Thus his cri de coeur: ​"We des­per­ate­ly need to get back to the rig­or­ous and fact-based argu­ments that made us con­ser­v­a­tives in the first place" — not today's ​"race to the bot­tom to see who can be mean­er and mad­der and cra­zier. It is not enough to be con­ser­v­a­tive any­more. You have to be vicious."
Well and good, and kudos to him for that recog­ni­tion. The prob­lem this book reveals, how­ev­er, is just how crazy, vicious and non-fact-based con­ser­vatism remains even at its most ​"con­sci­en­tious." What else is a debate between a flat tax and a con­sump­tion tax, after all, than a con­test between dif­fer­ent meth­ods of starv­ing the state at the expense of the poor? Or con­sid­er his cri­tique of cur­rent Repub­li­can immi­gra­tion pol­i­cy. He prefers the days ​"when cross­ing the bor­der could be done fre­quent­ly and eas­i­ly" — because then, ​"the work­ers didn't tend to bring their fam­i­lies, because they didn't intend to stay." It was bet­ter, in oth­er words, when Mex­i­cans kept their heads down as cheap, inter­change­able units of labor pow­er. Those were the days!
It is a tes­ta­ment to the moral unse­ri­ous­ness of a Jeff Flake that the most seri­ous idio­cies, abus­es of pow­er, and vicious­ness of George W. Bush are here nei­ther men­tioned nor con­demned. Nat­u­ral­ly: As a con­gress­man, Flake vot­ed for most of them. ​"Pres­i­den­tial pow­er should be ques­tioned, con­tin­u­al­ly," he writes. ​"I'm from the West. Ques­tion­ing pow­er is what we do."
Start­ing, I sup­pose, on Jan­u­ary 20, 2017.
Then there is the sto­ry he tells to estab­lish his bona fides as a hearty man of the Amer­i­can West, where ques­tion­ing pow­er is just what they do. He lost the tip of his fin­ger to the 14-foot blade of an agri­cul­tur­al imple­ment. ​"My dad wrapped my bloody hand tight­ly in his hand­ker­chief, put me up in the truck and fin­ished the job before tak­ing me to the only doc­tor in town to get it seen to. … The bat­tle scar didn't keep me from doing my chores." He was 5 years old.
No less than for Don­ald J. Trump, for Flake, ​"love" means pass­ing on a vision of the world where author­i­ty is unques­tioned and sadism is just part of the deal.
And ​"free­dom" means — well, what? The town Flake was born in was named after his great-grand­fa­ther, who had been ordered by Brigham Young to set­tle there. Then, the bet­ter to com­man­deer state gov­ern­ment, half the town was ordered to sign up as Democ­rats, the oth­er half as Repub­li­cans. Flake finds this strat­a­gem delight­ful. Then with­out irony, not many sen­tences lat­er, he writes, ​"Pol­i­tics is the art of per­sua­sion. You've got to per­suade peo­ple; you can­not com­pel them."
It's true, of course, that pol­i­tics is the art of per­sua­sion. As prac­ticed by mod­ern con­ser­vatism, how­ev­er, the per­sua­sion is under­writ­ten by a con. The poli­cies favored by ​"con­sci­en­tious" con­ser­v­a­tives have nev­er been pop­u­lar. Gold­wa­ter, after all, won only 38 per­cent of the pop­u­lar vote in 1964. Flake, experts on Ari­zona pol­i­tics inform me, owes his pow­er large­ly to the fact that he is Mor­mon roy­al­ty in a state with an enor­mous con­cen­tra­tion of polit­i­cal­ly active Mor­mons. What wins elec­tions for con­ser­v­a­tives has nev­er been lib­er­tar­i­an pol­i­cy — cer­tain­ly not in 1984, when Rea­gan won 60 per­cent of the votes while only 35 per­cent told poll­sters they wished to see cuts in social pro­grams. It is the role played by the ill-man­nered stuff, the things Flake here derides as ​"nation­al­ism, pop­ulism, xeno­pho­bia, extreme par­ti­san­ship, even celebri­ty," that puts con­ser­v­a­tives in office.
At reg­u­lar inter­vals, when the crud­er mem­bers of the coali­tion begin get­ting too uppi­ty in demand­ing their own place in the sun, angry vol­umes issue forth from mem­bers of Team ​"Con­sci­en­tious" who feel vic­tim­ized by the impor­tu­ni­ty. There was, in 1981, Thun­der on the Right: The ​"New Right" and the Pol­i­tics of Resent­ment by Alan Craw­ford, which went after uglies in the coali­tion that pro­duced Rea­gan. Dead Right, pub­lished by David Frum in 1994, tore after Pat Buchanan. Vic­tor Gold's Inva­sion of the Par­ty Snatch­ers, from 2007, flayed the ​"holy rollers" and ​"Neo-cons" behind the polit­i­cal suc­cess­es of George W. Bush. It is a tes­ta­ment to the intel­lec­tu­al deficits of con­ser­v­a­tive intel­lec­tu­als that each new iter­a­tion acts as if this time is the first that this ten­sion has come to a head — and with no grasp that with­out their ill-man­nered pop­ulist cousins, con­ser­v­a­tives could nev­er win elec­tions at all. Usu­al­ly, in fact, they say con­ser­v­a­tives lose elec­tions when they cease being con­sci­en­tious enough.
It's a pick­le, for sure — and that makes Char­lie Sykes an inter­est­ing case: For a nanosec­ond in the mid­dle of his new book, How the Right Lost Its Mind, Sykes begins to grap­ple with this dilem­ma, almost. ​"The real­i­ty that many con­ser­v­a­tives have been unwill­ing to face is that despite their insis­tence that Amer­i­ca was a cen­ter-right coun­try, there has nev­er been a strong con­stituen­cy for the kind of tough bud­get cuts that would either lim­it the size of gov­ern­ment or reduce the nation­al debt."
Then it's gone, and Sykes is back to hawk­ing his pre­ferred expla­na­tion for the Right's recent ugly turn: It's the Left's fault.
Sykes won the con­tract to write this slap­dash book on the strength of a gen­uine­ly inter­est­ing Decem­ber 2016 New York Times op-ed announc­ing his retire­ment as a right-wing talk radio host, part­ly in shame at his own medium's role in ​"dele­git­imiz­ing the media altogether."
The prob­lem, for those who know Wis­con­sin pol­i­tics, is that Sykes was not just a radio host but a sort of right-wing polit­i­cal boss — a think-tank impre­sario at the cen­ter of the ugly polit­i­cal cul­ture that has char­ac­ter­ized the reign of Gov. Scott Walk­er, whose polit­i­cal sur­vival Sykes takes some proud cred­it for in the book. This fall, the dark­est cor­ners of that polit­i­cal cul­ture were held up to the light dur­ing Supreme Court oral argu­ments about how Repub­li­can oper­a­tives, work­ing in secret in a Mil­wau­kee law office, ger­ry­man­dered leg­isla­tive maps to give Repub­li­cans 60.6 per­cent of the seats in the Wis­con­sin Assem­bly with only 48.6 per­cent of the vote. A Demo­c­ra­t­ic vic­tim said it remind­ed him of an ​"episode of The Sopra­nos."
While this was going on, with­out any crit­i­cism from Sykes, he car­ried out his own role with­in this cul­ture, as a con­vey­or belt for argu­ments that Democ­rats only held on to pow­er thanks to hordes of fraud­u­lent black vot­ers, who only end­ed up in the Dairy State in the first place because Mil­wau­kee was, he claimed, a noto­ri­ous ​"wel­fare magnet."
His the­sis is that the 2016 elec­tion ​"marked not only a rejec­tion of the Rea­gan lega­cy, but also the aban­don­ment of respect for grad­u­al­ism, civil­i­ty, exper­tise, intel­li­gence and pru­dence — the val­ues that once were tak­en for grant­ed among con­ser­v­a­tives." The book pro­vides a rea­son­able can­vass of some of the more objec­tion­able qual­i­ties of the alt-right, the poi­so­nous medi­as­cape epit­o­mized by Alex Jones and Bre­it­bart, and the vicious racism of Trump's con­stituen­cy — with bare­ly any acknowl­edg­ment of how the pre­ex­ist­ing con­ser­v­a­tive polit­i­cal cul­ture in which Sykes was a not incon­sid­er­able fig­ure helped lead to these phenomena.
By Sykes' heroes shall you know him. Not just Scott Walk­er, but the not­ed grad­u­al­ist William Kris­tol — author of the infa­mous 1993 memo demand­ing no com­pro­mise with attempts to pro­vide health secu­ri­ty for Amer­i­cans, lest Repub­li­cans ​"revive the rep­u­ta­tion" of the oppo­si­tion par­ty. The ever-civ­il Jon­ah Gold­berg — who ​"argued" at book length in Lib­er­al Fas­cism that fas­cism, an ide­ol­o­gy defined by its elim­i­na­tion­ist hos­til­i­ty to lib­er­al­ism, was anoth­er name for lib­er­al­ism. Stephen Hayes — best known for his exper­tise in argu­ing that Sad­dam Hus­sein was respon­si­ble for 9⁄11. Erick Erick­son, who, before he took on Don­ald Trump, pru­dent­ly went after the Nation­al Rifle Asso­ci­a­tion for being ​"a weak lit­tle girl of an organization."
Oh, and Paul Ryan. ​"What­ev­er you might think of his poli­cies, Paul Ryan is inar­guably the most for­mi­da­ble intel­lec­tu­al leader the Repub­li­can Par­ty has had in decades," Sykes writes. When I read that, I couldn't help think­ing of the time Ezra Klein scoured Ryan's 2012 con­ven­tion speech to find some­thing in it that was true, and found only two claims that were even ​"arguably true."
Those are the good guys. The bad guys, besides Trump and his close asso­ciates, are you and me. ​"The excess­es on the Left," he argues, ​"pushed many small-gov­ern­ment con­ser­v­a­tives into an unnat­ur­al alliance with the author­i­tar­i­an and nation­al­ist right." It is the ​"excess­es on the Left," I sup­pose, that impelled Paul Ryan to advance Don­ald Trump's pol­i­cy agen­da all down the line.
Ryan made his bet that Trump's pop­ulism could help him jam through unpop­u­lar poli­cies. Which shows Ryan under­stands con­ser­vatism bet­ter than Char­lie Sykes or Sen­a­tor Flake: He knows the Right's wonks and weirdos com­prise a uni­fied sys­tem. Show me an anti-Trump con­ser­v­a­tive who both under­stands this, under­stands their impli­ca­tion in it and is will­ing to artic­u­late a thor­ough­go­ing rejec­tion of the whole pack­age — and then, maybe, I'll wel­come them to my side. I haven't found one yet.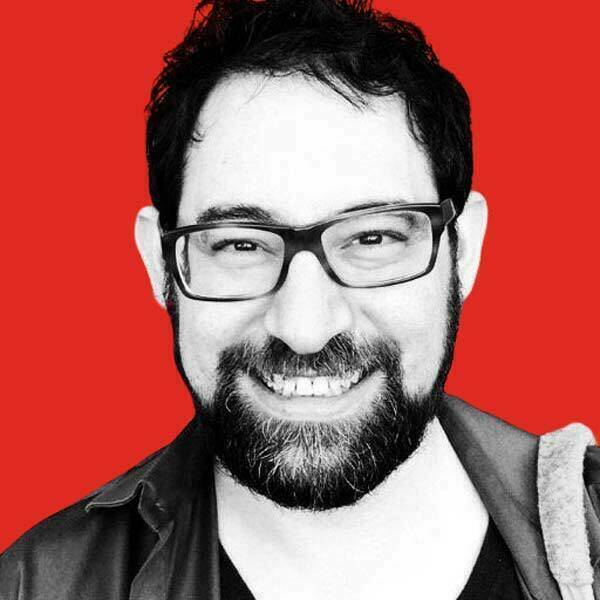 Rick Perl­stein, an In These Times board mem­ber, is the author of Rea­gan­land: Amer­i­ca's Right Turn, 1976 – 1980 (2020), The Invis­i­ble Bridge: The Fall of Nixon and the Rise of Rea­gan (2014), Nixon­land: The Rise of a Pres­i­dent and the Frac­tur­ing of Amer­i­ca (2008), a New York Times best­seller picked as one of the best non­fic­tion books of the year by over a dozen pub­li­ca­tions, and Before the Storm: Bar­ry Gold­wa­ter and the Unmak­ing of the Amer­i­can Con­sen­sus, win­ner of the 2001 Los Ange­les Times Book Award for history.