Elizabeth Warren's Universal Child Care Plan Is a Good Start. Other 2020 Candidates Can Up the Ante.
Warren's plan represents a big step forward, but we should demand something far bolder to address the child care crisis in America.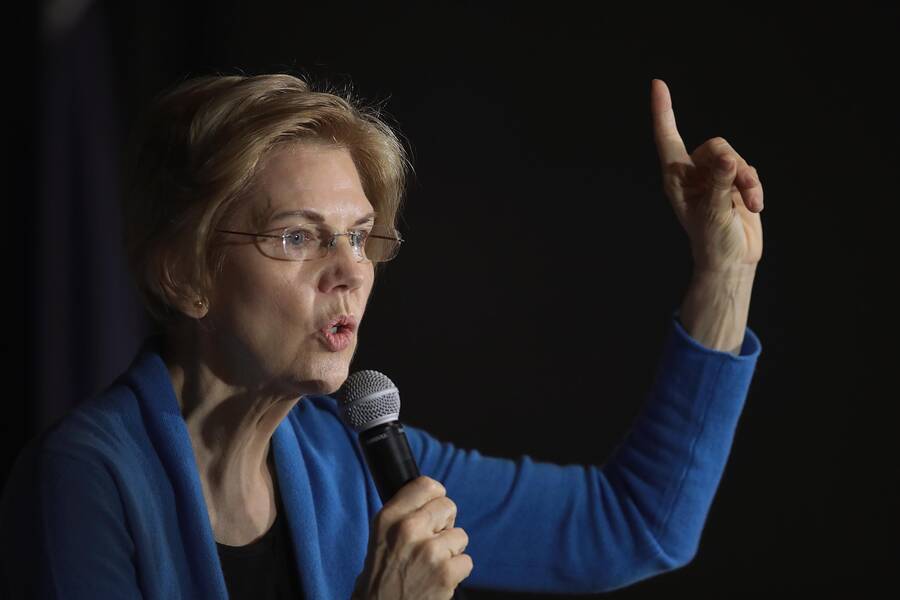 One of the most out­ra­geous fea­tures of Amer­i­can life is our lack of a func­tion­al child care sys­tem. When it comes to child care, we're dis­grace­ful­ly behind the rest of the world. The sta­tis­tics are hair-rais­ing: For two-earn­er fam­i­lies in the Unit­ed States, aver­age child care costs are more than twice as high, as a per­cent­age of fam­i­ly income, as they are in many oth­er devel­oped coun­tries in the OECD. For sin­gle par­ent fam­i­lies, these costs are more than four times as high. In 28 states, a year of child care is more expen­sive than annu­al tuition at a pub­lic college.
Child care rep­re­sents both a grow­ing cri­sis and an urgent polit­i­cal pri­or­i­ty for two main rea­sons. The first is that redis­trib­ut­ing the bur­den of car­ing labor is essen­tial to wom­en's free­dom and auton­o­my. For near­ly 20 years, the labor force par­tic­i­pa­tion of Amer­i­can women has been falling. Researchers say that the ris­ing costs of child care and our lack of fam­i­ly-friend­ly poli­cies are what's dri­ving the decline.
Sec­ond, ear­ly child­hood edu­ca­tion pro­grams are a crit­i­cal tool in fight­ing racial and eco­nom­ic inequal­i­ty. By the time poor kids and non­white kids enter the K‑12 school sys­tem, on aver­age, they are already sig­nif­i­cant­ly behind their whiter, wealth­i­er peers. Preschool helps nar­row that gap.
But despite the fact that child care is essen­tial to jump­start­ing the stalled gen­der rev­o­lu­tion, in recent decades, Amer­i­can fem­i­nists have giv­en the sub­ject short shrift. Main­stream fem­i­nist orga­ni­za­tions have failed to orga­nize around the issue. And how many fem­i­nist op-eds have you read about child care, as opposed to oth­er vital fem­i­nist con­cerns such as abor­tion or sex­u­al assault? After Richard Nixon vetoed a 1971 bill that would have cre­at­ed a nation­al child care sys­tem, child care essen­tial­ly dropped off the polit­i­cal map. Ever since, as a polit­i­cal issue, it's been dead­er than disco.
That's why it's been so excit­ing that late­ly, there's been an upsurge in pub­lic aware­ness of the issue. Pub­lic intel­lec­tu­als includ­ing Katha Pol­litt and Matt Bru­enig have addressed the issue in recent op-eds and pol­i­cy reports. And last week, Eliz­a­beth War­ren made child care one of her first big pol­i­cy proposals.
Before ana­lyz­ing Warren's plan, it's impor­tant to lay out a vision of what our child care sys­tem would look like. Ide­al­ly, child care would be:
1. Free
Cost should not be a bar­ri­er to care.
2. Uni­ver­sal
All chil­dren would be includ­ed. There would be enough slots to accom­mo­date every­one and no child would be turned away due to lack of funds. Uni­ver­sal­i­ty would also mean that kids of all class­es would par­tic­i­pate in the same child care sys­tem. That is a good thing, because when a social pro­gram serves not just work­ing peo­ple but the rich and the mid­dle class, qual­i­ty tends to be high­er and polit­i­cal sup­port more enduring.
3. Pub­licly fund­ed by the fed­er­al government
Pub­lic fund­ing is essen­tial, because as we've seen, left to its own devices, the mar­ket does a ter­ri­ble job of pro­vid­ing afford­able, acces­si­ble care. The fed­er­al gov­ern­ment should be the enti­ty pay­ing for child care, because in our fed­er­al­ist sys­tem if we leave it to state and local gov­ern­ments, fund­ing will be less gen­er­ous and less equi­table. Peo­ple in con­ser­v­a­tive parts of the coun­try and in minor­i­ty and low-income neigh­bor­hoods will be screwed.
Also, state and local bud­gets are more vul­ner­a­ble to eco­nom­ic down­turns, where­as in lean eco­nom­ic times the fed­er­al gov­ern­ment can bor­row mon­ey to fund essen­tial services.
4. Pub­licly provided
Pub­lic pro­vi­sion would take the prof­it motive out of care, where it does­n't belong, and also pro­vide demo­c­ra­t­ic account­abil­i­ty. Pub­lic pro­vi­sion also guar­an­tees that our child care sys­tem will be sec­u­lar and gov­ern­ment mon­ey won't go to reli­gious institutions.
5. Acces­si­ble
At the height of sec­ond-wave fem­i­nism in the 1960s and ear­ly 1970s, even estab­lish­ment fem­i­nist orga­ni­za­tions like NOW were call­ing for 24⁄7 child care cen­ters nation­wide. In an ide­al world, those would exist. And child care cen­ters, like pub­lic schools, would be locat­ed in every neigh­bor­hood, with­in a walk­a­ble dis­tance from your home or eas­i­ly acces­si­ble via pub­lic transportation.
6. High-qual­i­ty
Facil­i­ties should be state of the art and staff should be peo­ple who tru­ly care about chil­dren and are well-trained. The edu­ca­tion­al com­po­nents should be high-qual­i­ty as well.
7. Pro­vid­ed by work­ers who are well-compensated
Because it's con­sid­ered wom­en's work, child care, like oth­er car­ing pro­fes­sions, is noto­ri­ous­ly under­paid. That needs to change. Child care work needs to be respect­ed and val­ued and that should be reflect­ed in work­ers' paychecks.
8. Orga­nized in a way that pro­motes racial, gen­der, and eco­nom­ic equality
This is crit­i­cal. As advo­cates have not­ed, the Amer­i­can child care sys­tem is plagued by child care deserts: com­mu­ni­ties, many of them low-income and pre­dom­i­nant­ly non­white, where qual­i­ty afford­able child care is scarce. Any child care pro­pos­al worth its salt needs to address these inequities and make qual­i­ty care acces­si­ble in places where it doesn't cur­rent­ly exist.
In addi­tion, the child care sys­tem should not rein­force gen­der inequities. That's why we should take a hard pass on plans (such as Matt Bruenig's oth­er­wise excel­lent child care pro­pos­al) that would pay par­ents to stay home to take care of their kids on a per­ma­nent basis. Such schemes tend to incen­tivize tra­di­tion­al gen­der roles instead of abol­ish­ing them. As fem­i­nist schol­ar Kathi Weeks argues in her book The Prob­lem with Work, the mod­ern social­ist fem­i­nist alter­na­tive to such plans (and the suc­ces­sor to sec­ond-wave feminism's wages for house­work cam­paigns) is the uni­ver­sal basic income (UBI). A UBI would pro­vide eco­nom­ic sup­port for peo­ple who leave the paid labor force to care for their chil­dren, but because it's not tied to care work there's less of a risk that it would rein­scribe gen­der inequality.
Those eight com­po­nents are the ide­al, though the kind of sys­tem I've out­lined like­ly doesn't exist any­where in the world right now. Even in the Nordic coun­tries that many of us on the Left would like to emu­late, child care is not free. It's far more afford­able, but par­ents are charged fees or slid­ing scale payments.
Right now, the child care sys­tem in the Unit­ed States is a spec­tac­u­lar fail­ure on all eight of those cri­te­ria. Per­haps the best you can say is that there's nowhere to go but up.
Cer­tain­ly, com­pared to the sta­tus quo, Warren's plan is a giant step for­ward. Unfor­tu­nate­ly, it does­n't go near­ly as far as it should. It would cer­tain­ly move us clos­er to all eight of my desired cri­te­ria, but for a pro­gres­sive Demo­c­rat run­ning in 2020 we should expect — and demand — some­thing much bolder.
The prob­lem is not so much that Warren's plan isn't free. No one was expect­ing that and to its cred­it, the pro­pos­al would go a long way to mak­ing child care more afford­able. No fam­i­ly would spend more than 7 per­cent of their income on child care and fam­i­lies earn­ing under 200 per­cent of the pover­ty line would­n't have to pay any­thing at all. The sub­si­dies would also appar­ent­ly go direct­ly to the provider — none of that com­pli­cat­ed tax cred­it non­sense that was the main fea­ture of Hillary Clin­ton's child care plan.
Oth­er fea­tures of Warren's pro­pos­al include pro­vi­sions to increase the pay of child care work­ers and ​"invest in" their train­ing. But rais­ing the licens­ing and accred­i­ta­tion stan­dards for child care work­ers cre­ates poten­tial pit­falls, espe­cial­ly if it means forc­ing them to get expen­sive col­lege and per­haps unnec­es­sary degrees. There aren't enough ear­ly child­hood and edu­ca­tion pro­grams in pub­lic col­leges to meet demand, which forces child care work­ers to get their degrees from rapa­cious for-prof­it col­leges and pil­ing up moun­tains of debt in the process. And even after receiv­ing a degree, their wages are still extreme­ly low.
The biggest dis­ap­point­ment, though, is that there's not more in the pro­pos­al about cre­at­ing pub­lic pro­vid­ed care. Yes, there is some­thing: War­ren pro­pos­es cre­at­ing a net­work of ​"Child Care and Ear­ly Learn­ing Cen­ters and Fam­i­ly Child Care Homes." But those cen­ters and homes would not nec­es­sar­i­ly be run by state or local gov­ern­ments and at least some would be con­tract­ed to non­prof­it groups, includ­ing ​"faith-based orga­ni­za­tions." That fed­er­al dol­lars will be going to reli­gious insti­tu­tions rais­es some con­cerns. How can we ensure pub­lic mon­ey will not be used for reli­gious proselytizing?
But the role of reli­gious insti­tu­tions in Warren's plan is a minor prob­lem com­pared to the ele­phant in the room: the plan's lack of a robust infra­struc­ture for pub­licly pro­vid­ed care. Her plan will cre­ate increased demand for care but doesn't do near­ly enough to ensure that there are enough providers, par­tic­u­lar­ly in under­served areas. And if the peo­ple who need child care most can't access it, how uni­ver­sal is her plan, really?
That said, Warren's pro­pos­al com­pares favor­ably to those of the rest of the pres­i­den­tial field. As yet, none of the oth­er can­di­dates have announced a major child care pro­pos­al, though a num­ber of them — War­ren, Kamala Har­ris, Cory Book­er, Bernie Sanders, Kirsten Gilli­brand and Amy Klobuchar — have co-spon­sored a less sweep­ing bill that would expand access to child care for low- and mid­dle-income fam­i­lies. In addi­tion, Gilli­brand and Klobuchar have co-spon­sored leg­is­la­tion to expand the child care tax cred­it. Bernie Sanders ran on uni­ver­sal child care in 2016 but nev­er released a detailed pro­pos­al. In 2011 he intro­duced an ear­ly child­hood edu­ca­tion bill, but that plan didn't go as far as Warren's.
Warren's pro­gram would estab­lish the prin­ci­ple that the U.S. gov­ern­ment should play a far more sweep­ing role in cre­at­ing afford­able, acces­si­ble child care. To that end, it's poten­tial­ly one of those non-reformist reforms that even­tu­al­ly get us to the place where we should be. As such it should be wel­comed, even though at this point we have a right to demand far more. Hope­ful­ly the oth­er 2020 can­di­dates will step up and raise the ante.
Kath­leen Geier
has writ­ten for
The Nation
,
The Baf­fler
and
The New Repub­lic
. She lives in Chicago.