What an Elizabeth Warren Presidency Would Look Like
Warren is a "visionary implementer."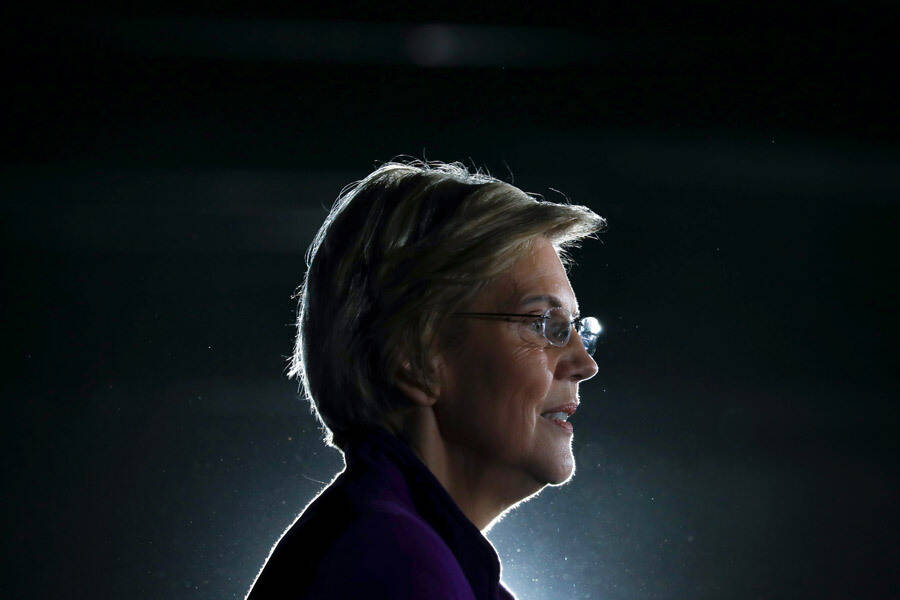 If Eliz­a­beth War­ren wins the Demo­c­ra­t­ic pres­i­den­tial nom­i­na­tion, she will have pre­vailed against daunt­ing odds. She will have over­come a poten­tial­ly career-end­ing scan­dal (the DNA test deba­cle) and defeat­ed not only the run­ner-up in the 2016 Demo­c­ra­t­ic pres­i­den­tial con­test, but a pop­u­lar two-term for­mer vice pres­i­dent. If she defeats Pres­i­dent Don­ald Trump, it would mean an eco­nom­ic pop­ulist defeat­ed a cor­rupt plu­to­crat, that the most left­wing Demo­c­ra­t­ic pres­i­den­tial nom­i­nee in his­to­ry defeat­ed a racist reac­tionary, that a woman defeat­ed America's most famous misog­y­nist. It would be an extra­or­di­nar­i­ly pow­er­ful moment.
Warren's chief advantage over Sanders is that she is more likely to deliver on the implementation of her proposals.
Her ambi­tions for the pres­i­den­cy are not small. War­ren pro­pos­es to rewrite the rules of the econ­o­my by rein­ing in cap­i­tal, empow­er­ing labor and sig­nif­i­cant­ly expand­ing the wel­fare state.
To under­stand how War­ren would cre­ate big struc­tur­al changes as pres­i­dent, it's help­ful to look at how she has made change in the past.
The stan­dard advice to fresh­men sen­a­tors is this: Keep a low pro­file and suck up to your senior col­leagues. As a new­ly elect­ed sen­a­tor in 2013, Eliz­a­beth War­ren did neither.
Instead, War­ren used her perch on the Sen­ate Bank­ing Com­mit­tee to exco­ri­ate inef­fec­tu­al reg­u­la­tors, duplic­i­tous CEOs, prof­i­teer­ing stu­dent lenders and oth­er finan­cial indus­try né'er-dowells (inter­ro­ga­tions made famous in videos that went viral). She pub­licly clashed with estab­lish­ment Democ­rats such as Sens. Max Bau­cus (Mont.) and Joe Manchin (W.V.). She even took on Pres­i­dent Barack Oba­ma, lead­ing the fight against sev­er­al admin­is­tra­tion pri­or­i­ties, includ­ing the Trans-Pacif­ic Part­ner­ship trade deal and a phar­ma­ceu­ti­cal bill she described as ​"a bunch of spe­cial give­aways" to Big Phar­ma. War­ren suc­ceed­ed in get­ting under Obama's skin to such an extent that he took the rare step of crit­i­ciz­ing her repeat­ed­ly by name.
Pro­gres­sive strate­gist and War­ren sup­port­er Mur­shed Zaheed says War­ren was able to buck the Demo­c­ra­t­ic estab­lish­ment because she ​"came to the Sen­ate with a move­ment behind her." As a mem­ber of var­i­ous fed­er­al and con­gres­sion­al advi­so­ry com­mit­tees over the pre­vi­ous two decades — on issues like bank­rupt­cy and the 2008 bank bailout — War­ren had devel­oped close ties to labor, con­sumer and net­roots activist groups, includ­ing the AFL-CIO, Amer­i­cans for Finan­cial Reform and MoveOn​.org. Dur­ing her 2012 Sen­ate race, her cam­paign built a mas­sive email list and a grass­roots army of small donors. So when War­ren broke ranks, out­side groups and the grass­roots ​"had her back," says Zaheed.
The cri­tique from some on the Left paints War­ren as a tech­no­crat who doesn't under­stand move­ments as the dri­ving force of social change. But Warren's sig­na­ture pol­i­cy accom­plish­ments — includ­ing the cre­ation of the Con­sumer Finan­cial Pro­tec­tion Bureau (CFPB), loan for­give­ness for stu­dents ripped off by for-prof­it col­leges, and the Fed­er­al Reserve deci­sion to pun­ish Wells Far­go for its crooked finan­cial prac­tices — have all paired a skill­ful strat­e­gy from inside the sys­tem with strong coor­di­na­tion with out­side grass­roots groups.
In speech­es and com­ments on the cam­paign trail, War­ren fre­quent­ly cred­its move­ments and the grass­roots. At her cam­paign launch in Lawrence, Mass., War­ren paid trib­ute to the work­ers there who orga­nized a his­toric strike in 1912. ​"The sto­ry of Lawrence is a sto­ry about how real change hap­pens in Amer­i­ca," she said.
One promi­nent fea­ture of Warren's the­o­ry of change is the impor­tance of plan­ning and strat­e­gy. For some on the Left, the unof­fi­cial War­ren cam­paign slo­gan, ​"She's got a plan for that," grates. It con­tains a whiff of ​"let the politi­cian han­dle it," rather than the move­ment on the ground. But Nicole Car­ty, an activist who sup­ports War­ren and has worked with Occu­py Wall Street and Black Lives Mat­ter, notes suc­cess­ful move­ments ​"have plans. They have strate­gies." Car­ty says move­ments that force polit­i­cal change often don't know how to imple­ment trans­for­ma­tive poli­cies, which is why Warren's tal­ent for propos­ing ​"ways things can get done and how they will be imple­ment­ed is a crit­i­cal and unique skill."
Warren's cam­paign has released more than 50 plans on near­ly every pub­lic pol­i­cy under the sun, reveal­ing a spe­cif­ic and high­ly vis­i­ble agen­da — in marked con­trast with vague promis­es offered by oth­er can­di­dates. Car­ty says that while oth­er cam­paigns are focused only on ​"what's polit­i­cal­ly pos­si­ble and fea­si­ble" in this moment, Warren's plans ​"are about hav­ing a vision and fight­ing for it."
Car­ty cites the wealth tax as one exam­ple, which ​"vision­ary imple­menter" War­ren was the first in the race to pro­pose and three oth­er can­di­dates picked up. Warren's wealth tax — a two-cents-on-the-dol­lar tax on assets over $50 mil­lion — is so easy to under­stand that ​"two cents!" is chant­ed at War­ren events. If you're a home­own­er, War­ren says, you have ​"been pay­ing a wealth tax for years. They just call it a prop­er­ty tax. I just want their tax to include the dia­monds, the yachts and the Rem­brandts." The pro­pos­al is straight­for­ward while being, Car­ty says, a ​"vision­ary idea that actu­al­ly gets to the heart of wealth injus­tice and right­ing that in a repar­a­tive way."
While the wealth tax is pop­u­lar with vot­ers, it's unclear whether Democ­rats will com­mand a big enough major­i­ty in Con­gress to pass it, or if cen­trist Democ­rats would sup­port it. But leg­is­la­tion won't be her only tool. The pres­i­dent con­trols an enor­mous bureau­cra­cy and has a vast array of admin­is­tra­tive, reg­u­la­to­ry and enforce­ment pow­ers at her dis­pos­al. An activist pres­i­dent could enact poli­cies to can­cel stu­dent debt, low­er pre­scrip­tion drug prices, put a mora­to­ri­um on drilling on pub­lic lands, require all fed­er­al con­trac­tors to pay a $15 min­i­mum wage, break up the banks and Big Tech, and much, much more — all with the stroke of a pen.
War­ren would be well posi­tioned to kick the enforce­ment and reg­u­la­to­ry pow­ers of the exec­u­tive branch into high gear. She helped build the CFPB from the ground up and, as a sen­a­tor, has over­seen a broad swath of sim­i­lar fed­er­al reg­u­la­to­ry agencies.
Appoint­ments will be key to imple­ment­ing her vision. War­ren, who has often said that ​"per­son­nel is pol­i­cy," led suc­cess­ful fights to quash the appoint­ments of Wall Street-friend­ly Oba­ma nom­i­nees, includ­ing Lar­ry Sum­mers' bid to chair the Fed­er­al Reserve. Her office was also involved in a behind-the-scenes effort to iden­ti­fy pro­gres­sive can­di­dates for posts in a Hillary Clin­ton administration.
No one inside or out­side of the War­ren cam­paign was able or will­ing to name spe­cif­ic indi­vid­u­als under con­sid­er­a­tion for high-lev­el White House posts, but Jeff Hauser, exec­u­tive direc­tor of the Revolv­ing Door Project, a non­prof­it orga­ni­za­tion unaf­fil­i­at­ed with Warren's cam­paign, said the Fed­er­al Trade Commission's (FTC) Rohit Chopra is the kind of appointee War­ren might seek. Chopra, whom Sen. Chuck Schumer (D‑N.Y.) rec­om­mend­ed for the post, was wide­ly seen as a War­ren pick. At the FTC, Chopra has been a strong advo­cate for con­sumer rights and pushed for tougher reg­u­la­tion of the Big Tech monop­o­lies. He stren­u­ous­ly object­ed to the FTC's recent set­tle­ment with Face­book over its pri­va­cy breach, argu­ing that the $5 bil­lion penal­ty was too weak to be a deter­rent. Hauser also expects War­ren will search beyond the Belt­way for those who have a track record of suc­cess, includ­ing state and munic­i­pal offi­cials who take an aggres­sive approach toward reg­u­la­tion and enforcement.
Exec­u­tive orders get more press than oth­er tools at the president's dis­pos­al, but, says Hauser, they tend to move more slow­ly and are sub­ject to being over­turned by the courts. Enforce­ment pri­or­i­ties, how­ev­er, are imme­di­ate­ly effec­tive. Imag­ine the dif­fer­ence it would make if the pres­i­dent ordered the Jus­tice Depart­ment to stop per­se­cut­ing immi­grants and start aggres­sive­ly pur­su­ing crooked bankers, pol­luters and oth­er white-col­lar crim­i­nals instead.
Then there are reg­u­la­tions. In the bow­els of every fed­er­al agency are count­less reg­u­la­tions from the New Deal or the Great Soci­ety that sit gath­er­ing dust. These reg­u­la­tions pro­tect work­ers and con­sumers, enforce civ­il rights law, pro­mote food safe­ty and clean air and water, enable the feds to bust up monop­o­lies, close tax loop­holes, and more. But many such reg­u­la­tions have gone unen­forced, begin­ning with the Rea­gan rev­o­lu­tion and con­tin­u­ing through the neolib­er­al pres­i­den­tial admin­is­tra­tions since.
A War­ren admin­is­tra­tion threat­ens to res­ur­rect those laws with a vengeance. As a sen­a­tor, for exam­ple, War­ren cit­ed an obscure fed­er­al law to suc­cess­ful­ly lob­by the Oba­ma admin­is­tra­tion to pro­vide debt relief for thou­sands of stu­dents ripped off by Corinthi­an, a for-prof­it college.
A president's final tool is the bul­ly pul­pit, which War­ren can use to edu­cate, per­suade and inspire vot­ers to take action. Adam Green, cofounder of the Pro­gres­sive Change Cam­paign Com­mit­tee (PCCC), which has endorsed War­ren, says, "[Warren's] men­tal­i­ty when she entered the race, at only 3% to 5% in the polls, was, ​'I'm gonna go around the coun­try and edu­cate peo­ple about issues like sys­temic cor­rup­tion and anti-monop­oly. If I lose, at least mil­lions more peo­ple are primed to want the right solu­tion to these things. And if I win, we can do stuff.'" A gift­ed com­mu­ni­ca­tor, War­ren can explain com­plex poli­cies in clear, sim­ple lan­guage and con­nect them to vot­ers' every­day con­cerns and struggles.
At the heart of Warren's vision for Amer­i­ca is a dri­ve to end poli­cies that ben­e­fit cor­po­ra­tions and the rich at the expense of work­ing fam­i­lies. She has said her first leg­isla­tive pri­or­i­ty as pres­i­dent would be an anti-cor­rup­tion pack­age that, once adopt­ed, would facil­i­tate pas­sage of the rest of her agen­da by remov­ing the finan­cial incen­tive for leg­is­la­tors to oppose it. War­ren told Ezra Klein that the pur­pose of ban­ning the revolv­ing door between Con­gress and lob­by­ing jobs is to say to mem­bers of Con­gress, ​"Hey, this is your job … so don't be look­ing over the hori­zon at your next job and adjust­ing your behav­ior accordingly."
Next on Warren's agen­da is the wealth tax, which would reduce eco­nom­ic inequal­i­ty while pro­vid­ing a fund­ing mech­a­nism for oth­er high-pri­or­i­ty mea­sures. War­ren says her wealth tax would gen­er­ate enough rev­enue to can­cel 95% of all stu­dent debt and fund uni­ver­sal child­care, uni­ver­sal pre‑K and free pub­lic college.
Some crit­ics point to Euro­pean coun­tries that have tried and failed to imple­ment a wealth tax, but the econ­o­mists who advised War­ren, Gabriel Zuc­man and Emmanuel Saez, say Warren's ver­sion would be more fea­si­ble: It would fall on a small­er share of the pop­u­la­tion, con­tain few­er loop holes and come with more aggres­sive enforce­ment mech­a­nisms. Econ­o­mist Max Saw­icky sug­gests War­ren could wield the wealth tax as ​"a polit­i­cal weapon to get oth­er changes," includ­ing more pro­gres­sive tax enforce­ment poli­cies, regard­less of whether it ends up being enacted.
Warren's eco­nom­ic agen­da includes antitrust poli­cies to break up the banks and Big Tech, stricter exec­u­tive com­pen­sa­tion rules, a crack­down on pri­vate equi­ty, high­er cor­po­rate tax­es, and trade poli­cies that meet human rights stan­dards. On the spend­ing side, Warren's pro­pos­als include free two- and four-year pub­lic col­lege, the can­cel­la­tion of 95% of stu­dent debt, uni­ver­sal child­care and the expan­sion of Social Secu­ri­ty. The spend­ing items would require leg­is­la­tion, but much of the rest of her eco­nom­ic pro­gram could be imple­ment­ed by the exec­u­tive branch alone. A pres­i­dent has con­sid­er­able lat­i­tude over trade nego­ti­a­tions and can enforce exist­ing con­sumer and antitrust laws, there­by crack­ing down on oth­er cor­po­rate abus­es. War­ren could also use exec­u­tive orders and exist­ing reg­u­la­tions to ensure more wealthy peo­ple are pay­ing their fair share.
Action on cli­mate change is anoth­er top pri­or­i­ty for War­ren. She is a strong sup­port­er of Sen. Ed Markey (D‑Mass.) and Rep. Alexan­dria Ocasio-Cortez's (D‑N.Y.) Green New Deal pro­pos­al, but goes beyond that. War­ren has released 11 cli­mate plans on issues rang­ing from envi­ron­men­tal jus­tice to clean air and water to pro­tect­ing pub­lic lands. The most sig­nif­i­cant ini­tia­tive may be her green man­u­fac­tur­ing plan, a $2 tril­lion, 10-year research, devel­op­ment and deploy­ment plan to cre­ate new, cheap­er tech­nol­o­gy for clean ener­gy. War­ren also adopt­ed Gov. Jay Inslee's (D‑Wash.) plan to achieve 100% clean ener­gy by 2035.
War­ren has released health­care pro­pos­als to expand access in rur­al areas, reduce mater­nal mor­tal­i­ty and end the opi­oid cri­sis, but the main item on Warren's health­care agen­da is Medicare for All—which, of all the items on the pro­gres­sive agen­da, is prob­a­bly the most dif­fi­cult to enact.
For one thing, Medicare for All is many times more expen­sive than any of Warren's oth­er pro­pos­als, with an esti­mat­ed cost of more than $2 tril­lion in addi­tion­al annu­al spend­ing (her uni­ver­sal child­care and free pub­lic col­lege pro­pos­als would cost about $70 bil­lion and $60 bil­lion, respec­tive­ly). It will also require, among oth­er things, liq­ui­dat­ing an entire sec­tor of the econ­o­my (the health insur­ance indus­try); slash­ing the prof­its of hos­pi­tals and phar­ma­ceu­ti­cal and med­ical equip­ment com­pa­nies; and reduc­ing the salaries of doc­tors in high­ly paid spe­cial­ties. Tak­ing on all those vest­ed inter­ests will be tough. Indeed, Demo­c­ra­t­ic pres­i­den­tial con­tender Sen. Bernie Sanders' Medicare for All bill has only 15 Sen­ate cospon­sors, some of whom have already begun to back away from it.
Warren's Medicare for All pro­pos­al is a max­i­mal­ist plan that would make com­pre­hen­sive health­care vir­tu­al­ly free for every­one, includ­ing pre­scrip­tions, long-term care, men­tal health care, den­tal care and vision care. She would pay for the plan part­ly through cost sav­ings (by reduc­ing pre­scrip­tion drug and admin­is­tra­tive costs and low­er­ing reim­burse­ment rates to hos­pi­tals and spe­cial­ists) and part­ly through rais­ing rev­enue (with a wealth tax and an employ­er tax rough­ly equal to the cur­rent employ­er con­tri­bu­tion to employ­ee health insur­ance). The pur­pose of this financ­ing scheme is to make the plan more polit­i­cal­ly palat­able by avoid­ing big new tax­es on work­ing people.
To tran­si­tion to Medicare for All, War­ren pro­pos­es a two-stage process. First, she would sign exec­u­tive orders low­er­ing prices on pre­scrip­tion drugs and strength­en­ing the Afford­able Care Act. Then, with­in the first 100 days of her admin­is­tra­tion, Con­gress would pass a bill enact­ing a robust pub­lic health­care option and expand­ing Medicare ben­e­fits to minors, low-income house­holds and peo­ple age 50 and old­er. In the sec­ond stage, in the third year of a War­ren admin­is­tra­tion, the full Medicare for All bill would be enacted.
War­ren sup­port­ers argue the Sen­ate map for Democ­rats is more favor­able in 2022, and enact­ing the ini­tial pub­lic health­care option would weak­en the insur­ance indus­try, mak­ing the full bill eas­i­er to enact. On the oth­er hand, it could also be the case that start­ing with a max­i­mal­ist demand like Medicare for All would make small­er steps, such as a pub­lic option, more like­ly, where­as start­ing with a demand for only a pub­lic option might result in noth­ing at all.
Immi­gra­tion reform is anoth­er War­ren pri­or­i­ty and, yes, she has a plan for that. War­ren has pro­posed exec­u­tive actions to elim­i­nate abu­sive immi­gra­tion enforce­ment, reduce immi­grant deten­tion while increas­ing due process, and admit more refugees. She also backs leg­is­la­tion to cre­ate new paths to citizenship.
On labor, War­ren sup­ports back-burnered items on the Demo­c­ra­t­ic leg­isla­tive agen­da, such as a $15 min­i­mum wage, ​"card check" leg­is­la­tion to make union­iz­ing eas­i­er and a ban on the per­ma­nent replace­ment of strik­ers, as well as her own more far-reach­ing mea­sure that would let work­ers con­trol 40% of cor­po­rate board seats. Through exec­u­tive actions, War­ren also pro­pos­es to strength­en enforce­ment of anti-dis­crim­i­na­tion and work­er safe­ty laws, expand over­time rules, and strength­en the Nation­al Labor Rela­tions Board.
On for­eign pol­i­cy, Warren's record is dis­ap­point­ing. She vot­ed for Trump's 2018 defense bud­get, defend­ed Israel when it bombed Pales­tin­ian schools, and sup­port­ed sanc­tions against Venezuela, Iran and oth­er coun­tries. Despite these mis­steps, her for­eign pol­i­cy has been improv­ing. She's become more crit­i­cal of Israel, vot­ed to end U.S. par­tic­i­pa­tion in the Sau­di war in Yemen, intro­duced a no-first-use nuclear weapons bill, and said she would imme­di­ate­ly start with­draw­ing U.S. troops from Afghanistan. If we as left­ists want to make sure she con­tin­ues to evolve on these issues, it's crit­i­cal that we demand account­abil­i­ty and push for pro­gres­sive for­eign pol­i­cy appoint­ments. She would be well advised to staff her White House with appointees from Bernie Sanders' excel­lent for­eign pol­i­cy team.
War­ren has a strong record of enlist­ing bipar­ti­san spon­sors for her Sen­ate bills, but it's like­ly Repub­li­cans would oppose her pres­i­den­tial agen­da en masse. Trump is pop­u­lar with the Repub­li­can base, and even out of office he would undoubt­ed­ly remain a thorn in her side with a steady stream of insults, smears and con­spir­a­cy theories.
Democ­rats, too, could be a prob­lem. Warren's sup­port of Medicare for All, her soak-the-rich tax poli­cies, and her plans to break up monop­o­lies and heav­i­ly reg­u­late cor­po­ra­tions have won her the enmi­ty of neolib­er­al Democ­rats in Con­gress and the bil­lion­aires who love them.
Warren's style has been to fight hard and in a high­ly vis­i­ble way and to cre­ate pub­lic sup­port for her goals and polit­i­cal con­se­quences for those who thwart her. As she said when she was fight­ing to cre­ate the CFPB, ​"My first choice is a strong con­sumer agency. My sec­ond choice is no agency at all and plen­ty of blood and teeth left on the floor."
To enact her agen­da, War­ren could also do what pres­i­dents have always done with car­rots (such as favors from a fed­er­al agency) and sticks (such as sup­port­ing pri­ma­ry chal­lengers). But the sources I spoke to believe she would sup­port pri­ma­ry­ing recal­ci­trant Democ­rats only as a last resort, and only against leg­is­la­tors who con­sis­tent­ly opposed her poli­cies. In addi­tion, War­ren is already work­ing to cre­ate the kind of Con­gress that would sup­port her pri­or­i­ties. She has endorsed a slew of pro­gres­sive can­di­dates in Demo­c­ra­t­ic pri­maries, includ­ing chal­lengers to two cen­trist Demo­c­ra­t­ic incum­bents, Rep. Dan Lip­in­s­ki in Illi­nois and Rep. Hen­ry Cuel­lar in Texas. Her cam­paign has also been pour­ing mon­ey into down-bal­lot races in an effort to elect more pro­gres­sive Democ­rats to state­hous­es and to Con­gress.
Demo­c­ra­t­ic strate­gist and War­ren sup­port­er Mike Lux pre­dicts War­ren ​"would be as aggres­sive as any pres­i­dent has ever been at ral­ly­ing orga­ni­za­tions and ral­ly­ing the net­roots. She would come into the White House with a huge email list that I think she would oper­a­tional­ize aggres­sive­ly to work on Democ­rats to sup­port bills."
Mean­while, insti­tu­tions like the fil­i­buster, a Sen­ate that dis­pro­por­tion­ate­ly rep­re­sents white and rur­al vot­ers, and the Elec­toral Col­lege all make pro­gres­sive, trans­for­ma­tive change dif­fi­cult. War­ren is sup­port­ive of state­hood for Puer­to Rico and the Dis­trict of Colum­bia, steps that may be doable if the Democ­rats take con­trol of Con­gress. She has pro­posed abol­ish­ing the fil­i­buster and the Elec­toral Col­lege, but those reforms would like­ly be a much heav­ier lift.
But the most seri­ous pro­ce­dur­al threat to a War­ren agen­da may well be a Supreme Court and fed­er­al courts dom­i­nat­ed by right-wing appointees who have been con­sis­tent­ly hos­tile to the kind of pro­gres­sive eco­nom­ic poli­cies War­ren cham­pi­ons. War­ren has said she is open to such reforms as adding jus­tices to the Supreme Court.
Polit­i­cal back­lash pos­es anoth­er major threat. There's a live­ly debate among Democ­rats about whether a midterm back­lash is an inevitable, nat­u­ral­ly recur­ring fea­ture of Amer­i­can pol­i­tics. Bill Clin­ton and Barack Oba­ma faced a fero­cious back­lash at the polls in the midterm elec­tions of their first terms, giv­ing an obstruc­tion­ist GOP con­trol of the House and stalling Demo­c­ra­t­ic agen­das for six years.
But Stephanie Tay­lor, cofounder of the PCCC, says elec­toral back­lash is not a giv­en. ​"The best way for Democ­rats to win is to fight for sys­temic change, not incre­men­tal change. And this is what Eliz­a­beth War­ren does." Peo­ple will vote for Democ­rats, she says, ​"if they believe that it will do some­thing about the rigged sys­tem, it will do some­thing to put more mon­ey in their pock­ets, do some­thing about their crush­ing med­ical debt, fore­clo­sures, stu­dent debt."
A hos­tile media envi­ron­ment will pose anoth­er obsta­cle for War­ren. The main­stream media has repeat­ed­ly sub­ject­ed War­ren to sex­ist slurs (like ​"school­marm"), judged her by sex­ist dou­ble stan­dards (have you heard that she's not lik­able?), and cast doubts about her can­di­da­cy by mak­ing sex­ist elec­tabil­i­ty argu­ments. Besides sex­ist bias, War­ren also has to con­tend with the media's pow­er­ful bias against the Left. Her stand­ing in the polls began to suf­fer when cen­trist pun­dits start­ed direct­ing their fire against War­ren. In the debates, she has faced harsh ​"How will you pay for that?" ques­tions about her Medicare for All plan, yet none of the mod­er­a­tors asked her cen­trist rivals how they plan to deal with the cri­sis of some 28 mil­lion unin­sured Amer­i­cans. Media cov­er­age of her wealth tax has been large­ly neg­a­tive, with the media repeat­ed­ly ele­vat­ing the voic­es of ran­dom bil­lion­aires who oppose the tax while ignor­ing the mil­lions of Amer­i­cans — par­ents who des­per­ate­ly need child care, stu­dents who can't afford to go col­lege, grad­u­ates bur­dened by crush­ing debt — who would ben­e­fit from it.
An aggres­sive, proac­tive com­mu­ni­ca­tions strat­e­gy by a War­ren admin­is­tra­tion could blunt the impact of neg­a­tive media cov­er­age. Hauser says that to the extent Warren's agen­da focus­es on exec­u­tive action rather than leg­is­la­tion, ​"It will give her an oppor­tu­ni­ty to poten­tial­ly con­trol the con­ver­sa­tion." A pres­i­dent whose pri­ma­ry focus is get­ting leg­is­la­tion passed on Capi­tol Hill will ​"nec­es­sar­i­ly pro­vide Con­gres­sion­al Repub­li­cans an enor­mous micro­phone." But, says Hauser, if Warren's agen­da is focused on unleash­ing the reg­u­la­to­ry pow­ers of the exec­u­tive branch, ​"the only peo­ple who have the micro­phone will be the var­i­ous cor­po­rate inter­ests get­ting rolled over by War­ren appointees across the gov­ern­ment. And I think that those are com­mu­ni­ca­tions bat­tles the pres­i­den­t's much more capa­ble of winning."
Our coun­try lacks a well-orga­nized Left, per­haps the biggest obsta­cle of all to pro­gres­sive, trans­for­ma­tive change. Left-wing par­ties in Europe have an insti­tu­tion­al base in strong labor unions, but in the Unit­ed States, union den­si­ty is low and the labor move­ment is weak and not uni­form­ly pro­gres­sive. Nev­er­the­less, trans­for­ma­tive change is, per­haps, pos­si­ble. In the wake of the Great Reces­sion, we've seen a huge upsurge in pro­gres­sive activism, includ­ing Occu­py Wall Street, Fight for 15, Black Lives Mat­ter, the immi­gra­tion and cli­mate jus­tice move­ments, the revival of the Demo­c­ra­t­ic Social­ists of Amer­i­ca, #MeToo and waves of teacher strikes.
War­ren laid out her the­o­ry of change most clear­ly at a Sep­tem­ber 2019 cam­paign event in New York. In her speech, War­ren ref­er­enced the trag­ic 1911 fire at the Tri­an­gle Shirt­waist Fac­to­ry to tell a sto­ry of change in Amer­i­ca: how the fire led to a dra­mat­ic upsurge in activism with some half a mil­lion peo­ple tak­ing to the streets in a union-orga­nized funer­al march for the work­ers. War­ren said that ​"the women of the trade unions kept push­ing from the out­side" and Frances Perkins, then a labor activist, ​"pushed from the inside." Togeth­er, they rewrote New York state labor law from top to bot­tom to pro­tect work­ers. When she became FDR's labor sec­re­tary, Perkins fol­lowed the same mod­el for change. The result, War­ren said, was the ​"big struc­tur­al change" of the New Deal: ​"Social Secu­ri­ty, unem­ploy­ment insur­ance, abo­li­tion of child labor, min­i­mum wage, the right to join a union and even the very exis­tence of the weekend."
War­ren sees a clear dis­tinc­tion between social move­ments press­ing for change from the out­side and the elect­ed offi­cials (like her­self) work­ing the sys­tem from with­in. Warren's pro­gres­sive rival, Bernie Sanders, sees the role of the pres­i­dent dif­fer­ent­ly, say­ing he would act as ​"orga­niz­er-in-chief" to lead a mass move­ment for change.
But Sanders' posi­tion fails to under­stand the struc­tur­al real­i­ty of how pol­i­tics works and what pres­i­dents do. Pres­i­dents are inside actors; move­ments are out­side actors. Move­ments exist inde­pen­dent­ly from par­ties and can­di­dates and draw their pow­er from their abil­i­ty to extend or with­draw their sup­port at will. The Amer­i­can pres­i­dents who have brought about fun­da­men­tal change (take FDR and the labor move­ment, or LBJ and the civ­il rights move­ment) worked close­ly with move­ments, lis­tened to move­ments, set a tone that encour­aged move­ments, coor­di­nat­ed polit­i­cal­ly with move­ments — but did not lead or orga­nize movements.
Sanders, like War­ren, clear­ly appre­ci­ates that move­ments are the motor that dri­ves change, and a Sanders admin­is­tra­tion, like a War­ren admin­is­tra­tion, would part­ner with move­ments to achieve change. Both can­di­dates offer a com­pelling vision that can inspire peo­ple, and both share the goal of ori­ent­ing Amer­i­ca clos­er to social democ­ra­cy. While Sanders is to the left of War­ren on most issues, that dif­fer­ence is unlike­ly to mat­ter much in prac­tice (with the impor­tant excep­tion of for­eign pol­i­cy) because both would be seri­ous­ly con­strained by a polit­i­cal envi­ron­ment sig­nif­i­cant­ly to the right of their pro­posed agendas.
War­ren holds two impor­tant advan­tages over Sanders. The first is her gen­der. By itself, gen­der should not be a deter­min­ing fac­tor. But in two can­di­dates that are as close­ly matched as Sanders and War­ren, gen­der does come into play. Elect­ing our first female pres­i­dent may be sym­bol­ic, but sym­bols mat­ter. Research sug­gests that when women run for office, they inspire more women to do the same. Our gov­ern­ment is cur­rent­ly ranked 76th in the world on the share of women elect­ed to our nation­al leg­is­la­ture. Stud­ies show that women who are elect­ed to high­er office are more like­ly than men to cham­pi­on women's issues such as child­care, repro­duc­tive jus­tice, fam­i­ly-friend­ly labor poli­cies, women's health and the min­i­mum wage.
Warren's chief advan­tage over Sanders, how­ev­er, is that she is more like­ly to deliv­er on the imple­men­ta­tion of her pro­pos­als. Accord­ing to the most recent report cards com­piled by the inde­pen­dent orga­ni­za­tion Gov­Track, War­ren has been more suc­cess­ful than Sanders in intro­duc­ing leg­is­la­tion, get­ting cospon­sors, get­ting her bills out of com­mit­tee and writ­ing bills that became law. War­ren also dreamed up, designed and imple­ment­ed a gov­ern­ment agency: the CFPB, which, to date, has pro­vid­ed more than $13 bil­lion in relief to dis­tressed con­sumers. Sanders has a record he can be deeply proud of, but no com­pa­ra­ble leg­isla­tive achieve­ments. War­ren com­bines a strong strate­gic sense with an unpar­al­leled under­stand­ing of the pos­si­bil­i­ties of the exec­u­tive branch. Her skill set is a bet­ter match for the job.
Ulti­mate­ly, of course, one per­son — even with all the pow­ers of the pres­i­den­cy at her com­mand — can only do so much. War­ren would need move­ments that pres­sure her to do the right thing and hold her account­able when she falls short. But move­ments on the Left have been gain­ing strength. In many ways, Trump's pres­i­den­cy has been about sup­press­ing an Amer­i­ca that is try­ing to be born. War­ren would very much like to mid­wife the birth of that new Amer­i­ca. But only if Amer­i­cans cre­ate social dis­rup­tion on a mass scale will she have the oppor­tu­ni­ty to do so.
This was one of two cov­er sto­ries of In These Times' dual-sided Jan­u­ary issue. For a com­ple­men­tary per­spec­tive, read the alter­nate cov­er fea­ture, ​"What a Bernie Sanders Pres­i­den­cy Would Look Like," by Daniel Den­vir. [< – CHRIS INSERT LINK]
The views expressed in this piece are the author's own. As a 501©3 non­prof­it, In These Times does not oppose or endorse can­di­dates for polit­i­cal office.
Kath­leen Geier
has writ­ten for
The Nation
,
The Baf­fler
and
The New Repub­lic
. She lives in Chicago.