Bloomberg Unleashes Warren's Rage—At Last
If Warren has a superpower, it is her anger—a righteous, coruscating fury that beautifully clarifies the moral stakes of a rigged economy.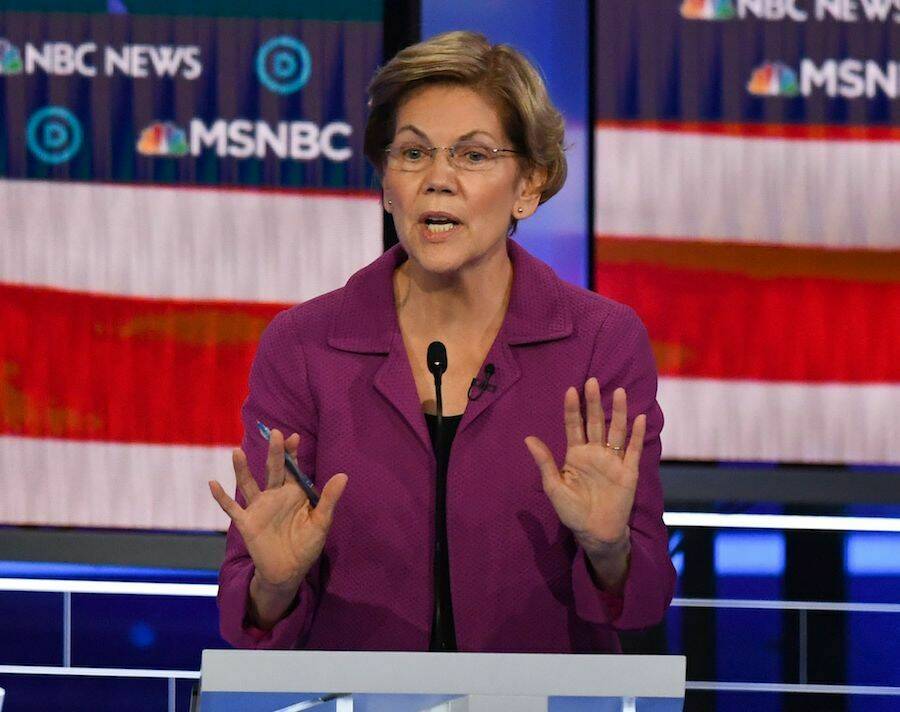 For sup­port­ers of Eliz­a­beth War­ren, the last sev­er­al months have been tough: frus­trat­ing and often painful. The pro-War­ren momen­tum that had been gath­er­ing steam through the sum­mer and ear­ly fall came to a halt, and her poll num­bers fell as she was dogged by attacks on her Medicare for All plan and the con­tro­ver­sy over whether Bernie Sanders had or had not told her, in a pri­vate meet­ing, that a woman couldn't beat Trump. She man­aged to claw her way to a respectable third place fin­ish in Iowa, but in New Hamp­shire she couldn't even crack dou­ble dig­its and placed a dis­tant fourth. New Hamp­shire vot­ers pre­ferred even the emp­ty suit medi­oc­ri­ties Pete Buttigieg and Amy Klobuchar over War­ren, and that hurt. Omi­nous­ly, he media began treat­ing her as an also-ran, fre­quent­ly eras­ing her from cam­paign cov­er­age. In an NBC News/​Wall Street Jour­nal poll released ear­li­er this week, she was sta­tis­ti­cal­ly tied for sec­ond place, yet bla­tant­ly exclud­ed from ques­tions about head-to-head match­es between the Demo­c­ra­t­ic can­di­dates and Trump.
Luckily, fate provided Warren with the perfect foil: the racist, misogynist, former Republican billionaire Michael Bloomberg, the living embodiment of the corruption and capitalist excesses that she has been railing against for her entire career.
What was mad­den­ing to so many of Warren's sup­port­ers is that her core strengths as a can­di­date were not com­ing through. Her answers in debates were always intel­li­gent and well-for­mu­lat­ed, but her pres­ence seemed sub­dued. Long stretch­es of time would go by with­out War­ren being called on, but she didn't proac­tive­ly try to insert her­self back into the con­ver­sa­tion. Her cam­paign had adopt­ed a not espe­cial­ly com­pelling ​"uni­ty" mes­sage and she seemed reluc­tant to crit­i­cize or even draw sharp con­trasts between her­self and the oth­er can­di­dates. The per­sona that came across was that of a nice but inef­fec­tu­al, over­ly ide­al­is­tic pro­fes­sor lady. Increas­ing­ly, pun­dits and vot­ers were express­ing fears that War­ren could not beat Trump.
War­ren sup­port­ers began ask­ing one anoth­er: where was the War­ren we came to know and love from viral videos of Con­gres­sion­al hear­ings where she sav­aged dirt­bag CEOs, chis­el­ing bankers and slimy gov­ern­ment offi­cials, turn­ing them into quiv­er­ing bowls of jello?
If War­ren has a super­pow­er, it is her anger, a right­eous, cor­us­cat­ing fury that beau­ti­ful­ly clar­i­fies the moral stakes of a rigged econ­o­my that enables the rich to suck up vast resources of mon­ey and pow­er at the expense of every­one else. But of course, com­ing from a woman, a rage that pow­er­ful can fright­en peo­ple, and it's like­ly that the staff in charge of Warren's debate prep advised her to keep it under wraps.
But a War­ren with­out her rage is like a box­ing cham­pi­on with one hand tied behind her back. All women run­ning for office face a del­i­cate bal­ance of try­ing to defuse sex­ism by appear­ing pleas­ant and unthreat­en­ing on the one hand, while also hav­ing to present them­selves as tough and pow­er­ful enough to lead on the oth­er. Up to this point in her cam­paign, War­ren most­ly refrained from attack­ing oth­er can­di­dates. But it's inter­est­ing to note that the one time the abortive cam­paign of Kamala Har­ris showed any life was her mas­ter­ful take­down of Joe Biden in an ear­ly debate. Sim­i­lar­ly, Amy Klobuchar got a sig­nif­i­cant boost from her attacks on Peter Buttigieg in the New Hamp­shire debate, which buoyed her to a sur­prise third place fin­ish in that state.
It was clear that the neutered ver­sion of War­ren wasn't work­ing for her. She is not run­ning for Miss Eff­ing Con­ge­nial­i­ty, she is run­ning for Pres­i­dent of the Unit­ed States — and specif­i­cal­ly, as the war­rior queen who will take down the mon­strous Don­ald Trump. She need­ed to prove to vot­ers that she can do that. She need­ed to bring the steel and the fire, and she need­ed to aggres­sive­ly insert her­self into the con­ver­sa­tion instead of polite­ly wait­ing for the mod­er­a­tors to call on her.
Last night was a high-stakes moment for War­ren, an event that had the poten­tial to become the turn­ing point of her cam­paign. Her back was against the wall and espe­cial­ly in light of the vir­tu­al media black­out of War­ren of late, she bad­ly need­ed a break­out moment. The Neva­da debate might prove to be her last chance to cre­ate one. Luck­i­ly, fate pro­vid­ed her with the per­fect foil: the racist, misog­y­nist, for­mer Repub­li­can bil­lion­aire Michael Bloomberg, the liv­ing embod­i­ment of the cor­rup­tion and cap­i­tal­ist excess­es that War­ren has been rail­ing against for her entire career. It marked the first debate appear­ance for Bloomberg, a late entry into the race.
Bloomberg, who in so many ways is eeri­ly sim­i­lar to Trump (the racism! the sex­ism! the bul­ly­ing and arro­gance! the refusal, so far, to release his tax returns!), was effec­tive­ly a stand-in for Trump in the debate. And if the debate was an audi­tion for the role of the can­di­date who has what takes to bring down Trump, War­ren was the hands-down win­ner. She owned that stage like a boss. I can't remem­ber any oth­er debate where one can­di­date dom­i­nat­ed as much as War­ren did. Her con­fronta­tions with Bloomberg were bru­tal, fear­less and unsparing.
Here's a sam­ple:
On Bloomberg's stop and frisk pol­i­cy: ​"No, this isn't about how it turned out. This is about what it was designed to do to begin with. … You need a dif­fer­ent apol­o­gy here, Mr. Mayor."
On the numer­ous alle­ga­tions of sex­u­al harass­ment that have been made against Bloomberg per­son­al­ly and the com­pa­ny he's in charge of: ​"So, Mr. May­or, are you will­ing to release all of those women from those nondis­clo­sure agree­ments, so we can hear their side of the sto­ry? … We are not going to beat Don­ald Trump with a man who has who knows how many nondis­clo­sure agree­ments and the drip, drip, drip of sto­ries of women say­ing they have been harassed and dis­crim­i­nat­ed against."
Bloomberg … did not respond well. When War­ren spoke, his eyes were full of cold fury and his lips were pursed as if he were suck­ing on a lemon. When War­ren talked about the sex­u­al harass­ment law­suits against his com­pa­ny, he lit­er­al­ly rolled his eyes.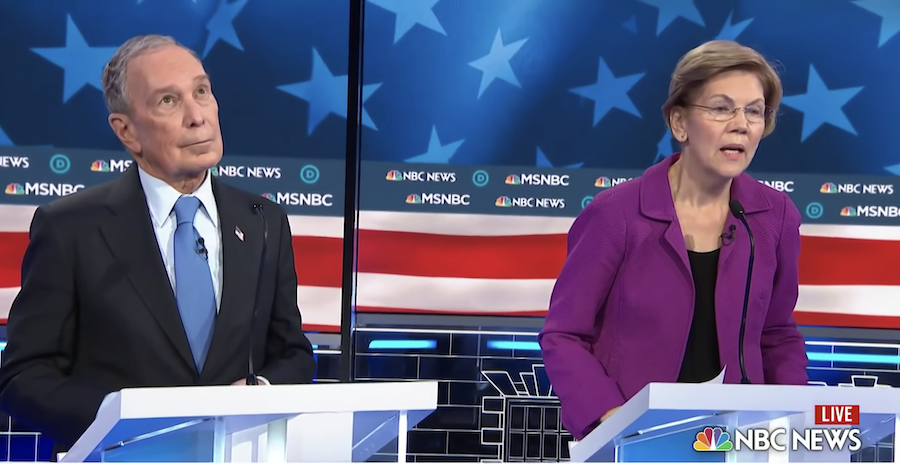 Two things War­ren accom­plished in the debate are espe­cial­ly notable. First, she insis­tent­ly includ­ed a racial analy­sis even in ques­tions that didn't ask direct­ly about race, such as the dis­cus­sion about glob­al­iza­tion. She also per­formed a bril­liant jujit­su by bring­ing up the elec­tabil­i­ty ques­tion, which has often been used against her, to turn it on Bloomberg instead: ​"Democ­rats are not going to win if we have a nom­i­nee who has a his­to­ry of hid­ing his tax returns, of harass­ing women and of sup­port­ing racist polls like redlin­ing and stop and frisk."
Will Warren's debate per­for­mance help her regain momen­tum and her foothold as a top con­tender in the race? That is not clear. It might not have much of an impact on the out­come in Saturday's Neva­da cau­cus, since thou­sands of peo­ple have already par­tic­i­pat­ed in ear­ly vot­ing.
And for a female can­di­date, a per­for­mance as fierce as Warren's was has the poten­tial to back­fire. Like clock­work, cen­trist media scolds took her to task for being ​"mean and angry." But while it's like­ly that such a com­bat­ive per­for­mance would have been poor­ly received if she were lead­ing in the polls, it plays dif­fer­ent­ly now that she's an under­dog can­di­date. Even War­ren crit­ics like MSNBC's Chris Matthews declared her the win­ner of the debate. Matthews said that ​"Democ­rats have to find some­one who can coa­lesce the left and cen­ter left. Eliz­a­beth War­ren can do that." The debate earned her an out­pour­ing of social media love, and anec­do­tal­ly a num­ber of vot­ers on my Twit­ter feed who had pre­vi­ous­ly said they'd been unde­cid­ed declared that they would be vot­ing for War­ren. Per­haps most sig­nif­i­cant­ly of all, Warren's cam­paign announced that yes­ter­day was their ​"best debate day of the entire cam­paign, rais­ing more than $2.8 million."
But in the end, War­ren had no choice but to come out swing­ing. If she'd giv­en anoth­er sub­dued per­for­mance she would have run the risk of being com­plete­ly dis­ap­peared by the media. And also? It was clear­ly the right thing to do. Eliz­a­beth War­ren is a fight­er, and fight­ers fight. At best, it will help her turn the tide of the race and cre­ate the kind of momen­tum that will result in vic­to­ry. At worst, she per­formed a major pub­lic ser­vice by tak­ing down a despi­ca­ble bil­lion­aire with hor­ren­dous pol­i­tics who is try­ing to sub­vert democ­ra­cy by buy­ing his way into the White House. What's not to like?
The views expressed in this piece are the author's own. As a 501©3 non­prof­it, In These Times does not oppose or endorse can­di­dates for polit­i­cal office.
Read the author's vision of a War­ren pres­i­den­cy here.
Kath­leen Geier
has writ­ten for
The Nation
,
The Baf­fler
and
The New Repub­lic
. She lives in Chicago.