Will the EPA Ban a Pesticide That's Been Lowering Children's IQs for Years?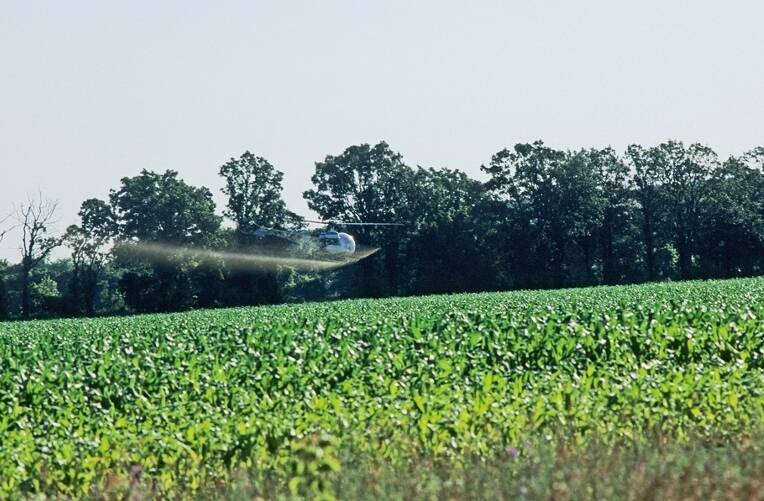 In a remark­ably rare move, the U.S. Envi­ron­men­tal Pro­tec­tion Agency (EPA) is propos­ing to with­draw its approval for all agri­cul­tur­al uses of a wide­ly used pes­ti­cide, chlorpyrifos.
First approved in 1965, chlor­pyri­fos belongs to a class of pes­ti­cides known as organophos­phates — a type of chem­i­cal devel­oped as a nerve agent pri­or to World War II — that kills insects by affect­ing their ner­vous sys­tems. It's used on dozens of crops, includ­ing cit­rus, grapes, almonds, corn, apples, broc­coli, onions, straw­ber­ries, wal­nuts, soy­beans and alfal­fa. Although use has decreased since the 1990s, about 6 mil­lion pounds of chlor­pyri­fos were used across the U.S. in 2012, about a quar­ter of that in Cal­i­for­nia alone. Chlor­pyri­fos is one of the pes­ti­cides most fre­quent­ly cit­ed in pes­ti­cide poi­son­ings of agri­cul­tur­al workers.
The EPA's pro­pos­al was timed to respond to a court-ordered dead­line prompt­ed by a 2007 peti­tion from the Nat­ur­al Resources Defense Coun­cil (NRDC) and Pes­ti­cide Action Net­work North Amer­i­ca ask­ing the EPA to ban chlor­pyri­fos. The EPA announced its inten­tion to issue such a pro­posed rule in June but want­ed to do so by April 2016. The 9th Cir­cuit court reject­ed this time­line and ordered the EPA to act by Octo­ber 31, 2015. The EPA says it intends to issue a final rule on chlor­pyri­fos by Decem­ber 2016. Earth­jus­tice, which filed the advo­ca­cy groups' peti­tions with the EPA, is ask­ing the 9th Cir­cuit court to make this dead­line legal­ly binding.
"We've been push­ing for this for many years," Farm­work­er Jus­tice occu­pa­tion­al and envi­ron­men­tal health direc­tor Vir­ginia Ruiz told In These Times. This, she said, ​"is def­i­nite­ly a big deal."
Chlor­pyri­fos man­u­fac­tur­er Dow Agro­Sciences down­played the EPA action, say­ing in a state­ment that it ​"dis­agrees" with the EPA's pro­pos­al and that the EPA pro­pos­al ​"is just that: a pro­pos­al, not a final reg­u­la­to­ry action. It has no cur­rent impact on exist­ing uses of the product."
The pes­ti­cide man­u­fac­tur­ers' trade asso­ci­a­tion CropLife Amer­i­ca said in a state­ment post­ed to its web­site that it is ​"dis­ap­point­ed" in the EPA's pro­pos­al, call­ing it a ​"dras­tic and unnec­es­sary step that is caused by waste­ful, agen­da-dri­ven lit­i­ga­tion." Chlor­pyri­fos, says CropLife Amer­i­ca, ​"is an invalu­able tool for grow­ers on a diverse array of crops."
High­ly tox­ic to the ner­vous system
But chlor­pyri­fos is well rec­og­nized as high­ly tox­ic to the ner­vous sys­tem. It can have seri­ous, imme­di­ate adverse effects — among them headache, nau­sea, dizzi­ness, vision and mus­cle prob­lems. Farm­work­ers have been over­ex­posed ​"even with all the pro­tec­tive cloth­ing that could pos­si­bly required," says Earth­jus­tice man­ag­ing attor­ney Pat­ti Goldman.
Chlor­pyri­fos is also well doc­u­ment­ed to have long-last­ing neg­a­tive impacts on the neu­ro­log­i­cal health and devel­op­ment of chil­dren whose moth­ers were exposed to chlor­pyri­fos while preg­nant, includ­ing at lev­els below those that prompt imme­di­ate effects and below expo­sure lev­els EPA con­sid­ers acceptable.
Chil­dren exposed pre­na­tal­ly, in Cal­i­for­nia agri­cul­tur­al com­mu­ni­ties and in New York City where chlor­pyri­fos was used in indoor pest con­trol, have been found to have low­ered IQ, impaired cog­ni­tive abil­i­ty and behav­ior prob­lems. Researchers at the Uni­ver­si­ty of Cal­i­for­nia-Berke­ley and Colum­bia Uni­ver­si­ty have both found that the high­er the chlor­pyri­fos expo­sure, the greater the children's IQ reduc­tion. But they also found there to be no lev­el of chlor­pyri­fos expo­sure that did not low­er IQ to some extent.
What makes this evi­dence par­tic­u­lar­ly strik­ing is that in chil­dren exposed pre­na­tal­ly, researchers at Colum­bia Uni­ver­si­ty have also seen phys­i­cal alter­ations in parts of the brain that con­trol work­ing mem­o­ry, lan­guage, behav­ior and emo­tion. In a paper pub­lished this Sep­tem­ber, Vir­ginia Rauh, deputy direc­tor of children's envi­ron­men­tal health at Colum­bia University's Mail­man School of Pub­lic Health and col­leagues found pre­na­tal chlor­pyri­fos expo­sure to be asso­ci­at­ed with child­hood arm tremors, a sign of the pesticide's ner­vous sys­tem effects.
This ​"is par­tic­u­lar­ly com­pelling evi­dence," says Colum­bia Uni­ver­si­ty Mail­man School of Pub­lic Health pro­fes­sor emer­i­tus of envi­ron­men­tal sci­ence Robin Why­att, whose research has linked pre­na­tal chlor­pyri­fos to low­er birth weights as well as neu­ro­log­i­cal impacts. ​"This is a chem­i­cal that has been stud­ied exten­sive­ly with a phe­nom­e­nal amount of con­sis­ten­cy in exper­i­men­tal and epi­demi­o­log­i­cal data," says Whyatt.
EPA cites risks from drink­ing water
In announc­ing the pro­posed ban on Octo­ber 30, the EPA explained that while ​"there do not appear to be risks from expo­sure to chlor­pyri­fos in food," when ​"those expo­sures are com­bined with esti­mat­ed expo­sure from drink­ing water in cer­tain water­sheds, EPA can­not con­clude that the risk from aggre­gate expo­sure meets the Fed­er­al Food, Drug and Cos­met­ic Act (FFD­CA) safe­ty stan­dard." Water­sheds of most con­cern are small­er ones that are heav­i­ly farmed, explains the EPA.
In oth­er words, accord­ing to the EPA, while residues left on food alone may not present a health con­cern, when com­bined with chlor­pyri­fos present in drink­ing water as result of drift and runoff, expo­sure becomes a con­cern. ​"The fact that they found high lev­els in drink­ing water, that's what's dri­ving the EPA to say this [agri­cul­tur­al use of chlor­pyri­fos] isn't doable any more," explains NRDC senior sci­en­tist Jen­nifer Sass.
Adding to the con­cern about chlor­pyri­fos in drink­ing water is the fact that, when treat­ed by chlo­ri­na­tion as much drink­ing water is, chlor­pyri­fos turns into anoth­er form of the chem­i­cal that is per­sis­tent and par­tic­u­lar­ly tox­ic. Data ana­lyzed for the EPA's chlor­pyri­fos risk assess­ment released in Decem­ber 2014 has led the agency to deter­mine that many uses of chlor­pyri­fos will result in drink­ing water lev­els that put infants and chil­dren at risk.
Con­cern about chlo­rypri­fos has been build­ing for some time. In 2000, the EPA banned indoor house­hold use of chlor­pyri­fos (with the excep­tion of ant and roach bat in child-resis­tant pack­ag­ing). While the chem­i­cal breaks down when exposed to sun­light, it can last a long time indoors and thus pose long-term expo­sure haz­ards. ​"Chlor­pyri­fos can last for years and years indoors," explains Why­att. ​"We're still detect­ing it a decade after the ban" in the homes where chlor­pyri­fos mon­i­tor­ing has been done, she says.
Short­ly after the EPA banned indoor use, it also reduced the amount of chlo­rypri­fos that could be legal­ly applied to apples and grapes—due to con­cerns about children's expo­sure — and barred its use on toma­toes. Still, in 2010, the Cal­i­for­nia Depart­ment of Pub­lic Health found chlor­pyri­fos to be among the top ten pes­ti­cides applied with­in one-quar­ter mile of Cal­i­for­nia pub­lic schools in the 15 coun­ties studied.
Then in 2012, to address con­cerns about pes­ti­cide drift raised in peti­tions filed with the EPA by Earth­jus­tice on behalf of NRDC, Pes­ti­cide Action Net­work North Amer­i­ca and oth­er envi­ron­men­tal orga­ni­za­tions, the EPA imposed buffer zones around pub­lic spaces, includ­ing parks and homes, while low­er­ing allow­able chlor­pyri­fos appli­ca­tion lev­els. Yet accord­ing to its cur­rent analy­sis, the EPA said in its Octo­ber 30 announce­ment that it ​"can­not con­clude that the risk from aggre­gate expo­sure meets the Fed­er­al Food, Drug, and Cos­met­ic Act (FFD­CA) safe­ty standard."
How­ev­er, the EPA is still ana­lyz­ing drink­ing water data, both to make sure ​"any final deci­sion pro­tects infants and chil­dren" and to deter­mine risks for the entire coun­try in addi­tion to those water­sheds already analyzed.
The EPA pro­pos­al — which would leave in place use on golf cours­es, turf and oth­er non-agri­cul­tur­al appli­ca­tions — will be open for pub­lic com­ment for 60 days. Dow Agro­Sciences says it is ​"con­fi­dent" that ​"issues relat­ing to the con­tin­ued use of chlor­pyri­fos can be read­i­ly resolved with a more refined analy­sis of data."
Among indus­try groups' hopes, says Gold­man, is that EPA may lim­it a chlor­pyri­fos ban to cer­tain water­sheds. But EPA is also cur­rent­ly review­ing sev­en addi­tion­al organophos­phate pes­ti­cides that, like chlor­pyri­fos, can cause both short- and long-term adverse neu­ro­log­i­cal effects to work­ers and the gen­er­al pub­lic, includ­ing infants and chil­dren. ​"This is huge because it means EPA is stand­ing behind its sci­ence on neu­rode­vel­op­men­tal effects," says Goldman.
And when it comes to chlor­pyri­fos' tox­i­c­i­ty says Why­att, ​"Com­pared to many chem­i­cals, this is one about which there appears to be no doubt in anybody's mind."
Eliz­a­beth Gross­man
is the author of
Chas­ing Mol­e­cules: Poi­so­nous Prod­ucts, Human Health, and the Promise of Green Chem­istry
,
High Tech Trash: Dig­i­tal Devices, Hid­den Tox­i­cs, and Human Health
, and oth­er books. Her work has appeared in a vari­ety of pub­li­ca­tions includ­ing
Sci­en­tif­ic Amer­i­can
,
Yale e

360
,
Envi­ron­men­tal Health Per­spec­tives
,
Moth­er Jones
,
Ensia
,
Time
,
Civ­il Eats
,
The Guardian
,
The Wash­ing­ton Post
, Salon and
The Nation
.