Undocumented in Vermont: The Hidden Life of a Migrant Farmworker​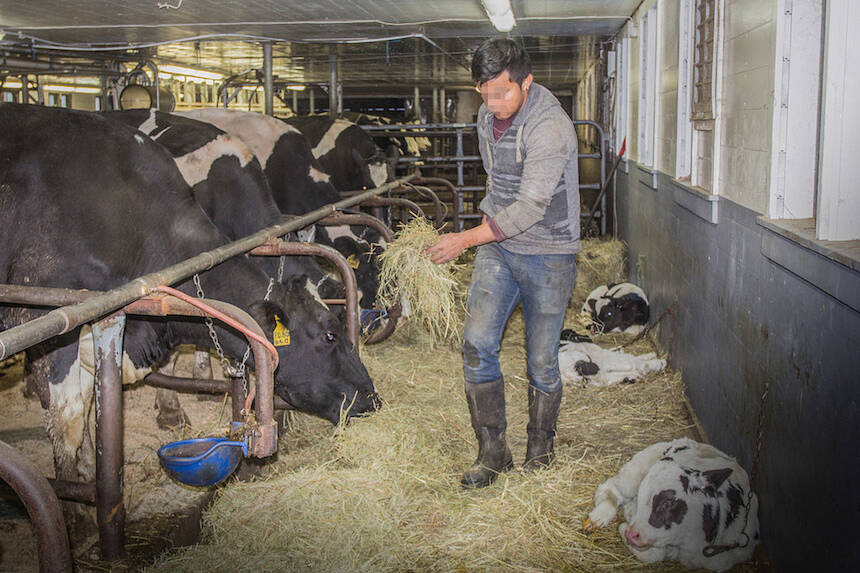 "Hey, come on in," I told Car­los. Sil­hou­et­ted by sum­mer sun, he stood at the front door of my Ver­mont house.
"No," he said point­ing to his work boots, heavy with mud and manure. ​"But can you help me?" Car­los was one of the esti­mat­ed one to 2,000 undoc­u­ment­ed, most­ly Mex­i­can migrants employed on the state's dairy farms. The actu­al num­ber, like most of the work­ers who entered the coun­try ille­gal­ly, is hidden.
Car­los (not his real name) had come to Ver­mont after a year work­ing con­struc­tion in Texas, where even gringo boss­es speak some Span­ish, and where he could blend into the large Lati­no dias­po­ra and its famil­iar cul­ture. Ver­mont is an alien world, with dark win­ters and light peo­ple. When the dairy work­ers ven­ture off their iso­lat­ed farms, they stand out and apart. But in an unparce­able blend of Yan­kee prag­ma­tism and ordi­nary decen­cy, many Ver­mon­ters, includ­ing police and offi­cials, qui­et­ly wel­come and often pro­tect them. The farm hands form an essen­tial part of the econ­o­my, and truth be told, offer relief from a monot­o­nous­ly white pop­u­la­tion that tends tol­er­ant and leans smug.
I met Car­los sev­er­al years back when, as part of an infor­mal vol­un­teer net­work, I'd occa­sion­al­ly fer­ry migrants to med­ical appoint­ments or to super­mar­kets, where they buy the kind of calo­rie-rich junk and processed food that hor­ri­fies kale-munch­ing locals. I helped fill out forms enabling them to wire mon­ey to fam­i­ly in Mex­i­co, lend­ing my name and return address, and won­der­ing what the IRS would make of my send­ing thou­sands of dol­lars to small towns in Tabas­co and Chiapas.
After Ver­mont approved a spe­cial driver's license not requir­ing legal sta­tus, I taught a few guys to dri­ve by U.S. rules so they could shop for them­selves, get a maple creemee at a road­side stand, and vis­it rel­a­tives and friends on oth­er farms.
Sev­er­al migrants had giv­en me snip­pets of their tales — always with­out embell­ish­ment, self-pity, or dra­ma. But it was years before Car­los — bright and charm­ing, but guard­ed — opened up. Per­haps ford­ing the flood­ed Rio Grande and hik­ing five days through the Texas desert — heli­copters thump­ing the sky; hunger, thirst, and bor­der patrols stalk­ing the ground below — seemed so com­mon as to be unre­mark­able, or too painful to recall.
Through Car­los has learned use­ful and col­or­ful­ly idiomat­ic Eng­lish, he speaks hes­i­tant­ly, espe­cial­ly with strangers, and mis­un­der­stand­ings are pos­si­ble. The favor he came to ask that sun-paint­ed day was that I go with him for a ​"check-up." ​"Well," he hes­i­tat­ed, ​"to get test­ed for STI" (sex­u­al­ly trans­mit­ted infec­tions). ​"Are you sick? Do you need to go imme­di­ate­ly?" I asked. ​"No, I'm fine. I just want to get test­ed. Soon."
The com­mu­ni­ty clin­ic I phoned required two appoint­ments, one for paper­work and anoth­er for test­ing. Two days inter­rupt­ed, dur­ing hay­ing season.
Make hay while the sun shines is a lit­er­al injunc­tion. Three or four times a sum­mer, when the grass is high and tight­ly tas­seled, machines prowl the fields devour­ing the sweet green crop. It dries in place for three or so sun­ny days until balers bun­dle the now-gold­en hay, and work­ers load it into barns for win­ter feed.
Some­times at mid­night, if the weath­er threat­ens, head­lights flick­er through my win­dow as a neigh­bor­ing farmer rush­es to save the crop before it is ruined by rain.
So when the grass is ripe and there is a pre­dict­ed stretch of sun­shine, hay­ing can­not be delayed.
To save time, then, Car­los sug­gest­ed going to a ​"doc in a box" in a strip mall. At the gener­ic office, which looked like it could be sell­ing insur­ance, which Car­los could nev­er buy, I asked the cost. "$100 for the vis­it." As he start­ed tak­ing bills from his wal­let, I motioned him to stop. ​"And for the lab tests?" The young woman rum­maged behind the counter. "$500, so $600 total," she said with all the ani­ma­tion of one of Carlos's cows.
"You're kid­ding," I near­ly shout­ed. ​"For stan­dard lab tests?"
"No way," I told Car­los, who was prob­a­bly deeply embar­rassed by me. It wasn't that he couldn't afford it, but I knew how he sweat­ed for that much mon­ey, and how the med­ical sys­tem jacked-up prices for the uninsured.
I phoned the health clin­ic to com­pare costs, and the sched­uler asked why didn't I go to Planned Par­ent­hood. It had nev­er occurred to me that the orga­ni­za­tion served men.
Except for a locked front door, secu­ri­ty at the con­tro­ver­sial non­prof­it was unob­tru­sive. Join­ing three preg­nant women in the wait­ing room, Car­los and I made quite the intrigu­ing cou­ple: an aging white woman and a hand­some young Latino.
When we came to the part of the form on income, Car­los asked me what to do. I said he could report what­ev­er amount he want­ed. No, he cor­rect­ed, do they want hourly, week­ly, or what? He knew what I had meant, but had no incli­na­tion to cheat. He wrote $30,000 a year.
The recep­tion­ist quick­ly scanned his paper­work. ​"We have a slid­ing scale," and with obvi­ous plea­sure, told Car­los, ​"You just qual­i­fy for free services."
Ver­mont, she said is the only state ful­ly cov­ered by the Access Plan which includes birth con­trol, annu­al exams, STI test­ing and treat­ment, patient edu­ca­tion and coun­sel­ing for both men and women who are unin­sured and earn less than 200 per­cent of the fed­er­al pover­ty level.
It is a prac­ti­cal pol­i­cy, giv­en the long-term eco­nom­ic and pub­lic health ben­e­fits of diag­nos­ing, treat­ing, and pre­vent­ing the spread of com­mu­ni­ca­ble dis­eases that can lead to AIDS, can­cer, steril­i­ty, and more.
How else are males served? By way of reply, the recep­tion­ist reached under the counter. ​"We dis­trib­ute these," she said, hand­ing me a foot­ball-sized clear plas­tic bag filled with con­doms, indi­vid­u­al­ly wrapped in col­or­ful foil dec­o­rat­ed with hearts and flags, kissy lips, and stars.
When Car­los returned from the exam room, he was assured, although a few tests were pend­ing, that he was clean. I tossed him the bag, and we all laughed. As we left, I spied him slip­ping a dona­tion, three $20 bills, onto the counter.
In the car home, curios­i­ty over­came dis­cre­tion. I probed. He hes­i­tat­ed. And then his face lit with plea­sure. ​"I have a girl­friend, and she said, ​'No sex until we are both tested.'"
"Now, that is a great girl­friend," I said. Smil­ing, we rode back under a cloud­less sky to his farm, where the ripe fields glit­tered green and the cows, udders swollen, jos­tled in line for after­noon milking.
Milk, mon­ey and the role of migrants
The pres­ence of for­eign-born migrant work­ers like Car­los is just the lat­est trans­for­ma­tion of Ver­mont agri­cul­ture. A cen­tu­ry ago, the state was 70 per­cent cleared agri­cul­tur­al land, 30 per­cent for­est. Today, the ratio is approx­i­mate­ly reversed. Old­er Ver­mon­ters still remem­ber when, in the 1940s, some 11,000 small, fam­i­ly farms the dot­ted the land. Kids hand-milked fawn-brown, doe-eyed Jer­seys before break­fast and then hitched rides to one-room school­hous­es on the beat-up trucks or horse-drawn wag­ons that hauled met­al jugs of milk — topped with unc­tu­ous, yel­low cream — to cen­tral col­lect­ing stations.
The num­ber of farms con­tin­ues to decline — from 1,030 to 825 just in the last decade. Strained by the high costs farm­ing, tax­es, and land prices, many have been drawn over, like an artist's repur­posed can­vas, by malls, ski resorts, and sum­mer homes. The last time Ver­mont had more cows than peo­ple Eisen­how­er was pres­i­dent; today there are 625,000 peo­ple and only 129,000 cows.
Nonethe­less, milk pro­duc­tion is up. Jer­seys have been replaced by black and white Hol­steins, a large, ungain­ly breed that can churn out mas­sive quan­ti­ties of milk — 20,000-plus pounds a year — before their pro­duc­tiv­i­ty wanes and they are ground into ham­burg­er, pet food, or buried in the fields they once fer­til­ized and grazed.
Along with the switch to Hol­steins, fed­er­al and state tax abate­ments and sub­sidy pro­grams, the increased cache and cash for the Ver­mont-brand­ed and organ­ic prod­ucts, larg­er scale pro­duc­tion, mech­a­niza­tion, and a new gen­er­a­tion of back-to-the-land grow­ers have allowed some farm­ers to sur­vive, and a few to thrive.
What keeps the own­ers awake at night — besides the cal­lous vagaries of weath­er and fluc­tu­at­ing milk prices that some­times fall below costs — is find­ing and keep­ing cheap labor. Most have tried locals, and some have turned to for­mer pris­on­ers. But few stick it out, and farm­ers grum­ble that the grow­ing plague of opi­oid depen­dence has ren­dered some of the Amer­i­cans duller and less reli­able than the cows they tend.
It is lit­tle won­der that Amer­i­cans with oth­er options do not last. There are few jobs as mis­er­able as trudg­ing through frozen piss and excre­ment in the pre-dawn dark to milk and tend cows when the ther­mome­ter plunges to 20 below zero. With two milk­ings a day, 12 hours apart, farms must be staffed 14 to16 hours a day. Despite the myth of the manger, cows don't get Christ­mas off, and nei­ther do dairy workers.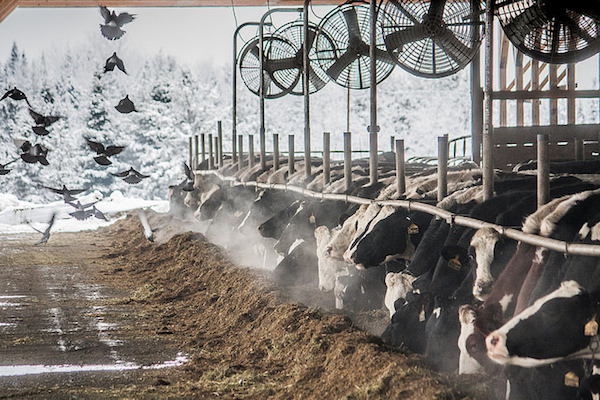 A Ver­mont dairy farm in win­ter. (Pho­to: Ter­ry J. Allen)
Lati­no migrants are fill­ing a gap and sav­ing America's farms. Nation­wide, immi­grants, many undoc­u­ment­ed, com­prise 51 per­cent of the nation's dairy indus­try, accord­ing to a 2015 study by Texas A&M Uni­ver­si­ty for the Nation­al Milk Pro­duc­ers Fed­er­a­tion. If these work­ers were deport­ed, the report con­cludes, milk prices would rise 90 per­cent, and cost the U.S. econ­o­my more than $32 billion.
With­out ​"our guests," as then Ver­mont Gov. Peter Shum­lin called migrant farm work­ers, much of the state's milk indus­try would like­ly dry up and bring down a cas­cade of depen­dent, val­ue-added enter­pris­es. Say good­bye to afford­able Cabot ched­dar; kiss Ver­mont-sourced Cher­ry Gar­cia sweet adiós.
And farewell to much of the $2.2 bil­lion in annu­al eco­nom­ic activ­i­ty dairy brings Ver­mont — the only state in which more than half of farm income comes from a sin­gle commodity.
But beyond its direct eco­nom­ic con­tri­bu­tion, dairy farm­ing defines Vermont's land­scape, cul­ture, image, val­ues, and allure. It con­tours land and life, lures tourists, and helps retain res­i­dents through sev­en leaf­less months. Farms open the pas­tures — gold­en and green in sum­mer, glis­ten­ing white like pol­ished steel in win­ter. Riv­er-riv­en val­leys and soft hill­sides speck­led with black and white cows embody Vermont's old-fash­ioned beau­ty: its work­ing landscape.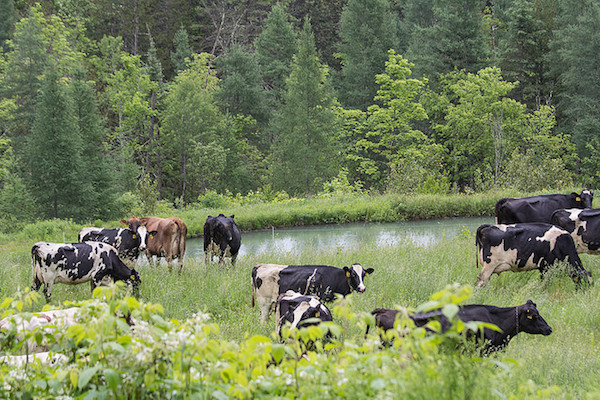 Ver­mon­t's icon­ic Hol­stein cows. (Pho­to: Ter­ry J. Allen)
Iso­la­tion, ICE and Snow
Immune to the idyll, Car­los was sim­ply seek­ing a job. ​"It's hard, hard work," he says. ​"But you came to Amer­i­ca to make mon­ey and go back quick. So you come to Vermont."
At his pre­vi­ous job— con­struc­tion for a large com­pa­ny in a mid-sized Texas city — the hourly wages were com­pa­ra­ble to dairy, but the poten­tial earn­ings and the cost of liv­ing were not. The Ver­mont jobs include hous­ing with heat and oth­er util­i­ties, iso­la­tion that brings few­er spend­ing temp­ta­tions, and an ​"oppor­tu­ni­ty" to work up to 90 hours a week.
Although he expect­ed the long, dif­fi­cult hours, Car­los nev­er antic­i­pat­ed winter's mal­ice. ​"I still remem­ber ask­ing my broth­er, who came a few months before I did, ​'How is Ver­mont?' and he said, ​'Don't come here. It's hor­ri­ble.' He came in win­ter," Car­los adds, grin­ning. ​"But I came any­way… in a van with my cousin and some oth­ers. I saw snow for the first time. I was, ​'What is this?' he chuck­les. ​'What am I doing here?'"
At this lay­over farm, ​"they taught me to milk cows," and now he lets out a loud laugh at the absur­di­ty, ​"in one afternoon."
"The next day Aun­tie Lin­da arrived. She speaks Span­ish, and all the patrons know her. They all call her and say ​'We need one guy, two guys.' She was a grumpy old woman, a big curs­er. We laughed at her swear­ing, but we didn't care. I'd like to talk to her today and thank her. She gave me a pair of boots. They went through the whole winter."
Bro­kers like Aun­tie Lin­da, the ​"coy­otes" who smug­gle migrants across the bor­der, the peo­ple who run safe hous­es, the van dri­vers who make reg­u­lar inter­state and cross-coun­try runs, and the farm­ers are all mov­ing parts of a com­plex, sub­ter­ranean machine pow­ered by cell phones and dollars.
One small, but par­tic­u­lar­ly venal piece of that net­work is the sex traf­fick­ers. Almost all of the dairy work­ers are young men stuck on rur­al farms with no trans­porta­tion to get to town or engage in nor­mal social life. Enter the pimps who, exploit­ing the lone­li­ness and iso­la­tion of the work­ers, import women from cities and dri­ve them to remote farms to ​"ser­vice" the work­ers at $60 a trick.
"They just bring girls, Mex­i­cans and Colom­bians, most­ly Lati­nas, but some­times [women] from here, too," Car­los explains reluc­tant­ly. ​"They just show up. It could be months between vis­its, or could be the next week­end. You nev­er know. They nev­er came to our farm, and I know one thing, I'm not pay­ing for that." I push for more infor­ma­tion. ​"They say it's expen­sive, good, and they like it." And then with exas­per­a­tion and embar­rass­ment, ​"Jesus, why are you ask­ing me about this?"
A pros­ti­tu­tion ring in Ver­mont came to light in 2011, when police arrest­ed two men who brought women to have sex with work­ers for $60 a trick. Ale­jan­dro Enrique Young-Her­nan­dez who orga­nized the busi­ness, was con­vict­ed of con­spir­a­cy to trans­port indi­vid­u­als for pros­ti­tu­tion. Although the crime could car­ry a 10-year sen­tence, he received 2‑years' pro­ba­tion, $100 court fee, and loss of his right to own firearms. His fel­low pimp, Jose Tomas Flo­res-Rocha, who deliv­ered the women to the farms, was con­vict­ed of a less­er charge, trans­port­ing indi­vid­u­als for pros­ti­tu­tion, but served 18 months.
Between his arrest and sen­tenc­ing, I ran into Young-Her­nan­dez at anoth­er cog in the migrant machine. A few times a year, offi­cials from the Mex­i­can con­sulate in Boston trav­el to areas with numer­ous unau­tho­rized Mex­i­can cit­i­zens and, after care­ful screen­ing, pro­vide legal iden­ti­fi­ca­tion papers. The doc­u­ment allows migrants to buy a plane tick­et to return to home, to pre­vent their being mis­tak­en for crim­i­nals if picked up by author­i­ties; and, in Ver­mont and 11 oth­er states plus DC, to obtain a restrict­ed ​"dri­ving priv­i­lege" license. A group of Ver­mont vol­un­teers helps facil­i­tate the con­sulate event, orga­niz­ing car pools and pro­vid­ing med­ical and legal resources and a com­mu­nal meal.
Whis­pers flut­tered like moths when Young-Her­nan­dez, con­spic­u­ous with neck tat­toos and flashy clothes, swag­gered around the room, cor­ner­ing work­ers for hushed conversations.
While the Mex­i­can IDs are use­ful, they do noth­ing to change U.S. legal sta­tus. And imped­i­ments to obtain­ing law­ful visas are near­ly insur­mount­able. Most non-pro­fes­sion­al immi­grants who qual­i­fy for a green card (per­ma­nent res­i­dence sta­tus) gain it through a fam­i­ly rela­tion­ship to a U.S. cit­i­zen. Tem­po­rary H‑2A agri­cul­tur­al visas last for months and only for strict­ly sea­son­al jobs like plant­i­ng and pick­ing crops. One Ver­mont pro­duce farm spon­sored the same Jamaican broth­ers for H‑2As every spring for almost three decades, until both farmer and work­ers grew too decrepit to car­ry on.
The state's Con­gres­sion­al del­e­ga­tion has tried but, even before Trump made Mex­i­can migra­tion a third-rail issue, failed to leg­is­late an excep­tion for year-round dairy crews.
So with no legal options, and the work­ers' impor­tance to the econ­o­my, most of Ver­mont turns a blind eye, even a wel­com­ing hand. That extends to ​"sanc­tu­ary" towns and a Fair and Impar­tial Polic­ing pol­i­cy that enjoins police from pro­fil­ing and tar­get­ing ​"ille­gals" or check­ing sta­tus when not specif­i­cal­ly rel­e­vant. It's ​"human rights 101," Mont­pe­lier Police Chief Antho­ny Facos told the local Times Argus newspaper.
In 2015, a Grand Isle sher­iff arrest­ed Miguel Alcu­d­ia, a Mex­i­can nation­al, whose only crime was ille­gal entry, and turned him over to the Bor­der Patrol. Activists, includ­ing oth­er unau­tho­rized farm work­ers poured on polit­i­cal pres­sure. Ver­mont Con­gress­mem­bers Patrick Leahy, Bernie Sanders, and Peter Welch and Gov. Shum­lin sup­port­ed Alcudia's case. A few months lat­er, he was freed and the Sheriff's Depart­ment fined near­ly $30,000 for its dis­crim­i­na­to­ry action.
No sim­i­lar out­come is like­ly for Enrique Bal­cazar, Zul­ly Pala­cios and Alex Car­ril­lo. Recent­ly Immi­gra­tion and Cus­toms Enforce­ment (ICE) agents tar­get­ed and detained the three promi­nent activists with Migrant Jus­tice, a Burling­ton, VT-based group advo­cat­ing for dairy work­ers' rights. Pub­lic demon­stra­tions and a sharp let­ter from the state's Con­gres­sion­al del­e­ga­tion and Repub­li­can gov­er­nor denounced the detentions.
Sup­port for the migrants is not uni­ver­sal among Ver­mon­ters. Some work­ers at the Depart­ment of Motor Vehi­cles con­tact­ed author­i­ties to drop the dime on peo­ple with ​"South of the Bor­der" names who applied for the spe­cial driver's licens­es, accord­ing to emails obtained through a pub­lic records request by Migrant Jus­tice. One email gloat­ed: ​"I've emailed the docs to Bor­der Patrol and they will research fur­ther and get back to me. They sound pret­ty excit­ed. I let them know [appli­cant] has re-sched­uled for this Fri­day. I will also con­tact [DMV employ­ee] and let him know what is going on, should he have to play stu­pid." Anoth­er email warned, ​"We are being over run by immigrants."
Inci­dents like that, the tar­get­ed deten­tions, and hyper­bol­ic threats from the Trump admin­is­tra­tion have sent waves of wor­ry through farm­ers and work­ers alike.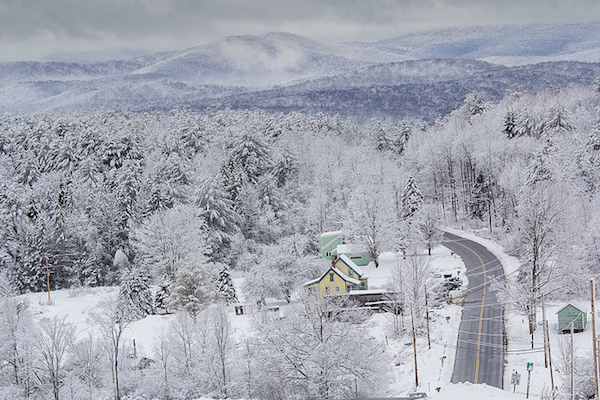 A Ver­mont snows­cape. (Pho­to: Ter­ry J. Allen)
Low wages, high tax­es and tiny lingerie
​"Are you afraid of immi­gra­tion author­i­ties?" I asked Car­los on the trip back from Planned Par­ent­hood. ​"I used to think about it every day," he said, ​"but now it doesn't mat­ter if they send me back, because that's where I belong. I always tell my par­ents, I'm com­ing back this Decem­ber, and they get a piglet to raise for a big par­ty. And then I stay yet anoth­er year."
It is not only mon­ey, and per­haps a girl­friend, that link Car­los to Ver­mont, but also the farm itself. Peo­ple who raise hors­es, the say­ing goes, love the ani­mals; sheep­herders love the land­scape; dairy farm­ers love the machin­ery. Self-reliant and smart, Car­los has made him­self valu­able by learn­ing to han­dle the farm's large stock of trucks, manure spread­ers, balers, ted­ders, and oth­er machin­ery. ​"I work some­times 70, often 80 hours a week, some­times 90. ​"Nev­er, nev­er 60 hours a week," Car­los notes with pride. Farm labor — legal and not — is specif­i­cal­ly exclud­ed from U.S. over­time pay regulations.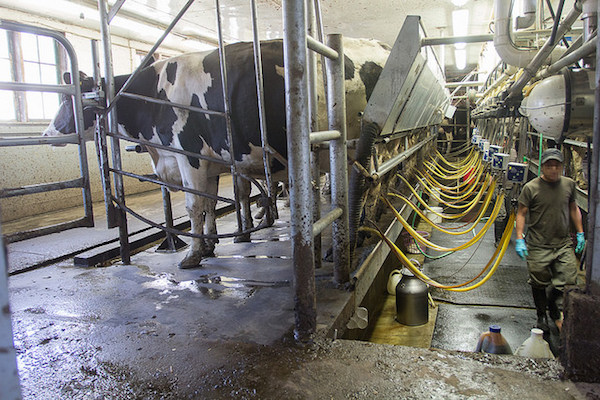 "Milk­ing par­lors" use cups, hoses and vac­u­um tubes, all of which require rou­tine clean­ing and main­te­nance. (Pho­to: Ter­ry J. Allen)
Although his wages rose to $11.30 an hour plus a $150 month­ly bonus when milk qual­i­ty tests high, he clears only about $9 hour. The dif­fer­ence is taxes.
When they arrive at a farm, the migrants pro­vide Social Secu­ri­ty num­bers. ​"They are all fake," says Car­los, mat­ter-of-fact­ly. ​"Some­body just gives you one. "
To stay legal, farm­ers with­hold and file tax­es — the ben­e­fits of which the work­er can nev­er col­lect in social secu­ri­ty or unem­ploy­ment benefits.
On the cam­paign trail, Don­ald Trump called CNN's Erin Bur­nett ​"naïve" for sug­gest­ing ​"ille­gal immi­grants" pay tax­es. But nation­al­ly, they con­tribute an esti­mat­ed $11.64 bil­lion a year in just state and local tax­es, with at least 50 per­cent of undoc­u­ment­ed immi­grant house­holds fil­ing tax returns, accord­ing to the non-par­ti­san Insti­tute on Tax­a­tion and Eco­nom­ic Policy.
Vermont's undoc­u­ment­ed pay almost $4 mil­lion a year in state and local tax­es and, at 7.9 per­cent of income, con­tribute slight­ly more than the effec­tive rate for the top 1 percent.
One of the few advan­tages of lack­ing an agri­cul­tur­al visa — which is tied to a spe­cif­ic employ­er — is that unau­tho­rized farm work­ers can switch farms, rely­ing on a grapevine to avoid abu­sive boss­es. Car­los says that his patron, a tough taskmas­ter and a hard work­er him­self, ​"was always fair." Their rela­tion­ship, how­ev­er, start­ed bad­ly. ​"When I got here, I didn't know Eng­lish and it was rough for me, and for him, I think. He would try to tell us what to do [in Eng­lish] and he would get mad if some­thing was not done how he want­ed. It was always our fault. I couldn't explain myself. I think that's what got me to learn English."
Over time, the two men grew reliant on and gen­uine­ly fond of each oth­er. ​"Now I know a lit­tle Eng­lish and I can tell him what's wrong. And he always jokes that, ​'I don't know if I liked you bet­ter when you didn't know any Eng­lish.' So like, yup, this is what it is. And he always pays us on time."
That is not the case on all farms. Because of their sta­tus, undoc­u­ment­ed work­ers are vul­ner­a­ble to exploita­tion. ​"Some farm­ers nev­er pay more than $7.50 an hour," says Car­los. ​"I know a guy that the boss didn't pay him, just fired him when he asked for mon­ey. But Migrant Jus­tice went, and the farmer had to pay."
That local activist group and oth­ers have also inter­vened to address farm work­ers' liv­ing con­di­tions. Some share a room in the boss's house, some live in poor­ly insu­lat­ed and dilap­i­dat­ed trail­ers or crammed into filthy bunkhous­es. The worst-off sleep in the barn. ​"I know a farm where they almost sleep with the cows," says Car­los. ​"They have a lit­tle room off the milk­ing par­lor and just a door to divide them from the cows. I was at a farm like that the oth­er day and I was like, ​"Where's your house?' ​'This is where we live,' he said, and I was like ​'What?' I didn't ask how many peo­ple lived in the room."
Car­los and the oth­er work­ers at his farm have their own rus­tic, but com­fort­able, house with TV and wifi, cable, a stove, and refrigerator.
It is these ​"free" accom­mo­da­tions, heat, and oth­er util­i­ties, along with long hours, that facil­i­tate the real goal: putting mon­ey aside for a bet­ter future for them­selves and fam­i­ly back home. Despite one ​"real­ly dumb" pur­chase of ​"that no-good Mus­tang" (He is, after all, a 22-year-old male), Car­los has been able to save and send back enough to buy land, ​"not much, build my house, buy 10 cows," and help out his old­er sib­lings and parents.
Out-of-pock­et expens­es, if the work­ers are lucky, are pared down to the food they cook for them­selves, phone ser­vice, and cloth­ing. I'd dri­ve guys to their store of choice, Wal­mart, where they bought up jeans made in Mex­i­co that they said cost less than they would have back home. Once, I took a work­er who was return­ing the next day to Mex­i­co to the ​"fan­cy store," J.C. Pen­ny, to buy presents to bring his wife. The sales­woman stalked us ner­vous­ly as we exam­ined filmy lin­gerie and near­ly inter­vened when the work­er held a red and black lace bra up to a man­nequin to gage size.
Cross­ing the Desert of the Dead
A week or so after the Planned Par­ent­hood vis­it, Car­los and I had lunch and I asked, promis­ing anonymi­ty, if he would talk to me — as a jour­nal­ist — about his expe­ri­ences. He start­ed reluc­tant­ly. He was 16, he said, just out of high school with a bit of tech­ni­cal school when he took the two-day bus ride from Tabas­co to Reynosa, a bit­ter, hard­scrab­ble bor­der city, deep in pover­ty, guns, gangs, and drug violence.
There, he and his two-year-old­er broth­er met the man who might lead them safe­ly to a job in Amer­i­ca, into the hands of bor­der agents, or to death in the desert. These coy­otes ply the ragged edge of cap­i­tal­ism. Some are pro­fes­sion­al ​"guides" sim­ply doing an ille­gal and dan­ger­ous job for which they expect high pay; some are con men bent on exploitation.
"If you come to the bor­der alone, you will always find a coy­ote," Car­los told me, ​"but you nev­er know if it is some­one who is reli­able or will just take your money."
One way to mit­i­gate the risk of rip-offs and scams is by mak­ing arrange­ments ahead. Five years before, ​"my father made it to the states and knew which coy­otes to trust," said Car­los. In Reynosa, ​"some­one would phone us and tell us the col­or of the car or truck, red or green, that would take care of us. But we nev­er ever com­mu­ni­cat­ed with the coy­ote him­self in any way until the moment we were on the bor­der and we met in a bus sta­tion park­ing lot."
"My coy­ote was one of the bet­ter ones," Car­los said. ​"But all of them. It's just about the money."
And even the bet­ter ones can­not guar­an­tee a suc­cess­ful cross­ing — even before Trump whipped up anti-migrant fer­vor and enforce­ment zeal.
"It's a risk we all take," said Car­los, ​"and you nev­er know how it will end."
In 2011, the year Car­los crossed the riv­er, the Bor­der Patrol appre­hend­ed 327,577 peo­ple in the U.S.-Mexican bor­der region. Almost 16,000, like Car­los, were ​"unac­com­pa­nied alien chil­dren," under 17 years old. The agency ​"res­cued" more than 1,000 and doc­u­ment­ed 375 deaths.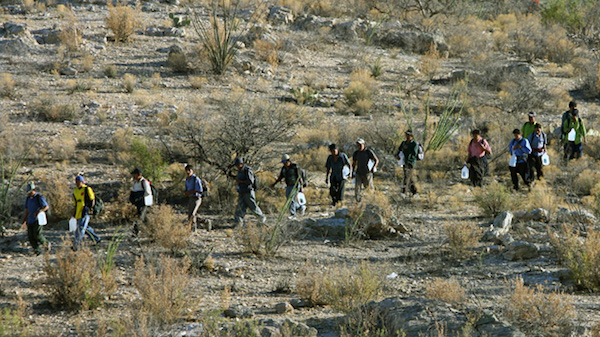 Accord­ing to the U.S. Bor­der Patrol, 1,954 peo­ple died cross­ing the U.S – Mex­i­co bor­der between the years 1998 and 2004. Most human­i­tar­i­an orga­ni­za­tions esti­mate the num­ber is much high­er. (Pho­to: elpais​.cr)
The ones who made it safe­ly joined America's 11 mil­lion unau­tho­rized immi­grants, who, in 2014 account­ed for around 5 per­cent of U.S. civil­ian labor force, the Pew Research Cen­ter esti­mates. Six mil­lion Mex­i­cans, about half that total, are most­ly con­cen­trat­ed in farm­ing (26 per­cent) and con­struc­tion occu­pa­tions (15 percent).
Some migrants who make the cross­ing, espe­cial­ly those from Hon­duras and Guatemala, are escap­ing gang wars and may be eli­gi­ble for refugee sta­tus. But almost all Mex­i­cans are eco­nom­ic migrants seek­ing to bet­ter their lives.
"My papa, he grows water­mel­on and corn," Car­los tells me, ​"and was the first to come to Amer­i­ca. And when he was here, we always had some­thing to eat. I came five years after [he returned]. ​"Now I am always help­ing them. I send mon­ey. My sis­ter and broth­er [who are also in Amer­i­ca ille­gal­ly] can't so much, because they have fam­i­lies to sup­port, but I don't." Car­los is the youngest of five sib­lings. ​"My fam­i­ly [in Mex­i­co] is doing fine and if they need some­thing, they let us know, and we will get it for them. They nev­er suf­fer for lack of food, gra­cias a dios."
It was agreed, then: Car­los would pay his coy­ote $500 before they left Reynosa and arrange for some­one to deliv­er $1,500 once he reached a safe house in Texas, far enough from the bor­der that he could move on or blend in.
"They always need that mon­ey punc­tu­al­ly, or it is dan­ger­ous. They can do any­thing to you." I saw the fear that threat engen­dered in the face of anoth­er migrant who plead­ed with me to rush him to a West­ern Union counter to wire mon­ey to release his friend or rel­a­tive from a stash house in Ari­zona and be loaded onto a van packed with migrants and point­ed east.
In Reynosa, the coy­ote took Car­los and his broth­er to a series of hous­es. ​"When they are ready to cross the riv­er, they gave me a life vest, and we start to walk. It had been rain­ing a lot, so the riv­er was very high. It was dur­ing the day, because in the night, there were oth­ers crossing."
The coy­ote led them to an inflat­able boat and asked who knew how to swim. ​"I told them I didn't, and that's what you are sup­posed to say so they don't throw you in the riv­er." The Rio Grande was swollen far into the trees on the U.S. side, and the dozen trav­el­ers, includ­ing three or four women, plus the coy­ote, had to leave the boat, which couldn't nav­i­gate through the trees, and walk through chest-high water."
Car­los brought water ​"aspirin and lemons, in case we run out of water." The coy­ote gave them food to car­ry. ​"The meals, like beans, were all cans. And a lot of bread, tortillas."
Once on dry land, with the twack of heli­copters ​"always, always," beat­ing the sky above, they walked rapid­ly, seek­ing cov­er while try­ing to evade sen­sors in the ground, cam­eras, and law enforce­ment patrols. After sev­er­al more hours, the group reached a road where ​"we met a lit­tle truck. And we drove through a nor­mal neigh­bor­hood … to a house where there were about 30 women, men, and chil­dren, not only Mex­i­cans, but also Columbians and Hondurans."
"They gave us food and a place to sleep. And some clothes and shoes, because ours were wet. You just take what­ev­er fits you." The next day, they board­ed a truck that dropped them in the desert. Spack­led with scrub and dry grass­es, dot­ted with mesquite trees, live­stock, rat­tlesnakes, and a rare ranch house, the dry land stretched beyond the horizon.
The Bor­der Patrol calls the area the Rio Grande or McAllen Region. Span­ish explor­ers had a more descrip­tive name: El Desier­to de los Muer­tos, the Desert of the Dead.
Car­los became qui­et, reached for a glass of water and stared at the table. Then, as if a switch had flipped, he began talk­ing rapidly.
"I walked for five days," he said, and when he saw me wince, added with annoy­ance at my pity, ​"That's noth­ing com­pared to peo­ple I know; 15 days, 16 days in the desert, a month. That's why peo­ple die, or they go with the wrong coy­ote, and then some­one gets tired, they just leave them there.
"I saw a woman who was exhaust­ed, and she was in our group. The coy­ote said ​'It's her or all of us.' She was in her 30s. He didn't real­ly want to leave her where no one would find her, so we went to a place where he thought the Bor­der Patrol might pass. He gave her a bot­tle of water and left her there. She said noth­ing, didn't even cry.
"Hours after we left her, we start­ed to hear foot­steps like some­one is behind us and thought it was immi­gra­tion. It was her. I can't explain it, how she did it. She was almost about to die when we left her. Some­how she came.
"After three days, we ran out of water. I remem­ber that was hor­ri­ble, and then food was get­ting scarce. I was doing fine, but my broth­er, he was the one who was very exhaust­ed, and a friend of mine, too. But we con­tin­ue and con­tin­ue. And the coy­ote, he always says, ​'We just have to get to that light.' He tries to give us hope. ​'Are you ready to make dollars?'"
"We were just exhaust­ed. I remem­ber I got dizzy a lit­tle and felt like we are walk­ing in the same way all the time.
"And then we wait­ed at the side of the road. Wait­ing and wait­ing and heli­copters are always fly­ing. And it was ter­ri­fy­ing. Then a truck shows up and quick, we all ran into it." I have nev­er seen Car­los talk so freely, so long.
"For hours, we couldn't move. And that was hor­ri­ble in the truck, all packed togeth­er. And all like this, like this." He draws him­self into a tight knot. ​"I still remem­ber a child, maybe he was 14, cry­ing. He says he just wants a lit­tle bit of water, but they can't stop. ​'No, you are almost there. Almost there.'
"And then we got to a house, and there is a guy at a table, and he is phon­ing peo­ple, say­ing, ​'Hey we got your son, your daugh­ter.' My dad sent some­one with mon­ey to pick us up. And that friend took us to an apartment."
Even­tu­al­ly through a net­work, Car­los found the con­struc­tion job and stayed in Texas for a year, until he decid­ed Ver­mont was worth a try.
"So I have been here five years," Car­los says. ​"I nev­er thought I would stay that long, but I got used to it. I like Ver­mont. The peo­ple are real­ly nice, but," he grinned, ​"the win­ter, not so much."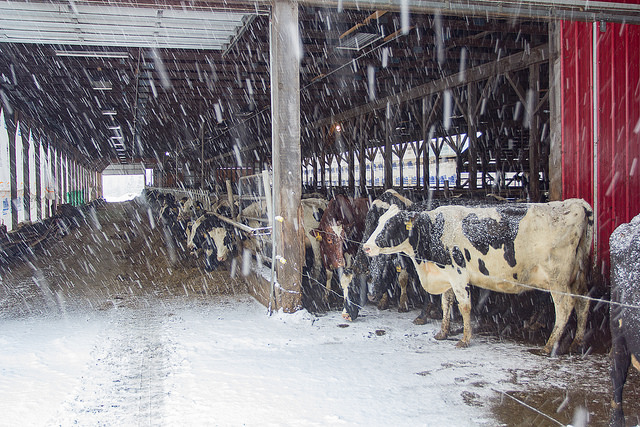 Win­ter on a dairy farm. (Pho­to: Ter­ry J. Allen)
This sto­ry was based on con­ver­sa­tions in Span­ish and Eng­lish, and one inter­view aid­ed by a bilin­gual inter­preter. Some names have been changed, and quotes have been edit­ed for clarity.
A short­er ver­sion of this arti­cle—​"My Undoc­u­ment­ed Friend: Car­los Does the Work Few in Ver­mont Want To Do"—was print­ed in The Guardian.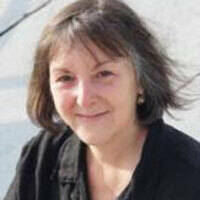 Ter­ry J. Allen
is a vet­er­an inves­tiga­tive reporter/​editor who has cov­ered local and inter­na­tion­al pol­i­tics and health and sci­ence issues. Her work has appeared in the
Guardian, Boston Globe, Times Argus, Harper's
, the Nation​.com, Salon​.com, and
New Sci­en­tist
. She has been an edi­tor at Amnesty Inter­na­tion­al,
In These Times
, and Cor​p​watch​.com. She is also a pho­tog­ra­ph­er. Her por­traits of peo­ple sit­ting in some of the
1900
cars lined up out­side a New­port, Vt., food drop can be seen on www​.flickr​.com/​p​h​o​t​o​s​/​t​e​r​r​y​a​l​l​e​n​/​a​lbums. Ter­ry can be con­tact­ed at tallen@​igc.​org or through www​.ter​ry​jallen​.com.