Tear Gas and Pepper Spray Can Be Deadly, But the U.S. Won't Regulate Police Use
Despite widespread use, chemical agents sold for police purposes aren't monitored by any federal agency.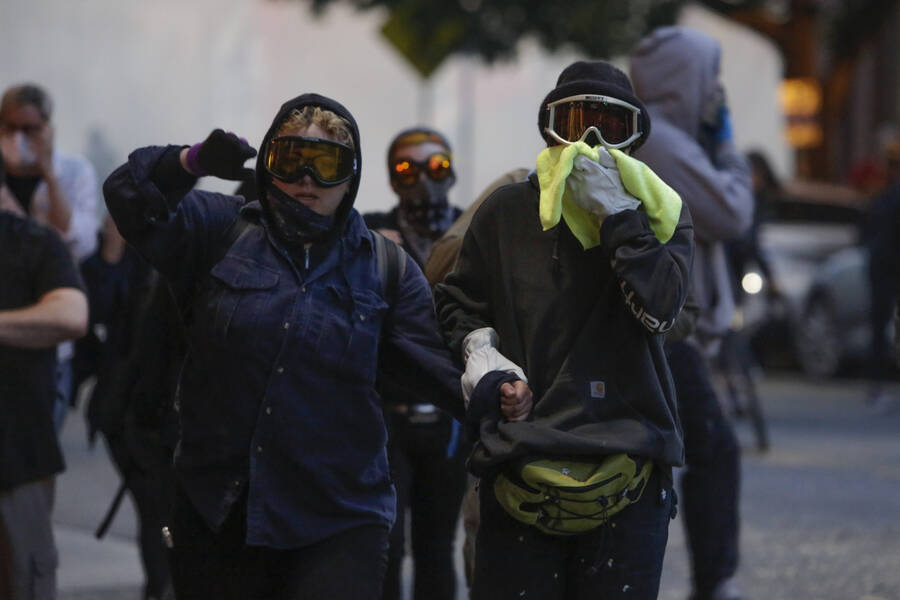 This arti­cle was orig­i­nal­ly pub­lished by In These Times on April 3, 2000. Although this inves­ti­ga­tion was writ­ten 20 years ago, police and oth­er law enforce­ment con­tin­ue to use and mis­use pep­per and tear gasses on peace­ful pro­test­ers in vio­la­tion of man­u­fac­tur­ers' reg­u­la­tions and inter­na­tion­al treaties. Sup­port for this arti­cle was pro­vid­ed by the Fund for Con­sti­tu­tion­al Government.
"They all spin the data," adds one federal official. "One manufacturer will say the other's is toxic, but mine is just fine."
The tons of tear gas and pep­per spray muni­tions Seat­tle police used on demon­stra­tors and bystanders alike at the anti-WTO demon­stra­tions last Decem­ber con­tained chem­i­cals impli­cat­ed in lung prob­lems, eye dam­age and even death. Con­trary to con­ven­tion­al wis­dom, the effects of these chem­i­cal weapons are not always con­fined to 15 or so min­utes of intense pain and inca­pac­i­ta­tion. Accord­ing to man­u­fac­tur­ers' doc­u­ments, mil­i­tary research and med­ical lit­er­a­ture, each of these agents car­ries short- and long-term health risks; var­i­ous for­mu­la­tions con­tain poten­tial carcinogens.
Tear gas and pep­per spray cause health prob­lems even when used with­in guide­lines on healthy peo­ple. But in Seat­tle, as else­where, law enforce­ment vio­lat­ed man­u­fac­tur­ers' warn­ings and inevitably sprayed vul­ner­a­ble pop­u­la­tions such as peo­ple with dia­betes, asth­ma, aller­gies or heart prob­lems, as well as preg­nant women, chil­dren and the elder­ly. ​"It was like a war zone," says Rus­sell Sparks, a stu­dent from Belling­ham, Wash­ing­ton, who helped block a Seat­tle inter­sec­tion on Decem­ber 1. ​"The police rolled up in humvees, and I heard the clink, clink of cops jog­ging toward us. With­in sec­onds the area was filled with gas and the air was pure white all around. I coughed and coughed. I felt like I was on fire, my friend and I both became hys­ter­i­cal. He fell down. A mid­dle-aged man near me passed out, eyes open, shak­ing, dry heav­ing, twitch­ing in the shoul­ders. A woman passed out face down. I tried to help but my eyes were burn­ing and I was scream­ing for med­ical help."
Three days lat­er, Sparks still felt ​"seri­ous flu symp­toms, phlegmy, tired, fatigued, prob­lems with eyes focus­ing, burn­ing, slight­ly nau­seous. I felt like it went into every pore." He was­n't alone. The per­sis­tence and sever­i­ty of symp­toms wide­ly report­ed by demon­stra­tors and hap­less bystanders gave rise to spec­u­la­tion that some ​"mys­tery gas" had been used. Rumors of nerve gas spread like a tox­ic cloud across the Internet.
The truth is that tear gas and pep­per spray alone can cause tem­po­rary blind­ness, res­pi­ra­to­ry prob­lems, vom­it­ing, diar­rhea, fatigue and dis­ori­en­ta­tion. Symp­toms may linger for days in oth­er­wise healthy indi­vid­u­als. Out of 187 North Car­oli­na cor­rec­tions offi­cers exposed to pep­per spray under con­trolled con­di­tions for train­ing pur­pos­es, accord­ing to Duke Uni­ver­si­ty Med­ical Cen­ter study, eight had symp­toms per­sist­ing for more than a week, includ­ing eye prob­lems, chest prob­lems, headaches and disorientation.
More seri­ous­ly, reports by the Army and in pres­ti­gious med­ical jour­nals have warned of res­pi­ra­to­ry arrest, pul­monary ede­ma, and acute ele­va­tions in blood pres­sure asso­ci­at­ed with risk of stroke and heart attack. Mil­i­tary and indus­tri­al sources also point to the pos­si­bil­i­ty of can­cer, birth defects and DNA dam­age from these chem­i­cal weapons.
While tear gas and pep­per spray are banned from use in war by an inter­na­tion­al treaty, domes­tic use is legal and near­ly ubiq­ui­tous in the Unit­ed States. The advan­tages of these ​"non-lethal" tech­nolo­gies, police say, include few­er deaths and seri­ous injuries to offi­cers and sus­pects, a more benign image for depart­ments and less lit­i­ga­tion. Cur­rent­ly, more than 90 per­cent of the coun­try's police depart­ments issue pep­per spray to their offi­cers, accord­ing to the Jus­tice Depart­ment, and many depart­ments store tear gas for use in crowd con­trol or riot situations.
Despite wide­spread use, none of the agents sold for police pur­pos­es is mon­i­tored, test­ed or reg­u­lat­ed by any gov­ern­ment agency for con­sis­ten­cy, puri­ty, tox­i­c­i­ty or even effi­ca­cy. Dr. Howard Hu, a Har­vard Uni­ver­si­ty epi­demi­ol­o­gist, says that the extent of ill effects from these chem­i­cals is unknow­able since there have been no rig­or­ous, inde­pen­dent fol­low-up stud­ies on exposed pop­u­la­tions. Lit­tle has changed since 1989, when Hu wrote in the Jour­nal of the Amer­i­can Med­ical Asso­ci­a­tion, ​"There is an ongo­ing need for inves­ti­ga­tion into the full tox­i­co­log­i­cal poten­tial of tear gas chem­i­cals and renewed debate on whether their use can be con­doned under any circumstances."
Because they are treat­ed as weapons, police-grade prod­ucts ​"fall between reg­u­la­to­ry cracks," says Ray­mond Downs, pro­gram man­ag­er in sci­ence and tech­nol­o­gy at the Nation­al Insti­tute for Jus­tice. ​"Police are at the mer­cy of man­u­fac­tur­ers," Downs adds, in that they have to rely sole­ly on mak­ers' claims for the safe­ty of the chem­i­cal weapons them­selves and for the wide vari­ety of sol­vents and pro­pel­lants rou­tine­ly added to turn the active ingre­di­ents into aerosols.
Those claims may not be all that reli­able. In a 1995 report, the Army warned that ​"man­u­fac­tur­er lit­er­a­ture … is often mis­lead­ing, incom­plete or inac­cu­rate," and in some cas­es ​"man­u­fac­tur­ers refuse to dis­close the com­po­nents of [their] prod­ucts." Indeed, Def-Tec, one of the coun­try's largest sup­pli­ers, declines to release infor­ma­tion on con­cen­tra­tion of pep­per and tear­ing chem­i­cals in its dozen prod­ucts deployed in Seat­tle. It also won't dis­close which sol­vents or pro­pel­lants were incor­po­rat­ed, except to refer to three gener­ic prod­uct-safe­ty data sheets that the Seat­tle police are required by law to release.
When it comes to health aspects of any of the chem­i­cal weapons, used either singly or in com­bi­na­tion, Downs notes, ​"there is almost no inde­pen­dent research going on." ​"They all spin the data," adds one fed­er­al offi­cial. ​"One man­u­fac­tur­er will say the oth­er's is tox­ic, but mine is just fine."
Zarc Inter­na­tion­al, which makes only pep­per spray prod­ucts, charges in its lit­er­a­ture that the tear gas­es its com­peti­tors make pro­mote can­cer and cause aller­gic reac­tion and eye injuries. Def-Tec, a divi­sion of Armor Hold­ings, which man­u­fac­tures both pep­per spray and tear gas, denies any safe­ty prob­lems. ​"We know of tens of thou­sands of times that these have been deployed with­out any inci­dent," says Dave Dubay, direc­tor of research for the Casper, Wyoming-based company.
It is not just man­u­fac­tur­ers' data that have been called into ques­tion, but also the fed­er­al gov­ern­men­t's. After the FBI endorsed pep­per spray in 1987 as an ​"offi­cial chem­i­cal agent," it was added to the arse­nals of most police agen­cies and large­ly replaced tear gas. At the FBI, the John­ny Apple­seed of pep­per spray was spe­cial agent Thomas Ward, direc­tor of the Quan­ti­co Firearms Train­ing Unit and the bureau's chief expert on pep­per spray. Ward, who super­vised, approved and guar­an­teed the chem­i­cal weapon's qual­i­ty and safe­ty for the FBI, also wrote the main bureau study cit­ed by law enforce­ment agen­cies to defend its use. He pro­mot­ed pep­per spray in a wide­ly dis­sem­i­nat­ed offi­cial FBI train­ing infomer­cial. Then, in Feb­ru­ary 1996, Ward pled guilty to a felony for accept­ing a $57,500 kick­back from Luck­ey Police Prod­ucts, the coun­try's sec­ond largest man­u­fac­tur­er of pep­per spray, whose weapons Ward had tout­ed as an FBI train­er as far back as the mid-'80s.
While police rely on man­u­fac­tur­ers for safe­ty assur­ances, the pub­lic relies on police to define when use of chem­i­cals weapons is a safe, appro­pri­ate response. The Inter­na­tion­al Asso­ci­a­tion of Chiefs of Police issues ​"use of force" rec­om­men­da­tions for var­i­ous weapons, but indi­vid­ual depart­ments around the coun­try set their own guide­lines and enforce them with vary­ing degrees of rigor.
Seat­tle police, for exam­ple, are autho­rized to use chem­i­cal weapons against peo­ple engaged in peace­ful civ­il dis­obe­di­ence. Boston police can only use pep­per spray in self-defense against a vio­lent phys­i­cal assault or when an offi­cer try­ing to make an arrest is in dan­ger of being injured or los­ing cus­tody of the sus­pect. In the case of pas­sive resis­tance, says Gary Eblan, defen­sive tac­tics instruc­tor at the Boston Police Acad­e­my, ​"We would have four offi­cers lift and take the sub­ject to a hold­ing area or wag­on." Wash­ing­ton, D.C. may face crowd con­trol sit­u­a­tions sim­i­lar to those in Seat­tle when demon­stra­tors descend on the nation's cap­i­tal in April for meet­ings of the IMF and World Bank. The Met­ro­pol­i­tan Police Depart­ment is train­ing 1,400 offi­cers for crowd con­trol and stock­ing up on chem­i­cal weapons and rub­ber bul­lets. Plan­ning is under­way to coor­di­nate response with sev­er­al fed­er­al agen­cies, includ­ing the FBI, U.S. Park Police, U.S. Capi­tol Police, Secret Ser­vice, U.S. Mar­shals and Fed­er­al Emer­gency Man­age­ment Agency. The Metro Police Depart­ment refused to release its writ­ten guide­lines for ​"use of force."
Police guide­lines and man­u­fac­tur­ers' stan­dards inevitably van­ish in thick air under real life con­di­tions. When deploy­ing chem­i­cal weapons on crowds, police have no prac­ti­cal way to mon­i­tor those sprayed, to screen out peo­ple with risk fac­tors, or to avoid bystanders. Nor can they quick­ly decon­t­a­m­i­nate those affect­ed. ​"Respon­si­ble police have a say­ing: ​'When you spray them, you own them,' " Downs says. ​"There is a require­ment for after­care. You need to make sure if they need med­ical atten­tion, they get it. In the mil­i­tary, if a few limp away, we may not care. In the civil­ian world, after­care is essential."
Man­u­fac­tur­ers also warn against deploy­ing chem­i­cal weapons in closed spaces – a warn­ing noto­ri­ous­ly vio­lat­ed, with fatal con­se­quences, by U.S. law enforce­ment in the Waco, Texas siege of the Branch David­i­ans. The Amer­i­can Civ­il Lib­er­ties Union and oth­er groups have doc­u­ment­ed numer­ous instances in which pep­per spray was used by police as a form of ​"street jus­tice" to mete out pain and pun­ish unruly or uppi­ty sus­pects after they already had been sub­dued. U.S. prison guards rou­tine­ly use chem­i­cal weapons to per­form ​"cell extractions."
Exces­sive expo­sure — both acci­den­tal and inten­tion­al — is anoth­er prob­lem. An inter­nal report by Def-Tec cau­tions that more than a sin­gle, one-sec­ond burst of pep­per spray ​"obvi­ous­ly would be an over­ex­po­sure, which may cause added health risks." And man­u­fac­tur­ers rec­om­mend that police hold the spray at least sev­er­al feet from a sub­jec­t's face to avoid eye damage.
Yet video­tape clear­ly shows instances in Seat­tle in which police held aerosol cans with­in inch­es of the faces of seat­ed pro­test­ers and sprayed them repeat­ed­ly or in long bursts. ​"My impres­sion was that most Seat­tle police offi­cers han­dled them­selves with some restraint, but some did­n't," says Lar­ry Gos­sett, a mem­ber of the King Coun­ty Coun­cil. ​"We got too many reports from peo­ple han­dled in a bru­tal way for all of them to be false."
An addi­tion­al risk in sit­u­a­tions such as Seat­tle – where police admit­ted spray­ing crowds with mul­ti­ple chem­i­cals — is that ​"there has been no research on the syn­er­gis­tic effects," Downs says. Mary­land-based Zarc Inter­na­tion­al charges that ​"mix­ing [pep­per spray] and oth­er chem­i­cal agents such as [tear gas] … can prove to be harm­ful or even fatal in real-life sit­u­a­tions." The prob­a­bil­i­ty of adverse side effects is only exac­er­bat­ed by the addi­tion of sol­vents and pro­pel­lants — some of which are them­selves tox­ic or car­cino­genic to the active ingre­di­ents to turn them into effec­tive aerosol weapons.
Despite the dan­gers and draw­backs of tear gas and pep­per spray, most crit­ics are care­ful to dif­fer­en­ti­ate between one-on-one use by a dis­ci­plined, trained offi­cer who is phys­i­cal­ly threat­ened and wide dis­per­sal on large and var­ied crowd of gen­er­al­ly peace­ful pro­test­ers. When judi­cious­ly used, chem­i­cal agents can imme­di­ate­ly inca­pac­i­tate a bel­liger­ent sus­pect with far less risk of per­ma­nent or seri­ous dam­age than a bul­let or a baton blow. ​"If an offi­cer is faced with a sit­u­a­tion in which his life is at stake, it makes sense to respond in a way that will leave both peo­ple alive," says Lew Pep­per, a physi­cian at the Boston Uni­ver­si­ty School of Pub­lic Health. ​"But there is no jus­ti­fi­ca­tion for use of tox­ic and poten­tial­ly can­cer-caus­ing agents for crowd con­trol for civ­il dis­obe­di­ence. There are bet­ter ways to deal with polit­i­cal speech."
There are also bet­ter ways to serve and pro­tect the pub­lic than to deploy inad­e­quate­ly test­ed, unreg­u­lat­ed chem­i­cal weapons. Unless there is inde­pen­dent research estab­lish­ing that these weapons are rea­son­ably safe, and until there is cred­i­ble over­sight of police prac­tices and man­u­fac­tur­ers' claims, the pub­lic has no way to assess how much risk it is accept­ing in the name of law and order.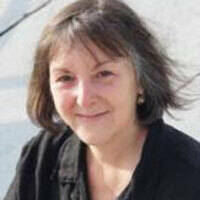 Ter­ry J. Allen
is a vet­er­an inves­tiga­tive reporter/​editor who has cov­ered local and inter­na­tion­al pol­i­tics and health and sci­ence issues. Her work has appeared in the
Guardian, Boston Globe, Times Argus, Harper's
, the Nation​.com, Salon​.com, and
New Sci­en­tist
. She has been an edi­tor at Amnesty Inter­na­tion­al,
In These Times
, and Cor​p​watch​.com. She is also a pho­tog­ra­ph­er. Her por­traits of peo­ple sit­ting in some of the
1900
cars lined up out­side a New­port, Vt., food drop can be seen on www​.flickr​.com/​p​h​o​t​o​s​/​t​e​r​r​y​a​l​l​e​n​/​a​lbums. Ter­ry can be con­tact­ed at tallen@​igc.​org or through www​.ter​ry​jallen​.com.