Don­ald Trump held a pri­vate par­ty dis­guised as cam­paign event on Jan­u­ary 7 in a 1,400-seat the­ater in in Burling­ton, Vt. Sit­ting in the audi­ence was like watch­ing blood dry — a con­ver­gence of the com­pelling­ly grotesque and the mind-numb­ing­ly bor­ing. Grotesque, I had expect­ed, but hav­ing seen clips of Trump, I antic­i­pat­ed being enter­tained by his clown­ish brag­gado­cio and fact-chal­lenged hyperbole.
On the rare occasions Donald Trump referred to actual policy or politics, he created an alternative universe in which he held, or deserved, the starring role.
No such luck. The ram­bling, dis­joint­ed speech he bur­bled in the heart of Bernie's base was a exer­cise in dull, smug nar­cis­sism. Like a kit­ten dis­tract­ed by a shiny object, Trump ram­bled from point to point. His only uni­fy­ing themes were bul­ly­ing, bull­shit and boast. The bul­ly­ing was aimed at peo­ple either too polit­i­cal­ly weak (refugees and immi­grants) or too dis­tant to counter his weak-wrist­ed slaps (every oth­er can­di­date — none of whom could match to his exem­plary stan­dards of deal mak­ing, intel­li­gence, courage, wealth, and charm).
But for his fans, the ver­bal efflu­via fer­til­ized their enthu­si­asm. And the boasts, a sim­u­lacrum of sub­stance, formed the core of the talk. On video, the brag­ging seems amus­ing­ly ridicu­lous, but in per­son, mouthed by an actu­al human, it is strange­ly child­ish, sad, and bare­ly coher­ent — like lis­ten­ing to lone­ly, beer sod­den frat boys declare their drink­ing and sex­u­al prowess.
Wav­ing his arms like a stoned dis­cus hurler, Trump referred end­less­ly to him­self. He declared, with mock amaze­ment that peo­ple called him ​"plain­spo­ken." But I went to an Ivy League School, Whar­ton, and have the most exten­sive vocab­u­lary of any can­di­date. Maybe plain­spo­ken is a com­pli­ment, he pon­dered. He went on to prove the point by pat­ting him­self on the back for nail­ing his rivals, all of them, with just the per­fect word: ​"stu­pid." He also crowed that he had the high­est IQ of any candidate.
The crowd swal­lowed the red meat and spit out the facts. One attendee said she loved Trump because he rep­re­sent­ed the idea that any­one who works hard can get rich — not just peo­ple who are giv­en things for noth­ing or — cre­at­ing her own irony-free zone — get $1 mil­lion hand­ed to them. (That exact sum, which Trump described as ​"a small loan" from his father, was Trump's start-up mon­ey, lat­er enhanced by a $40 mil­lion inher­i­tance.) What did she think of the fact that the great­est pre­dic­tor of wealth in Amer­i­ca is parental wealth? ​"I dis­agree," she replied.
On the rare occa­sions Trump referred to actu­al pol­i­cy or pol­i­tics, he cre­at­ed an alter­na­tive uni­verse in which he held, or deserved, the star­ring role. The Iran deal was a nego­ti­at­ing dis­as­ter — Oba­ma is the worst nego­tia­tor in the world, he declared — because Amer­i­ca paid bil­lions to Iran to sign. (The deal most­ly freed Iran's own frozen assets.) He would have solved the Iran nego­ti­a­tions by walk­ing out of the room until the intim­i­dat­ed Ira­ni­ans caved.
Mis­in­for­ma­tion, decep­tion and lies marked the plan­ning and exe­cu­tion of the event as well as the con­tent. The cam­paign appar­ent­ly feared oppo­nents and Bernie sup­port­ers might pack the room or get tick­ets and boy­cott the show, leav­ing an embar­rass­ing­ly emp­ty hall. So to ensure an ade­quate selec­tion of true-believ­ers, Trump issued 20,000 online tick­ets— for a 1,400-seat venue. The expo­nen­tial over­book­ing cre­at­ed a pre-event line that stretched for blocks. At the the­ater door, Trump's min­ions screened the tick­et hold­ers and turned away any­one who admit­ted not being a sup­port­er or even being undecided.
The ruse not only dissed his own fol­low­ers, who had stood for hours in the cold, but risked spark­ing pub­lic dis­or­der. After word came out regard­ing its mas­sive tick­et dump, the Trump camp ​"stopped return­ing the department's calls," said annoyed Burling­ton Police Chief Bran­don del Pozo.
A secret ser­vice offi­cer reg­u­lar­ly detailed to cam­paign events across the coun­try said he had nev­er seen or heard of such overbooking.
The city of Burling­ton, less than thrilled by Trump's high hand­ed­ness and dis­re­gard for pub­lic safe­ty, also lament­ed the cost to tax­pay­ers of deal­ing with the cir­cus. A spokesper­son said the cam­paign will get a bill for the mess, but since, as Trump boasts, he runs a self-fund­ed van­i­ty cam­paign, the bill will go straight to The Don­ald — and pre­sum­ably The Trash Bin.
Nor was the theater's exec­u­tive direc­tor delight­ed. He had been promised a no-sign event only to have Trump peo­ple dis­trib­ute stacks of cam­paign signs inside the ele­gant old hall. ​"They lied to us," he told VtDig​ger​.com, shak­ing his head, telling an assis­tant to not both­er to try to take them back.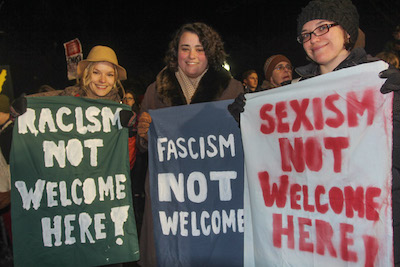 Amer­i­can Fed­er­a­tion of Teach­ers mem­bers protest out­side the Burling­ton, Vt., the­ater at which Trump was speak­ing. (Pho­to Ter­ry J. Allen)
Mean­while hun­dreds of pro­test­ers, includ­ing sev­er­al state politi­cians, filled the street oppo­site the the­ater to chant, play music, and ral­ly the anti-Trump and pro-Bernie forces. Anger at Trump's fas­cism, racism, misog­y­ny, and anti-immi­grant and refugees attacks was blend­ed with humor. One group, in Star Wars storm troop­er garb, held aloft a large sign pro­claim­ing ​"The Dark Side for Trump." The Koun­try Kart Deli, adja­cent to the the­ater, offered a Don­ald Trump sand­wich: Bologna on white bread, ​"filled with B.S. (bacon slices)."
As the evening wore on the hun­dreds of pro­test­ers out­side were joined by the few who had made it inside, raised a ruckus, and were eject­ed by Trump goons. In his speech, after claim­ing he loved the 1st amend­ment as much as the 2nd, Trump informed the audi­ence that this was a pri­vate event because he had bought and paid for the space, and pro­test­ers were not wel­come. If any­one dis­rupts, he told the atten­dees, drown them by chant­i­ng ​"Trump" until secu­ri­ty can dis­pose of them. Scat­tered out­burst did indeed punc­tu­ate the talk, and while Trump at first declared him­self amused, he soon turned vin­dic­tive. Throw them out, he ordered of one dis­rup­tor, but ​"con­fis­cate" his coat.
Media were sup­posed to be rel­e­gat­ed to the very back of the hall and were advised to bring exten­ders for their cam­eras. Since I lacked a mas­sive lens or a lik­ing for fol­low­ing orders, I just took a seat up front. The bet­ter to bask in Trump's gold­en glow and see the show from the crowd's perspective.
But in the end it was poor enter­tain­ment and even poor­er pol­i­tics. More bored than out­raged, I left before the sad spec­ta­cle end­ed and joined the com­pan­ion­able assem­bly gath­ered outside.