Our Food System Is Built on Exploitation. Now Farmworkers Are Saying "No More."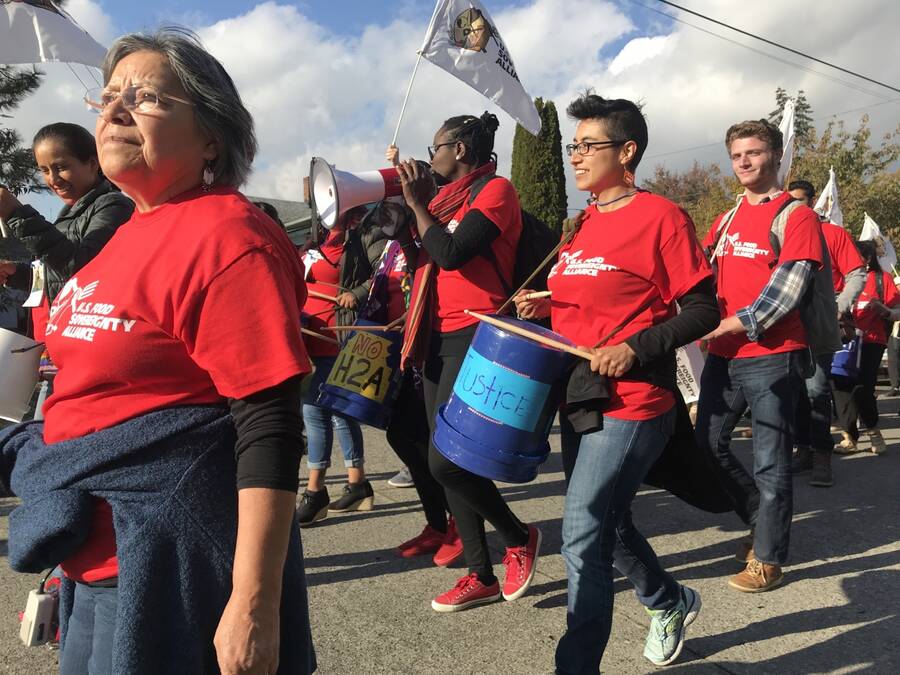 For Ros­alin­da Guil­lén, every­thing begins with food — and that means pay­ing close atten­tion to the treat­ment of work­ers at the foun­da­tion of the food system.
Stand­ing recent­ly on the steps of city hall in Belling­ham, Wash­ing­ton, Guil­lén urged local law­mak­ers to defend the rights of undoc­u­ment­ed farm­work­ers liv­ing and work­ing in What­com Coun­ty, home to 1,702 farms sprawled over more than 115,000 acres.
"In this city, that claims to be a lib­er­al city, there is ram­pant racial pro­fil­ing," Guillen, exec­u­tive direc­tor of the food and migrant jus­tice orga­ni­za­tion Com­mu­ni­ty to Com­mu­ni­ty Devel­op­ment (C2C) based in Belling­ham, said into a mega­phone. She slammed a pat­tern of ​"arbi­trary" deten­tion and depor­ta­tion and ​"clear coop­er­a­tion" between local law enforce­ment and fed­er­al immi­gra­tion authorities.
Since ear­ly 2017, Guillen and oth­er local activists have held week­ly protests to urge city coun­cil to pass a sanc­tu­ary city ordi­nance to help pro­tect undoc­u­ment­ed res­i­dents from depor­ta­tion. In August, Immi­gra­tion and Cus­toms Enforce­ment detained at least 16 peo­ple in Belling­ham — local rights groups claim the num­ber was near­ly 30—fuel­ing calls for a sanc­tu­ary policy.
In the 88th week of C2C's ​"Dig­ni­ty Vig­ils" call­ing for coun­cilors to make Belling­ham a sanc­tu­ary city, more than 100 rep­re­sen­ta­tives of food and cli­mate jus­tice groups from across the Unit­ed States and a hand­ful of inter­na­tion­al activists — all gath­ered for the nation­al assem­bly of the U.S. Food Sov­er­eign­ty Alliance — joined the protest. Local orga­niz­ers in Belling­ham, tak­ing the lead from farm­work­ers, draw a clear con­nec­tion between migrant jus­tice and food sov­er­eign­ty. For them, as long as the peo­ple work­ing clos­est to food's roots as farm­work­ers are mis­treat­ed, includ­ing earn­ing wages that don't even allow them to put meals on their own tables, there's no way to have dig­ni­fied or just food choic­es up the food sup­ply chain.
"Every­body has to eat," Anto­nio Tovar, inter­im gen­er­al sec­re­tary of the Farm­work­er Asso­ci­a­tion of Flori­da, said to In These Times, under­lin­ing the ​"para­dox" that farm­work­ers often can­not access healthy food. ​"When the deci­sion about what to eat isn't yours, you have no way to be free."
"Tired of exploitation"
Undoc­u­ment­ed farm­work­ers in the Belling­ham area have won his­toric labor vic­to­ries in recent years. In 2013, farm­work­ers formed a union, Famil­ias Unidas por la Jus­ti­cia, to fight for bet­ter work­ing con­di­tions at Saku­ma Broth­ers Farm in Burling­ton, Wash­ing­ton. After near­ly four years of walk­outs and boy­cotts, the union secured a land­mark con­tract guar­an­tee­ing berry har­vesters a min­i­mum hourly rate of $15. In the process, the union also won paid 10 minute breaks for piece­work farm­work­ers through a law­suit against Saku­ma in Washington's Supreme Court.
Ben­i­to, a found­ing mem­ber of Famil­ias Unidas and part of its lead­er­ship com­mit­tee, said he now earns about dou­ble the pay for the same work — 10 to 12 hour days, sev­en days a week — as a result of union orga­niz­ing. ​"Many work rules are chang­ing," he told In These Times.
The union also suc­cess­ful­ly blocked Sakuma's appli­ca­tion to bring farm­work­ers through the H‑2A Tem­po­rary Agri­cul­tur­al Work­ers visa pro­gram by col­lect­ing farm­work­ers' sig­na­tures to dis­prove the company's claims of labor short­ages in and around Wash­ing­ton state, Ramón Tor­res, pres­i­dent of Famil­ias Unidas, told In These Times. He argued that the fact that migrants with H‑2A visas aren't well informed of their rights enables employ­ers to ​"enslave" work­ers. ​"The oth­er thing is that they use [H‑2A] to break our union, strikes, or move­ments," Tor­res added.
Build­ing on the union's suc­cess, Tor­res and three oth­er mem­bers of Famil­ias Unidas launched a farm­work­er-owned coop­er­a­tive last year with a vision of cre­at­ing bet­ter work­ing con­di­tions, auton­o­my, and ade­quate access to healthy food for farmworkers.
"We have to go ask for [food] stamps. We have to go to food banks. And it's not just," Tor­res said. ​"A farm­work­er who picks water­mel­ons in the end can't buy the water­mel­on because he doesn't earn a fair salary to afford it."
At the Belling­ham Food Bank, project coor­di­na­tor Max Mor­ange told In These Times that farm­work­ers are among the Food Bank's clients, though the orga­ni­za­tion does not col­lect any demo­graph­ic data. And although iden­ti­fi­ca­tion is not required and indi­vid­u­als can access the food bank regard­less of immi­gra­tion sta­tus, Mor­ange said he has observed a cor­re­la­tion between ​"fear and uncer­tain­ty" fueled by immi­gra­tion enforce­ment in the com­mu­ni­ty and who he sees walk through the food bank doors.
The Food Bank and oth­er local part­ners are look­ing to bet­ter sup­port the undoc­u­ment­ed com­mu­ni­ty through out­reach ini­tia­tives, while the Food Bank strives to become a ​"known safe place" for his­tor­i­cal­ly mar­gin­al­ized com­mu­ni­ties, Mor­ange said.
For Tor­res, Famil­ias Unidas' work­er-owned coop­er­a­tive, called Tier­ra y Lib­er­tad, is a first step toward tack­ling farm­work­er food inse­cu­ri­ty at the root. Pro­tect­ing farm­work­ers from expo­sure to tox­ic pes­ti­cides by plant­i­ng organ­ic crops and keep­ing chil­dren study­ing instead of toil­ing in the fields at young ages are also big moti­vat­ing fac­tors, he said.
Tier­ra y Lib­er­tad already grows four acres of organ­ic straw­ber­ries and 20 acres of blue­ber­ries on rent­ed fields, and the coop­er­a­tive is look­ing to pur­chase farm­land to increase work­ers' con­trol over pro­duc­tion. Accord­ing to Tor­res, the long-term goal is to cre­ate a net­work of coop­er­a­tives that fos­ter mutu­al sup­port among farm­work­ers and show that work­er-owned alter­na­tives are possible.
"Every­thing we are doing is to help farm­work­ers," Tor­res said. ​"We're tired of so much exploitation."
"Every­thing cir­cles around food"
For Guillen, a sea­soned farm­work­er rights orga­niz­er who began work­ing in the fields in Washington's Skag­it Coun­ty at the age of 10, achiev­ing food sov­er­eign­ty in the U.S. would mean being able to sit down to eat know­ing that nei­ther human beings nor the envi­ron­ment suf­fered to pro­duce the food on the plate. ​"Every­thing cir­cles around food, and what peo­ple eat, and how food is pro­duced, and how food is gov­erned, and what poli­cies are set in the pro­duc­tion and mar­ket­ing of food," she said to the crowd out­side Belling­ham city hall.
The U.S. Food Sov­er­eign­ty Alliance (USF­SA), a coali­tion of nation­al, region­al, and local food, cli­mate and immi­grant jus­tice groups from across the Unit­ed States, is also mak­ing the link between food and farm­work­er rights. At its nation­al assem­bly in Belling­ham from Octo­ber 12 through 15, the USF­SA iden­ti­fied farm­work­er rights as a top con­cern along with oth­er pri­or­i­ties such as agroe­col­o­gy, land and water rights, polit­i­cal edu­ca­tion, as well as region­al issues like fac­to­ry farms — known as con­cen­trat­ed ani­mal feed­ing oper­a­tions (CAFOs) — in the midwest.
The con­cept of food sov­er­eign­ty express­es the right of peo­ples and com­mu­ni­ties to self-deter­mine how food is pro­duced, dis­trib­uted, and con­sumed. The move­ment for food sov­er­eign­ty pro­pos­es small-scale, sus­tain­able agri­cul­ture as the solu­tion to food and cli­mate crises, and calls for trans­form­ing the food sys­tem by putting deci­sion-mak­ing con­trol in the hands of peo­ple who pro­duce food.
The inter­na­tion­al social move­ment La Via Campesina, rep­re­sent­ing mil­lions of peas­ants and small­hold­er farm­ers around the world, for­mal­ized and pop­u­lar­ized the term as an alter­na­tive to mar­ket-based approach­es, such as food secu­ri­ty, that fail to see hunger as a struc­tur­al prob­lem stem­ming from food being made a commodity.
The Farm­work­er Asso­ci­a­tion of Flori­da is putting the food sov­er­eign­ty vision into action through Campesino Gar­dens — com­mu­ni­ty gar­dens focused on pro­vid­ing for local farm­work­ers — where fam­i­lies can grow and har­vest healthy food. Farm­work­ers and their fam­i­lies tend to the gar­dens in their spare time after a long week in the fields, and oth­er vol­un­teers, such as stu­dents, pro­vide extra support.
Unlike the pes­ti­cide-inten­sive crops many farm­work­ers pro­duce, the Campesino Gar­dens grow food using sus­tain­able, agroe­co­log­i­cal prac­tices. A grow­ing body of sci­en­tif­ic research links pes­ti­cides to chron­ic health prob­lems, and the World Health Orga­ni­za­tion has stat­ed that the key ingre­di­ent in Monsanto's RoundUp her­bi­cide ​"prob­a­bly" caus­es can­cer. The Farm­work­er Asso­ci­a­tion of Flori­da has been orga­niz­ing for years to pro­tect farm­work­ers from pes­ti­cide expo­sure, and the Campesino Gar­dens are a small step toward build­ing an alternative.
"What we would like to see at least is that each fam­i­ly can pro­duce enough food to feed them­selves for a good part of the year," Tovar of the Farm­work­er Asso­ci­a­tion of Flori­da explained. He not­ed that farm­ing sea­sons also impact access to fresh food, adding: ​"We need to find a way to make our com­mu­ni­ties sov­er­eign by look­ing for alter­na­tive chan­nels of distribution."
Far­ther up the food sup­ply chain, the trend of food inse­cu­ri­ty among food work­ers con­tin­ues in the restau­rant indus­try. For Jonathan Roberts, a mem­ber of the Detroit Food Pol­i­cy Coun­cil who has orga­nized restau­rant work­ers, the prob­lem under­lines why inte­grat­ing labor con­cerns into con­ver­sa­tions about food is essential.
"We mys­ti­fy the rela­tion­ship between peo­ple and food. Food doesn't exist with­out agri­cul­tur­al labor; it doesn't exist with­out serv­ing and pro­cess­ing and trans­porta­tion," he told In These Times, stress­ing that food sov­er­eign­ty is a use­ful polit­i­cal frame­work since it shines a light on where food comes from and how it is produced.
"Food sov­er­eign­ty can't exist when we have over­pro­duc­tion and at the same time food work­ers — like servers and bar­tenders and cooks — who can't even afford the food that they are prepar­ing and serv­ing to cus­tomers," Roberts added. ​"That con­tra­dic­tion in and of itself is enough to think about why food sov­er­eign­ty demands a labor analysis."
"Being able to feed ourselves"
The prob­lems that food sov­er­eign­ty aims to solve aren't lim­it­ed to agri­cul­ture. Accord­ing to Niaz Dor­ry, direc­tor of the North­west Atlantic Marine Alliance (NAMA) and the Nation­al Fam­i­ly Farm Coali­tion (NFFC), indus­tri­al fish­ing pos­es sim­i­lar chal­lenges to fish­work­ers and tra­di­tion­al­ly fish­ing com­mu­ni­ties as indus­tri­al agri­cul­ture does to farm­work­ers and farm­ers, includ­ing food insecurity.
"There are peo­ple who fish and peo­ple who farm who for all intents and pur­pos­es are own­ers of their busi­ness­es and they can't afford to eat their own food," she said, reflect­ing on sto­ries heard dur­ing recent vis­its to fish­ing and farm­ing com­mu­ni­ties across the coun­try as part of the Amer­i­ca the Boun­ti­ful tour, a joint project between the NAMA and the Nation­al Fam­i­ly Farm Coalition.
Accord­ing to NAMA, fish­eries are fol­low­ing in the foot­steps of indus­tri­al agri­cul­ture in becom­ing a more cor­po­rate and extrac­tive indus­try. But orga­niz­ers are also tak­ing cues from his­toric farm­work­er strug­gles to fight for food and work­er jus­tice in fish­eries, too. The coali­tion Pes­can­do Jus­ti­cia, for exam­ple, an ini­tia­tive of the Cen­tro Comu­ni­tario de Tra­ba­jadores in New Bed­ford, Mass., sup­ports orga­niz­ing among fish and seafood workers.
For Dor­ry, trans­form­ing the food sys­tem must focus on eco­nom­ic empow­er­ment that enables fish­ers and food pro­duc­ers to earn fair prices based on their costs of pro­duc­tion, not glob­al economies of scale.
"[Food sov­er­eign­ty] for us is about being able to feed our­selves as com­mu­ni­ties of farm­ers, fish­er­man and fish­work­ers and feed our­selves cul­tur­al­ly appro­pri­ate food," Dor­ry said, adding that for pro­duc­ing com­mu­ni­ties, this right also implies hav­ing access to enabling resources. ​"For farm­ers that means, seed, land, water; for fish­er­men it means work­ing water­fronts, access to fish­ing rights, and clean water."
Back in Belling­ham, Famil­ias Unidas and its coop­er­a­tive, Tier­ra y Lib­er­tad, pro­vide one exam­ple to fol­low of fight­ing to put pro­duc­tive resources in the hands of those at the heart of the food sys­tem. Tor­res of Famil­ias Unidas doesn't use the term food sov­er­eign­ty, but for him the link between farm­work­er jus­tice and food move­ments is still a given.
"[Peo­ple] can't see the faces of the work­ers. They can't see if there is exploita­tion, if work­ers are gain­ing ade­quate wages, if chil­dren are work­ing," he said, adding that he is sur­prised when he hears peo­ple who eat veg­e­tar­i­an, for exam­ple, but aren't aware of farm­work­er rights.
"It's very impor­tant for every­one who is work­ing in any­thing relat­ed to food to see the treat­ment of the work­ers," he con­tin­ued. ​"Because that's where it all starts."
Heather Gies
is a free­lance jour­nal­ist who has writ­ten on human rights, social move­ments and envi­ron­men­tal issues for
Al Jazeera
,
The Guardian
,
In These Times
and
Nation­al Geo­graph­ic
. Fol­low her on twit­ter @HeatherGies.