A Quiet Trump Administration Rule Change Could Allow a Federal Union-Busting Spree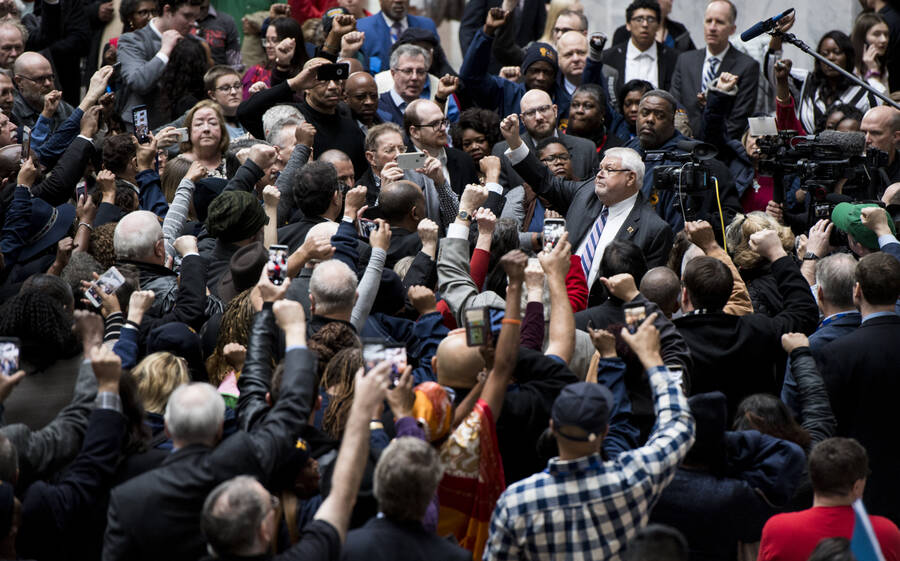 The Trump admin­is­tra­tion has pro­posed a change in rules gov­ern­ing union mem­ber­ship for fed­er­al gov­ern­ment work­ers that could embold­en fed­er­al agen­cies to dis­cour­age staff from join­ing or remain­ing in their union.
The pro­posed rule, pub­lished in the Fed­er­al Reg­is­ter on Fri­day, would enable fed­er­al work­ers to drop union mem­ber­ship — and opt out of pay­ing mem­ber­ship dues — at any point after their first year of mem­ber­ship. A rolling opt-out rule would mark a break from cur­rent prac­tice, in which work­ers can revoke their mem­ber­ship at year­ly inter­vals upon their anniver­sary of joining.
Kate Bron­fen­bren­ner, senior lec­tur­er and direc­tor of labor edu­ca­tion research at Cor­nell University's School of Indus­tri­al and Labor Rela­tions, tells In These Times that beyond a mere admin­is­tra­tive tweak allow­ing work­ers to opt out of mem­ber­ship when­ev­er they please, the pol­i­cy opens the door for employ­ers to bul­ly work­ers out of stay­ing in their union, or join­ing in the first place. She said the issue of dues deduc­tion could be a pres­sure point for employ­ers to ​"intim­i­date and coerce work­ers" out of union activity.
Employ­ers, in this con­text, are the Trump appointees head­ing dozens of fed­er­al agen­cies that togeth­er employ mil­lions of work­ers, includ­ing 1.1 mil­lion employ­ees rep­re­sent­ed by unions. These agen­cies include the Depart­ments of Veteran's Affairs, Defense, and Agri­cul­ture, the Inter­nal Rev­enue Ser­vice, the Food and Drug Admin­is­tra­tion, the Nation­al Park Ser­vice, the Envi­ron­men­tal Pro­tec­tion Agency, and many more.
"Under the cur­rent admin­is­tra­tion, we've seen very intense anti-union activ­i­ty," Bron­fen­bren­ner says. ​"This is not a law for employ­ees. This is a law to allow employ­ers to push work­ers out of the union."
Nicole Can­tel­lo, pres­i­dent of Amer­i­can Fed­er­a­tion of Gov­ern­ment Employ­ees (AFGE) Local 704 rep­re­sent­ing 1,000 Envi­ron­men­tal Pro­tec­tion Agency (EPA) work­ers in Illi­nois, Indi­ana, Michi­gan, Ohio, Wis­con­sin and Min­neso­ta, tells In These Times such rules inter­fere in the union-work­er rela­tion­ship by elim­i­nat­ing the oppor­tu­ni­ty for mean­ing­ful con­ver­sa­tions about why a mem­ber might con­sid­er leav­ing the union, or what she calls a ​"cool­ing off period."
"We're already strug­gling under a sim­i­lar rule," Can­tel­lo said, refer­ring to direc­tives in a con­tract the EPA ​"imposed" on near­ly 9,000 EPA employ­ees. ​"We feel it is equiv­a­lent to union busting."
The lat­est sal­vo in an ongo­ing attack
J. David Cox, nation­al pres­i­dent of AFGE rep­re­sent­ing 700,000 fed­er­al and D.C. gov­ern­ment work­ers, said in a state­ment that the Trump administration's rule change request rep­re­sents ​"part of an all-out assault on fed­er­al employ­ees' col­lec­tive bar­gain­ing rights."
"They are throw­ing out our con­tracts, enforc­ing ille­gal exec­u­tive orders, and now try­ing to make it hard­er for work­ers to join and stay in the union," Cox said. ​"Their ulti­mate goal is to destroy fed­er­al sec­tor unions, and we will do every­thing in our abil­i­ty to pre­vent that from happening."
The pro­posed change comes amid a series of moves aimed at hol­low­ing out fed­er­al unions. Those efforts received a boost this week when the U.S. Court of Appeals gave the green light to Trump's exec­u­tive orders lim­it­ing col­lec­tive bar­gain­ing and the amount of time fed­er­al work­ers can spend on union activ­i­ties. The Nation­al Labor Rela­tions Board also just made it eas­i­er for employ­ers in both the pub­lic and pri­vate sec­tor to elim­i­nate unions.
The pro­posed mem­ber­ship with­draw­al change also fol­lows on the heels of Janus v. AFSCME, a 2018 Supreme Court deci­sion that barred pub­lic sec­tor unions from col­lect­ing ​"fair share dues" from work­ers who are rep­re­sent­ed by the union, but who opt out of full mem­ber­ship. Janus, the result of a suit bankrolled by right-wing think tanks, brought the rest of the pub­lic sec­tor in line with the sta­tus quo for fed­er­al work­ers' unions, where union mem­ber­ship and dues pay­ment was already vol­un­tary. By invok­ing Janus, which argued that fair share dues infringe on work­ers' free speech rights, the Office of Per­son­nel Management's (OPM) new mem­ber­ship revo­ca­tion pro­pos­al lays bare its anti-union sentiment.
"Con­sis­tent with Janus," the pro­posed rule states, ​"upon receiv­ing an employee's request to revoke a pre­vi­ous­ly autho­rized union dues assign­ment, an agency should process the request as soon as admin­is­tra­tive­ly fea­si­ble, if at least one year has passed since the employ­ee ini­tial­ly autho­rized union-dues assign­ment from the employee's pay."
Bor­row­ing Cor­po­rate America's playbook
The dri­ve to wipe out fed­er­al unions isn't new. ​"They have want­ed to get rid of AFGE and oth­er fed­er­al unions for a long time," Bron­fen­bren­ner said, point­ing to the his­to­ry of Rea­gan era union-bust­ing and pri­va­ti­za­tion under both Bush admin­is­tra­tions. Now, increased orga­niz­ing in fed­er­al unions in recent years — includ­ing a his­toric 2011 AFGE win secur­ing a bar­gain­ing unit of 44,000 Trans­porta­tion Secu­ri­ty Offi­cers as well as sup­port among fed­er­al work­ers for the $15 min­i­mum wage cam­paign — could fur­ther unset­tle the anti-union boss­es at the helm under Trump.
"This admin­is­tra­tion is tied with Cor­po­rate Amer­i­ca," Bron­fen­bren­ner adds. ​"They are going to act in the fed­er­al sec­tor the way they've act­ed in the pri­vate sector."
In research pub­lished in a 2009 brief­ing paper, Bron­fen­bren­ner found that ​"the over­whelm­ing major­i­ty" of pri­vate sec­tor employ­ers in the Unit­ed States ​"are will­ing to use a broad arse­nal of legal and ille­gal tac­tics to inter­fere with the rights of work­ers," includ­ing a ​"com­bi­na­tion of threats, inter­ro­ga­tion, sur­veil­lance, and harass­ment" to under­mine union elec­tion processes.
Bron­fen­bren­ner tells In These Times that anti-union maneu­vers, from Janus to the rule change on fed­er­al union mem­ber­ship revo­ca­tion, intro­duce a sim­i­lar play­book to the pub­lic sec­tor. Togeth­er, she believes these actions are about ​"giv­ing employ­ers more pow­er to bust unions."
Con­ser­v­a­tive groups such as the State Pol­i­cy Net­work, which helped fund Janus, already have aggres­sive­ly tar­get­ed pub­lic sec­tor work­ers urg­ing them to opt out of their unions, but those cam­paigns have proved far less effec­tive at ush­er­ing in a fatal blow to unions than many anticipated.
The OPM, the fed­er­al agency that man­ages the gov­ern­ment work­force and human resources mat­ters, sub­mit­ted the pro­posed rule to the Fed­er­al Labor Rela­tions Author­i­ty, which will accept pub­lic com­ments on the pol­i­cy change until August 12.
Bron­fen­bren­ner says the new guide­lines would ulti­mate­ly enable employ­ers to ​"inter­fere with the day-to-day abil­i­ty of work­ers to engage with the union with­out fear of intim­i­da­tion, coer­cion, and threats."
"The way the law has worked, once you are part of the union, it has been an unfair labor prac­tice [and] a vio­la­tion of labor law for the employ­er to oppose your par­tic­i­pa­tion in the union," she said. ​"But with Janus, and now this, the employ­er has the abil­i­ty to inter­fere with your mem­ber­ship in the union, and that goes against the way the law has been inter­pret­ed for years."
Heather Gies
is a free­lance jour­nal­ist who has writ­ten on human rights, social move­ments and envi­ron­men­tal issues for
Al Jazeera
,
The Guardian
,
In These Times
and
Nation­al Geo­graph­ic
. Fol­low her on twit­ter @HeatherGies.