A Blow But Not Fatal: 9 Months After Janus, AFSCME Reports 94% Retention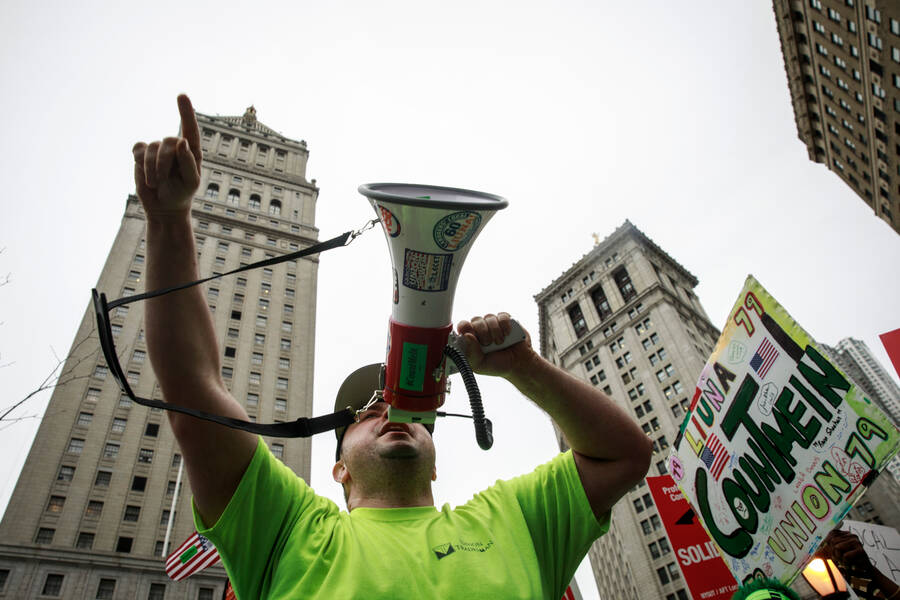 The labor union in the crosshairs of the right wing-led effort to gut pub­lic sec­tor unions through a land­mark Supreme Court case released new mem­ber­ship data Wednes­day show­ing a decline that experts say could mark the begin­ning of larg­er loss­es, but is far shy of a fatal blow.
The Amer­i­can Fed­er­a­tion of State, Coun­ty and Munic­i­pal Employ­ees (AFSCME) report­ed a 6 per­cent loss last year, down from 1,411,877 mem­bers, agency fee pay­ers and retirees in 2017 to 1,329,594 in 2018.
The num­bers offer the first con­crete pic­ture of the pre­lim­i­nary fall­out from last year's Janus v. AFSCME deci­sion that elim­i­nat­ed pub­lic sec­tor unions' abil­i­ty to col­lect agency fees — also known as ​"fair share" dues — from work­ers who do not sign up for full mem­ber­ship in the union but still ben­e­fit from its representation.
Many pre­dict­ed the case, bankrolled by a net­work of con­ser­v­a­tive bil­lion­aires and think tanks, could put the nail in the cof­fin of pub­lic sec­tor unions by encour­ag­ing work­ers to opt out of pay­ing dues in favor of becom­ing ​"free riders."
AFSCME's num­bers, part of its annu­al Depart­ment of Labor fil­ing, show one of the largest pub­lic sec­tor unions has man­aged to dodge a worst case sce­nario in the imme­di­ate wake of Janus, due in no small part to its prepa­ra­tion for the deci­sion, which focused on retain­ing rank-and-file members.
Since unions braced for rev­enues from agency fee-pay­ers to evap­o­rate when the Janus deci­sion came down, a 6 per­cent decline in mem­ber­ship — less than the total num­ber of ​"fair share" work­ers AFSCME rep­re­sent­ed last year — was an antic­i­pat­ed loss.
How­ev­er, AFSCME's mem­ber sign-ups since the Janus deci­sion out­pace mem­ber opt-outs at a rate of 8 to 1. The union report­ed an increase of 18,638 dues-pay­ing retirees and 9,097 dues-pay­ing mem­bers, though it is not clear whether those mem­bers are new hires or for­mer fee-pay­ers who got on board as full members.
AFSCME pre­vi­ous­ly told In These Times that near­ly 200,000 fee-pay­ers joined as full union mem­bers ahead of the Janus deci­sion as part of a one-on-one union-build­ing strat­e­gy it says marked a ​"major cul­ture shift." In 2017, 112,233 of the 1,411,877 work­ers it rep­re­sent­ed were ​"fair share" fee-payers.
"In over­whelm­ing num­bers, AFSCME mem­bers have blunt­ed the attacks of the wealthy spe­cial inter­ests and chose to stick with their union," AFSCME pres­i­dent, Lee Saun­ders, said in a state­ment Wednesday.
But experts Robert Bruno and Frank Man­zo, who released a report fore­cast­ing the impacts of Janus ahead of the Supreme Court deci­sion last year, warned that AFSCME's pre­lim­i­nary 6 per­cent mem­ber­ship decline could still put the union on track to suf­fer the loss­es their research projected.
"A loss of 82,000 is noth­ing to brush aside," Man­zo, pol­i­cy direc­tor of the Illi­nois Eco­nom­ic Pol­i­cy Insti­tute, told In These Times.
"These data show that pub­lic sec­tor union mem­ber­ship has dropped, and they sug­gest that it may be on track to decline dra­mat­i­cal­ly over time," he said. ​"But, they also show that the labor move­ment can take con­crete steps to avoid that fate."
In their report, Man­zo and Bruno pre­dict­ed a loss over three to five years of 726,000 mem­bers in unions rep­re­sent­ing state and local gov­ern­ment employ­ees — and a 3.6 per­cent drop in wages. They see AFSCME's mem­ber­ship con­trac­tion, rep­re­sent­ing 11 per­cent of their total fore­cast for the sec­tor, as con­sis­tent with their long-term outlook.
Man­zo said that while the labor move­ment should be ​"encour­aged" by AFSCME's 94 per­cent reten­tion rate, it should also be ​"con­cerned" about the loss­es, not­ing that reduced orga­niz­ing bud­gets could have a ​"cas­cad­ing effect" in years to come. ​"The union needs to take steps, and frankly pol­i­cy­mak­ers should con­sid­er tak­ing steps, to cor­rect that loss," he said. For now, AFSCME plans to expand its orga­niz­ing resources.
The mem­ber­ship data comes on the heels of an onslaught of well-fund­ed right-wing efforts tar­get­ing pub­lic sec­tor union mem­bers with opt-out cam­paigns in attempts to chip away at mem­ber­ship in the wake of Janus.
"This has to be mea­sured against the resources that have been mar­shaled by anti-work­er, anti-union orga­ni­za­tions," Robert Bruno, pro­fes­sor at the Uni­ver­si­ty of Illi­nois at Urbana-Cham­paign School of Labor and Employ­ment Rela­tions, told In These Times of AFSCME's mem­ber­ship lev­els. Despite the net loss, unions' abil­i­ty to attract mem­bers — whether by con­vert­ing for­mer fee-pay­ers or recruit­ing new hires — while fac­ing aggres­sive anti-union cam­paigns is notable, Bruno said.
An AFSCME rep­re­sen­ta­tive told In These Times the reduc­tion rep­re­sents the loss of for­mer agency fee-pay­ers. How­ev­er, the nation­al data doesn't offer a detailed pic­ture of who is opt­ing out, includ­ing a break down of which of the 23 states where agency fees were pre­vi­ous­ly allowed are bear­ing the brunt of the loss­es, or if any work­ers who pre­vi­ous­ly paid full mem­ber­ship dues have deserted.
Many vari­ables could still shape the way Janus plays out in the long-term, includ­ing leg­is­la­tion to mit­i­gate the impacts, as well as any fur­ther court deci­sions that could imper­il the future of pub­lic-sec­tor unions.
Since Janus, con­ser­v­a­tives in a num­ber of states have launched efforts to force unions to pay back agency fees col­lect­ed pri­or to the deci­sion, which could defund these unions. So far, such efforts have fall­en flat in Alas­ka, Cal­i­for­nia, Illi­nois, Ohio, Ore­gon and Washington.
But Moshe Mar­vit, a fel­low at the Cen­tu­ry Foun­da­tion, warned the threat of these law­suits ​"could be seri­ous­ly dam­ag­ing" despite their ​"dubi­ous" argu­ments. ​"The the­o­ry in Janus nev­er won before any judges, before it won at the Supreme Court," he told In These Times.
Mean­while, the Buck­eye Insti­tute — part of the State Pol­i­cy Net­work of anti-union groups that fund­ed Janus—has filed three cas­es tak­ing aim at exclu­sive union rep­re­sen­ta­tion. Janus allows union mem­bers to opt out of mem­ber­ship and pay­ing dues, but the union still has a duty to rep­re­sent all work­ers in the bar­gain­ing unit. The law­suits, filed in Maine, Min­neso­ta and Ohio, argue that auto­mat­ic rep­re­sen­ta­tion vio­lates work­ers' First Amend­ment rights.
Last month, an appeals court reject­ed a sim­i­lar chal­lenge to exclu­sive rep­re­sen­ta­tion brought by the Free­dom Foun­da­tion and Nation­al Right to Work Foun­da­tion in Wash­ing­ton, find­ing union rep­re­sen­ta­tion did not infringe on free speech rights.
Mar­vit dubbed these law­suits a kind of ​"bait and switch" after Janus as anti-union inter­ests seek new ways to ​"use the First Amend­ment to lim­it mem­ber­ship and lim­it fund­ing of unions." The Janus deci­sion scrapped agency fees while keep­ing exclu­sive rep­re­sen­ta­tion intact, find­ing the two ​"are not inex­tri­ca­bly linked." But Mar­vit doubt­ed the Supreme Court would offer ​"any prin­ci­pled con­sis­ten­cy oth­er than a sort of anti-union ani­mus" if it came to rul­ing on exclu­sive representation.
Increas­ing union move­ment-build­ing and edu­ca­tion will like­ly con­tin­ue to be impor­tant respons­es amid anti-union hos­til­i­ty. This is espe­cial­ly true con­sid­er­ing the unfa­vor­able Supreme Court land­scape fac­ing union sup­port­ers hop­ing to undo Janus through lit­i­ga­tion.
Mar­vit said that the free speech in log­ic in the Janus rul­ing — claim­ing that agency fees com­pel speech and vio­late the First Amend­ment — could cre­ate space for lit­i­ga­tion aimed at carv­ing out pro-union rights, though he admit­ted this would be an ​"uphill battle."
"Unions for a long time in lit­i­ga­tion have been on the defen­sive," he said." This has opened up and trig­gered a new desire to go on the offen­sive with law­suits and see in what ways it can lead to an expan­sion of actu­al free speech, not just mon­ey as speech in the way that Janus did."
But even as the right-wing groups behind Janus seek to smear pub­lic sec­tor unions as unfair­ly dip­ping into work­ers' pock­ets, approval rat­ings of labor unions are the high­est they have been in 15 years, accord­ing to Gallup.
Ken Jacobs, chair of the Labor Cen­ter at the Uni­ver­si­ty of Cal­i­for­nia Berke­ley, told In These Times that Janus has coin­cid­ed with a ​"huge shift" in pub­lic opin­ion toward the labor move­ment, boost­ed in part by the recent wave of his­toric teacher strikes. The recent gov­ern­ment shut­down also offered ​"a reminder of what pub­lic work­ers do and how impor­tant they are," he said.
Jacobs added that while it is still ear­ly to assess the impacts of Janus, how unions pri­or­i­tize resources as they tight­en their belts to adapt to the finan­cial fall­out from Janus will play a key role in defin­ing their long-term capac­i­ty to with­stand such an exis­ten­tial threat.
"One of the impor­tant things we have seen is a real increase in union activ­i­ty in the pub­lic sec­tor, espe­cial­ly among teach­ers," Jacobs said. ​"That deep work­er engage­ment will be essen­tial for pub­lic sec­tor unions going forward."
Cor­rec­tion: An ear­ly ver­sion of this piece erro­neous­ly report­ed a 13% drop in revenue.
Heather Gies
is a free­lance jour­nal­ist who has writ­ten on human rights, social move­ments and envi­ron­men­tal issues for
Al Jazeera
,
The Guardian
,
In These Times
and
Nation­al Geo­graph­ic
. Fol­low her on twit­ter @HeatherGies.