It's Time to Nationalize the Internet
To counter the FCC's attack on net neutrality, we need to start treating the Internet like the public good it is.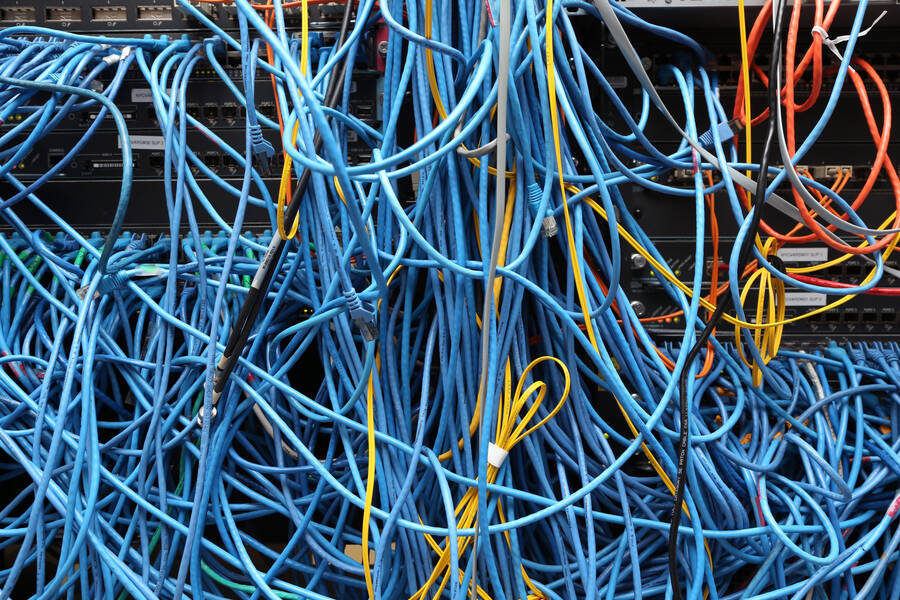 Defy­ing wide­spread pop­u­lar objec­tion, on Decem­ber 14 the Fed­er­al Com­mu­ni­ca­tions Com­mis­sion (FCC) vot­ed to repeal net neu­tral­i­ty. The prin­ci­ple reg­u­lates broad­band as a util­i­ty, thus for­bid­ding cable com­pa­nies and Inter­net ser­vice providers (ISPs) from throt­tling, block­ing or oth­er­wise dis­crim­i­nat­ing against online traf­fic. While net neu­tral­i­ty was only enact­ed in ear­ly 2015, it swift­ly proved a key com­po­nent of an open Internet.
Private network providers prioritize only those they expect to provide a return on investment, thus excluding poor and sparsely populated areas.
While the assault on net neu­tral­i­ty is for­mi­da­ble, it's not with­out for­mal oppo­si­tion. The Repub­li­can-helmed FCC's two Demo­c­rat Com­mis­sion­ers, Mignon Clyburn and Jes­si­ca Rosen­wor­cel, have cen­sured the deci­sion and urged dis­sent. A num­ber of state attor­neys gen­er­al — includ­ing those in New York, Cal­i­for­nia, and Illi­nois — have vowed to sue the FCC over the rul­ing. Con­gres­sion­al Democ­rats, shep­herd­ed by Mass. Sen. Ed Markey, plan to file leg­is­la­tion to reverse the repeal.
Rely­ing on such reac­tive reg­u­la­to­ry appeals to her­ald the fight for a fair Inter­net, how­ev­er, won't guar­an­tee one. The FCC's revo­ca­tion of net neu­tral­i­ty isn't a call to mere­ly restore the tech­no­crat­ic 2015 rules, but to reclaim the Inter­net as a pub­lic good to which all have the right to access.
The Inter­net was ini­tial­ly a prod­uct of pub­lic spend­ing. The U.S. Defense Depart­ment first con­ceived it in the 1960s, fol­low­ing a peri­od of fever­ish tech­no­log­i­cal com­pe­ti­tion with the Sovi­et Union. By the ear­ly 1990s, the gov­ern­ment ced­ed con­trol of the Inter­net to the pri­vate sec­tor, which had the puta­tive capac­i­ty to host its rapid growth. Since then, the tran­si­tion to cor­po­rate stew­ard­ship has strat­i­fied the dig­i­tal land­scape and iso­lat­ed dis­en­fran­chised populations.
Con­sid­er the monop­o­liza­tion of ISPs. Because dif­fer­ent net­work providers, such as AT&T and Com­cast, sell broad­band to dis­crete geo­graph­ic regions with lit­tle over­lap, they have immense pow­er to manip­u­late speeds and charge pro­hib­i­tive­ly expen­sive rates. Com­cast, the nation's largest pri­vate broad­band provider, is noto­ri­ous for over­charg­ing its users and sti­fling speeds. Users and politi­cians alike echo these con­cerns for oth­er ISPs on a seem­ing­ly reg­u­lar basis, ren­der­ing the tele­com indus­try one of the country's most reviled.
Such prof­i­teer­ing tac­tics have dis­pro­por­tion­ate­ly affect­ed low-income and rur­al com­mu­ni­ties. ISPs have long red­lined these demo­graph­ic groups, cre­at­ing what's com­mon­ly known as the ​"dig­i­tal divide." Thir­ty-nine per­cent of Amer­i­cans lack access to ser­vice fast enough to meet the fed­er­al def­i­n­i­tion of broad­band. More than 50 per­cent of adults with house­hold incomes below $30,000 have home broad­band — a prob­lem plagu­ing users of col­or most acute­ly. In con­trast, inter­net access is near-uni­ver­sal for house­holds with an annu­al income of $100,000 or more.
The rea­son for such chasms is sim­ple: Pri­vate net­work providers pri­or­i­tize only those they expect to pro­vide a return on invest­ment, thus exclud­ing poor and sparse­ly pop­u­lat­ed areas.
Pre­vi­ous­ly, the gov­ern­ment has inter­vened, requir­ing tele­coms to prof­fer dis­count­ed ser­vice to low-income areas. These ini­tia­tives, how­ev­er, have fall­en short. In 2016, AT&T intro­duced low-cost region­al broad­band for Fed­er­al Sup­ple­men­tal Nutri­tion Assis­tance Pro­gram (SNAP) users, an FCC-man­dat­ed con­di­tion of its merg­er with DirecTV. To receive the ser­vice, users had to live in neigh­bor­hoods that could accom­mo­date a min­i­mum speed of three megabits per sec­ond (Mbps). The sig­nif­i­cant num­ber of peo­ple whose address­es didn't meet that cri­te­ria, mean­while, were forced to either pay full price or forego access. (The Nation­al Dig­i­tal Inclu­sion Alliance detailed the company's egre­gious redlin­ing of impov­er­ished com­mu­ni­ties in Cleveland.)
Chat­tanooga, Tenn. has seen more suc­cess in address­ing redlin­ing. Since 2010, the city has offered pub­lic broad­band via its munic­i­pal pow­er orga­ni­za­tion, Elec­tric Pow­er Board (EPB). The project has become a rous­ing suc­cess: At half the price, its ser­vice is approx­i­mate­ly 85 per­cent faster than that of Com­cast, the region's pri­ma­ry ISP pri­or to EPB's incep­tion. Cou­pled with a dis­count­ed pro­gram for low-income res­i­dents, Chattanooga's pub­licly run broad­band reach­es about 82,000 res­i­dents — more than half of the area's Inter­net users — and is only expect­ed to grow.
Chattanooga's achieve­ments have radi­at­ed to oth­er locales. More than 450 com­mu­ni­ties have intro­duced pub­licly-owned broad­band. And more than 110 com­mu­ni­ties in 24 states have access to pub­licly owned net­works with one giga­bit-per-sec­ond (Gbps) ser­vice. (AT&T, for exam­ple, has yet to intro­duce speeds this high.) Seat­tle City Coun­cilmem­ber Kshama Sawant pro­posed a pilot project in 2015 and has recent­ly urged her city to invest in munic­i­pal broad­band. Hawaii con­gressper­son Kaniela Ing is draft­ing a bill for pub­licly-owned Inter­net for the state leg­is­la­ture to con­sid­er next year. In Novem­ber, res­i­dents of Fort Collins, Colo. vot­ed to autho­rize the city to build munic­i­pal broad­band infrastructure.
The Fort Collins vote reveals a widen­ing aper­ture between pub­lic needs and cor­po­rate ISPs' inter­ests. The state of Col­orado—among oth­ers—pro­hibits cities from build­ing munic­i­pal broad­band infra­struc­ture. In many cas­es, such pro­hi­bi­tions can be traced to tele­com-spon­sored leg­is­la­tors. Yet in Col­orado, 31 coun­ties have protest­ed the stric­tures such lob­by­ing has pro­duced, and it's like­ly that oth­er state res­i­dents, if giv­en the oppor­tu­ni­ty to weigh in, won't be far behind.
City-oper­at­ed net­works have the pow­er to increase speeds, decrease costs and broad­en avail­abil­i­ty. Yet restor­ing pub­lic broad­band own­er­ship can't be a piece­meal munic­i­pal effort, as hordes of com­mu­ni­ties will con­tin­ue to be neglect­ed. Rather, pub­lic own­er­ship must be won on a nation­al lev­el to erad­i­cate ISP lob­by­ing and monop­o­lies, and cor­po­rate ISPs them­selves, thus guar­an­tee­ing uni­ver­sal access.
The poten­tial absence of net neu­tral­i­ty is sim­ply a symp­tom of an unfet­tered free mar­ket — the corol­lary to decades of pri­va­tized net­work providers' free rein to over­charge and under­serve. Advo­cat­ing for the preser­va­tion of net neu­tral­i­ty is nec­es­sary, but it won't suf­fice if equi­table inter­net access is to be achieved. Under such high stakes, it's time to regain the dig­i­tal infra­struc­ture that could have — and always should have — been ours.
Julianne Tveten
writes about tech­nol­o­gy, labor, and cul­ture, among oth­er top­ics. Her work has appeared in The Nation, Cap­i­tal
&
Main, KPFK Paci­fi­ca Radio, and elsewhere.