Why 2015's Pop Music Scene Looks a Lot Like 1995's
Sleater-Kinney, Bjork and PJ Harvey are back. And they have something to teach the new wave of 'feminist' artists.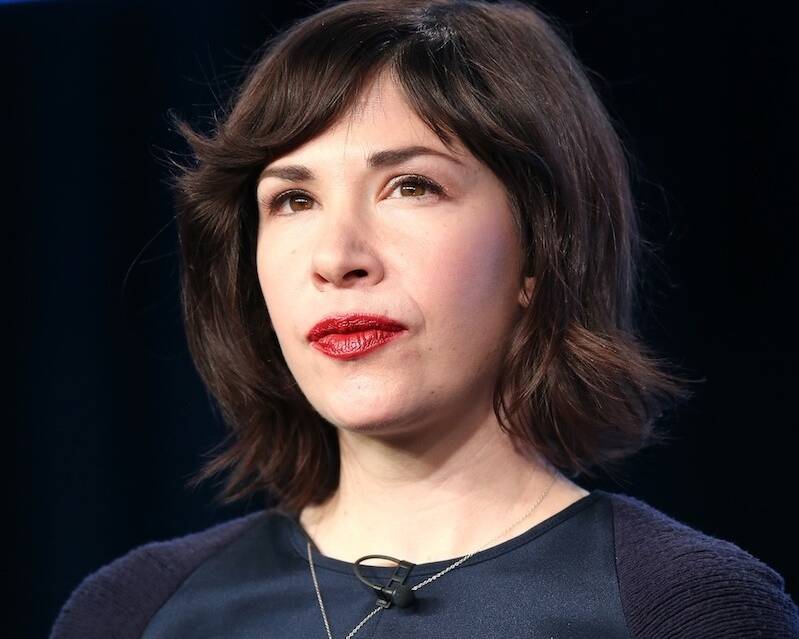 Accord­ing to just about every rep­utable source, we live in a gold­en age of fem­i­nist music. TIME mag­a­zine declared 2014 ​"the year of pop fem­i­nism"; Carl Wil­son, in Bill­board, called 2014 ​"Pop Music's ​'End of Men' Moment"; VICE, mean­while, has dubbed 2014 ​"The Year Fem­i­nism Reclaimed Pop." This is all well-deserved. Beyoncé's choice to sam­ple a fem­i­nist lec­ture by Chi­ma­man­da Ngozie Adichie — com­plete with def­i­n­i­tion of the term — was a water­shed moment even before the pop star stood in front of a gigan­tic, glar­ing ​"FEM­I­NIST" sign at the VMAs.
There's no way to know when or if our current Age of Musical Feminism will evaporate. To stick, it has to be more than a trend; it has to represent a full, lived, intellectually grounded set of values that are more than skin-deep, and will always matter more than what is popular or profitable at the time.
Bey­on­cé made fem­i­nism fash­ion­able. Lorde, Char­li XCX, Miley Cyrus and Tay­lor Swift have since claimed the term; even the nom­i­nal­ly apo­lit­i­cal Meghan Train­or made her name with a song about fat-sham­ing and Pho­to­shop abuse, top­ics that used to be the exclu­sive province of fem­i­nist blogs.
All of this — cou­pled with pop cul­ture's 20-year nos­tal­gia cycle — has cre­at­ed the per­fect cli­mate for lega­cy fem­i­nist musi­cians to get more seri­ous atten­tion than they have in years. We're only a month into 2015 and already, Sleater-Kin­ney has released its first album in ten years, Björk unex­pect­ed­ly dropped a new album, and PJ Har­vey began record­ing a new album as a live exhib­it in Som­er­set House, a Lon­don art space.
But fem­i­nis­m's dom­i­nance can be a pre­car­i­ous thing. The very names Sleater-Kin­ney and Björk ought to remind us that — in the immor­tal words of Bat­tlestar Galac­ti­ca—all of this has hap­pened before, and it will hap­pen again. Fem­i­nism ​"reclaimed" main­stream music two decades ago and was hailed as a con­quer­ing force, only to be wiped off the map by the next hot trend. Musi­cal­ly, 2015 looks a lot like 1995.
Let's begin, then, with the cau­tion­ary tale of the last Age of the Musi­cal Fem­i­nist. It start­ed in the Pacif­ic North­west with riot grrrl's chal­lenge to the ingrained sex­ism of punk rock. (Sleater-Kin­ney were notable, and rel­a­tive­ly late, arrivals on this scene.) But, like many great ideas, it cropped up in mul­ti­ple places simul­ta­ne­ous­ly. In 1992 and 1993, we saw the release of sev­er­al foun­da­tion­al albums — Tori Amos' Lit­tle Earth­quakes, PJ Harvey's Rid of Me, Liz Phair's Exile In Guyville—all of which had a dis­tinct­ly fem­i­nist out­look. It wasn't just a white-cool-kid thing either. Women of col­or were also mak­ing amaz­ing pro-woman music: Wit­ness ​"Let's Talk About Sex," a sex-pos­i­tive polemic on repro­duc­tive health from Salt-n-Pepa, and Queen Latifah's ​"U.N.I.T.Y."
Thus it became clear: Women sold. Before long, you had for­mer teen star­lets with grunge makeovers (Ala­nis Moris­sette), brood­ing sex sym­bols backed by an army of super-pro­duc­ers (Shirley Man­son) and a bevy of cut-and-paste, for­get­table semi-stars (Jew­el, Paula Cole, and the whole folk-rock-on-Xanax bum­mer that was Lilith Fair) get­ting in on the hot ​"new" trend of being a woman who could play an instru­ment. These were, the Meghan Train­ors, so to speak, of the ​'90s: They had the look and feel, but lacked some of the sub­stance. Still, it was easy to ignore the design­er knock-offs and bad stuff, sim­ply because, if you were a fem­i­nist music fan in the ​'90s, you got so much stuff: mag­a­zine cov­ers, spe­cial issues about Women In Music, books about the impor­tance of female musi­cians and song­writ­ers, block­buster all-female music fes­ti­vals. Through­out the ​'90s, female authen­tic­i­ty was big busi­ness. It felt pro­found. It felt per­ma­nent. It felt val­i­dat­ing. And it van­ished overnight — due, arguably, to one hit song.
The ​"Women In Music" trend was big, but not big enough to with­stand Hur­ri­cane Brit­ney. With ​"Baby One More Time," pro­duc­ers Max Mar­tin et al sin­gle-hand­ed­ly dec­i­mat­ed the main­stream fem­i­nist zeit­geist with three min­utes and a care­ful­ly cho­sen school­girl out­fit. (Not to deny Brit­ney agency, but it's hard to blame her for any of this; she was a child at the time, and if pop was cru­el to the gra­nola-girl zeit­geist, it was far cru­el­er to her.) The log­ic of the mar­ket — and of the main­stream music press — dic­tat­ed that, since this sold even bet­ter than that ​"fem­i­nism" stuff that had been pop­u­lar last year, espe­cial­ly among the cru­cial youth demo­graph­ic, it must there­fore be more wor­thy of atten­tion and val­i­da­tion. The male end of things, too, was increas­ing­ly pop­u­lat­ed by misog­y­nist reac­tionar­ies — Eminem, Fred Durst — who also sold very well, and thus ren­dered sen­si­tive, fem­i­nist-ally­ing Kurt Cobain types old-fash­ioned and wimpy. In the 21st cen­tu­ry, the New Woman was a teenag­er in a trans­par­ent leo­tard who begged you to hit her again, and the New Man was an angry white guy who screamed about rap­ing her after he'd hit her enough. (Or, as in the case of Fred Durst, con­tin­ued play­ing a show as women were raped direct­ly in front of him.)
And so the bub­ble burst. Fem­i­nism in music was quick­ly ren­dered irrel­e­vant and archa­ic by the same cor­po­rate media that it had come to rely upon. Many of us had­n't ques­tioned that mar­ket when it was kind to us; we had­n't won­dered whether the benef­i­cence of suits could be relied upon to main­tain a con­tro­ver­sial polit­i­cal posi­tion past its sell-by date. If you were a teenag­er, and in your expe­ri­ence Rolling Stone always had pub­lished in praise of fem­i­nists and fem­i­nism, you nat­u­ral­ly assumed it always would, that ​"women are humans" was­n't some­thing a pub­li­ca­tion could rea­son­ably change its mind about. The hagio­graph­ic pro­files of Eminem and the kid­die-porn-inspired Brit­ney pho­to­shoot were painful not least because they were so total­ly unex­pect­ed, like being slapped in the face by your best friend. And so, those of us who'd bought in to the Decade of Women In Music were left with noth­ing but a bunch of old con­cert t‑shirts and the sense that, some­how, some­where along the line, we'd been told a very big lie.
So how do we keep the his­to­ry from repeat­ing? How do we save the empow­ered teenage Lorde fans of 2015 from becom­ing the betrayed and embit­tered cyn­ics of 2035? Well, to begin with, we look to the women who sur­vived the last crash — who stuck to their guns, and deep­ened their palettes, and broad­ened our def­i­n­i­tion of what ​"fem­i­nist music" careers could look like. Bey­on­cé is one of them; she was just start­ing to rise as the Lilith Fair empire fell. (Side note: She and I are the same age, and when I heard "***Flaw­less," I was remind­ed that Bey­on­cé ben­e­fit­ed from the same ear­ly expo­sure to a pro-fem­i­nist pop cli­mate that I did; it's prob­a­bly not a coin­ci­dence that the "***Flaw­less" video looks so exact­ly like an alt-rock video from 1994.) But it's also worth look­ing at the long-term sur­vivors, the ones who arose with the era and lived beyond it. Con­sid­er, then, the sur­vival tac­tics of Sleater-Kin­ney, Har­vey and Björk.
The nat­ur­al trend of the mar­ket is to go from com­plex, dif­fi­cult, risky ideas (an entire def­i­n­i­tion of fem­i­nism smack in the mid­dle of your song) to safe, easy over­sim­pli­fi­ca­tions ("my mom­ma told me don't wor­ry about your size"). But all three of these artists have defied this arc by get­ting more complicated.
In the ​'90s, as now, pop's ​"fem­i­nism" could be a pret­ty sim­ple thing, one that was most­ly about sex and self-esteem: You did­n't want to be sex­u­al­ly assault­ed, you did­n't want to be shamed for being sex­u­al­ly active or queer, you did­n't want peo­ple to call you ugly or tell you how to dress, you did­n't want to be treat­ed as less­er-than or weak or stu­pid. Lov­ing your­self good, mean boys bad. It's true, as far as it goes, but it's also par­tial. The smart fem­i­nist sur­vivors now are tak­ing their fem­i­nism fur­ther; they're attach­ing it to every cor­ner of polit­i­cal life.
Con­sid­er the fine women of Sleater-Kin­ney: Corin Tuck­er, Car­rie Brown­stein and Janet Weiss. Who, work­ing through the famil­iar Pacif­ic North­west sham­ble-punk idiom, open their new album No Cities To Love with a les­son on cap­i­tal­ism and the glob­al economy:
We nev­er real­ly checked, we nev­er checked the price tag
When the cost comes in, it's going to be high
We love our bar­gains, we love the prices, so low
With the good jobs gone, it's going to be rough
In oth­er words, the Amer­i­can work­ing class­es don't have good jobs, so they're stuck buy­ing ​"cheap" prod­ucts, which are cheap because they rely on exploit­ed third-world labor rather than Amer­i­can man­u­fac­tur­ers, which is why these Amer­i­can work­ing-class peo­ple don't have good jobs. Try fit­ting that on a Katy Per­ry single.
But ​"Price Tag" is also an intense­ly fem­i­nist song: The nar­ra­tor punch­es into work, yes, but she also has to cook for her fam­i­ly, dress her chil­dren, and do the shop­ping. The prob­lem of tra­di­tion­al­ly female labor and the prob­lem of labor aren't seg­re­gat­ed: They're the same thing. Her shit­ty job and her shop­ping cart inform each oth­er, just as they do in the lives of real women.
Mean­while, con­sid­er what Har­vey is try­ing to do over there in Som­er­set House: The pro­gram notes for her exhib­it (she records the album with her team in a glass-walled stu­dio; vis­i­tors can see in, but she can't see out) promise songs about ​"social inequal­i­ty and injus­tice, the pol­i­tics of pover­ty, anx­i­ety and para­noia about ter­ror­ism and the way that hate breeds hate among gen­er­a­tions," just for starters, with song titles like ​"Near The Memo­ri­als To Viet­nam And Lin­coln," ​"The Age Of The Dol­lar," and ​"The Min­istry Of Defence" already on the table.
If it were any­one else but Har­vey, you'd be wor­ried: It's such big, urgent mate­r­i­al that the result seems bound to be preachy. Then again, on her last album, Har­vey lit­er­al­ly sang lines from war reportage and old mil­i­tary pro­pa­gan­da in order to give a con­cise sum­ma­tion of England's mil­i­tary his­to­ry, and the result was an anti-war album that was dis­turb­ing, polit­i­cal­ly effec­tive, and, of all things, dance­able.
In the days when Har­vey was piled on to the Women In Rock band­wag­on, she was the eas­i­est to cast in the cas­trat­ing, bloody-mind­ed witch-woman role, in part because she actu­al­ly did write songs about tak­ing men apart with chain­saws. But as her vision has matured and ripened, it's become clear that her inter­est in bru­tal sex­u­al con­flict was, at heart, an inter­est in con­flict. The vio­lence inflict­ed by nations and class­es is not beyond her, and doesn't erase her por­traits of the vio­lence men and women inflict upon each oth­er: They all belong in the same big pic­ture of how human bru­tal­i­ty operates.
There's also just a gut-lev­el thrill in know­ing that a woman can do this stuff, and do it author­i­ta­tive­ly. As awful as bad boyfriends are, it's lib­er­at­ing to know that songs about bad boyfriends don't have to com­prise women's sole means of musi­cal resistance.
Which brings us to Björk and her new album, Vul­ni­cu­ra, about a bad boyfriend. But even here, there's some­thing rich­er at work: This is the break-up of a rela­tion­ship of more than a decade, not a Tin­der mis­fire. They have chil­dren. As raw as it is (at last, the world knows what it's like to have break-up sex with con­tem­po­rary artist Matthew Bar­ney) it's not sim­plis­tic: It's the part of the love sto­ry that we cut away from at the end of the movie. How great loves die of old age; how a moth­er fears fail­ing her child by end­ing a bad rela­tion­ship; what it's like to be a 49-year-old sin­gle moth­er with no new part­ner in sight.
And the fact is, Björk has earned the right to a sim­ple break-up album — although the vast, amor­phous sym­phon­ic land­scapes she cre­ates are any­thing but sim­ple — because she's spent the last decade of her career writ­ing exclu­sive­ly about glob­al and imper­son­al issues. Her last two albums, Bio­phil­ia and Vol­ta, both expand­ed the ​"ethe­re­al and quirky" label that had been used to triv­i­al­ize Björk into realms of pol­i­tics, envi­ron­men­tal­ism and tech­nol­o­gy. When Björk puts a line like ​"I pro­pose an atom dance" into a love song, she's not being pre­cious: She wrote a whole con­cept album about the nat­ur­al sci­ences. Atom­ic dynam­ics are just some­thing she writes about. Essen­tial­ly, she's per­form­ing the same move as Sleater-Kin­ney and Har­vey, but in reverse; they began with the self to map the world, and Björk has mapped the world, which makes her return to the self fuller and more res­o­nant. For all of these women, inner life and roman­tic life are a sub-set of polit­i­cal life; sub­jec­tiv­i­ty is part of the ter­ri­to­ry, and not the ter­ri­to­ry itself.
There's no way to know when or if our cur­rent Age of Musi­cal Fem­i­nism will evap­o­rate. To stick, it has to be more than a trend; it has to rep­re­sent a full, lived, intel­lec­tu­al­ly ground­ed set of val­ues that are more than skin-deep, and will always mat­ter more than what is pop­u­lar or prof­itable at the time. If we keep repeat­ing the same sim­ple ​"empow­er­ment" mes­sages, the pub­lic can and will get bored and move on to the next thing; if we don't make it clear that every top­ic is a fem­i­nist top­ic, it will be easy to ignore us when the world ​"moves on."
Sleater-Kin­ney, Björk and Har­vey offer a vision of what the future might be: How fem­i­nist artists can grow and devel­op beyond the sim­ple two-tone palette of musi­cal fem­i­nism (lov­ing your­self, good; mean boys, bad) to a com­plex and all-encom­pass­ing polit­i­cal engage­ment that ditch­es per­son­al ​"empow­er­ment" in favor of social con­scious­ness. It's up to the new gen­er­a­tion of Women In Music to take up this call. Some already have. The ones who join them — and here's hop­ing that's all of them — will res­onate for the next gen­er­a­tion, regard­less of which pol­i­tics are in this season.