Fight For 15 Confidential
How did the biggest-ever mobilization of fast-food workers come about, and what is its endgame?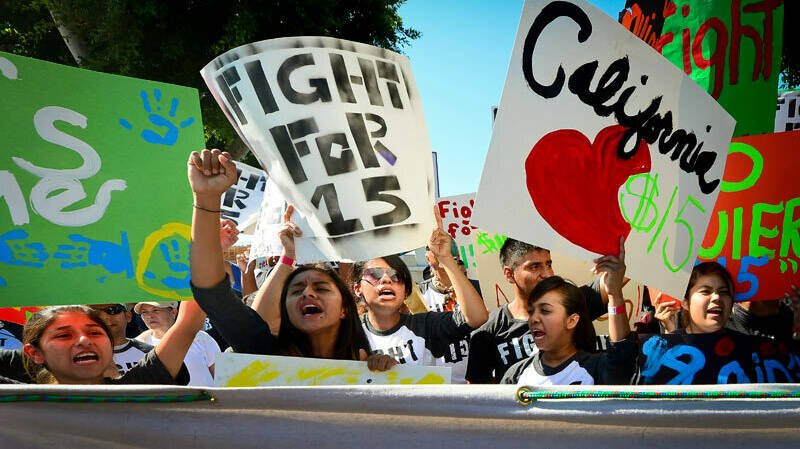 The Ser­vice Employ­ees Inter­na­tion­al Union (SEIU)-backed cam­paign to orga­nize fast-food work­ers nation­wide is on a roll. It's enter­ing its sec­ond year in the pub­lic eye, hav­ing staged four one-day strikes, cul­mi­nat­ing in a 60-city walk­out on August 29. It's a bold move by one of the nation's largest unions to orga­nize an unor­ga­nized pri­vate-sec­tor work­force num­ber­ing in the millions.
'Without SEIU this shit would not have happened,' Marco says. 'Fast-food workers are not going to self-organize. They've been so beat down for so long by circumstances and an anti-labor environment. You look at the Civil Rights Movement—a lot of that was top-down, orchestrated movement.'
The move­ment has no offi­cial name, though each city-lev­el cam­paign has one: Fast Food For­ward in New York, Raise Up MKE in Mil­wau­kee, We Can't Sur­vive on $7.35 in St. Louis, Stand Up KC in Kansas City, and, in Chica­go, Fight for 15 (which refers to a $15 min­i­mum wage and has become the name most com­mon­ly used for the nation­al cam­paign). The cam­paign has revived the use of the strike to build work­er sol­i­dar­i­ty and employs a strat­e­gy of minor­i­ty union­ism, which aims to build a core of mil­i­tant work­ers who can side­step labor law that nowa­days hin­ders work­er orga­niz­ing more than abus­es by man­age­ment. Most impor­tant­ly, the fast-food orga­niz­ing cam­paign has set in motion thou­sands of work­ing poor, main­ly African Amer­i­cans and Lati­nos, who are act­ing col­lec­tive­ly to bet­ter their lives. The cam­paign is gen­er­at­ing excite­ment that a pop­u­lar move­ment can final­ly go on the offen­sive against cor­po­rate power.
As the fast-food orga­niz­ing cam­paign con­tin­ues to build, Mar­co (not his real name), an SEIU orga­niz­er in the Mid­west, says, ​"Work­ers are get­ting empow­ered, stand­ing up to their boss­es, and they're not tak­ing shit any­more. If man­agers do try to clamp down, they're going to have 60 peo­ple march into their shop and dis­rupt their busi­ness. The cre­ation of sol­i­dar­i­ty that's hap­pen­ing is exciting."
Why fast food, and why now? Sim­ply put, it's where a dying labor move­ment sees the most oppor­tu­ni­ty. Pri­vate-sec­tor union den­si­ty has plunged from its peak of 35 per­cent in the 1950s to only 6.6 per­cent now. One of the key fac­tors in labor's decline has been the growth of the non-union­ized ser­vice sec­tor, where low wages have become the norm and work­ers who try to orga­nize often face retal­i­a­tion. Work­ers in the fast-food indus­try, which employs more than 4 mil­lion Amer­i­cans, earned an aver­age of $8.72 an hour in 2010.
The fast-food orga­niz­ing cam­paign is one of many efforts to orga­nize the low-wage sec­tor, along with OUR Wal­mart, ware­house work­er and uni­ver­si­ty adjunct cam­paigns, and the spread of work­er cen­ters. But it's the one that has gen­er­at­ed con­sid­er­able media buzz and excite­ment among orga­nized labor and progressives.
SEIU says its role has been more ser­vant than shep­herd. ​"It's real­ly a priv­i­lege for us to sup­port" fast-food work­ers, SEIU Pres­i­dent Mary Kay Hen­ry told Salon​'s Josh Eidel­son in August. Hen­ry por­trayed the cam­paign as a sur­prise: ​"We don't yet under­stand the scale of it," she said, adding that she was ​"amazed at the degree to which it spread."
So what exact­ly did set the move­ment off? And could its devel­op­ment serve as a mod­el for future cam­paigns? To dis­cov­er exact­ly how Fight for 15 began and grew and whether we can expect sim­i­lar upsurges among oth­er groups of work­ers, In These Times talked to 40 low-wage work­ers, labor orga­niz­ers, reporters, his­to­ri­ans, union offi­cials and media strate­gists. All of the more than 20 orga­niz­ers and work­ers who dis­cussed their involve­ment request­ed to speak on back­ground or be iden­ti­fied by pseu­do­nyms, express­ing fear of dam­ag­ing either job prospects or rela­tion­ships with oth­ers involved in the cam­paign. Based on these inter­views and hun­dreds of pages of inter­nal doc­u­ments from the cam­paign, In These Times can offer the most detailed exam­i­na­tion to date of how Fight for 15 orig­i­nat­ed, what its goals are, where it might be head­ed and who is mak­ing the decisions.
Near­ly all of the low-wage work­ers and orga­niz­ers involved in the cam­paign who spoke with In These Times expressed con­cerns about the campaign's direc­tion. They made clear they do sup­port Fight for 15 — often enthu­si­as­ti­cal­ly — for pro­vid­ing space for work­ers to build rela­tion­ships, share knowl­edge and, in some cas­es, embark on shopfloor orga­niz­ing. But many ques­tioned whether Fight for 15 is fun­da­men­tal­ly a work­er orga­niz­ing cam­paign or a ​"march on the media," and many believe the endgame will be deter­mined by an SEIU lead­er­ship that is not in con­tact with the dai­ly real­i­ties of the campaign.
How the fight began
The tale being told in the media is one of a spon­ta­neous, work­er-led upris­ing. In New York and Chica­go, the sto­ry goes, the move­ment was born in ear­ly 2012 after advo­ca­cy groups orga­niz­ing in low-income com­mu­ni­ties kept hear­ing com­plaints about the dif­fi­cul­ty of sur­viv­ing on fast-food indus­try wages. Accord­ing to Bloomberg News, ​"The advo­ca­cy group New York Com­mu­ni­ties for Change" (NYCC) — an off­shoot of the now-defunct ACORN — ​"orig­i­nal­ly was try­ing to halt planned school clos­ings in low-income neigh­bor­hoods of Brook­lyn. Orga­niz­ers shift­ed focus after hear­ing fast-food jobs were keep­ing local res­i­dents poor."
The offi­cial sto­ry in Chica­go is vir­tu­al­ly the same as in New York. In April, Salon report­ed that Kate­lyn John­son, exec­u­tive direc­tor of Action Now, a local orga­niz­ing group also for­mer­ly affil­i­at­ed with ACORN, said the Chica­go-based group ​"took a lead­er­ship role in orga­niz­ing fast-food work­ers after dis­cov­er­ing on door-to-door can­vass­es about [bus] fare hikes that ​'peo­ple were more con­cerned with their jobs.' "
But three for­mer orga­niz­ers in Chica­go who joined the cam­paign in late 2011, and two for­mer orga­niz­ers with NYCC who began peti­tion­ing in March 2012, all dis­pute this sto­ry. All say that from the get-go, the stat­ed goal was to orga­nize low-wage or fast-food work­ers. All say they were told with­in weeks or months that SEIU was fund­ing the orga­niz­ing, and all say that it became increas­ing­ly clear that SEIU was direct­ing the campaign.
Sid­ney (not his real name) says that when Action Now hired him in Novem­ber 2011, it was to join a cam­paign to raise the min­i­mum wage. For the first few weeks, orga­niz­ers armed with post­cards call­ing for a $10-an-hour state min­i­mum wage prowled fast-food and retail joints in the Loop in down­town Chica­go and gath­ered names, phone num­bers, emails and home address­es to meet dai­ly quo­tas. But when man­agers start­ed kick­ing the orga­niz­ers out of estab­lish­ments because they were talk­ing to work­ers about low wages, Action Now changed tac­tics, accord­ing to Sid­ney and Maria (not her real name). Maria, who was hired by Action Now in Decem­ber 2011, says she and oth­er orga­niz­ers ​"start­ed to brain­storm what can attract people's atten­tion … and every­body said, ​'Well you know a lot of these work­ers take pub­lic trans­porta­tion.' So we made it about pub­lic trans­porta­tion and stop­ping the fare hikes." There was some media spec­u­la­tion around hikes at the time, but no spe­cif­ic pro­pos­al on the table. Accord­ing to Sid­ney, he and Action Now orga­niz­ers came up with ​"a sce­nario where the CTA [Chica­go Tran­sit Author­i­ty] was rais­ing the prices. … From then on, we start­ed going around to the same estab­lish­ments in the Loop and telling them the CTA was going to raise the prices two, three bucks." The tac­tic worked, the orga­niz­ers say: The peti­tion met with less oppo­si­tion from man­agers than the min­i­mum-wage postcards.
Brooke (not his real name), who was hired by Action Now in Decem­ber 2011, says that despite close super­vi­sion, orga­niz­ing lead­ers denied they were in charge: ​"I was told, ​'It's all about the work­ers. We have to leave it up to the work­ers.' Then [SEIU lead­er­ship] tells the media, ​'It's spon­ta­neous; the work­ers came to us.' It's duplic­i­tous. It's to get peo­ple to stop ask­ing questions."
Maria, Brooke and Sid­ney say they soon learned that SEIU was bankrolling the project. Sid­ney says that ear­ly in the cam­paign, Action Now lead­ers were meet­ing with SEIU offi­cials and say­ing they were try­ing to secure mon­ey. In Decem­ber 2011, SEIU's Wash­ing­ton, D.C. head­quar­ters dis­bursed about $36,000 to Action Now for ​"Sup­port for Orga­niz­ing." Sid­ney says that in Jan­u­ary, Action Now lead­ers told them, ​"SEIU is fund­ing this, they're hap­py with the work you guys are doing, so we're going to con­tin­ue for at least six months." On Jan­u­ary 19, 2012, SEIU head­quar­ters con­tributed $191,797 to Action Now, the first in a series of dona­tions that would total more than $3 mil­lion by year's end.
An SEIU staffer with knowl­edge of union pol­i­tics in Chica­go explains, ​"Action Now here is very close­ly con­nect­ed to the largest SEIU local in the region—SEIU Health­care Illinois/​Indiana. They have a his­to­ry of coop­er­a­tive, over­lap­ping cam­paigns." Start­ing in its first full year of oper­a­tion in 2008, Action Now has received $100,000 or more annu­al­ly from the health­care local.
As for who's call­ing the shots, Carter Wright, a com­mu­ni­ca­tions orga­niz­er with SEIU, describes a bot­tom-up process of a move­ment that ​"emerged after orga­niz­ers in those groups found that there were way too many fast-food work­ers mak­ing way too lit­tle mon­ey in the areas they were can­vass­ing. They worked with SEIU to devel­op a cam­paign to build a move­ment so those work­ers could fight for bet­ter pay." He notes. ​"Mem­bers of SEIU have sup­port­ed groups like NYCC, Action Now and their pre­de­ces­sors for a long time."
In con­trast, all three Chica­go orga­niz­ers say that by Feb­ru­ary, SEIU per­son­nel were com­ing to their offices specif­i­cal­ly to train them in union orga­niz­ing. In oth­er words, while SEIU main­tains that Fight for 15 is a bot­tom-up project, the orga­niz­ers who did the leg­work con­clud­ed that SEIU fund­ed and direct­ed it from ear­ly on.
Full steam ahead
By ear­ly April 2012, orga­niz­ers had gath­ered 20,000 con­tacts. Then, on June 6, the day after the anti-union Wis­con­sin Gov. Scott Walk­er hand­i­ly won a recall elec­tion, a super­vi­sor walked into the Action Now office and told them it was full steam ahead with the fast-food cam­paign. In the pre­vi­ous week, SEIU head­quar­ters had trans­ferred more than $300,000 to Action Now. Brooke says orga­niz­ers were giv­en a rap sheet (also obtained by In These Times) and told to call peti­tion sign­ers and say, ​"We were suc­cess­ful in stop­ping the fare raise. When we were talk­ing to you and oth­er work­ers down­town we found a lot of oth­er work­ers were talk­ing about wages or lack of health­care or lack of respect of man­agers. Do you have any prob­lems like that? Would you like to meet and talk about it?"
Because of delays, the lists had grown stale. ​"It was hard to track down work­ers and talk to them, and when we did there was a lot of hes­i­ta­tion and fear," Brooke says. ​"A lot of work­ers didn't even remem­ber sign­ing the petition."
In July, the first city­wide meet­ing was held. After near­ly eight months of work by more than a dozen orga­niz­ers, at least $1.7 mil­lion spent by SEIU, and 20,000 con­tacts, Brooke says the meet­ing brought togeth­er ​"about six work­ers, who were all very afraid."
Mean­while, in New York City, SEIU head­quar­ters start­ed pour­ing mon­ey into NYCC in Feb­ru­ary 2012, out­lay­ing more than $2.5 mil­lion by year's end. Chris (not his real name) was hired by NYCC in ear­ly 2012 to orga­nize fast-food work­ers and was dis­patched to Man­hat­tan to gath­er a dai­ly quo­ta of sig­na­tures on low-income-hous­ing peti­tions. Sim­i­lar­ly, anoth­er orga­niz­er, Car­los (not his real name), also says he was hired by NYCC in ear­ly 2012 to orga­nize fast-food work­ers and spent months gath­er­ing names on peti­tions in favor of low-income hous­ing and against police ​"stop and frisks." Both were told SEIU was pay­ing the bills behind the scenes. Car­los believes that "[SEIU's] name has a lot of bag­gage, so they don't want it out there. They want to fun­nel it through small­er orga­ni­za­tions so it looks like more of a grass­roots effort."
In the sum­mer, when orga­niz­ers shift­ed to phon­ing work­ers about union­iz­ing, Chris says he con­duct­ed a dozen one-on-one meet­ings with work­ers and ​"typ­i­cal­ly most work­ers were fear­ful. Most of them were not hap­py with their work sit­u­a­tion, but they did not want to lose what they had." He recalls that the first meet­ing in low­er Man­hat­tan in late August 2012 attract­ed about 30 work­ers, and at least two more meet­ings drew sim­i­lar crowds before Nov. 29, 2012 — the campaign's first big strike.
Who's call­ing the shots?
By ear­ly 2013, the sec­ond year of the orga­niz­ing effort, the Chica­go cam­paign was final­ly gain­ing momen­tum. Sam (not his real name), a cashier at a health-food store who was part of an infor­mal com­mit­tee orga­niz­ing at two stores in his chain, says the Chica­go Teach­ers Union strike in Sep­tem­ber 2012 opened space to dis­cuss work-relat­ed issues with his cowork­ers, as did a strike the next month by ware­house work­ers just west of Chica­go and the nation­wide Black Fri­day strikes at Wal-Mart stores staged by the Unit­ed Food and Com­mer­cial Work­ers-backed OUR Wal­mart cam­paign. These events, says Sam, ​"dra­mat­i­cal­ly trans­formed" his con­ver­sa­tions with cowork­ers from ​"Wouldn't it be nice if we could get some­thing going?" to ​"If it could hap­pen at McDonald's and Wal-Mart, then it could hap­pen here."
Look­ing for assis­tance in ear­ly 2013, Sam and co-orga­niz­ers start­ed attend­ing meet­ings of the Work­er Orga­niz­ing Com­mit­tee of Chica­go, which was formed in Novem­ber 2012 to lead the Fight for 15 campaign.
Sam and his co-work­er Jason (not his real name) say they ini­tial­ly found some tac­tics off-putting. The deci­sion to stage the first low-wage work­er walk­out in Chica­go on April 24, was made a few weeks in advance, at a meet­ing where New York work­ers were flown in to talk to the Chica­go work­ers. After a rous­ing descrip­tion of the New York­ers' expe­ri­ence walk­ing off their jobs, Jason says, the Fight for 15 orga­niz­ers asked, "'Who wants to go on strike?' Every­one cheered, and of course we want to go on strike after you just hear what they said. They called it a strike vote, but it wasn't a vote in any mean­ing­ful way. They didn't count [votes]; they didn't say who is opposed to going on strike; there was no discussion."
Sam says, ​"If it's been decid­ed at some lev­el that there will be an action on a giv­en day, then it's going to hap­pen. It's just a ques­tion of going through the motions of get­ting peo­ple to come to the deci­sions that they want them to." Mar­co describes a sim­i­lar process in his city: ​"The orga­niz­ers say, ​'All the oth­er cities have decid­ed to go on strike on this date, do you want to join them?' And the work­ers are like, ​'Yeah!' Do I think it's ide­al? No. But do I have any bet­ter ideas? No, and that's the problem."
The deci­sion to con­duct a nation­wide strike on August 29 was made in a sim­i­lar man­ner, at an SEIU-led con­ven­tion in Detroit on August 15 to 16 that brought togeth­er about 700 low-wage work­ers, orga­niz­ers and staff from around the coun­try. Sam says that on the sec­ond day, an SEIU orga­niz­er got in front of the crowd and said,"We have this idea to do a nation­al day of action, Chica­go, what say you?" Accord­ing to Sam, some­one pre­s­e­lect­ed by SEIU stood up and replied, ​"We in Chica­go are ready to do a nation­al day of action." Sam says the process was repeat­ed with the oth­er cities."There had been no dis­cus­sion on it pre­vi­ous­ly in any mean­ing­ful sense. The first time most peo­ple [from Chica­go] had heard about it was on the bus to Detroit." Two oth­er work­ers con­firm they had lit­tle say in the deci­sion oth­er than being asked to rub­ber­stamp a pre­pared state­ment when they showed up in Detroit.
Media fren­zy
By the spring, strikes were staged in a dif­fer­ent city every week, rolling through New York, Chica­go, Detroit, St. Louis, Mil­wau­kee, Kansas City, Wash­ing­ton, D.C., Seat­tle and Flint, Mich., and gen­er­at­ing a nation­al media buzz.
To help get out the word, SEIU is employ­ing sev­er­al com­mu­ni­ca­tions con­sul­tants. Jour­nal­ist Peter Rugh, who has been track­ing the fast-food cam­paign since 2012, says that accord­ing to employ­ees of New York-based com­pa­ny Pur­pose, which spe­cial­izes in ​"21st-cen­tu­ry move­ments," the firm is help­ing with brand­ing. In Wash­ing­ton, D.C., SEIU worked with M+R Strate­gic Ser­vices to coor­di­nate an exten­sive social media effort around a May 2013 fast-food and low-wage work­er strike.
Nation­wide, sources say, SEIU has retained the aid of Berlin­Rosen. The com­mu­ni­ca­tions firm declined to com­ment on the record, but Charles (not his real name), a Detroit orga­niz­er with knowl­edge of SEIU strat­e­gy, says his impres­sion is that Berlin­Rosen is ​"help­ing in every spot" around the nation, and its work includ­ed ​"local com­mu­ni­ca­tions, team­work … advis­ing on com­mu­ni­ca­tion strat­e­gy, gen­er­at­ing cov­er­age." He adds that, in addi­tion to ​"show­ing strength to the work­ers [and] get­ting the com­mu­ni­ty behind it," the pur­pose of the cam­paign is gen­er­at­ing a media buzz. In 2012, com­bined pay­ments to Berlin­Rosen from SEIU Health­care Illinois/​Indiana and SEIU head­quar­ters soared to $1.2 mil­lion, dou­bling from 2011 and tripling from 2010.
Why SEIU's role is problematic
A few SEIU orga­niz­ers voiced con­cerns to In These Times that air­ing crit­i­cisms of Fight for 15 would aid right-wing and anti-union forces try­ing to under­mine the cam­paign. That may be true. But the crit­i­cisms are com­ing from work­ers and field orga­niz­ers across the coun­try who say they're con­cerned that the top-down orga­niz­ing may ben­e­fit SEIU lead­ers at the expense of the workers.
For instance, some work­ers say that while they wel­come the spot­light, the glare can be dam­ag­ing. Media gen­er­ates pub­lic sup­port, but also more pres­sure on orga­niz­ers to turn out work­ers for high-pro­file actions. Some orga­niz­ers wor­ry that a lack of time for prop­er back-up or train­ing may put work­ers at risk of employ­er retaliation.
In many instances, the fast-food cam­paign has vig­or­ous­ly defend­ed work­ers against retal­ia­to­ry fir­ings by pick­et­ing the employ­er or fil­ing unfair labor prac­tices. But Jason crit­i­cizes Fight for 15 in Chica­go for mount­ing strong defens­es after a fir­ing, but not help­ing work­ers devel­op skills to pre­vent retal­i­a­tion in the first place. ​"The strat­e­gy is to wait until [boss­es] actu­al­ly fire you because they can get more pub­lic­i­ty. But it's eas­i­er to keep your job instead of fight­ing to get it back." He believes that in gen­er­al, the media empha­sis under­cuts shop floor organizing.
In Marco's eyes, an SEIU action at a recent fast-food cor­po­ra­tion share­hold­er meet­ing revealed anoth­er way that the media focus can dis­em­pow­er work­ers. He says, ​"I don't like the fact that these peo­ple, the work­ers, are being used like pawns. Shuf­fle them in, shuf­fle them out, tell them what to say, what makes the best sto­ry for the media."
Work­ers say devel­op­ing sol­i­dar­i­ty and orga­niz­ing and lead­er­ship skills would be more effec­tive, as they would be able to act quick­ly when boss­es retal­i­ate at the job. ​"You can't just call the union office and wait for some­one to do some­thing," Jason says. ​"You have to be able to respond imme­di­ate­ly and in a way that actu­al­ly has pow­er at work, and you have to have net­works built with your cowork­ers to be able to do that."
Chica­go is one city where work­er-led orga­niz­ing is thriv­ing. Sam says, ​"At the shop lev­el we con­trol the mes­sag­ing, we con­trol the tac­tics, we decide what we want to orga­nize around, we moti­vate the strik­ers." Fol­low­ing the April 24 strike, work­ers demand­ed a greater say in meet­ings. The next deci­sion to strike, in mid-July, was a vote with a 30-minute dis­cus­sion and a count of those for, against and abstain­ing. It passed over­whelm­ing­ly. ​"It rep­re­sent­ed a very big step for­ward in terms of the actu­al prac­tices with­in the union," says Jason. Now, up to 200 work­ers attend meet­ings in Chica­go every oth­er week. They have been giv­en resources to pub­lish a newslet­ter for work­ers to help ​"tight­en orga­ni­za­tion between the stores." There's a women's cau­cus where women can strate­gize about ​"sex­u­al harass­ment at work and unsup­port­ive hus­bands who don't want them to be involved," and work­ers can also dis­cuss how man­agers use racial dis­crim­i­na­tion to divide and con­trol workers.
Out­side of Chica­go, how­ev­er, there's lit­tle evi­dence of work­er-to-work­er orga­niz­ing. In Seat­tle and Wash­ing­ton, D.C., sources say active work­ers num­ber a dozen or less, about the same as the num­ber of paid organizers.
Vic­tor (not his real name) in Seat­tle says the cam­paign is fal­ter­ing because work­ers are ​"babied at the meet­ings." He says the process involves work­ers get­ting ​"amped-up" and ​"rub­ber-stamp­ing some deci­sions that are already made," which wears thin after the first meeting.
While opti­mistic about the cam­paign, one long-time SEIU staffer express­es reser­va­tions as well. ​"SEIU still does not have a clear pic­ture of what to do with Fight for 15, where to take it. Some staffing here is frus­trat­ed with the very heavy and some­what manip­u­la­tive ​'media moment' approach that ignores the voic­es and the democracy/​development of the nat­ur­al shop floor lead­ers who have emerged. How to begin a bot­tom up process is a big chal­lenge, espe­cial­ly as the SEIU lead­er­ship is not fixed on that as a goal at all. … Retreat is very pos­si­ble, leav­ing mil­i­tant orga­niz­ers high and dry."
That retreat is a ref­er­ence to SEIU's trou­bled his­to­ry, espe­cial­ly under the 1996 – 2010 pres­i­den­cy of Andy Stern. Many work­ers are wary of SEIU's track record of ​"cozi­ness with big employ­ers, lim­its on inter­nal democ­ra­cy, [and] exces­sive def­er­ence to Demo­c­ra­t­ic par­ty lead­ers," as In These Times staff writer David Moberg wrote in July 2012. Work­ers also fret about SEIU's ten­den­cy to sign neu­tral­i­ty pacts that ​"sur­ren­dered basic work­er rights" in return for new mem­bers, Moberg noted.
The endgame
Sam spec­u­lates that when SEIU sees ​"a win, they're going to focus on it nar­row­ly." He says, ​"Then the con­cern becomes: What about all the oth­er work­ers who are now mobi­lized, who have orga­nized them­selves, but don't nec­es­sar­i­ly fit into SEIU's focus for a win?"
And what will that win be?
SEIU appears to be pur­su­ing sev­er­al strate­gies simul­ta­ne­ous­ly. Cam­paigns in Seat­tle and Wash­ing­ton, D.C., have pushed for liv­ing-wage ordi­nances. SEIU seems also to be inter­est­ed in sup­port­ing fast-food work­er cen­ters — work­place advo­ca­cy orga­ni­za­tions that are not for­mal unions. Two sources say SEIU is help­ing to start a new branch of Restau­rant Oppor­tu­ni­ties Cen­ter Unit­ed in Seat­tle and is con­sid­er­ing sup­port­ing ROC chap­ters in oth­er cities.
But con­ver­sa­tions with var­i­ous SEIU sources — as well as state­ments from the lead­er­ship and devel­op­ments in fast-food orga­niz­ing around the coun­try — indi­cate SEIU also has a com­pre­hen­sive nation­al plan in the works, cen­tered on the two pub­lic demands of $15-an-hour pay and the right to union­ize free of intim­i­da­tion. If suc­cess­ful, the mul­ti-stage strat­e­gy would allow SEIU to secure col­lec­tive bar­gain­ing agree­ments and gain thou­sands of new union members.
The first step is to chal­lenge the legal dis­tinc­tion between a cor­po­ra­tion and its indi­vid­ual fran­chis­es. Take McDonald's: Nine­ty per­cent of its 14,000 U.S. restau­rants are fran­chis­es, but the cor­po­rate par­ent micro­man­ages key aspects of the busi­ness — menus, pro­mo­tions, insur­ance, soft­ware, adver­tis­ing, clean­ing and so on. At the same time, McDonald's takes pains to spell out in con­tracts that it has ​"no implied employ­ment rela­tion­ship" with a fran­chisee or their work­ers. SEIU aims to hold cor­po­ra­tions liable for their fran­chis­es' actions.
Sec­ond, SEIU is pour­ing resources into com­pil­ing data about wage theft in the fast-food sec­tor. Sam says researchers come to work­er meet­ings and state: ​"If your reg­is­ter is short and that dif­fer­ence comes out of your pay­check, come talk to us. … If you get your pay­check on a deb­it card and there are fees asso­ci­at­ed with it, come talk to us." In May, Fast Food For­ward, the New York chap­ter of the fast-food orga­niz­ing cam­paign, released a sur­vey find­ing that 84 per­cent of 500 fast-food work­ers report­ed at least one form of wage theft.
The third planned step, orga­niz­ers say, is for SEIU to use legal lia­bil­i­ty for wage theft to pres­sure fast-food com­pa­nies into accept­ing ​"neu­tral­i­ty agree­ments" that allow employ­ees to union­ize with­out man­age­ment inter­fer­ence. Fourth, SEIU plans to mount an inter­na­tion­al cam­paign by enlist­ing unions in oth­er coun­tries to pres­sure fast-food chains with glob­al operations.
Though sev­er­al SEIU insid­ers con­firmed on back­ground that this is SEIU's over­ar­ch­ing plan, SEIU spokesper­son Carter Wright would not do so, say­ing that ​"com­mu­ni­ty orga­ni­za­tions that are part of the coali­tion and work­ers con­tin­ue to brain­storm and expect to exper­i­ment with a vari­ety of actions and strategies."
But in the inter­view with Salon in August, SEIU Pres­i­dent Mary Kay Hen­ry and her assis­tant Scott Court­ney hint­ed this is the path being pur­sued, say­ing that options include a ​"polit­i­cal or legal chal­lenge" to the fast food industry's franchising.
2014 or Bust
The com­ing year could make or break Fight for 15. Accord­ing to one SEIU offi­cial, ​"The mon­ey going into this is a gam­ble. These work­ers aren't pay­ing dues; they're not financ­ing this right now. Def­i­nite­ly over the next two years we're going to have to take a look at this and see where we're going."
Despite the uneasi­ness some orga­niz­ers have about SEIU's role, oth­ers doubt that a tru­ly spon­ta­neous, work­er-led upris­ing would have been pos­si­ble with­out SEIU leadership.
​"With­out SEIU this shit would not have hap­pened," Mar­co says. ​"Fast-food work­ers are not going to self-orga­nize. They've been so beat down for so long by cir­cum­stances and an anti-labor envi­ron­ment. You look at the Civ­il Rights Move­ment — a lot of that was top-down, orches­trat­ed movement."
But this atti­tude can also fos­ter pater­nal­ism. Speak­ing in Sep­tem­ber, Jason says some orga­niz­ers ​"real­ly do think we're stu­pid and we need to have our hands held and things like that."
Still, Sam cred­its SEIU for ​"push­ing peo­ple out into the strug­gle. It's very easy to be crit­i­cal of an orga­ni­za­tion like SEIU for its behind-closed-doors activ­i­ties and top-down orga­niz­ing," he says."This is an instance when the labor bureau­cra­cy is encour­ag­ing peo­ple to demon­strate, to go on strike, to take action in the work­place. And I'm excit­ed about that."