The U.S.-Occupied Colony In the Crosshairs of Trump's Reckless Brinkmanship with North Korea
Guam's residents do not get to vote for U.S. president, but they are directly impacted by Trump's dangerous threats.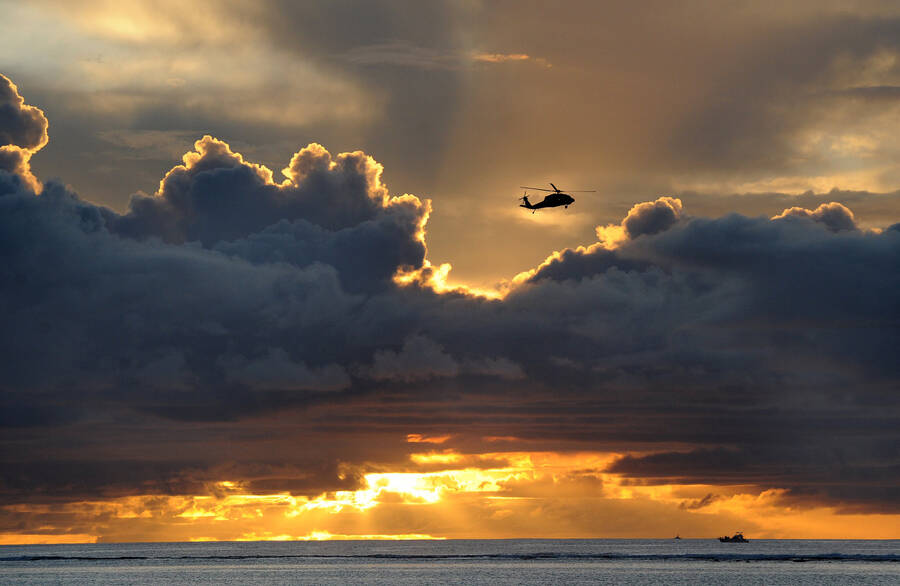 The prospect of war between the Unit­ed States and North Korea has increased dra­mat­i­cal­ly over the last week.
On Thurs­day, North Kore­an state media announced that Kim Jong-Un's mil­i­tary per­son­nel are prepar­ing a plan to fire four bal­lis­tic mis­siles into waters off the coast of Guam, a U.S. ter­ri­to­ry in the Pacif­ic Ocean that is home to rough­ly 163,000 civil­ians, two mil­i­tary bases, around 7,000 troops and many more per­son­nel mil­i­tary per­son­al and their depen­dents. This is only the lat­est devel­op­ment in what CNN is call­ing ​"an unprece­dent­ed exchange of mil­i­tary threats between Wash­ing­ton and Pyongyang."
Despite calls for calm and restraint from Gov. Eddie Cal­vo, many of the island's res­i­dents are unsur­pris­ing­ly wor­ried about a poten­tial nuclear shootout between the two coun­tries. As one local stand-up come­di­an told the BBC, ​"There have been threats before but this time feels dif­fer­ent. We're real­ly caught in the cross fire. Pres­i­dent Trump seems as much of a saber-rat­tler as Kim Jong-Un in Pyongyang. And a lot of peo­ple here feel like Trump is the guy who might actu­al­ly press the button."
But while media pun­dits end­less­ly debate whether or not Trump will enforce his ​'red line,' the dec­i­ma­tion of Guam's ecosys­tem and the dis­place­ment of its indige­nous pop­u­la­tion at the hands of the U.S. mil­i­tary goes large­ly unmentioned.
Guam's strate­gic impor­tance to the Unit­ed States is well doc­u­ment­ed. Locat­ed rough­ly 1,500 miles east of the Philip­pines and rough­ly equidis­tant to the Kore­an Penin­su­la and the South Chi­na Sea, the island is, as described by for­mer Sec­re­tary of Defense Ash­ton Carter, ​"an impor­tant strate­gic hub for U.S. mil­i­tary in the West­ern Pacif­ic." His­tor­i­cal­ly, the island has played an out­sized role in U.S. mil­i­tary ven­tures in the Pacif­ic, par­tic­u­lar­ly dur­ing the Kore­an War in the 1950s and the Viet­nam War a decade later.
But Guam's ecosys­tem and its indige­nous peo­ple, the Chamor­ros, have paid a high price for the island's strate­gic impor­tance to the Unit­ed States.
Guam was attacked and invad­ed by Japan in 1941, short­ly after the bomb­ing of Pearl Har­bor. It took the Unit­ed States near­ly three years to recap­ture the island. Dur­ing that time, the Japan­ese mil­i­tary sub­ject­ed the indige­nous peo­ple of Guam, the Chamor­ros, to tor­tur­ous con­di­tions. In all, his­to­ri­ans esti­mate that vio­lence result­ing from World War II killed 10 per­cent of the island's total pop­u­la­tion.
After the war, the Unit­ed States sought to mil­i­tar­i­ly for­ti­fy Guam and its oth­er Pacif­ic ter­ri­to­ries. This led to the dis­place­ment of thou­sands of Chamor­ro fam­i­lies as the mil­i­tary seized thou­sands of acres of land for its own use. Soon after, the mil­i­tary bases became a major source of employ­ment on the island, mak­ing it hard­er for tra­di­tion­al modes of sub­sis­tence liv­ing to con­tin­ue. As a mark­er of the intense Amer­i­can­iza­tion that took place in Guam after World War II, only 20 per­cent of Chamor­ros in Guam spoke the Chamor­ro lan­guage in 2010: In 1950, that fig­ure was 100 percent.
U.S. nuclear test­ing in the near­by Mar­shall Islands dur­ing the 1950s also bore dev­as­tat­ing con­se­quences for the Chamor­ros. Accord­ing to a 2010 arti­cle in The Asia-Pacif­ic Jour­nal,
The inci­dence of can­cer in Guam is high and Chamor­ros have sig­nif­i­cant­ly high­er rates than oth­er eth­nic groups. Can­cer mor­tal­i­ty rates for 2003 – 2007 showed that Chamor­ro inci­dence rates from can­cer of the mouth and phar­ynx, nasophar­ynx, lung and bronchus, cervix, uterus, and liv­er were all high­er than U.S. rates. Chamor­ros liv­ing on Guam also have the high­est inci­dence of dia­betes com­pared to oth­er eth­nic groups, and this is about five times the over­all U.S. rate. The entire island was affect­ed by tox­ic con­t­a­m­i­na­tion fol­low­ing the ​"Bra­vo" hydro­gen bomb test in the Mar­shall Islands in 1954. Up to twen­ty years lat­er, from 1968 to 1974, Guam had high­er year­ly rain­fall mea­sures of stron­tium 90 com­pared to Majuro (Mar­shall Islands). In the 1970s, Guam's Cocos Island lagoon was used to wash down ships con­t­a­m­i­nat­ed with radi­a­tion that had been in the Mar­shall Islands as part of an attempt to clean up the islands.
In 2009, Madeleine Bor­dal­lo, Guam's elect­ed rep­re­sen­ta­tive to Con­gress — who, in accor­dance with the Guam Organ­ic Act of 1950, has no vot­ing pow­er — intro­duced an amend­ment the Radi­a­tion Expo­sure Com­pen­sa­tion Act (RECA) so that it includes Guam in its list of ​"down­winder" areas affect­ed by atmos­pher­ic nuclear test­ing con­duct­ed in Microne­sia. The act got stuck in com­mit­tee.
A year lat­er, Sen­a­tor Tom Udall of New Mex­i­co intro­duced an amend­ment to RECA that would give Chamor­ros in Guam com­pen­sa­tion for the haz­ardous effects of nuclear fall­out. It, too, didn't make it out of com­mit­tee. Udall re-intro­duced the bill in 2011 and again in 2013 to no avail. As of today, Chamor­ros in Guam only qual­i­fy for com­pen­sa­tion under the ​"onsite par­tic­i­pants" cat­e­go­ry, which only cov­ers vic­tims who were present at ​"any des­ig­nat­ed loca­tion with­in a naval ship­yard, air force base, or oth­er offi­cial gov­ern­ment instal­la­tion where ships, air­craft or oth­er equip­ment used in an atmos­pher­ic nuclear det­o­na­tion were decon­t­a­m­i­nat­ed," leav­ing out many affect­ed by nuclear fall­out on the island.
Today, the Depart­ment of Defense owns near­ly a third of Guam's total land­mass. But as the Pen­ta­gon seeks to relo­cate Marines from its base in Oki­nawa — pri­mar­i­ly due to con­tin­u­ous protests against the mil­i­tary base by Japan­ese cit­i­zens — that fig­ure is only going to increase. In 2006, the Navy pro­posed mov­ing 8,600 Marines from Oki­nawa to Guam, as well as expand­ing its oper­a­tions in Apra Har­bor, which would have destroyed 70 acres of coral reefs in the process. Out­cry against the destruc­tion of the reefs even­tu­al­ly forced the Navy to can­cel its plans in Apra Har­bor. While the Apra Har­bor was stopped (for now), the Navy still plans to relo­cate 5,000 Marines and 1,300 depen­dents begin­ning in 2022. In con­junc­tion with the tens of thou­sands of con­struc­tion work­ers who will be sent to work on mil­i­tary buildup projects on the island over the next decade, Guam's water sup­ply will come under great duress, as will it its trans­porta­tion infra­struc­ture, while also cre­at­ing thou­sands of pounds of haz­ardous waste.
Of course, the Pen­ta­gon argues that these projects boost Guam's econ­o­my. But for many on the island, the ben­e­fits are out­weighed by the costs — envi­ron­men­tal, social, and polit­i­cal. The issue for many on the island is that there is no demo­c­ra­t­ic process in place to set­tle these dif­fer­ences. As a non-self-gov­ern­ing ter­ri­to­ry — a.k.a. a colony—the peo­ple of Guam have no say in whether or not they want to live in prox­im­i­ty of four fast-attack nuclear sub­marines and an expe­di­tionary heli­copter squadron.
Thank­ful­ly, the Unit­ed Nations has advo­cat­ed for Guam's right of self-deter­mi­na­tion, and there's a big chance high school­ers on the island will be intro­duced to decol­o­niza­tion class­es and instruc­tion­al mate­r­i­al as ear­ly as next year. But until the peo­ple of Guam are allowed to decide their own des­tiny, they will remain in the crosshairs of mil­li­tary esca­la­tion fueled by the Unit­ed States.
Car­los Balles­teros
is a free­lance writer based in Chica­go. He was born and raised in the South Side and recent­ly grad­u­at­ed from Clare­mont McKen­na Col­lege with a B.A. in History.