15 Years Ago, We Predicted the Financial Crash. We Think Another Is On Its Way.
In These Times called for real bank regulation back in 2003—it still hasn't happened.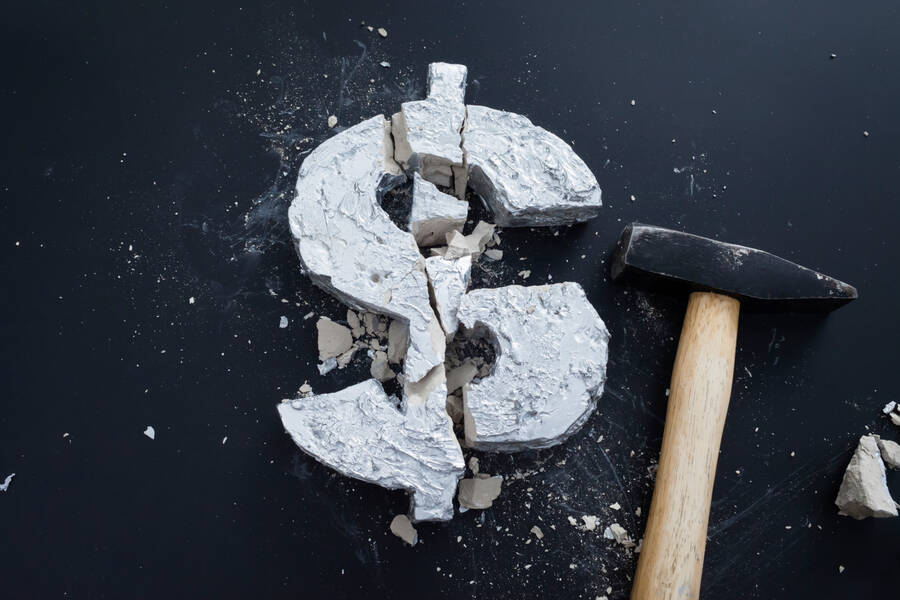 Through­out our 42-year his­to­ry, In These Times has often played the role of Cas­san­dra. Per­haps the most unhap­py instance is our pre­dic­tion of the burst of the hous­ing bub­ble, and the dev­as­tat­ing fore­clo­sure cri­sis that fol­lowed. In his 2003 arti­cle, ​"Burst­ing Bub­bles," econ­o­mist Dean Bak­er warned that the pop­u­lar pro­gres­sive expla­na­tion for the 2001 reces­sion was wrong. Bill Clin­ton may have boast­ed in 2000 of ​"the best econ­o­my in 30 years," but George W. Bush's dis­as­trous tax cuts and mil­i­tary profli­ga­cy only part­ly explained the sub­se­quent slump.
The Clin­ton-era eco­nom­ic boom, Bak­er wrote, ​"was built on three unsus­tain­able bub­bles": the stock bub­ble, which had already burst, and the dol­lar and hous­ing bub­bles, which were sure to. It was these bub­bles, Bak­er argued, ​"that cre­at­ed the basis for the 2001 reces­sion and the economy's con­tin­u­ing peri­od of stag­na­tion." Bak­er pre­dict­ed that the hous­ing bub­ble had reached its peak, with trou­bling con­se­quences. The rise in home prices was out­pac­ing infla­tion, and fam­i­lies were count­ing on that rise in home val­ues to off­set high unem­ploy­ment and stag­nant wages. The result was sky­rock­et­ing mort­gage debt:
This sit­u­a­tion is fright­en­ing for two rea­sons. First, as a short-run mat­ter, if hous­ing prices fall sharply in some of the areas where the effects of the bub­ble are largest (for exam­ple the Boston, New York, Wash­ing­ton, and San Fran­cis­co areas), new home buy­ers (and those who recent­ly refi­nanced their mort­gages and took mon­ey out) could find they have neg­a­tive equi­ty in their homes.

If some­one bor­rows $270,000 to buy a $300,000 home, and the price falls by one-third, this leaves them owing $70,000 more than the home is worth. When this hap­pens, there is a huge incen­tive to just let the mort­gage hold­er fore­close on the home. If this were to hap­pen on a large scale, the sur­vival of many banks and finan­cial insti­tu­tions would be at risk.
That's just about exact­ly what came to pass: Five years lat­er, amid sky­rock­et­ing fore­clo­sures, some of our largest banks and finan­cial insti­tu­tions collapsed.
In Decem­ber 2008, as an account­abil­i­ty-free bailout was under­way, David Moberg called for an econ­o­my ​"beyond casi­no cap­i­tal­ism." That would entail finan­cial reforms includ­ing the ban­ning of many types of deriv­a­tives and the cre­ation of a finan­cial prod­ucts pub­lic safe­ty com­mit­tee, stricter cap­i­tal reserve require­ments on banks, and a glob­al finan­cial trans­ac­tion tax. But ​"fix­ing the casi­no econ­o­my involves more than bet­ter con­trol over cap­i­tal mar­kets," Moberg wrote. ​"There's also a need to rebal­ance the real econ­o­my." That includ­ed imme­di­ate relief for under­wa­ter home­own­ers, as well as a robust fed­er­al invest­ment plan:
A mas­sive stim­u­lus plan is also need­ed. But to cre­ate new jobs, it should down­play tax breaks and instead invest in infra­struc­ture repair and new con­struc­tion, sup­port hard-pressed state and local gov­ern­ments, pro­vide more mon­ey for edu­ca­tion aid and basic research, and lead an ener­gy effi­cien­cy cam­paign, with pub­lic and pri­vate employ­ers retro­fitting homes and pub­lic buildings.
Ten years lat­er, as you prob­a­bly know, we haven't got­ten around to doing most of these things on any mean­ing­ful scale. An $800 bil­lion stim­u­lus pack­age under Barack Oba­ma did cre­ate an esti­mat­ed 3.3 mil­lion jobs, but it was too small to spur a sus­tained recov­ery and was quick­ly fol­lowed by a down­ward spi­ral in pub­lic invest­ment. Those reforms that we did imple­ment — impos­ing stricter cap­i­tal require­ments, for exam­ple — are being rapid­ly undone by the Don­ald Trump administration.
So, we find our­selves play­ing Cas­san­dra once again and warn­ing, like many oth­ers, that we're head­ing straight into more of the same. On the occa­sion of the 10-year anniver­sary of the finan­cial cri­sis, InThe​se​Times​.com pub­lished an omi­nous fore­cast from The Democ­ra­cy Collaborative's Thomas Hanna:
There will be anoth­er finan­cial cri­sis. That much is cer­tain. Only when and how destruc­tive it will be is up for seri­ous debate. The finan­cial indus­try is more con­sol­i­dat­ed than it was in 2007 — dom­i­nat­ed by banks still too big to fail. Bank lob­by­ists and their con­gres­sion­al allies have sys­tem­at­i­cal­ly under­mined the weak reg­u­la­to­ry reforms put in place after the cri­sis, demon­strat­ing again that the tremen­dous polit­i­cal and eco­nom­ic pow­er these finan­cial insti­tu­tions wield makes strong reg­u­la­to­ry and insti­tu­tion­al reforms (such as ​"break­ing up the banks") improb­a­ble, if not impossible.
But if the past 10 years have seen piti­ful­ly lit­tle action from those respon­si­ble for reg­u­lat­ing the banks, we've also seen a groundswell of pop­u­lar action to name and shame those respon­si­ble for crash­ing the econ­o­my — from the Occu­py movement's refrain of ​"banks got bailed out, we got sold out," to Bernie Sanders' insur­gent cam­paign and call to break up the banks, to the reemer­gence of social­ism as a seri­ous force in Amer­i­can pol­i­tics. It's in this con­text that Han­na pro­pos­es a rad­i­cal solu­tion: pub­lic own­er­ship of banks.
When the next cri­sis hits, the pub­lic will once again be called upon to step in and bail out Wall Street. We need to start seri­ous­ly prepar­ing an alter­na­tive response. …

Opin­ion polls have repeat­ed­ly shown that a sol­id major­i­ty of Amer­i­ca ns across the polit­i­cal spec­trum detest bank bailouts and that, in fact, they would rather sup­port some form of pub­lic ownership.
We won't try to pre­dict what hap­pens next. But, as Han­na put it, ​"The future of bank­ing is far too impor­tant to be left to the bankers."