Retrospectives of the Financial Crisis Are Leaving Out the Most Important Part—Its Victims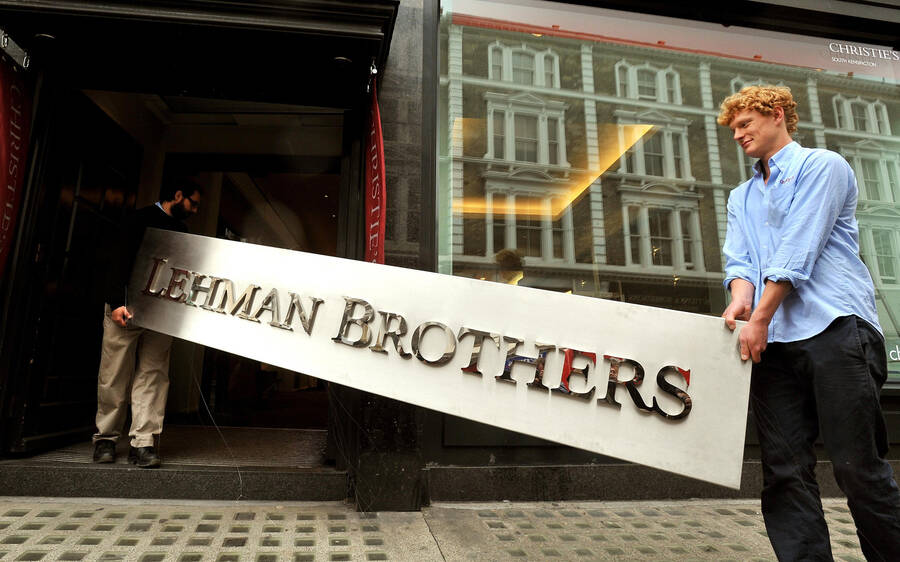 Because I'm a masochist, I've read as many ret­ro­spec­tives as I could about the 10th anniver­sary of the fate­ful fail­ure of Lehman Broth­ers, the emblem­at­ic event of the finan­cial cri­sis. And I can't help but notice a gap­ing hole in the narratives.
I've heard from Lew Ranieri, the Salomon Broth­ers trad­er who invent­ed the mort­gage bond in the 1980s, and now regrets it. I've heard bailout archi­tects Ben Bernanke, Hank Paul­son, and Tim Gei­th­n­er jus­ti­fy their beliefs in doing what­ev­er it took to save the banks. I've endured you-are-there nar­ra­tives about bankers and pol­i­cy­mak­ers rac­ing to res­cue the finan­cial sys­tem. Wonks, pun­dits, and reporters have all offered thoughts on the cri­sis' ori­gins, the response, and its ulti­mate meaning.
It seems the only peo­ple not con­sult­ed for their per­spec­tive were those most pow­er­ful­ly affect­ed by the cri­sis' impact — the mil­lions of fam­i­lies who suf­fered fore­clo­sure and evic­tion. Flip through the nation's major news­pa­pers and peri­od­i­cals and you'll strain to find a sin­gle voice of a home­own­er left adrift when the hous­ing bub­ble col­lapsed. They remain as invis­i­ble to the media and the cul­ture as they were to pol­i­cy­mak­ers in 2008. And this trag­ic blind spot explains near­ly every­thing about how Amer­i­ca con­duct­ed the bailouts, and for whose benefit.
Let me try to rem­e­dy this by intro­duc­ing you to Ter­rie Crow­ley of Deer­field, Illi­nois. She began seek­ing a loan mod­i­fi­ca­tion for her mod­est, 1,500 square-foot ranch­er in 2009. She's been in active lit­i­ga­tion with her mort­gage com­pa­ny, Wells Far­go, since 2011. And she's still fight­ing to keep her home. ​"It's not just a $200,000 house," Crow­ley said in an inter­view. ​"It's where I work, where my fam­i­ly is, where we're build­ing mem­o­ries. It's what I worked so hard in my life to devel­op. I will not let some­body steal my house under those terms."
Unlike most peo­ple wrapped up in the cri­sis, Ter­rie had expe­ri­ence in the finan­cial indus­try. Her first job was on the trad­ing floor at the Chica­go Mer­can­tile Exchange, and she even­tu­al­ly became a real estate bro­ker in the 1990s. But that was one of many indus­tries that implod­ed when the bub­ble popped. Com­bine that with two emer­gency surg­eries in 2008 and the out-of-pock­et expens­es that came with them, and Ter­rie feared that she wouldn't be able to keep up with her mortgage.
So she called Wells Far­go, which ser­viced the loan, for assis­tance. With an 800 cred­it score and a his­to­ry of pay­ing her bills, Ter­rie thought she was a per­fect can­di­date for a loan mod­i­fi­ca­tion. But Wells Far­go blew her off for months, Ter­rie said. Final­ly, in a record­ing she was lat­er able to obtain, a rep­re­sen­ta­tive told Ter­rie that she had to miss pay­ments in order to get a mod­i­fi­ca­tion. ​"I said what are you talk­ing about, I'm nev­er late on my bills, that's not who I am," Ter­rie said. But with her busi­ness dry­ing up she had lit­tle choice.
After fill­ing out the mod­i­fi­ca­tion appli­ca­tions, Ter­rie would use sav­ings to get cur­rent on the loan, unable to endure the stress of being late. But it wasn't true that bor­row­ers had to be late on their mort­gage to qual­i­fy for relief under the government's Home Afford­able Mod­i­fi­ca­tion Pro­gram, or HAMP. Wells Far­go didn't help Ter­rie even after she missed pay­ments. The bank denied four appli­ca­tions, each for ques­tion­able rea­sons. Once they cit­ed $2,300 in cred­it card debt that Ter­rie paid off years earlier.
What Ter­rie lat­er found out from her law­suit is that Wells Far­go had already told the investor in the loan, Fan­nie Mae, that they would be fore­clos­ing on the house, despite the fact that she was cur­rent on the mort­gage at the time. The bank con­duct­ed four hard cred­it checks to take Terrie's cred­it score down to 660, mak­ing her inel­i­gi­ble for alter­na­tives like refi­nanc­ing. The whole thing was a pre­text, using a gov­ern­ment mort­gage pro­gram to trap the bor­row­er and cap­ture the home.
Fan­nie Mae actu­al­ly extend­ed a loan mod­i­fi­ca­tion offer to Ter­rie, which Wells Far­go nev­er let her see. Instead, Wells Far­go gave her a ​"spe­cial for­bear­ance" agree­ment, allow­ing her to freeze pay­ments for a tri­al peri­od. But Wells Far­go nev­er made the mod­i­fi­ca­tion per­ma­nent, ask­ing her for the skipped mort­gage pay­ments after the tri­al peri­od end­ed. Ter­rie pre-emp­tive­ly sued Wells Far­go in 2011, the bank took her to court for fore­clo­sure, and three attor­neys lat­er, she's still locked in battle.
Ter­rie has been telling this sto­ry for years, and it's at once unique and total­ly nor­mal activ­i­ty dur­ing the fore­clo­sure cri­sis. Ram­pant fraud plucked homes from mil­lions of bor­row­ers who encoun­tered strug­gle through no fault of their own and tried to do the right thing. Yet those who bore this bur­den con­tin­ue to be forgotten.
In his ret­ro­spec­tive, the New York Times' Neil Irwin ges­tured at the mas­sive ​"human cost of the fore­clo­sure cri­sis." But cit­ing Rick Santelli's rant against bail­ing out ​"the loser's mort­gages," Irwin lament­ed, ​"the pol­i­tics of help­ing trou­bled home­own­ers was more tox­ic than the cri­sis man­agers had fore­seen." That's some­thing that can only be writ­ten by some­body who hasn't sat down with a fore­clo­sure vic­tim. It's an excuse, used by pol­i­cy­mak­ers and their enablers, so they can live with their actions. The same peo­ple who moved heav­en and earth to secure extreme­ly unpop­u­lar bank bailouts came up with all kinds of con­straints when it came to foreclosures.
But the pol­i­tics of not help­ing home­own­ers was far more tox­ic than Rick San­tel­li and the Tea Par­ty have ever been. Mil­lions of peo­ple saw the biggest finan­cial pur­chase of their lives, the place they lived, the source of their sta­bil­i­ty, ripped away from them. They saw their gov­ern­ment ignore, if not out­right aban­don them in their time of need. And they were fun­da­men­tal­ly altered by the experience.
"I shed a lot of tears when I go to court and see anoth­er fam­i­ly dev­as­tat­ed," Ter­rie told me. ​"I had a woman, came out of court, she fell in my arms, say­ing ​'what am I going to do, my hus­band left me, I lost every­thing.' I didn't know her! I saw a World War II vet sit­ting to go in for an evic­tion date while his wife was dying of can­cer. You don't walk into envi­ron­ments like that over and over and not have it change you."
These vic­tims were seg­re­gat­ed from the halls of pow­er, humil­i­at­ed into silence about their plight. Fore­clo­sure vic­tims don't have lob­by­ists or liaisons that could grab the atten­tion of elites. Not only did this pro­long eco­nom­ic pain, it cre­at­ed a stew of anger and frus­tra­tion, and lent evi­dence to the Rea­gan-era notion that gov­ern­ment is the prob­lem and not the solu­tion. It pre­pared the ground for pop­ulist dem­a­gogues. It was a cat­a­stroph­ic mis­take. And it's impos­si­ble to assess the finan­cial cri­sis and its con­clu­sion with­out remem­ber­ing this bro­ken social con­tract, the moment the gov­ern­ment chose to res­cue Wall Street and not Main Street.
Incred­i­bly, despite all this, Ter­rie Crow­ley is hope­ful as she con­tin­ues to fight for her home. ​"I'm past that fury stage," she said. ​"Maybe if so many of us keep going and are suc­cess­ful, in some way it will edu­cate peo­ple. I'm not going to change Wells Far­go. But these cas­es do mat­ter. We just don't know how they mat­ter yet."