Saying Union Was a Wing of Management, Flight Attendants Launched a Rebellion on Facebook—And Won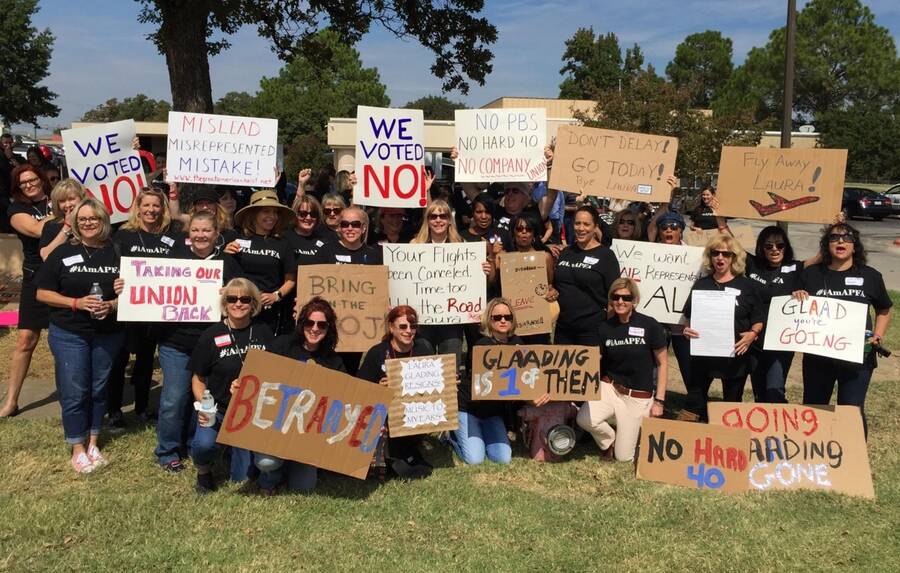 Imag­ine your union pres­i­dent resigned — and three months lat­er, became a high-paid con­sul­tant for your employ­er. Reform­ers in the Asso­ci­a­tion of Pro­fes­sion­al Flight Atten­dants used this unfor­tu­nate sit­u­a­tion to spur their cam­paign to reclaim the union.
Four rank-and-file can­di­dates swept elec­tions on Feb­ru­ary 18, win­ning the union's top posts. Final results were announced today. L.A.-based flight atten­dant Bob Ross, who won 71 per­cent of the 11,533 votes cast, will be the new president.
Though not a for­mal slate, the reform­ers were infor­mal­ly linked with the slo­gan ​"2 – 2‑2" — a ref­er­ence to where their names appeared on the bal­lot. Their task now will be to rebuild a union that activists charge has prac­ti­cal­ly become a wing of management.
They are also seek­ing to unite a mem­ber­ship still divid­ed in the after­math of the merg­er between Amer­i­can Air­lines and US Air­ways. APFA rep­re­sents 25,000 crew mem­bers at the merged airline.
Pres­i­dent Lau­ra Glad­ing stepped down in Octo­ber — under pres­sure from angry mem­bers, who were push­ing for a spe­cial recall elec­tion. Amer­i­can announced in Jan­u­ary that it had hired her as a consultant.
"Lau­ra Glad­ing pret­ty much had management's phi­los­o­phy," said Ross, a for­mer Air Force mechan­ic who's been a flight atten­dant since 1983. ​"It got to the point where the lines between the com­pa­ny and the union were blurred so that they were almost unrecognizable."
Nei­ther Amer­i­can Air­lines nor Glad­ing respond­ed to a request for comment.
Con­tracts Forced In
Ross points to the five-year con­tract nego­ti­at­ed in 2014, which was vot­ed down 8,196 to 8,181 — and then imple­ment­ed any­way, after just one day of bind­ing arbitration.
Get­ting this con­tract through was key to the merg­er. Flight atten­dants were furi­ous when they learned that Glading's cousin, Tom Weir, had been a top US Air­ways exec­u­tive dur­ing the merg­er nego­ti­a­tions. He too now works at American.
One of mem­bers' biggest frus­tra­tions was that the agree­ment failed to rein­tro­duce prof­it-shar­ing. In 2015 Amer­i­can enjoyed two of its most prof­itable quar­ters ever, bring­ing in $1.7 bil­lion twice.
The con­tract also intro­duced a ​"hard 40" — a require­ment to fly a min­i­mum of 40 flight-hours every month, ​"which is hard for a lot of peo­ple who have oblig­a­tions and emer­gen­cies," said L.A.-based flight atten­dant Tyler Bonil­la. Pre­vi­ous­ly the require­ment had been more flex­i­ble: a 40-hour month­ly aver­age over the year.
"The flex­i­bil­i­ty of this job is a rea­son why peo­ple become a flight atten­dant," said Bonil­la, who start­ed in 2013. It allows them to care for sick fam­i­ly mem­bers and take advan­tage of their trav­el benefits.
Flight atten­dants also lost the right to light duty — ​"which is huge for preg­nant women," Bonil­la said. And new hires went back­wards. They now work their first year entire­ly on reserve (i.e., on call), rather than alter­nat­ing every oth­er month between reserve and a set schedule.
APFA mem­bers had vot­ed down anoth­er con­ces­sion­ary con­tract in 2003. That one too was imple­ment­ed any­way, after the com­pa­ny and union agreed to extend vot­ing for a day.
"With­in five min­utes, there were these pink pieces of paper, let­ting us change our votes," said Mia­mi-based flight atten­dant Kiri Wirth. ​"We got on our air­craft, we got anoth­er pink slip of paper. There was anoth­er one slid under our hotel room door. And anoth­er one at the gate."
That con­tract includ­ed a 34 per­cent over­all pay cut, which the union and man­age­ment argued was nec­es­sary to save Amer­i­can from the bank­rupt­cy wave that was then sweep­ing the industry.
'

It Wears You Out'

Today, senior flight atten­dants at Amer­i­can can make up to $56.69 per flight-hour in base wages. But that only counts fly­ing time.

"If a flight's can­celed, we lose mon­ey," said Ross. ​"We're not paid dur­ing the board­ing process. … When you land and you change air­craft and you're walk­ing through the ter­mi­nal, you're not paid for that."

Nation­al­ly, flight atten­dants' wages have stag­nat­ed for decades.

"We're mak­ing the wages of around 1998," said Ross. The Bureau of Labor Sta­tis­tics report­ed a medi­an wage of $42,710 that year — and $42,290 in 2014. Account­ing for infla­tion, that means wages have fall­en dramatically.

At Amer­i­can, new flight atten­dants start at $24.67 per flight-hour — in the low $20,000s annually.

Bar­bara Throw­er, who has worked as a flight atten­dant since 1973, esti­mates her salary has been cut by near­ly one-fourth since 2003. In the same peri­od, she said, ​"we've lost work rules that you can't put a price on.

"The job has changed so much," she said. ​"The safe­ty pro­fes­sion­al side of it is far more intense and involved than it was when I start­ed fly­ing 43 years ago. You're look­ing at glob­al dis­eases now, being aware of human traf­fick­ing, issues we were not aware of before.

"And just being alert. Self-defense wasn't a part of my job 15 years ago — and now we have a whole class on how to beat up Bob the Doll with karate chops to the neck… It wears you out."

Oth­er union flight atten­dants have been lob­by­ing for a 10-hour min­i­mum rest require­ment. A bill pushed by the Com­mu­ni­ca­tions Work­ers-affil­i­at­ed Asso­ci­a­tion of Flight Atten­dants, which rep­re­sents 60,000 crew mem­bers at 19 air­lines, passed the House in February.

While APFA rank and fil­ers also lob­bied for the bill, they're furi­ous that for­mer Pres­i­dent Glad­ing is lob­by­ing for the company's interests.

"The union lead­er­ship has for­got­ten who they're sup­posed to be pro­tect­ing," said Ross. ​"We can't be the ones who pro­tect the company's bot­tom line. The com­pa­ny has to do that itself."
Card­board Tiger
When Glad­ing resigned in Octo­ber, 300 flight atten­dants were there to cheer. Fed up with her lead­er­ship, they had flown into Dal­las from across the coun­try to ral­ly out­side the union's exec­u­tive board meet­ing, demand­ing a recall.
Throw­er helped jump-start the rebel­lion. She was in over-water train­ing last August when she mes­saged some fel­low flight atten­dants to talk about a slo­gan: ​"We came up with ​'kick her to the curb and cross check.'"
Throw­er drew up a card­board sign. She had her hus­band take a pic­ture of her hold­ing it in front of APFA head­quar­ters, post­ed it on Face­book — and it took off, shared from the many online groups in which flight atten­dants participate.
Rid­ing this momen­tum, Throw­er and oth­ers orga­nized the Octo­ber 5 rally.
When APFA offi­cers got wind of it, they threat­ened to close the union office to deny the demon­stra­tors the use of restrooms inside. So Throw­er threat­ened to order four por­ta-pot­ties and sta­tion them out­side the build­ing for a month.
It worked; the build­ing stayed open.
Break Up The Coun­try Club
In January's first round of elec­tions, Ross came out on top, with 33 per­cent of the votes for pres­i­dent. He faced long­time APFA staffer Patrick Han­cock in a runoff.
Han­cock is a retire­ment spe­cial­ist who runs his own law firm. Ross, who served as base pres­i­dent in San Fran­cis­co for three years, tout­ed his cre­den­tials as a work­ing flight atten­dant. A base is the home air­port to which flight atten­dants are assigned.
Reform can­di­dates Mar­cy Dun­away for nation­al sec­re­tary and Euge­nio Var­gas for trea­sur­er also emerged vic­to­ri­ous in the sec­ond round. Dun­away won with 65 per­cent of the vote, and Var­gas got 58 per­cent. Nena Mar­tin won the vice pres­i­den­cy out­right, run­ning against unpop­u­lar Inter­im Pres­i­dent Mar­cus Gluth.
The nation­al elec­tions came on the heels of last year's elec­tions for local lead­er­ship at all the of union's 14 bases. The base pres­i­dents sit on the union's nation­al board of directors.
Base lead­ers get ​"trip-removed," mean­ing they aren't required to fly. The reform­ers argue this perk, while impor­tant, has caused many to fall out of touch with members.
"It's become lucra­tive — an aphro­disi­ac — to not have to fly," said Ross.
To encour­age mem­bers to run in the base elec­tions, Wirth used a Face­book page she had set up for no vot­ers on the 2014 agree­ment. Her mes­sage was, "'You don't have to have been a union per­son before,'" she said. "'We have to change the sta­tus quo, right now.'"
The chal­lengers had some suc­cess, includ­ing win­ning lead­er­ship of the large New York base.
Online Coor­di­na­tion
To reach 25,000 flight atten­dants scat­tered across the globe, cam­paign­ers relied heav­i­ly on social media.
"Face­book is our lifeblood," said Wirth. ​"You're talk­ing about flight atten­dants who are all over the world. They have instant access to infor­ma­tion. You can add peo­ple to a group, and they can go right to that group and get updated."
She co-admin­is­ters the AA Flight Atten­dants group, which has 8,000 mem­bers. About 20 activists devote sig­nif­i­cant amounts of their off time to answer­ing online ques­tions from oth­er flight attendants.
"Peo­ple post in there, ​'I'm hav­ing a tough time, I'm think­ing about not stay­ing with this job,'" Wirth said. ​"Or ​'What's the rule on this crew sched­ul­ing issue?' And peo­ple come back with advice."
To facil­i­tate email peti­tion­ing via Face­book, she worked with a new flight atten­dant to devel­op the ​"red enve­lope cam­paign," which allows the user to send an email with just one click.
These cam­paigns have gen­er­at­ed 1,000 emails demand­ing Glading's removal, Wirth said, as well as 900 to fix the sched­ul­ing sys­tem at Christ­mas, and anoth­er 1,000 ask­ing the union to remove its pub­lic rela­tions firm.
Throw­er wasn't even on Face­book until 2011. After glanc­ing at the union's pam­phlet on the high­lights of American's ​"last, best, and final offer" that year, she planned to vote yes.
"But know­ing Lau­ra Glad­ing, and know­ing that she was pro­mot­ing it," Throw­er said, ​"I knew I had to research more." So, guid­ed by some younger flight atten­dants, she set up a pro­file and joined the AA Flight Atten­dants group — where she found ​"so many smart peo­ple out there who could go through that offer and show where it was false… What I didn't like [in the con­tract] was all these ​'to be determined's."
Flight atten­dants say social media has changed the dynam­ics of the election.
In past elec­tions, ​"if there was a rumor going around, it'd go around for a week," said Ross, ​"but now, you can respond instantly.
"The prob­lem is," he said, ​"now I'm pret­ty much held hostage to Face­book 24⁄7. I'm on from 6 in the morn­ing until 2 or 3 in the morning."
Road Trips
Still, can­di­dates are mak­ing base vis­its to intro­duce them­selves in per­son. Sup­port­ers are also pro­mot­ing their cam­paigns with bag tags, pins, and bracelets.
"Not every­body is com­put­er-savvy, let alone Face­book-savvy," said David Bell, who's worked at Amer­i­can for 25 years. ​"We used to have a phone tree, and we don't have that any­more… When we had the strike back in ​'93, that phone tree was a great resource for us. That needs to be brought back."
"I think the more we talk about [the elec­tion] in per­son, the fur­ther we'll get," said Bonil­la. ​"On Face­book it's a select group, and it's the same peo­ple that you're talk­ing to over and over again."
Ross made a sev­en-day road trip on his days off — start­ing in Char­lotte, North Car­oli­na, a lega­cy US Air­ways base, where he had one of his poor­est show­ings in the first round.
"The cam­paign right now," said Ross, ​"is try­ing to give this union back to the mem­ber­ship, to give them a union that they actu­al­ly feel is fight­ing for them."
This arti­cle first appeared at Labor​no​tes​.org