The Short Case for Making College Free and a Universal Right
After years of cuts, it's time to make the pursuit of knowledge a right for all.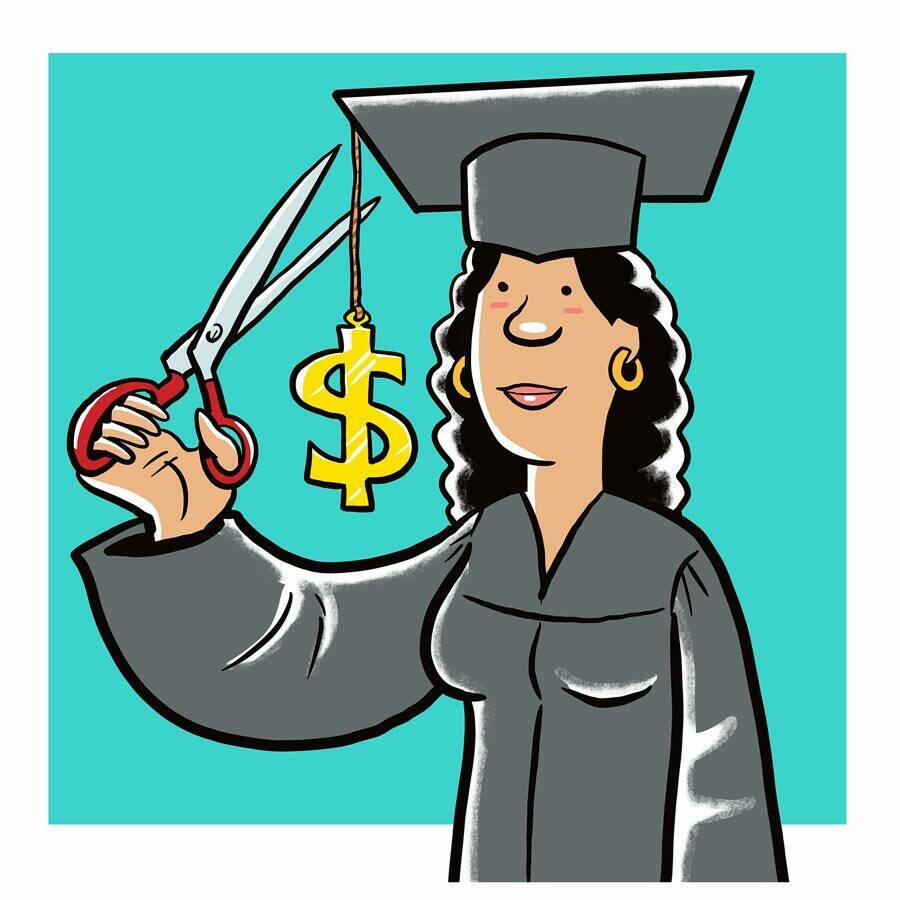 free col•lege
noun
1. A rad­i­cal expan­sion of fed­er­al fund­ing to make high­er edu­ca­tion a pub­lic good
"Col­lege shouldn't just be a priv­i­lege for those who can afford [it]. Like K‑12 edu­ca­tion, col­lege is a basic need that should be avail­able for free."
—Sen. Eliz­a­beth War­ren (D‑Mass.), out­lin­ing her plan for free pub­lic college
How would we do this? How much would it cost?
Bernie Sanders' 2016 pres­i­den­tial run brought free col­lege back into the nation­al debate. His Col­lege for All Act, intro­duced in 2017, would pro­vide fed­er­al and state fund­ing to cov­er tuition at all pub­lic col­leges and uni­ver­si­ties — for about $70 bil­lion annually.
This time around, Bernie isn't the only con­tender call­ing for debt-free diplo­mas. In April, Eliz­a­beth War­ren released a sweep­ing plan to elim­i­nate tuition, expand assis­tance for hous­ing and books, wipe out most stu­dent debt, and cut off fed­er­al fund­ing to for-prof­it col­leges. That plan comes in at $1.25 tril­lion over 10 years, paid by a pro­posed wealth tax.
Stu­dent debt is one of like

1

.

25

tril­lion prob­lems right now. Is free col­lege the priority?
It's worth remem­ber­ing that fed­er­al land-grant uni­ver­si­ties were first cre­at­ed in the midst of the Civ­il War— not exact­ly a chill time in our his­to­ry. In 1862, Abra­ham Lin­coln signed a vision­ary piece of leg­is­la­tion cham­pi­oning acces­si­ble high­er edu­ca­tion for all — includ­ing lib­er­at­ed slaves, in intent though not always in prac­tice — to pro­vide a foun­da­tion for tack­ling the chal­lenges fac­ing the nation.
For near­ly a cen­tu­ry after fed­er­al land-grant col­leges were first estab­lished, many pub­lic insti­tu­tions were free, or near­ly so. Dur­ing the past three decades, states have slashed their high­er ed fund­ing and uni­ver­si­ty admin­is­tra­tors have embraced the idea that cam­pus­es should be run like busi­ness­es. But in the past five years, there's been a push by cities and states—blue and red alike—to make pub­lic and com­mu­ni­ty col­leges tuition-free again. Add the fact that two lead­ing pres­i­den­tial con­tenders are push­ing free col­lege and the con­cept might not be as fringe as you'd think.
Why should we make col­lege free, even for those who can afford it?
Some politi­cians would rather expand assis­tance only for low-income stu­dents, rather than sub­si­dize a pro­gram that could end up ben­e­fit­ing peo­ple like Lori Loughlin's kids.
But means-test­ed pro­grams tend to be polit­i­cal­ly vul­ner­a­ble, attacked by the Right as char­i­ty for the poor. Uni­ver­sal pro­grams, on the oth­er hand, are often more pop­u­lar. To say that things like hous­ing, health­care and edu­ca­tion should be pub­licly sub­si­dized sends the mes­sage that they are good for soci­ety as a whole. The pur­suit of knowl­edge shouldn't be treat­ed like a busi­ness — it is the right of every person.
This is part of ​"The Big Idea," a month­ly series offer­ing brief intro­duc­tions to pro­gres­sive the­o­ries, poli­cies, tools and strate­gies that can help us envi­sion a world beyond cap­i­tal­ism. For past In These Times cov­er­age of free col­lege in action, see, ​"The Fight For Free Col­lege Moves to the States," ​"A Brief Case for Can­celling All Stu­dent Loan Debt​," ​"These Stu­dents Are Lead­ing a Move­ment for Free Col­lege in the Unit­ed States," and ​"Why Can't Col­lege Be Free?"