Protesters Arrested at $15-an-Hour Action Outside Burger King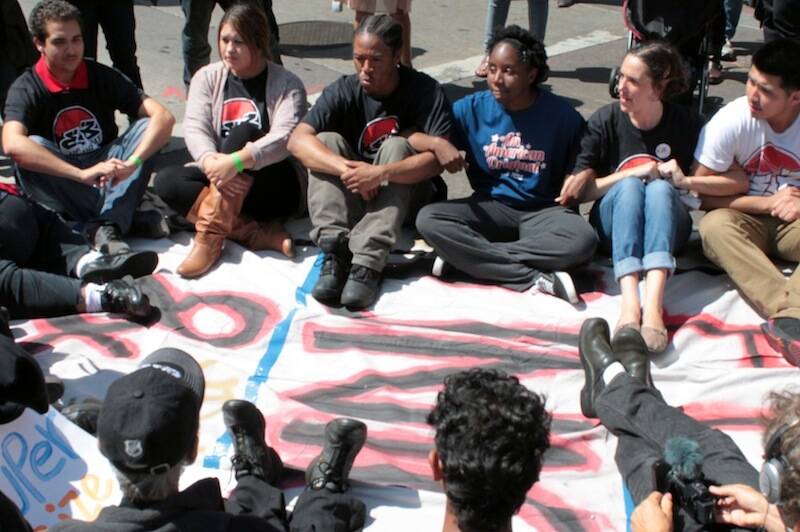 In Oak­land, Cal­i­for­nia, on Thurs­day, 150 work­ers and sup­port­ers took on the bil­lion-dol­lar fast-food indus­try, urg­ing com­pa­nies like Burg­er King, McDon­alds, Taco Bell, Jack-in-The-Box and oth­ers to pay their work­ers fair­ly instead of dol­ing out pover­ty lev­el wages. Four­teen peo­ple were arrest­ed in down­town Oak­land as they par­tic­i­pat­ed in peace­ful civ­il dis­obe­di­ence. They were lat­er issued cita­tions and released.
"When I was younger, the thought of hav­ing mon­ey in my pock­et [by work­ing at Taco Bell] was big, but as you start to pay bills, you real­ize how lit­tle it is. That's one of the first things I got used to when I got my job: being broke," Alvaro San­doval, a fast-food work­er at Taco Bell in Oak­land, told Work­ing In These Times.
The fed­er­al min­i­mum wage has been $7.25 an hour since July 2009. California's min­i­mum wage is $9 an hour.
Accord­ing to a 2013 report from the Nation­al Employ­ment Law Project, the nation­al medi­an hourly wage for cooks, cashiers and servers is $8.94.
The strike was part of a one-day strike in 150 cities to call atten­tion to fast-food work­ers' fight for a $15-an-hour wage and the right to form a union, inten­si­fy­ing a two-year cam­paign that began in New York with 200 workers.
Sil­via Ochoa tells Work­ing in These Times that she has worked five years at a McDonald's in the East Bay. She says she works a 40-hour week and brings home $600 every two weeks.
"My rent is $450, [then there are] the bills, the babysit­ting, food. The mon­ey doesn't last." She added, ​"we're good hard work­ers. We want a bet­ter salary and bet­ter treat­ment. All we are fight­ing for is jus­tice, and we are unit­ed in our effort to cre­ate a bet­ter life — for our­selves and for our chil­dren," she said.
The grow­ing fast-food work­er move­ment start­ed has begun to change the myth that sling­ing a burg­er is for teenagers look­ing for a lit­tle chump change. Instead, there's a grow­ing under­stand­ing that these low-wage work­ers are sup­port­ing fam­i­lies and are receiv­ing lit­tle to no pay boost from the much-tout­ed ​"eco­nom­ic recovery."
Rep. Bar­bara Lee (D‑Oakland) said in a state­ment, ​"No one work­ing full-time should live in pover­ty or have to work two jobs to meet ends meet," Lee said. ​"To re-build our econ­o­my and expand the mid­dle class, we need to empow­er work­ers with a liv­ing wage that will put more mon­ey in their pockets."
Accord­ing to the Ser­vice Employ­ees Inter­na­tion­al Union, which is fund­ing much of the effort, the move­ment has already had tan­gi­ble effects. Since the cam­paign start­ed, accord­ing to the union, near­ly 7 mil­lion low-wage work­ers have seen their wages rise. In, Seat­tle the min­i­mum wage is now $15 an hour In San Fran­cis­co, Cam­paign for a Fair Econ­o­my helped put Prop J on the Novem­ber bal­lot — a mea­sure that would increase San Francisco's min­i­mum wage to $15 per hour over four years.
Thursday's one-day strike also comes on the heels of sev­er­al major legal vic­to­ries that could allow work­ers to hold McDonald's account­able for its labor practices.
Over the past two years, accord­ing to SEIU, McDonald's has side­stepped demands for fair pay by claim­ing that fran­chisees, not the cor­po­ra­tion, are respon­si­ble for adher­ing to labor stan­dards. But in July, in response to 181 SEIU-backed com­plaints of unfair labor prac­tices at McDonald's, the Nation­al Labor Rela­tions Board found that the com­pa­ny ​"is a joint employ­er that exerts sub­stan­tial pow­er over its' employee's work­ing conditions."
And in August, Cal­i­for­nia passed a law — the Cal­i­for­nia Fran­chise Rela­tions Act — affirm­ing cor­po­ra­tions' respon­si­bil­i­ty for fran­chisees' treat­ment of work­ers, while also bol­ster­ing the rights of fran­chise own­ers to raise wages with­out penal­ty from its cor­po­rate overlord.
"Fran­chise agree­ments are so one-sided, fran­chisees have vir­tu­al­ly no say in the busi­ness­es we've risked our life sav­ings and ded­i­cat­ed years of our lives to build," Kathryn Carter, a McDonald's fran­chise own­er, told the Cal­i­for­nia branch of the SEIU when the law was approved. ​"Cor­po­rate head­quar­ters con­trol near­ly every aspect of our busi­ness — we can be pun­ished for speak­ing out or join­ing with oth­er fran­chise own­ers to improve busi­ness conditions."
On Thurs­day at the after­noon action, Rab­bi Mike Walk­man, a cler­gy­men who among those arrest­ed, pumped up the crowd in the day in a call and response, say­ing that he'd heard an exec­u­tive from a fast food com­pa­ny say on the radio that "$15 an hour ​'isn't real­is­tic.' " He instruct­ed the crowd: ​"If you have trou­ble pay­ing your rent on what you earn, say: ​'This is real­i­ty!' When you make food but are hav­ing trou­ble feed­ing your fam­i­ly, I want you to tell me: ​'This is real­i­ty!' When your chil­dren don't get school sup­plies that oth­er chil­dren get, food that oth­er chil­dren get, clothes that oth­er chil­dren get, I want to hear you say: ​'This is reality!' "
The crowd roared back, ​"This is reality!"
As the work­ers marched toward an Oak­land Burg­er King in Oak­land, the Brass Lib­er­a­tion Orches­tra, which often sup­ports social jus­tice march­es with live­ly music, played along, adding a fes­tive air.
Fast-food work­er Alvaro San­doval says the impli­ca­tions go beyond high­er wages for burg­er-slingers: ​"I know deep down this is not just for our com­mu­ni­ty but for work­ers all around the U.S. If we were to raise the min­i­mum wage for fast-food work­ers, peo­ple would see it isn't impos­si­ble for every­one else."
Rose Arri­eta
was born and raised in Los Ange­les. She has worked in print, broad­cast and radio, both main­stream and com­mu­ni­ty ori­ent­ed — includ­ing being a for­mer edi­tor of the Bay Area's inde­pen­dent com­mu­ni­ty bilin­gual biweek­ly El Tecolote. She cur­rent­ly lives in San Fran­cis­co, where she is a free­lance jour­nal­ist writ­ing for a vari­ety of out­lets on social jus­tice issues.