Detainees Reportedly Thrown Into Solitary Confinement as Hunger Strike Continues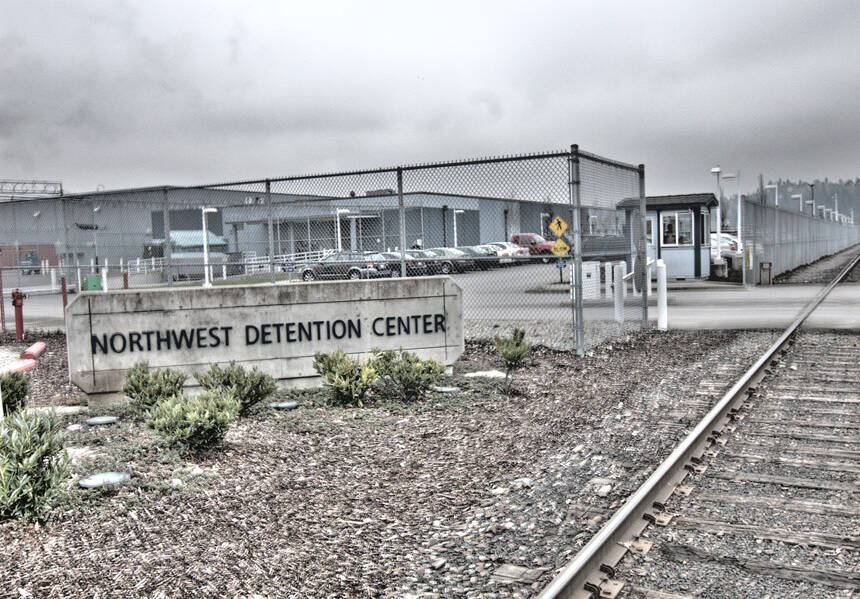 As a rolling hunger strike by detainees at the North­west Deten­tion Cen­ter in Taco­ma, Wash., enters its fourth week, pro­test­ers claim that admin­is­tra­tors have tak­en retal­ia­to­ry mea­sures in response to the efforts sur­round­ing the strike.
Has­sall Moses, a U.S. army vet­er­an and detained immi­grant, says that on March 26, he was pulled from the gen­er­al pop­u­la­tion and put in seg­re­ga­tion after call­ing for a work stop­page among the detainees.
​"I print­ed out a let­ter ask­ing my fel­low detainees to come togeth­er as one peo­ple, unit­ed," said Moses in a record­ed state­ment to a vis­it­ing attor­ney that has been made avail­able to the media. After­ward, he says, he was placed in soli­tary confinement.
But Moses was just the first per­son tar­get­ed. One day lat­er, more than 20 men were also alleged­ly placed in iso­la­tion. Sev­er­al of them told attor­neys that offi­cials had asked the detainees if any­one want­ed to speak to high­er-ups about con­di­tions there. Accord­ing to a state­ment from attor­neys at the cen­ter, the group vol­un­teered, believ­ing they were head­ed into nego­ti­a­tions over the hunger strike. Instead, the men say they were hand­cuffed, sur­round­ed by offi­cers in riot gear and tak­en into soli­tary confinement.
Mean­while, fam­i­ly mem­bers who went to vis­it the cen­ter this week­end report­ed that their rel­a­tives were brought to the vis­it­ing area in shack­les and sur­round­ed by four guards each.
Locat­ed about 40 miles south of Seat­tle, the North­west Deten­tion Cen­ter is run by GEO Group, one of the largest pri­vate providers of cor­rec­tion­al ser­vices in the coun­try. Though it con­tracts with a num­ber of orga­ni­za­tions, the U.S. Immi­gra­tion and Cus­toms Enforce­ment (ICE) is its most gen­er­ous cus­tomer — the depart­men­t's busi­ness alone brings in upwards of $200 mil­lion a year for the com­pa­ny.
Mean­while, pro­test­ers say, con­di­tions inside the facil­i­ty in Taco­ma are mis­er­able. The hunger strik­ers are call­ing for improved food qual­i­ty, an end to exces­sive com­mis­sary prices, decreased phone rates and an end to depor­ta­tion in general.
They're also ask­ing for increased pay for their work. Cur­rent­ly, detainees say that they pro­vide the pri­ma­ry source of labor for the facil­i­ty, includ­ing work­ing in the kitchen or laun­dry rooms and per­form­ing jan­i­to­r­i­al ser­vices — and that they do so for $1.00 a day. (Inmates in state or fed­er­al cor­rec­tion­al facil­i­ties are paid 25 cents an hour for work they do in prisons.)
Moses, who was born in Microne­sia and has been detained for 21 months, hoped to high­light this injus­tice with the writ­ten call for work stop­page that he says land­ed him in soli­tary con­fine­ment. ​"Basi­cal­ly this facil­i­ty is run by the detainees," he says. ​"If every­body stopped work­ing, we could nego­ti­ate the pay raise, because right now every­body is work­ing for a dollar."
​"You could call it the ​'one dol­lar a day vol­un­teer pro­gram.' … No mat­ter how many hours they work, they get one dol­lar," adds Maru Mora Vil­lal­pan­do, an immi­grant rights activist with the Lati­no Advo­ca­cy group in the Seat­tle area, in an inter­view with In These Times.
​"GEO is mak­ing mon­ey out of their mis­ery, and sep­a­rat­ing fam­i­lies, and sav­ing mon­ey out of their ​'vol­un­teer' labor — [and it] is the per­fect storm to make this such a huge prof­it machine," she con­tin­ues. GEO Group did not respond to mul­ti­ple requests for comment.
Vil­lal­pan­do points out the dis­con­nect between strict immi­gra­tion laws — fre­quent­ly tout­ed by politi­cians as the way to ​"pro­tect" Amer­i­can jobs — and the pal­try wages of detainees. As she recent­ly told Al Jazeera, ​"It's just iron­ic that the gov­ern­ment is detain­ing peo­ple for work­ing with­out a social secu­ri­ty num­ber; mean­while, they allow this com­pa­ny to exploit their labor."
The report­ed­ly low pay has also caught the atten­tion of labor lead­ers in the area. Jeff John­son, pres­i­dent of the Wash­ing­ton State Labor Coun­cil, and Tef­ere Gebre, exec­u­tive vice pres­i­dent of the AFL-CIO, have joined the allies who gath­er on a dai­ly basis out­side the Taco­ma deten­tion cen­ter to deplore the con­di­tions inside. They also intend to gath­er their resources on behalf of the detainees.
​"We're look­ing to fig­ure out ways to help the fam­i­lies and what we can do finan­cial­ly and legal­ly," John­son tells In These Times. ​"This is out­ra­geous that they are forced to work and get only dol­lar a day."

​"The irony is that [at] the North­west Deten­tion Cen­ter … with­in eye­sight are these mil­lion-dol­lar con­dos, while hun­dreds of detainees live in con­di­tions that none of us would tol­er­ate if the pub­lic could actu­al­ly see what these folks are going through," he continues.
A few weeks into the strike, local law­mak­ers vis­it­ed North­west to meet with some of the pro­test­ers. After­ward, U.S. Rep. Adam Smith, whose dis­trict includes the facil­i­ty, spoke with DHS Sec­re­tary Jeh John­son. In a lat­er state­ment, Smith said that he ​"expressed [his] con­cerns [to Jeh John­son] about the ris­ing num­ber of immi­grants being deported."
He also said that he sent let­ters to Pres­i­dent Oba­ma and John­son ask­ing for ​"pros­e­cu­to­r­i­al dis­cre­tion at all lev­els of immi­gra­tion enforce­ment pro­ceed­ings so that fac­tors such as ties to the com­mu­ni­ty are not ignored." In addi­tion, he said he urged ​"increased depor­ta­tion relief for imme­di­ate rel­a­tives of U.S. cit­i­zens, Legal Per­ma­nent Res­i­dents, and DREAM­ers that con­tin­ue to be deport­ed while we wait for com­pre­hen­sive immi­gra­tion to come to the floor for a vote."
​"Increased lev­els of depor­ta­tion have had a dev­as­tat­ing impact on our com­mu­ni­ty, and I hope action is tak­en to pro­vide greater pros­e­cu­to­r­i­al dis­cre­tion," he concluded.
News of the protest at North­west has spread to immi­grants at oth­er facil­i­ties. At the Joe Cor­ley Deten­tion Facil­i­ty in Con­roe, Texas — also run by GEO Group—more than 100 detainees launched a hunger strike on March 16. And the retal­i­a­tion for those strik­ers has also alleged­ly been harsh. Accord­ing to Cristi­na Park­er, an orga­niz­er with Austin-based Grass­roots Lead­er­ship, some detainees at Cor­ley have been shack­led and isolated.
Diyadera Tre­viño of the Texas Undoc­u­ment­ed Youth Alliance tells Free Speech Radio News that oth­er detainees from the Texas facil­i­ty were actu­al­ly deport­ed to Mex­i­co and Hon­duras as a con­se­quence of par­tic­i­pat­ing in the action.
​"ICE and GEO have them­selves iden­ti­fied peo­ple as lead­ers," she says. ​"We've received calls from peo­ple they have already deport­ed … who have called us and said ​'I was amongst the men par­tic­i­pat­ing in the hunger strike and I was intim­i­dat­ed and forced to sign my depor­ta­tion removal [order].'"
In order to ensure the detainees' right to go on hunger strike was being respect­ed, ACLU attor­neys tried to enter Cor­ley last week; how­ev­er, accord­ing to activists, they were denied access to the facil­i­ty.

ICE spokesper­son Andrew Munoz said in a state­ment: ​"ICE ful­ly respects the rights of all peo­ple to express their opin­ion with­out interference."
The strikes were staged in response to con­di­tions at the indi­vid­ual facil­i­ties, but ral­lies to sup­port the detainees in both cen­ters will be part of the #2Million2Many Nation­al Day of Action on April 5. Orga­nized by the Nation­al Day Labor Orga­niz­ing Net­work (NDLON) to mark two mil­lion depor­ta­tions under the Oba­ma admin­is­tra­tion, activists have planned hunger strikes, march­es and sit-ins in more than 40 cities across the country.
In San Fran­cis­co, for instance, mem­bers of the grass­roots orga­ni­za­tion Mujeres Unidas y Acti­vas will par­take in a 24-hour fast begin­ning April 3, with a larg­er mass action on April 4. In Chica­go, par­tic­i­pants will march to protest at the Deten­tion Cen­ter in Broad­view, Ill.; Los Ange­les groups will gath­er out­side City Hall.
Though the pro­test­ers' demands for the admin­is­tra­tion vary some­what from city to city, they include extend­ing Deferred Action for Child Arrival (DACA) to all immi­grants; issu­ing an exec­u­tive order to halt all depor­ta­tions; end­ing ​"Secure Com­mu­ni­ties" and oth­er police/​ICE col­lab­o­ra­tion pro­grams; end­ing work­place enforce­ment pro­grams such as ​"E‑Verify" and I‑9 audits; sup­port­ing the ​"Bring Them Home" Cam­paign; and grant­i­ng human­i­tar­i­an parole to deport­ed par­ents who have been sep­a­rat­ed from their children.
​"To date, the admin­is­tra­tion's announced immi­gra­tion ​'ini­tia­tives' have fall­en far short, and failed to ease the trag­ic sep­a­ra­tion of fam­i­lies that dev­as­tate com­mu­ni­ties on a dai­ly basis. Enough is enough. As orga­ni­za­tions that see the dev­as­ta­tion of depor­ta­tions in our com­mu­ni­ty, we can­not be silent, nor par­tic­i­pate in pro­grams that mere­ly make cos­met­ic changes," read a state­ment released by the coali­tion group SF Bay for Immi­grant Jus­tice about the campaign.
For the last five years, activists point out, a fed­er­al pol­i­cy has required ICE to keep a min­i­mum num­ber of detainees in cus­tody. ​"The fact is that Oba­ma is not giv­ing us any relief," says Vil­lal­pan­do. ​"Con­gress set up a quo­ta for ICE to have 34,000 [immi­grants] any giv­en day in deten­tion centers."
Though the 2015 fed­er­al bud­get does not include this spe­cif­ic man­date, it does ear­mark more than a bil­lion dol­lars for deten­tion beds. And in the mean­time, immi­grants con­tin­ue to be detained, deport­ed and sep­a­rat­ed from their fam­i­lies at a record pace.
​"We want Pres­i­dent Oba­ma to be a real reformer, not the deporter-in-chief," said Marisa Fran­co, cam­paign orga­niz­er for the Nation­al Day Labor­er Orga­niz­ing Net­work, in a state­ment about the Day of Action. ​"He can give immi­grants relief with the stroke of a pen."
Rose Arri­eta
was born and raised in Los Ange­les. She has worked in print, broad­cast and radio, both main­stream and com­mu­ni­ty ori­ent­ed — includ­ing being a for­mer edi­tor of the Bay Area's inde­pen­dent com­mu­ni­ty bilin­gual biweek­ly El Tecolote. She cur­rent­ly lives in San Fran­cis­co, where she is a free­lance jour­nal­ist writ­ing for a vari­ety of out­lets on social jus­tice issues.