Hundreds of San Francisco Transit Workers Stage 'Sickout' to Protest Pension Cuts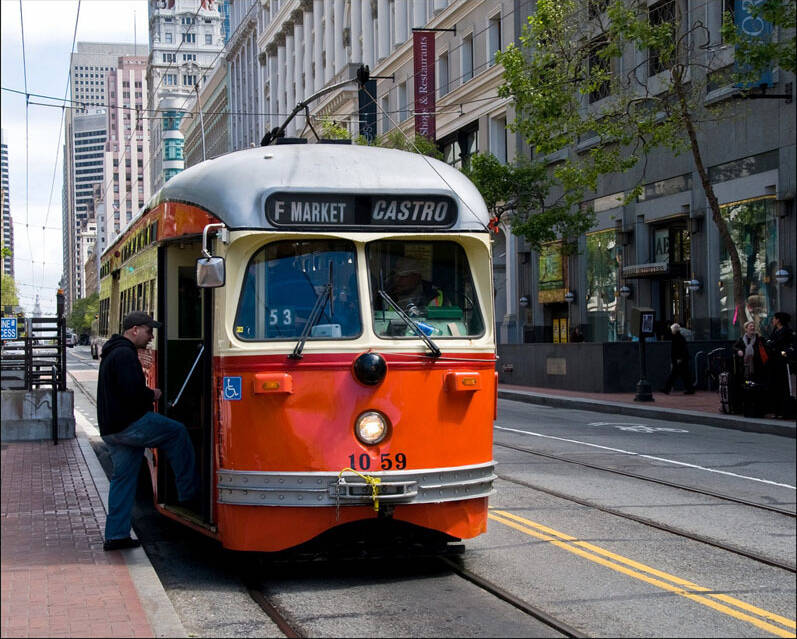 San Fran­cis­co com­muters are being asked to find alter­na­tive trans­porta­tion arrange­ments in Day 2 of a Muni dri­ver sick­out, affect­ing the oper­a­tion of city bus­es, light rail, cable and trol­ley cars. Today, only 300 of 600 vehi­cles are oper­at­ing, accord­ing to Muni spokesman Paul Rose.
Yes­ter­day com­muters scram­bled to find ways to and from their des­ti­na­tions in the sur­prise sick­out that left two-thirds of the Muni sys­tem bus­es non-oper­a­tional. For­bid­den from going on strike over con­tract nego­ti­a­tions, dri­vers called in sick again today despite a strong­ly word­ed memo from SFM­TA last night that warned, ​"Oper­a­tors engag­ing in an unau­tho­rized work stop­page or ​'sick out' are not enti­tled to receive paid sick leave and fur­ther, may be sub­ject to dis­ci­pline, up to and includ­ing termination."
Muni spokesper­son Paul Rose said in a state­ment yes­ter­day that about 400 out of 600 morn­ing runs — both bus­es and rail car — remained parked on Mon­day. SF Bicy­cle Coali­tion tweet­ed this morn­ing ​"Ride your bike today to avoid any #Muni delays."
The Trans­port Work­ers Union Local 250‑A, which rep­re­sents the 2,200 oper­a­tors, is involved in a con­tentious con­tract dis­pute with the San Fran­cis­co Munic­i­pal Trans­porta­tion Agency (SFM­TA). The agency man­ages pub­lic trans­porta­tion in the city, includ­ing Muni.
Work­ers over­whelm­ing­ly vot­ed, by 1,198 – 42, to reject a con­tract pro­pos­al by SFM­TA that would have raised wages but, the union says, would have cost work­ers over­all by cut­ting city con­tri­bu­tions to pen­sions. Accord­ing to the union, over the past three years, dri­vers have received no pay increas­es, and they are paid less than their coun­ter­parts in San­ta Clara (about an hour out­side of San Fran­cis­co) and Seattle.
On Fri­day, oper­a­tors reject­ed the lat­est offer by the City, which pro­posed a lit­tle more than 11 per­cent in wage increas­es over two years.
While that would raise their base wages to $32 an hour begin­ning July 1, they would be required to con­tribute 7.5 per­cent of their pay into their pen­sions — which are cur­rent­ly paid for by SFMTA.
The union released a state­ment on its con­tract nego­ti­a­tions that read in part: ​"SFM­TA man­ag­er told work­ers through­out the bar­gain­ing process that any shift from the city's pen­sion con­tri­bu­tions to a plan fund­ed by indi­vid­u­als would be off­set by wage increas­es and would be ​'cost neu­tral.' How­ev­er, even with wage increas­es of more than 8.05 per­cent pro­posed by SFM­TA, dri­vers would expe­ri­ence a cut in their take-home pay. … Rather than improv­ing wages and ben­e­fits, under the tran­sit agency's pro­pos­al, the vast major­i­ty of dri­vers would be paid less in real wages over the life of the agree­ment than they make now."
Added TWU 250‑A Pres­i­dent Eric Williams: ​"This is a great city, but a very dif­fi­cult place to oper­ate a bus, street­car or cable car. This also is a very expen­sive city, and while SFMTA's rid­er­ship and rev­enues are on ris­ing, the agency seeks to cut wages and ben­e­fits and con­vert full-time posi­tions to part-time."
Rose Arri­eta
was born and raised in Los Ange­les. She has worked in print, broad­cast and radio, both main­stream and com­mu­ni­ty ori­ent­ed — includ­ing being a for­mer edi­tor of the Bay Area's inde­pen­dent com­mu­ni­ty bilin­gual biweek­ly El Tecolote. She cur­rent­ly lives in San Fran­cis­co, where she is a free­lance jour­nal­ist writ­ing for a vari­ety of out­lets on social jus­tice issues.