From Moral Victories to Tangible Ones
Jesus "Chuy" Garcia's defeat was crushing. But Chicago progressives won, at the very least, a moral victory. Or maybe much more.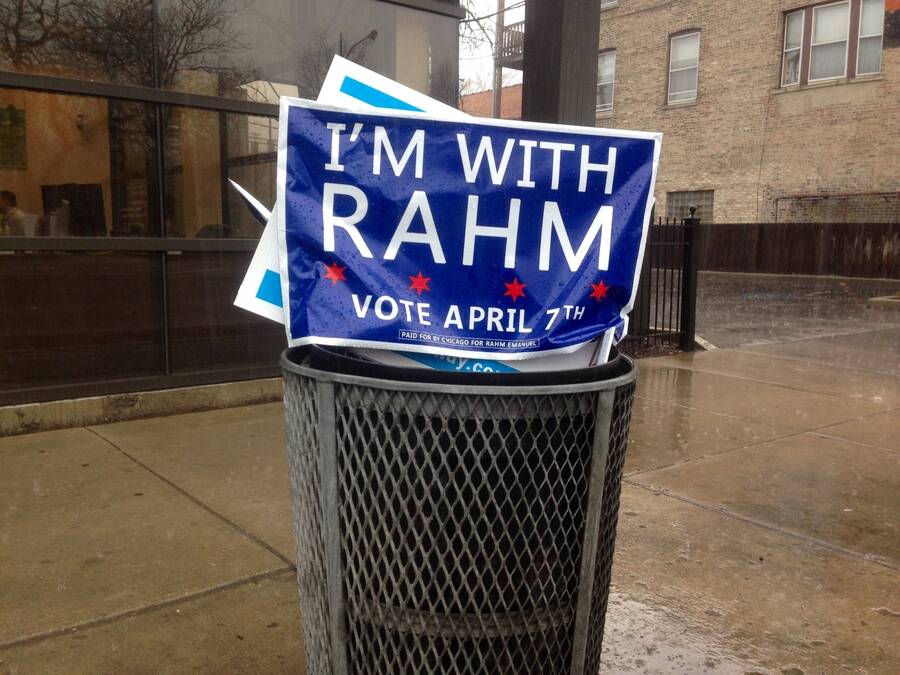 My election day began with a figurative screech. I awoke to hear National Public Radio's ​"Morning Edition" describe my preferred candidate as only a ​"community organizer." I soothed myself by dashing off an angry note to NPR's ombudsman:
Garcia's defeat was crushing. But at least Chicago's Left can comfort themselves like usual: This, at the very least, was a moral victory. Or maybe, actually, much more.
"Morning Edition just identified Chicago mayoral candidate Jesus ​'Chuy' Garcia as a ​'community organizer.' He's never been a community organizer. Instead he's one of the most experienced elected officials currently working in Chicago politics. Going back almost 20 years, he's been an alderman, a state senator, and currently, the floor leader of the country board. Before that, he was chief executive of a community organization. The mistake is telling: it shows NPR does not take a Hispanic man seriously. He deserves an apology."
Then it was off to a field office far on the city's Northwest Side, where I joined a not-very-energetic group trudging through the tedious work of calling voters to remind them to come out to the polls. It ain't fun; more wrong numbers (or claims of wrong numbers) than conversations, plenty of hang-ups. And the experience was made even less fun by an unpleasant detail: Lots of the people hanging up were supporters of Mayor Rahm Emanuel.
(Comme ça: ​"Can we count on your support for Chuy Garcia?" asked the guy across from me. Verbatim, here was the answer he received: ​"No. I'm a big money girl." Click. Honest, at the very least.)
This was curious. My understanding of how Election Day calling works is that you call up your supporters, the ones whose names a campaign works so hard to collect via canvassing in the weeks leading up to the election. So afterwards, I called a friend, the very experienced Chicago campaign consultant Kitty Kurth, who's worked on campaigns going back the mid-1990s, to ask why Garcia's campaign was cold-calling from a list of likely voters on election day.
She confirmed my frustration. ​"I think that was just stupid. Honestly. If you had a good field program, they should have identified their ​'pluses' or ​'fives'' — campaigns often sort voters contacted from one (heavily against their candidate) to five (heavily for) — ​"and those should be the only people you were calling." (A request to the Garcia campaign for comment on their phonebanking practices went unanswered.)
I was worried about what would happen that night.
I opened my email: a response from NPR's ombudsman. ​"I checked Mr. Garcia's own website (http://​jesus​gar​cia​.com/​a​b​o​u​t​/​a​b​o​u​t​-​chuy/) among the previous jobs he lists is that of ​'community organizer'…"
I suppose she had me. But stopping there would be akin to identifying Rahm Emanuel merely as an investment banker, or a meat slicer at Arby's: literally true, but still an insult. Such media insults, alas, came fast and furious in the mainstream media's coverage of the race. The Emanuel campaign was, as the Chicago Sun-Times reported (in a blog post, though, not in the actual newspaper), to ​"portray Garcia as indecisive, inexperienced and incapable of leading a city that's wavering on the financial brink." That notion was eminently dubious, as I established in an earlier In These Times piece: Garcia has a long history in public office as a responsible fiscal steward. But that did not keep the charge from the mayor's campaign from being repeated by reporters who should have known better.
And soon, naturally, that was what you starting hearing about Chuy Garcia on the street. The media made Emanuel's story stick.
The mayor had another, more sub rosa message he hoped to communicate as well: As that Sun-Times blog post put it, ​"Carefully exploit historic tensions between Hispanics and blacks." The media helped with that one, too, especially the New York Times, whose work on the race was led by Julie Bosman, a reporter who disgraced herself by co-authoring a piece that revealed the name and town of the cop who shot Michael Brown — and even the street where Darren Wilson lived — before it was released to the public. She wasn't published in the paper for six weeks after that goof; apparently the Midwest beat is where the Grey Lady banishes hacks after they serve their stint in Times purgatory.
"Candidate for Chicago Mayor Struggles to Unite Latinos and Blacks," ran a piece under her byline four days before the vote, which led with a cherry-picked vignette of a black man who ​"glared at Mr. Garcia from the curb. ​'I'm voting,' he said, when asked if he would take part in Tuesday's election. ​'But I ain't voting for no Chuy. I ain't voting for a Mexican.' "
Though the final breakdowns suggest Rahm did better in African-American wards than expected by many progressives, a more accurate report would have stressed the Garcia campaign as an historic high point for black-Hispanic comity in the city, certainly the highest since the election of Mayor Harold Washington in 1983 — something on eminent display at Garcia's election night party at the University of Illinois-Chicago's convention hall, a veritable multicultural cornucopia. The diversity, alas, would end up being one of the only things worth celebrating in an evening of forced gaiety at UIC — but I'm getting ahead of myself.
I arrive at the hall a half hour after the polls closed at 7:00 p.m., very shortly after finishing up an In These Times report documenting how voters in at least two largely African-American polling places received ballots already marked for Mayor Emanuel. It wasn't the only chicanery benefiting the mayor by any means. His commercials, purchased from a campaign budget of at least $23 million, were full of smears and distortions.
One ad brutally wrenched a Garcia remark from its context to imply he said he ​"wouldn't change a thing" regarding Emanuel's disastrous policy of closing nearly 50 schools. Several availed themselves of Karl Rove's signature campaign technique: Lie about your opponent's recognized greatest strength; all the better to distract voters from the fact that the sin you impute to your opponent is actually represented by yourself.
For John Kerry, ​"Swiftboated" by the AWOL George W. Bush, it was his status as a decorated war hero. For the scrupulously transparent and honest Jesus Garcia — whose integrity was such a threat to the Chicago machine in 1998 that they slated a candidate with the same last name as Ricardo Muñoz, a popular Southwest Side reformer (and ally of Garcia's), on the ballot against Chuy to confuse voters and keep him from getting re-elected to state senate — it was that his strings were pulled by behind-the-scenes money men. So in an Emanuel ad called ​"No Wonder," the blue-ribbon panel Garcia promised to appoint after his election to review the city's finances became his sinister ​"secret finance committee."
No accident, naturally, that this ad came only days after a story that documented how Emanuel defied the city's open records law when he refused to release emails between himself and one of his billionaire donors with business before the city — one of many scandals broken not by the anemic Chicago press but by the International Business Times, by reporters Matthew Cunningham-Cook and David Sirota.
Back at UIC — where a black rear curtain, I now noticed, was forward enough to make the room look not quite so big (the better to cover up a disappointing turnout). The news from the glowing cell phone screens came forth at 7:55 p.m., then was murmured from one dejected activist to another: Chicago's CBS affiliate had called it for Rahm. The final total was 56 to 44 percent.
Why?
To my friend Kitty on a sad Wednesday afternoon, I complained about Rahm's gentle press coverage and eminently un-gentle television attack spots. Later, I heard reports of other sins: Emanuel campaign workers prowling the streets at night in vans, pulling up Garcia signs like they were dead flowers. Intimidation at the workplace: some city employees who engaged campaign activities for the challenger fear they may suffer professional consequences as a result.
Kurth, however, points to mistakes she thinks the Garcia campaign made.
"Rahm got 56 percent. So that means Chuy got 44. In any other race, this would have been described as a landslide for Rahm." The fact that they reported it as if it were a tight race pricked up her professional instincts: ​"The media wanted to make it a race — so bad. And Chuy's campaign didn't exploit any of those opportunities."
He could have fed the media's hunger for confrontation. ​"He should have had a really strong earned media campaign," she says, referring to campaign professionals' term for public-relations stunts that succeed in garnering coverage. ​"He should have been talking about his ideas every week, and hitting Rahm with another idea every week, and having press events with parents at schools, at hospitals — anything else he would have talked about, the media would have covered it." To be fair, the press got constant invitations to events that pushed issues from the Garcia camapign — but his story still did not break through.
Garcia's defeat was crushing. But at least Chicago's left can comfort themselves like usual: This, at the very least, was a moral victory. Or maybe, actually, much more.
Make no mistake, the mayor's been humbled. ​"A Second Term, A Second Chance," the Trib​'s Wednesday banner read. Public radio station WBEZ reported on a celebratory Emanuel handshaking session a South Side el train stop, interviewing only two voters: one who couldn't stand him because he ​"wasn't for the people," and another who liked him well enough, but questioned how sincere he really was about ​"making a change" in his confrontational approach to governance.
A right-leaning mayor's stock is down. Chicago's progressives are rising. They made no mistakes that can't be corrected in the next mayoral race in 2019 — when this moral victory can be converted, finally, to the kind that counts most.
A shorter version of this story appeared in the May 2015 issue of In These Times magazine.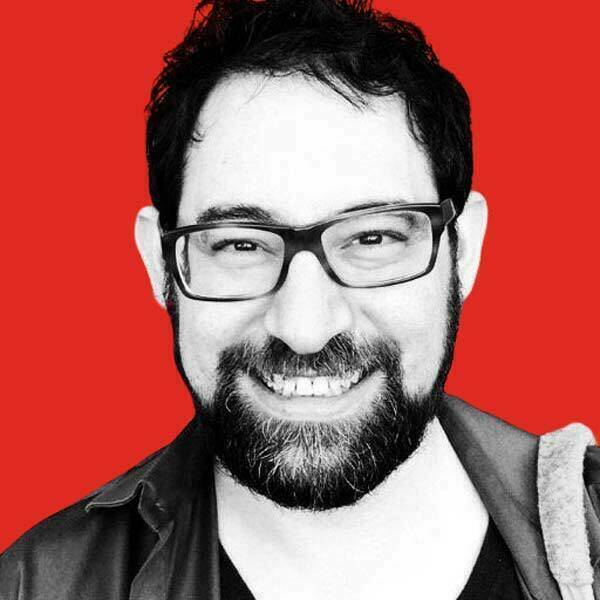 Rick Perlstein, an In These Times board member, is the author of Reaganland: America's Right Turn, 1976-1980 (2020), The Invisible Bridge: The Fall of Nixon and the Rise of Reagan (2014), Nixonland: The Rise of a President and the Fracturing of America (2008), a New York Times bestseller picked as one of the best nonfiction books of the year by over a dozen publications, and Before the Storm: Barry Goldwater and the Unmaking of the American Consensus, winner of the 2001 Los Angeles Times Book Award for history.