Coal Country vs. the Arts Community, Says Who?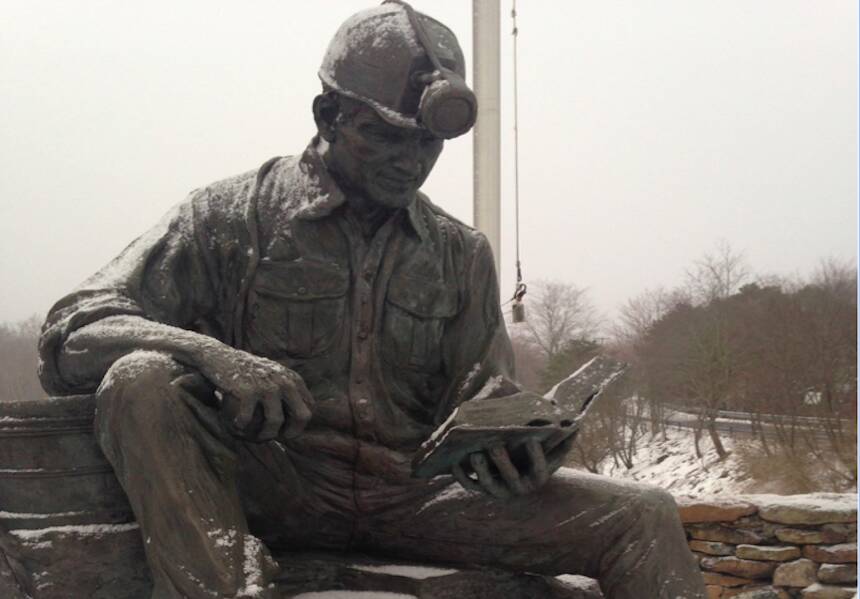 Last week­end, amidst much talk in the media of the pro­posed Trump bud­get, my wife and I were cross­ing Coal Coun­try on a car trip from Chica­go to Wash­ing­ton DC, and we hap­pened to stop for the night in the town of Som­er­set, Penn. Quick­ly, we learned that the area con­tained not only the crash site of Flight 97 (the famous ​"third plane" on Sept. 11, 2001) but also the Que­creek Res­cue site where in July 2002, nine min­ers, trapped for more than three days in a col­lapsed and flood­ed under­ground pit, were saved by a hero­ic inter­ven­tion com­bin­ing the exper­tise of the fed­er­al Mine Safe­ty Health Admin­is­tra­tion, area machine shops that fash­ioned an emer­gency drill and a Nation­al Guard helicopter.
To mark these unre­lat­ed but close­ly-occur­ring events, local entre­pre­neurs have even estab­lished a ​"Tragedy and Tri­umph" bus tour across Som­er­set Coun­ty. Where­as the Nation­al Park Ser­vice has erect­ed an impres­sive memo­r­i­al com­plex in hon­or of the Flight 97 vic­tims, a sim­ple but mov­ing mon­u­ment by Zanesville, Ohio sculp­tor Alan Cot­trill — and fund­ed by con­tri­bu­tions from a vari­ety of local cit­i­zens and busi­ness­es — com­mem­o­rates the Que­creek res­cue oper­a­tion. The mon­u­ment pic­tures a sit­ting min­er, his pick­axe to the side, with a book in one hand and an apple in the other.
Giv­en cur­rent cir­cum­stances, the Que­creek statue's jux­ta­po­si­tion of work­er sub­ject with sym­bols of learn­ing riv­et­ed our atten­tion. Only the day before our trip, Office of Man­age­ment and Bud­get Direc­tor Mick Mul­vaney jus­ti­fied severe cuts in work­place and envi­ron­men­tal reg­u­la­tion as well as a zero­ing out of the nation­al arts and human­i­ties agen­cies with a defin­ing rhetor­i­cal ques­tion: ​"Could we as an admin­is­tra­tion, could I as a bud­get direc­tor look at a coal min­er in West Vir­ginia and say I want you to give mon­ey to the fed­er­al gov­ern­ment so I can give it to the Nation­al Endow­ment for the Arts? We final­ly got to the point in the admin­is­tra­tion where we couldn't do that."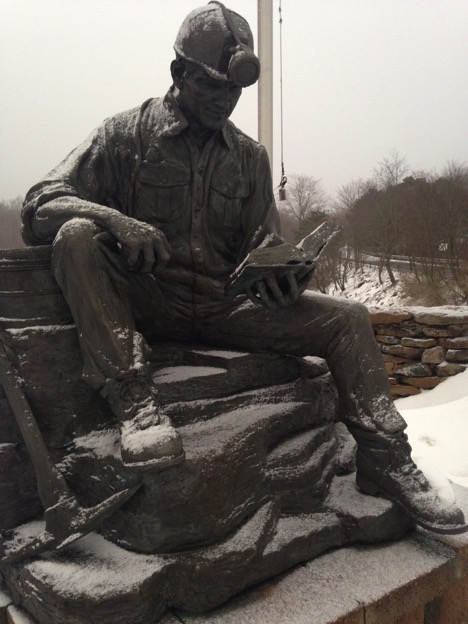 A larg­er image of Alan Cot­tril­l's stat­ue of a coal min­er. (Pho­to: Susan Levine)
Trump's white work­ing-class base, Mul­vaney implied, had more press­ing needs to con­tend with than any arts agency could pos­si­bly sup­ply. The anti-arts ini­tia­tive from the White House fol­lowed a pub­lic appeal from con­ser­v­a­tive colum­nist George F. Will to abol­ish an agency push­ing lib­er­al vagaries like ​"com­mu­ni­ty and con­nect­ed­ness," ​"diver­si­ty" and ​"self-esteem."
Yet, before the cur­rent attempt to stir the class resent­ment of so-called white pop­ulists, it was not so clear that edu­ca­tion and the arts func­tioned as mere prox­ies for lib­er­al-pro­fes­sion­al elites. At Que­creek, Cottrill's min­er — per­haps reflect­ing the sculptor's own tra­jec­to­ry as the first in his fam­i­ly to grad­u­ate from high school — gazes at the fol­low­ing lines (drawn from an ama­teur con­tem­po­rary poet), etched in stone:
Those who work the mines/​And they who read great books/​Are but one, their name is human/​By the labor of their hands/​through the exer­cise of their minds/​And in the strength of their spirit/​They will prevail.
Such a spir­it, more­over, is in keep­ing with deep work­ing-class tra­di­tions com­bin­ing class pride with a yearn­ing for self-improve­ment as well as group empow­er­ment. In the after­math of the Amer­i­can Rev­o­lu­tion, numer­ous arti­san asso­ci­a­tions pro­claimed, ​"By ham­mer and hand, all arts do stand." A cen­tu­ry lat­er, Amer­i­can labor unions reg­u­lar­ly fought for expand­ed pub­lic edu­ca­tion and free pub­lic libraries. Through the 20th cen­tu­ry they would estab­lish schol­ar­ship pro­grams for the chil­dren of union mem­bers and occa­sion­al­ly even pio­neer their own arts pro­grams, like Local 1199 hos­pi­tal work­ers' Bread and Ros­es project.
Nor do the pub­lic arts and human­i­ties advo­cates in Coal Coun­try resem­ble the car­i­ca­ture of touchy-feely snobs and/​or ide­o­log­i­cal zealots that is pushed by would-be de-fun­ders. Susan Lan­dis, long­time chair of the West Vir­ginia Com­mis­sion on the Arts, sounds a pop­ulist note of her own in empha­siz­ing that arts pro­grams should ​"not just stay in the state cap­i­tal." ​"Espe­cial­ly in rur­al Amer­i­ca, which in our state means coal-min­ing areas," she says, ​"small amounts of mon­ey can make a huge difference."
Fund­ed West Vir­ginia artists include blue­grass musi­cians, square dance callers and region­al quilt-mak­ers. The state arts' com­mis­sion, which as in most states receives half of its fund­ing from the NEA, is par­tic­u­lar­ly proud of two out­reach projects for pub­lic school stu­dents. One is sup­port for the nation­al Poet­ry Out Loud com­pe­ti­tion that hones per­for­mance skills for chil­dren like­ly unex­posed to pri­vate piano or dance lessons. The oth­er is the state's col­lab­o­ra­tion with the VH1 Save the Music Foun­da­tion: tak­ing advan­tage of a pro­gram that start­ed with the fund­ing of inner-city school bands, the arts coun­cil has helped award 30 new instru­ments to at least one school in each of the state's 55 counties.
Reach­ing far into the depressed coal fields of the state, such ini­tia­tives, Lan­dis is con­vinced, ​"keep kids in school" while gen­er­al­ly but­tress­ing ​"com­mu­ni­ty spir­it." ​"Peo­ple like George Will," she says, ​"miss the pow­er of the arts to diver­si­fy our econ­o­my. When you see what young peo­ple are doing with design and tech­nol­o­gy and adver­tis­ing, espe­cial­ly with [access to] broad­band, that's art!"
Like the apple in the hand of the Que­creek min­er, Lan­dis believes that knowl­edge will pow­er a future beyond depen­dence on coal. ​"We need alter­na­tives in West Vir­ginia," she says, ​"and the arts pro­vide one avenue to find those things." Whether we're talk­ing about min­ers trapped under­ground or young peo­ple fac­ing lim­it­ed eco­nom­ic oppor­tu­ni­ties, a region-wide ​"res­cue" sure­ly involves a smart and coor­di­nat­ed pub­lic-pri­vate part­ner­ship. But where is that in today's polit­i­cal landscape?
[If you like what you've read, help us spread the word. ​

"

Like" Rur­al Amer­i­ca In These Times on Face­book. Click on the ​

"

Like Page" but­ton below the bear on the upper right of your screen. Also, fol­low RAITT on Twit­ter @RuralAmericaITT]
Leon Fink
is the author of
The Long Gild­ed Age: Amer­i­can Cap­i­tal­ism and the Lessons of a New World Order
(
2015
) and edi­tor of the jour­nal
Labor: Stud­ies in Work­ing-Class His­to­ry
.