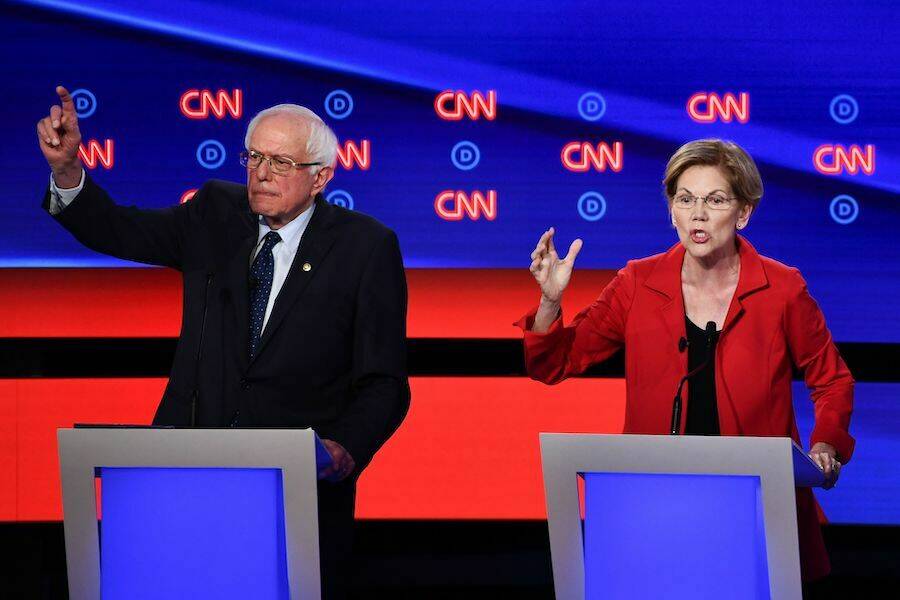 This arti­cle first appeared in Work­ing-Class Per­spec­tives.
While their goals are similar, Warren and Sanders draw on overlapping yet distinct traditions of American radicalism.
Despite their gen­er­al agree­ment on spe­cif­ic issues, the two most left-wing can­di­dates for the 2020 Demo­c­ra­t­ic Par­ty nom­i­na­tion, Sen­a­tors Bernie Sanders and Eliz­a­beth War­ren, have embraced dif­fer­ent ide­o­log­i­cal mark­ers. Sanders calls him­self a ​"demo­c­ra­t­ic social­ist" and his near-miss 2016 pri­ma­ry cam­paign against Hillary Clin­ton helped spike the ranks of the Demo­c­ra­t­ic Social­ists of Amer­i­ca (though he is not for­mal­ly a mem­ber) to upwards of 50,000 mem­bers, includ­ing fire­brand Rep­re­sen­ta­tive Alexan­dria Oca­sio-Cortez. War­ren calls her­self a ​"cap­i­tal­ist to my bones," but one who rec­og­nizes that ​"mar­kets need rules." Despite this dis­tinc­tion, both advo­cate for a sin­gle-pay­er (or social­ized) health insur­ance sys­tem, stronger labor unions, a Green New Deal, $15 an hour min­i­mum wage, free pub­lic col­lege tuition, and extend­ed child­care and fam­i­ly leave poli­cies, not to men­tion sweep­ing immi­gra­tion reform and gun con­trol legislation.
As War­ren demon­strates, one obvi­ous­ly does not need to don the ​"social­ist" man­tle to com­pete for the affec­tions of what Paul Well­stone once called the ​"demo­c­ra­t­ic wing of the Demo­c­ra­t­ic Par­ty." So why has the term ​"social­ist" acquired a mass fol­low­ing among many who, before the past few years, would have called them­selves ​"pro­gres­sive," ​"left-lib­er­al," or ​"rad­i­cal demo­c­rat"? After all, as recent­ly as the late-1990s, writer George Pack­er described how his dispir­it­ed encounter with the DSA ​"acquaint­ed me with the pathos of left-wing activism in twi­light. It was mar­gin­al, pedes­tri­an work, based on the eter­nal post­pone­ment of gratification…Sometimes, at a forum or board meet­ing, I would look around at the dozen or souls who had ven­tured out into the cold on a week­night and won­der what made us do it? Why did we spend our lives on this stuff?"
Twen­ty years lat­er, the pro­gram that DSA founder Michael Har­ring­ton called the ​"left wing of the pos­si­ble" has become a hot tick­et. So how is it that an invo­ca­tion of ​"social­ism," or even near-social­ism in Warren's case, can sud­den­ly stir such fervor?
For many, the 2008 eco­nom­ic col­lapse exposed the dan­gers of glob­al cap­i­tal­ism in its neolib­er­al, dereg­u­la­to­ry phase for work­ing peo­ple. The Demo­c­ra­t­ic Par­ty, even under Oba­ma, had no answers—oth­er than more free trade agree­ments—to the con­tin­u­ing slide of work­ing-class incomes. That set the table for Sanders's sur­prise show­ing in the 2016 pri­maries, which also built on the ener­gy of the Occu­py Wall Street move­ment of 2011. The same deep-set frus­tra­tions, alas, also helped fuel Trump's vic­to­ry. While the president's open racism, scape­goat­ing of immi­grants, and fla­grant­ly uneth­i­cal behav­ior in office now pro­vide suf­fi­cient grist for some Democ­rats to seek a mod­er­ate, arguably ​"more elec­table" can­di­date, pro­gres­sives draw a dif­fer­ent les­son from Trump's ​'faux-pop­ulist' appeals to white work­ing-class vot­ers. Both War­ren and Sanders argue that only a pro­gram that address­es the struc­tur­al inequal­i­ty of wealth and pow­er across race and class in Amer­i­can life can ral­ly a con­vinc­ing major­i­ty behind the Demo­c­ra­t­ic Party.
While their goals are sim­i­lar, War­ren and Sanders draw on over­lap­ping yet dis­tinct tra­di­tions of Amer­i­can rad­i­cal­ism. War­ren might be called a pop­ulist-pro­gres­sive after the two major reform move­ments of the (first) Gild­ed Age. Like the pop­ulists (farm­ers and work­ers arrayed in the People's Par­ty of the 1890s) who attacked the ​"monop­oly pow­er" asso­ci­at­ed with banks and rail­roads, War­ren iden­ti­fies the polit­i­cal influ­ence of big busi­ness as the source of ​"cor­rup­tion" under­min­ing Amer­i­can democ­ra­cy. Her rem­e­dy for the struc­tur­al inequal­i­ties built into cor­po­rate cap­i­tal­ism relies heav­i­ly on gov­ern­ment ​"reg­u­la­tion," a tool more favored by the mid­dle-class pro­gres­sives who fol­lowed the pop­ulists. From man­dat­ing work­er rep­re­sen­ta­tion on cor­po­rate boards to lim­it­ing lob­by­ing and cor­po­rate influ­ence over fed­er­al agen­cies, through her trade­mark ​"wealth tax" on ultra-mil­lion­aires, Warren's pro­pos­als not only reverse the dereg­u­la­to­ry push that has dom­i­nat­ed our pol­i­tics since the 1980s but recall in vision and scope noth­ing so much as Ted­dy Roosevelt's quixot­ic New Nation­al­ist cam­paign of 1912 for fed­er­al stew­ard­ship of the pri­vate marketplace.
Sanders emerges from the demo­c­ra­t­ic-social­ist tra­di­tion, root­ed in the great demo­c­ra­t­ic upris­ings of 1848 and the social­ist rev­o­lu­tion­ary creed of Karl Marx and Fred­er­ick Engels that spread grad­u­al­ly among work­ing-class ranks across Europe and was first insti­tu­tion­al­ized in Germany's Social-Demo­c­ra­t­ic Par­ty in the 1890s. The social­ist cri­tique always stressed class injus­tice rather than the foibles or cor­rup­tion of indi­vid­ual male­fac­tors. Although mil­i­ta­rized class strug­gle and even a vio­lent seizure of pow­er still found adher­ents in an author­i­tar­i­an back­wa­ter like Rus­sia (where the Bol­she­viks tri­umphed in 1917) or amidst the most mar­gin­al­ized of work­ers (as in the vision of the Amer­i­can IWW), by the begin­ning of the twen­ti­eth cen­tu­ry, for most social­ists — includ­ing the Amer­i­can icon Eugene V. Debs—​"rev­o­lu­tion" meant a polit­i­cal vic­to­ry start­ing at the bal­lot box and then extend­ing to the ​'social­iza­tion' (or nation­al­iza­tion) of the major means of pro­duc­tion. While fail­ing to advance much on their struc­tur­al demands, Debs's pre-World War I fol­low­ers enjoyed some suc­cess at the munic­i­pal lev­el (as did Sanders in Burling­ton, Ver­mont). In Mil­wau­kee, for exam­ple, social­ists presided over a graft-free admin­is­tra­tion that gave city work­ers the eight-hour day, expand­ed pub­lic edu­ca­tion, and spon­sored free con­certs in a new ring of pub­lic parks. Between war-time repres­sion and the decline of craft unions, how­ev­er, the Amer­i­can move­ment shriv­eled to lit­tle more than a moral protest.
By the mid-twen­ti­eth cen­tu­ry, West­ern Euro­pean social­ism embraced a ​'reform cap­i­tal­ism,' but­tressed by Key­ne­sian fis­cal pol­i­cy and a strong labor move­ment, with wealth gen­er­ous­ly redis­trib­uted via tax, health, and wel­fare poli­cies as well as free high­er edu­ca­tion. ​"Social democ­ra­cy", a kind of cross between New Deal-style wel­farism and state-cen­tered tech­no­crat­ic plan­ning, became the main left alter­na­tive across Europe. Yet the move­ment did not inspire an Amer­i­can coun­ter­part. Except among some mil­i­tants in the civ­il rights, fem­i­nist, and sub­se­quent new social move­ments, social­ism, in both thought and deed, all but dis­ap­peared as a force in Amer­i­can pub­lic life.
So it is telling that when Sanders explained what he meant by social­ism in a June 2019 talk at The George Wash­ing­ton Uni­ver­si­ty, he chose not to revive its ear­ly twen­ti­eth-cen­tu­ry glo­ry days. Instead, he linked its mean­ing with New Deal lib­er­al­ism. ​"If there was ever a moment when we need­ed a new vision to bring our peo­ple togeth­er in the fight for jus­tice, decen­cy, and human dig­ni­ty, this is that time," the Ver­mont sen­a­tor said. "[We] must take up the unfin­ished busi­ness of the New Deal and car­ry it to com­ple­tion." Pick­ing up on the ​"sec­ond Bill of Rights" that Franklin Delano Roo­sevelt had pro­posed in 1944, Sanders empha­sized every American's right to a liv­ing wage, health care, edu­ca­tion, afford­able hous­ing, a clean envi­ron­ment, and a secure retire­ment. ​"We must rec­og­nize," he con­clud­ed, ​"that in the 21st cen­tu­ry, in the wealth­i­est coun­try in the his­to­ry of the world, eco­nom­ic rights are human rights. That is what I mean by demo­c­ra­t­ic socialism."
While they draw on dif­fer­ent his­tor­i­cal roots, War­ren and Sanders offer remark­ably sim­i­lar plat­forms. Both are keep­ers of a pro­gres­sive reform flame that went out in a polit­i­cal sur­ren­der to dereg­u­la­tion, bipar­ti­san­ship, and the exer­cise of mil­i­tary might abroad. Warren's ​"cap­i­tal­ism" will like­ly appeal to as few big cap­i­tal­ists today as did pop­ulism and pro­gres­sivism to the likes of Stan­dard Oil at the turn of the twen­ti­eth cen­tu­ry. Sanders isn't propos­ing Deb­sian social­ism but rather a ver­sion of the New Deal re-out­fit­ted for new life.
So will vot­ers go for Bernie Sander's demo­c­ra­t­ic social­ism or Eliz­a­beth Warren's democ­ra­tized cap­i­tal­ism? The dif­fer­ence is like­ly more in the wrap­ping than the con­tents. To switch metaphors, both con­tes­tants are fish­ing in the same waters with dif­fer­ent lures. In either case, pro­gres­sives will learn soon enough whether they joined anoth­er cam­paign that got away.
Leon Fink
is the author of
The Long Gild­ed Age: Amer­i­can Cap­i­tal­ism and the Lessons of a New World Order
(
2015
) and edi­tor of the jour­nal
Labor: Stud­ies in Work­ing-Class His­to­ry
.