Noam Chomsky on Gaza, the World's Largest Open-Air Prison
A look at life under occupation.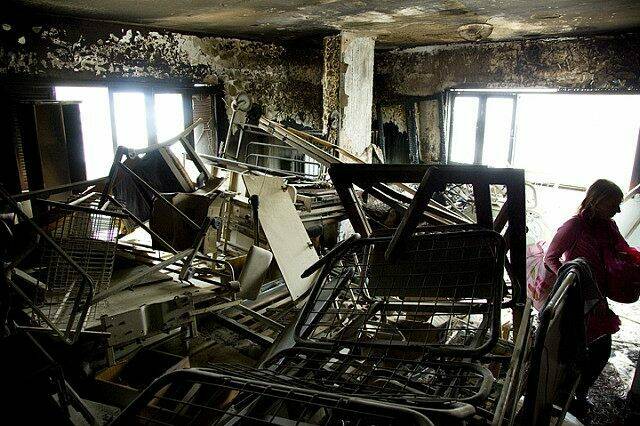 Even a sin­gle night in jail is enough to give a taste of what it means to be under the total con­trol of some exter­nal force.
Gaza has the look of a Third World country, with pockets of wealth surrounded by hideous poverty. It is not, however, undeveloped. Rather it is "de-developed," and very systematically so, to borrow the term from Sara Roy, the leading academic specialist on Gaza.
And it hard­ly takes more than a day in Gaza to appre­ci­ate what it must be like to try to sur­vive in the world's largest open-air prison, where some 1.5 mil­lion peo­ple on a rough­ly 140-square-mile strip of land are sub­ject to ran­dom ter­ror and arbi­trary pun­ish­ment, with no pur­pose oth­er than to humil­i­ate and degrade.
Such cru­el­ty is to ensure that Pales­tin­ian hopes for a decent future will be crushed, and that the over­whelm­ing glob­al sup­port for a diplo­mat­ic set­tle­ment grant­i­ng basic human rights will be nul­li­fied. The Israeli polit­i­cal lead­er­ship has dra­mat­i­cal­ly illus­trat­ed this com­mit­ment in the past few days, warn­ing that they will ​"go crazy" if Pales­tin­ian rights are giv­en even lim­it­ed recog­ni­tion by the U.N.
This threat to ​"go crazy" ("nish­tagea") – that is, launch a tough response – is deeply root­ed, stretch­ing back to the Labor gov­ern­ments of the 1950s, along with the relat­ed ​"Sam­son Com­plex": If crossed, we will bring down the Tem­ple walls around us.
Thir­ty years ago, Israeli polit­i­cal lead­ers, includ­ing some not­ed hawks, sub­mit­ted to Prime Min­is­ter Men­achem Begin a shock­ing report on how set­tlers on the West Bank reg­u­lar­ly com­mit­ted ​"ter­ror­ist acts" against Arabs there, with total impunity.
Dis­gust­ed, the promi­nent mil­i­tary-polit­i­cal ana­lyst Yoram Peri wrote that the Israeli army's task, it seemed, was not to defend the state, but ​"to demol­ish the rights of inno­cent peo­ple just because they are Araboushim (a harsh racial epi­thet) liv­ing in ter­ri­to­ries that God promised to us."
Gazans have been sin­gled out for par­tic­u­lar­ly cru­el pun­ish­ment. Thir­ty years ago, in his mem­oir ​"The Third Way," Raja She­hadeh, a lawyer, described the hope­less task of try­ing to pro­tect fun­da­men­tal human rights with­in a legal sys­tem designed to ensure fail­ure, and his per­son­al expe­ri­ence as a Samid, ​"a stead­fast one," who watched his home turned into a prison by bru­tal occu­piers and could do noth­ing but some­how ​"endure."
Since then, the sit­u­a­tion has become much worse. The Oslo Accords, cel­e­brat­ed with much pomp in 1993, deter­mined that Gaza and the West Bank are a sin­gle ter­ri­to­r­i­al enti­ty. By that time, the U.S. and Israel had already ini­ti­at­ed their pro­gram to sep­a­rate Gaza and the West Bank, so as to block a diplo­mat­ic set­tle­ment and pun­ish the Araboushim in both territories.
Pun­ish­ment of Gazans became still more severe in Jan­u­ary 2006, when they com­mit­ted a major crime: They vot­ed the ​"wrong way" in the first free elec­tion in the Arab world, elect­ing Hamas.
Dis­play­ing their ​"yearn­ing for democ­ra­cy," the U.S. and Israel, backed by the timid Euro­pean Union, imme­di­ate­ly imposed a bru­tal siege, along with mil­i­tary attacks. The U.S. turned at once to its stan­dard oper­at­ing pro­ce­dure when a dis­obe­di­ent pop­u­la­tion elects the wrong gov­ern­ment: Pre­pare a mil­i­tary coup to restore order.
Gazans com­mit­ted a still greater crime a year lat­er by block­ing the coup attempt, lead­ing to a sharp esca­la­tion of the siege and attacks. These cul­mi­nat­ed in win­ter 2008-09, with Oper­a­tion Cast Lead, one of the most cow­ard­ly and vicious exer­cis­es of mil­i­tary force in recent mem­o­ry: A defense­less civil­ian pop­u­la­tion, trapped, was sub­ject­ed to relent­less attack by one of the world's most advanced mil­i­tary sys­tems, reliant on U.S. arms and pro­tect­ed by U.S. diplomacy.
Of course, there were pre­texts – there always are. The usu­al one, trot­ted out when need­ed, is ​"secu­ri­ty": in this case, against home­made rock­ets from Gaza.
In 2008, a truce was estab­lished between Israel and Hamas. Not a sin­gle Hamas rock­et was fired until Israel broke the truce under cov­er of the U.S. elec­tion on Nov. 4, invad­ing Gaza for no good rea­son and killing half a dozen Hamas members.
The Israeli gov­ern­ment was advised by its high­est intel­li­gence offi­cials that the truce could be renewed by eas­ing the crim­i­nal block­ade and end­ing mil­i­tary attacks. But the gov­ern­ment of Ehud Olmert – him­self reput­ed­ly a dove – reject­ed these options, resort­ing to its huge advan­tage in vio­lence: Oper­a­tion Cast Lead.
The inter­na­tion­al­ly respect­ed Gazan human-rights advo­cate Raji Sourani ana­lyzed the pat­tern of attack under Cast Lead. The bomb­ing was con­cen­trat­ed in the north, tar­get­ing defense­less civil­ians in the most dense­ly pop­u­lat­ed areas, with no pos­si­ble mil­i­tary basis. The goal, Sourani sug­gests, may have been to dri­ve the intim­i­dat­ed pop­u­la­tion to the south, near the Egypt­ian bor­der. But the Samidin stayed put.
A fur­ther goal might have been to dri­ve them beyond the bor­der. From the ear­li­est days of the Zion­ist col­o­niza­tion it was argued that Arabs have no real rea­son to be in Pales­tine: They can be just as hap­py some­where else, and should leave – polite­ly ​"trans­ferred," the doves suggested.
This is sure­ly no small con­cern in Egypt, and per­haps a rea­son why Egypt does­n't open the bor­der freely to civil­ians or even to des­per­ate­ly need­ed supplies.
Sourani and oth­er knowl­edge­able sources have observed that the dis­ci­pline of the Samidin con­ceals a pow­der keg that might explode at any time, unex­pect­ed­ly, like the first Intifa­da in Gaza in 1987, after years of repression.
A nec­es­sar­i­ly super­fi­cial impres­sion after spend­ing sev­er­al days in Gaza is amaze­ment, not only at Gazans' abil­i­ty to go on with life but also at the vibran­cy and vital­i­ty among young peo­ple, par­tic­u­lar­ly at the uni­ver­si­ty, where I attend­ed an inter­na­tion­al conference.
But one can detect signs that the pres­sure may become too hard to bear. Reports indi­cate that there is sim­mer­ing frus­tra­tion among young peo­ple – a recog­ni­tion that under the U.S.-Israeli occu­pa­tion the future holds noth­ing for them.
Gaza has the look of a Third World coun­try, with pock­ets of wealth sur­round­ed by hideous pover­ty. It is not, how­ev­er, unde­vel­oped. Rather it is ​"de-devel­oped," and very sys­tem­at­i­cal­ly so, to bor­row the term from Sara Roy, the lead­ing aca­d­e­m­ic spe­cial­ist on Gaza.
The Gaza Strip could have become a pros­per­ous Mediter­ranean region, with rich agri­cul­ture and a flour­ish­ing fish­ing indus­try, mar­velous beach­es and, as dis­cov­ered a decade ago, good prospects for exten­sive nat­ur­al gas sup­plies with­in its ter­ri­to­r­i­al waters. By coin­ci­dence or not, that's when Israel inten­si­fied its naval block­ade. The favor­able prospects were abort­ed in 1948, when the Strip had to absorb a flood of Pales­tin­ian refugees who fled in ter­ror or were force­ful­ly expelled from what became Israel – in some cas­es months after the for­mal cease-fire. Israel's 1967 con­quests and their after­math admin­is­tered fur­ther blows, with ter­ri­ble crimes con­tin­u­ing to the present day.
The signs are easy to see, even on a brief vis­it. Sit­ting in a hotel near the shore, one can hear the machine-gun fire of Israeli gun­boats dri­ving fish­er­men out of Gaza­'s ter­ri­to­r­i­al waters and toward land, forc­ing them to fish in waters that are heav­i­ly pol­lut­ed because of U.S.-Israeli refusal to allow recon­struc­tion of the sewage and pow­er sys­tems they destroyed.
The Oslo Accords laid plans for two desali­na­tion plants, a neces­si­ty in this arid region. One, an advanced facil­i­ty, was built: in Israel. The sec­ond one is in Khan Yunis, in the south of Gaza. The engi­neer in charge at Khan Yunis explained that this plant was designed so that it can't use sea­wa­ter, but must rely on under­ground water, a cheap­er process that fur­ther degrades the mea­ger aquifer, guar­an­tee­ing severe prob­lems in the future.
The water sup­ply is still severe­ly lim­it­ed. The U.N. Relief and Works Agency (UNR­WA), which cares for refugees but not oth­er Gazans, recent­ly released a report warn­ing that dam­age to the aquifer may soon become ​"irre­versible," and that with­out quick reme­di­al action, Gaza may cease to be a ​"liv­able place" by 2020.
Israel per­mits con­crete to enter for UNR­WA projects, but not for Gazans engaged in the huge recon­struc­tion efforts. The lim­it­ed heavy equip­ment most­ly lies idle, since Israel does not per­mit mate­ri­als for repair.
All this is part of the gen­er­al pro­gram that Dov Weis­glass, an advis­er to Prime Min­is­ter Olmert, described after Pales­tini­ans failed to fol­low orders in the 2006 elec­tions: ​"The idea," he said, ​"is to put the Pales­tini­ans on a diet, but not to make them die of hunger."
Recent­ly, after sev­er­al years of effort, the Israeli human rights orga­ni­za­tion Gisha suc­ceed­ed in obtain­ing a court order for the gov­ern­ment to release its records detail­ing plans for the ​"diet." Jonathan Cook, a jour­nal­ist based in Israel, sum­ma­rizes them: ​"Health offi­cials pro­vid­ed cal­cu­la­tions of the min­i­mum num­ber of calo­ries need­ed by Gaza­'s 1.5 mil­lion inhab­i­tants to avoid mal­nu­tri­tion. Those fig­ures were then trans­lat­ed into truck­loads of food Israel was sup­posed to allow in each day … an aver­age of only 67 trucks – much less than half of the min­i­mum require­ment – entered Gaza dai­ly. This com­pared to more than 400 trucks before the block­ade began."
The result of impos­ing the diet, Mid­dle East schol­ar Juan Cole observes, is that ​"about 10 per­cent of Pales­tin­ian chil­dren in Gaza under age 5 have had their growth stunt­ed by mal­nu­tri­tion. … In addi­tion, ane­mia is wide­spread, affect­ing over two-thirds of infants, 58.6 per­cent of school­child­ren, and over a third of preg­nant mothers."
Sourani, the human-rights advo­cate, observes that ​"what has to be kept in mind is that the occu­pa­tion and the absolute clo­sure is an ongo­ing attack on the human dig­ni­ty of the peo­ple in Gaza in par­tic­u­lar and all Pales­tini­ans gen­er­al­ly. It is sys­tem­at­ic degra­da­tion, humil­i­a­tion, iso­la­tion and frag­men­ta­tion of the Pales­tin­ian people."
This con­clu­sion has been con­firmed by many oth­er sources. In The Lancet, a lead­ing med­ical jour­nal, Rajaie Bat­ni­ji, a vis­it­ing Stan­ford physi­cian, describes Gaza as ​"some­thing of a lab­o­ra­to­ry for observ­ing an absence of dig­ni­ty," a con­di­tion that has ​"dev­as­tat­ing" effects on phys­i­cal, men­tal and social well-being.
"The con­stant sur­veil­lance from the sky, col­lec­tive pun­ish­ment through block­ade and iso­la­tion, the intru­sion into homes and com­mu­ni­ca­tions, and restric­tions on those try­ing to trav­el, or mar­ry, or work make it dif­fi­cult to live a dig­ni­fied life in Gaza," Bat­ni­ji writes. The Araboushim must be taught not to raise their heads.
There were hopes that Mohammed Mor­si's new gov­ern­ment in Egypt, which is less in thrall to Israel than the west­ern-backed Hos­ni Mubarak dic­ta­tor­ship was, might open the Rafah Cross­ing, Gaza­'s sole access to the out­side that is not sub­ject to direct Israeli con­trol. There has been a slight open­ing, but not much.
The jour­nal­ist Laila el-Had­dad writes that the reopen­ing under Mor­si ​"is sim­ply a return to sta­tus quo of years past: Only Pales­tini­ans car­ry­ing an Israeli-approved Gaza ID card can use Rafah Cross­ing." This excludes a great many Pales­tini­ans, includ­ing el-Had­dad's own fam­i­ly, where only one spouse has a card.
Fur­ther­more, she con­tin­ues, ​"the cross­ing does not lead to the West Bank, nor does it allow for the pas­sage of goods, which are restrict­ed to the Israeli-con­trolled cross­ings and sub­ject to pro­hi­bi­tions on con­struc­tion mate­ri­als and export."
The restrict­ed Rafah Cross­ing does­n't change the fact that ​"Gaza remains under tight mar­itime and aer­i­al siege, and con­tin­ues to be closed off to the Pales­tini­ans' cul­tur­al, eco­nom­ic and aca­d­e­m­ic cap­i­tals in the rest of the (Israeli-occu­pied ter­ri­to­ries), in vio­la­tion of U.S.-Israeli oblig­a­tions under the Oslo Accords."
The effects are painful­ly evi­dent. The direc­tor of the Khan Yunis hos­pi­tal, who is also chief of surgery, describes with anger and pas­sion how even med­i­cines are lack­ing, which leaves doc­tors help­less and patients in agony.
One young woman reports on her late father's ill­ness. Though he would have been proud that she was the first woman in the refugee camp to gain an advanced degree, she says, he ​"passed away after six months of fight­ing can­cer, aged 60 years.
"Israeli occu­pa­tion denied him a per­mit to go to Israeli hos­pi­tals for treat­ment. I had to sus­pend my study, work and life and go to sit next to his bed. We all sat, includ­ing my broth­er the physi­cian and my sis­ter the phar­ma­cist, all pow­er­less and hope­less, watch­ing his suf­fer­ing. He died dur­ing the inhu­mane block­ade of Gaza in sum­mer 2006 with very lit­tle access to health service.
"I think feel­ing pow­er­less and hope­less is the most killing feel­ing that a human can ever have. It kills the spir­it and breaks the heart. You can fight occu­pa­tion but you can­not fight your feel­ing of being pow­er­less. You can't even ever dis­solve that feeling."
A vis­i­tor to Gaza can't help feel­ing dis­gust at the obscen­i­ty of the occu­pa­tion, com­pound­ed with guilt, because it is with­in our pow­er to bring the suf­fer­ing to an end and allow the Samidin to enjoy the lives of peace and dig­ni­ty that they deserve.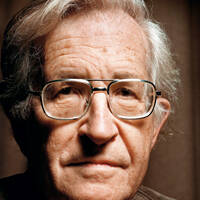 Noam Chom­sky
is Insti­tute Pro­fes­sor and Pro­fes­sor of Lin­guis­tics (Emer­i­tus) at the Mass­a­chu­setts Insti­tute of Tech­nol­o­gy, and the author of dozens of books on U.S. for­eign pol­i­cy. His most recent book is
Who Rules the World?
from Met­ro­pol­i­tan Books.