Gaza Under Assault
The images of bombardment have left Israel few remaining shreds of credibility.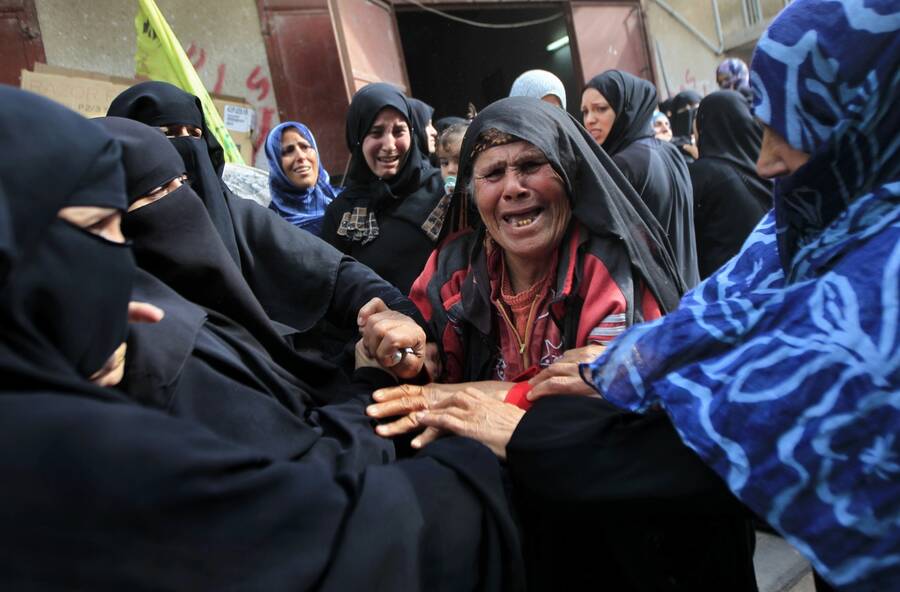 An old man in Gaza held a plac­ard that read: ​"You take my water, burn my olive trees, destroy my house, take my job, steal my land, imprison my father, kill my moth­er, bom­bard my coun­try, starve us all, humil­i­ate us all, but I am to blame: I shot a rock­et back."
Even decent people ask what Israel should do when attacked by a barrage of missiles. It's a fair question, and there are straightforward answers. One response would be to observe international law.
The old man's mes­sage pro­vides the prop­er con­text for the lat­est episode in the sav­age pun­ish­ment of Gaza. The crimes trace back to 1948, when hun­dreds of thou­sands of Pales­tini­ans fled from their homes in ter­ror or were expelled to Gaza by con­quer­ing Israeli forces, who con­tin­ued to truck Pales­tini­ans over the bor­der for years after the offi­cial cease-fire.
The pun­ish­ment took new forms when Israel con­quered Gaza in 1967. From recent Israeli schol­ar­ship (pri­mar­i­ly Avi Raz's The Bride and the Dowry: Israel, Jor­dan, and the Pales­tini­ans in the After­math of the June 1967 War), we learn that the gov­ern­men­t's goal was to dri­ve the refugees into the Sinai Penin­su­la — and, if fea­si­ble, the rest of the pop­u­la­tion too.
Expul­sions from Gaza were car­ried out under the direct orders of Gen. Yeshayahu Gav­ish, com­man­der of the Israel Defense Forces South­ern Com­mand. Expul­sions from the West Bank were far more extreme, and Israel resort­ed to devi­ous means to pre­vent the return of those expelled, in direct vio­la­tion of U.N. Secu­ri­ty Coun­cil orders.
The rea­sons were made clear in inter­nal dis­cus­sions imme­di­ate­ly after the war. Gol­da Meir, lat­er prime min­is­ter, informed her Labor Par­ty col­leagues that Israel should keep the Gaza Strip while ​"get­ting rid of its Arabs." Defense Min­is­ter Moshe Dayan and oth­ers agreed.
Prime Min­is­ter Levi Eshkol explained that those expelled could not be allowed to return because ​"we can­not increase the Arab pop­u­la­tion in Israel" — refer­ring to the new­ly occu­pied ter­ri­to­ries, already con­sid­ered part of Israel.
In accord with this con­cep­tion, all of Israel's maps were changed, expung­ing the Green Line (the inter­na­tion­al­ly rec­og­nized bor­ders) —though pub­li­ca­tion of the maps was delayed to per­mit Abba Eban, an Israeli ambas­sador to the UN, to attain what he called a ​"favor­able impasse" at the Gen­er­al Assem­bly by con­ceal­ing Israel's intentions.
The goals of expul­sion may remain alive today, and might be a fac­tor in con­tribut­ing to Egyp­t's reluc­tance to open the bor­der to free pas­sage of peo­ple and goods barred by the U.S.-backed Israeli siege.
The cur­rent upsurge of U.S.-Israeli vio­lence dates to Jan­u­ary 2006, when Pales­tini­ans vot­ed ​"the wrong way" in the first free elec­tion in the Arab world.
Israel and the U.S. react­ed at once with harsh pun­ish­ment of the mis­cre­ants, and prepa­ra­tion of a mil­i­tary coup to over­throw the elect­ed gov­ern­ment — the rou­tine pro­ce­dure. The pun­ish­ment was rad­i­cal­ly inten­si­fied in 2007, when the coup attempt was beat­en back and the elect­ed Hamas gov­ern­ment estab­lished full con­trol over Gaza.
Ignor­ing imme­di­ate offers from Hamas for a truce after the 2006 elec­tion, Israel launched attacks that killed 660 Pales­tini­ans in 2006, most of whom were civil­ians (a third were minors). Accord­ing to UN reports, 2,879 Pales­tini­ans were killed by Israeli fire from April 2006 through July 2012, along with sev­er­al dozen Israelis killed by fire from Gaza.
A short-lived truce in 2008 was hon­ored by Hamas until Israel broke it in Novem­ber. Ignor­ing fur­ther truce offers, Israel launched the mur­der­ous Cast Lead oper­a­tion in December.
So mat­ters have con­tin­ued, while the Unit­ed States and Israel also con­tin­ue to reject Hamas calls for a long-term truce and a polit­i­cal set­tle­ment for a two-state solu­tion in accord with the inter­na­tion­al con­sen­sus that the U.S. has blocked since 1976 when the U.S. vetoed a Secu­ri­ty Coun­cil res­o­lu­tion to this effect, brought by the major Arab states.
This week, Wash­ing­ton devot­ed every effort to block­ing a Pales­tin­ian ini­tia­tive to upgrade its sta­tus at the UN but failed, in vir­tu­al inter­na­tion­al iso­la­tion as usu­al. The rea­sons were reveal­ing: Pales­tine might approach the Inter­na­tion­al Crim­i­nal Court about Israel's U.S.-backed crimes.
One ele­ment of the unremit­ting tor­ture of Gaza is Israel's ​"buffer zone" with­in Gaza, from which Pales­tini­ans are barred entry to almost half of Gaza­'s lim­it­ed arable land.
From Jan­u­ary 2012 to the launch­ing of Israel's lat­est killing spree on Novem­ber 14, Oper­a­tion Pil­lar of Defense, one Israeli was killed by fire from Gaza while 78 Pales­tini­ans were killed by Israeli fire.
The full sto­ry is nat­u­ral­ly more com­plex, and uglier.
The first act of Oper­a­tion Pil­lar of Defense was to mur­der Ahmed Jabari. Aluf Benn, edi­tor of the news­pa­per Haaretz, describes him as Israel's ​"sub­con­trac­tor" and ​"bor­der guard" in Gaza, who enforced rel­a­tive qui­et there for more than five years.
The pre­text for the assas­si­na­tion was that dur­ing these five years Jabari had been cre­at­ing a Hamas mil­i­tary force, with mis­siles from Iran. A more cred­i­ble rea­son was pro­vid­ed by Israeli peace activist Ger­shon Baskin, who had been involved in direct nego­ti­a­tions with Jabari for years, includ­ing plans for the even­tu­al release of the cap­tured Israeli sol­dier Gilad Shalit.
Baskin reports that hours before he was assas­si­nat­ed, Jabari ​"received the draft of a per­ma­nent truce agree­ment with Israel, which includ­ed mech­a­nisms for main­tain­ing the cease-fire in the case of a flare-up between Israel and the fac­tions in the Gaza Strip."
A truce was then in place, called by Hamas on Novem­ber 12. Israel appar­ent­ly exploit­ed the truce, Reuters reports, direct­ing atten­tion to the Syr­i­an bor­der in the hope that Hamas lead­ers would relax their guard and be eas­i­er to assassinate.
Through­out these years, Gaza has been kept on a lev­el of bare sur­vival, impris­oned by land, sea and air. On the eve of the lat­est attack, the WHO report­ed that 40 per­cent of essen­tial drugs and more than half of essen­tial med­ical items were out of stock.
In Novem­ber, one of the first in a series of hideous pho­tos sent from Gaza showed a doc­tor hold­ing the charred corpse of a mur­dered child. That one had a per­son­al res­o­nance. The doc­tor is the direc­tor and head of surgery at Khan Yunis hos­pi­tal, which I had vis­it­ed a few weeks earlier.
In writ­ing about the trip, I report­ed his pas­sion­ate appeal for des­per­ate­ly need­ed med­i­cine and sur­gi­cal equip­ment. These are among the crimes of the U.S.-Israeli siege, and of Egypt­ian complicity.
The casu­al­ty rates from the Novem­ber episode were about aver­age: more than 160 Pales­tin­ian dead, includ­ing many chil­dren, and six Israelis.
Among the dead were three jour­nal­ists. The offi­cial Israeli jus­ti­fi­ca­tion was that ​"The tar­gets are peo­ple who have rel­e­vance to ter­ror activ­i­ty." Report­ing the ​"exe­cu­tion" in the New York Times, the reporter David Carr observed that ​"it has come to this: Killing mem­bers of the news media can be jus­ti­fied by a phrase as amor­phous as ​'rel­e­vance to ter­ror activity.' "
The mas­sive destruc­tion was all in Gaza. Israel used advanced U.S. mil­i­tary equip­ment and relied on U.S. diplo­mat­ic sup­port, includ­ing the usu­al U.S. inter­ven­tion efforts to block a Secu­ri­ty Coun­cil call for a cease-fire.
With each such exploit, Israel's glob­al image erodes. The pho­tos and videos of ter­ror and dev­as­ta­tion, and the char­ac­ter of the con­flict, leave few remain­ing shreds of cred­i­bil­i­ty to the self-declared ​"most moral army in the world," at least among peo­ple whose eyes are open.
The pre­texts for the assault were also the usu­al ones. We can put aside the pre­dictable dec­la­ra­tions of the per­pe­tra­tors in Israel and Wash­ing­ton. But even decent peo­ple ask what Israel should do when attacked by a bar­rage of mis­siles. It's a fair ques­tion, and there are straight­for­ward answers.
One response would be to observe inter­na­tion­al law, which allows the use of force with­out Secu­ri­ty Coun­cil autho­riza­tion in exact­ly one case: in self-defense after inform­ing the Secu­ri­ty Coun­cil of an armed attack, until the Coun­cil acts, in accord with the U.N. Char­ter, Arti­cle 51.
Israel is well famil­iar with that Char­ter pro­vi­sion, which it invoked at the out­break of the June 1967 war. But, of course, Israel's appeal went nowhere when it was quick­ly ascer­tained that Israel had launched the attack. Israel did not fol­low this course in Novem­ber, know­ing what would be revealed in a Secu­ri­ty Coun­cil debate.
Anoth­er nar­row response would be to agree to a truce, as appeared quite pos­si­ble before the oper­a­tion was launched on Novem­ber 14.
There are more far-reach­ing respons­es. By coin­ci­dence, one is dis­cussed in the cur­rent issue of the jour­nal Nation­al Inter­est. Asia schol­ars Raf­fael­lo Pan­tuc­ci and Alexan­dros Petersen describe Chi­na's reac­tion after riot­ing in west­ern Xin­jiang province, ​"in which mobs of Uighurs marched around the city beat­ing hap­less Han (Chi­nese) to death."
Chi­nese pres­i­dent Hu Jin­tao quick­ly flew to the province to take charge; senior lead­ers in the secu­ri­ty estab­lish­ment were fired; and a wide range of devel­op­ment projects were under­tak­en to address under­ly­ing caus­es of the unrest.
In Gaza, too, a civ­i­lized reac­tion is pos­si­ble. The Unit­ed States and Israel could end the mer­ci­less, unremit­ting assault, open the bor­ders and pro­vide for recon­struc­tion — and if it were imag­in­able, repa­ra­tions for decades of vio­lence and repression.
The cease-fire agree­ment stat­ed that the mea­sures to imple­ment the end of the siege and the tar­get­ing of res­i­dents in bor­der areas ​"shall be dealt with after 24 hours from the start of the cease-fire."
There is no sign of steps in this direc­tion. Nor is there any indi­ca­tion of a U.S.-Israeli will­ing­ness to rescind their sep­a­ra­tion of Gaza from the West Bank in vio­la­tion of the Oslo Accords, to end the ille­gal set­tle­ment and devel­op­ment pro­grams in the West Bank that are designed to under­mine a polit­i­cal set­tle­ment, or in any oth­er way to aban­don the rejec­tion­ism of the past decades.
Some­day, and it must be soon, the world will respond to the plea issued by the dis­tin­guished Gazan human-rights lawyer Raji Sourani while the bombs were once again rain­ing down on defense­less civil­ians in Gaza: ​"We demand jus­tice and account­abil­i­ty. We dream of a nor­mal life, in free­dom and dignity."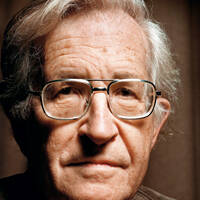 Noam Chom­sky
is Insti­tute Pro­fes­sor and Pro­fes­sor of Lin­guis­tics (Emer­i­tus) at the Mass­a­chu­setts Insti­tute of Tech­nol­o­gy, and the author of dozens of books on U.S. for­eign pol­i­cy. His most recent book is
Who Rules the World?
from Met­ro­pol­i­tan Books.