Banning Hate: Germany May Outlaw Political Party After Neo-Nazi Revelations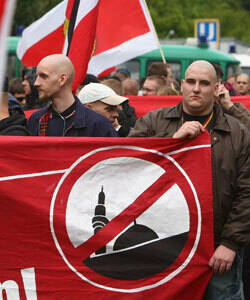 In the wake of last month
&
rsquo;s rev­e­la­tion that a neo-Nazi ter­ror­ist cell was respon­si­ble for more than a decade of hate-relat­ed vio­lence, Ger­many may move to out­law one of Europe
&
rsquo;s most extreme right-wing par­ties.Known as the Nation­al Demo­c­ra­t­ic Par­ty (NPD), the group is a hot top­ic among Germany
&
rsquo;s polit­i­cal elite these days, as rep­re­sen­ta­tives across the polit­i­cal spec­trum call for a ban on what they see as an orga­ni­za­tion­al con­duit for neo-Nazi ide­ol­o­gy. NPD
&
rsquo;s pop­u­lar­i­ty is rel­e­gat­ed to poor­er regions of for­mer East Ger­many, with elec­toral suc­cess in only two Land­tags (state par­lia­ments).Rein­er Haseloff
&
mdash;a mem­ber of Angela Merkel
&
rsquo;s rul­ing, cen­ter-right CDU
&
mdash;stated that
&
ldquo;The NPD-ban needs to hap­pen now," adding that
&
ldquo;a con­fi­dent, watch­ful democ­ra­cy must deal with this threat."A pre­vi­ous pro­pos­al to out­law the NPD was reject­ed in
2003
by Ger­many's Fed­er­al Con­sti­tu­tion­al Court fol­low­ing the dis­clo­sure that police and intel­li­gence inform­ers had infil­trat­ed the party
&
rsquo;s high­est ranks.
The debate
&
rsquo;s resur­gence is the result of events last month in Zwickau
&
mdash;a small town locat­ed near the Czech border
&
mdash;where police suc­cess­ful­ly traced
13
years of unre­solved crim­i­nal activ­i­ty to a Nazi-inspired group known as the Nation­al Social­ist Under­ground (NSU).Author­i­ties have so far con­firmed three mem­bers of the ter­ror­ist cell: Uwe Mund­los, Uwe B
&
ouml;hnhardt and Beate Zsch
&
auml;pe. Recent find­ings, how­ev­er, indi­cate that up to
20
peo­ple may have been involved.Police caught onto the group on Novem­ber
4
, when Mund­los and B
&
ouml;hnhardt were found dead in a recre­ation­al vehi­cle out­side the town of Eise­nach, about
110
miles west of Zwick­au. The two alleged­ly died in a sui­cide pact fol­low­ing a botched rob­bery.The group is respon­si­ble for the infa­mous d
&
ouml;ner murders
&
mdash;a spate of racial­ly-dri­ven attacks that claimed the lives of eight eth­nic Turks, one Greek nation­al and a police­woman. Addi­tion­al­ly, the NSU is respon­si­ble for at least
14
bank rob­beries and two nail bombs.Fol­low­ing the dis­cov­ery, Chan­cel­lor Angela Merkel declared that the group and its activ­i­ties indi­cate
&
ldquo;struc­tures that we nev­er imag­ined.
&
rdquo; Hans-Peter Friedrich, the Inte­ri­or Min­is­ter, has called for a nation­al data­base of sus­pect­ed neo-Nazis.The nation­al dis­cus­sion on Nazism has thrown a spot­light on the NPD, who has been accused of prop­a­gat­ing revi­sion­ist his­to­ry and anti­se­mit­ic rhetoric. Addi­tion­al­ly, at least one par­ty mem­ber is accused of direct­ly aid­ing the NSU.On Novem­ber
29
, author­i­ties arrest­ed Ralf Wohlleben in the town of Jena. Wohllenben
&
mdash;a for­mer high-rank­ing offi­cial with­in the NPD
&
mdash;allegedly pro­vid­ed arms and ammu­ni­tion to mem­bers of the NSU in either
2001
or
2002
. Fur­ther­more, Wohllen­ben and all three mem­bers from the NSU had belonged to the
&
ldquo;Fel­low­ship Jena,
&
rdquo; a neo-Nazi group active in the mid-
90
s.Olé Schr
&
ouml;der, a mem­ber of Merkel
&
rsquo;s Chris­t­ian Democ­rats, remarked that ​
"
inves­ti­ga­tors must now ana­lyze whether Wohlleben was involved in the Zwick­au ter­ror cell intrigues on order from the NPD, or with the par­ty's knowl­edge."If the NPD is fur­ther impli­cat­ed in NSU
&
rsquo;s ter­ror­ist activ­i­ties, the
&
nbsp;fall­out could spell trou­ble far worse than mere dis­so­lu­tion. Ger­man police have unearthed a hitlist authored by the NSU con­tain­ing
88
names. The list includes many politi­cians, such as Green MP Jerzy Mon­tag and CDU MP Hans-Peter Uhl.If the Bun­destag choos­es to move for­ward with an attempt to ban the party
&
mdash;a mea­sure with wide­spread sup­port among both the rul­ing coali­tion and the opposition
&
mdash;the Ger­man pub­lic would like­ly go along with it.A recent poll by the broad­cast­er ARD found that
81
per­cent of Ger­mans felt that
&
ldquo;neo-Nazis and right-wing extrem­ists were han­dled too lenient­ly.
&
rdquo; Over half stat­ed that Ger­man offi­cials were neg­li­gent in over-look­ing the activ­i­ties of the Zwick­au-based NSU.Nonethe­less, there are oppo­nents to the ban. Hans-Peter Uhl, who was on the ter­ror­ists
&
rsquo; hitlist, believes that Ger­man soci­ety has a bet­ter alter­na­tive for stomp­ing out neo-Nazism:
&
ldquo;There is no bet­ter sign of democ­ra­cy than for the elec­torate to vote against the NPD at elec­tions. That's the most noble way.
&
rdquo;
Patrick Glen­non
is a writer and musi­cian liv­ing in Chica­go. He received his B.A. in His­to­ry from Skid­more Col­lege and cur­rent­ly works as Com­mu­ni­ca­tions Man­ag­er for the Michael For­ti for Cook Coun­ty Court cam­paign and as the web intern at
In These Times
.